Um, um the aroma of freshly baked, melt-in-your-mouth peach muffins and oh lord, they're gluten and dairy free!!  
For some reason the usual southern fare (grits, bacon, eggs and gf biscuits or toast) was just not meeting my breakfast needs wants.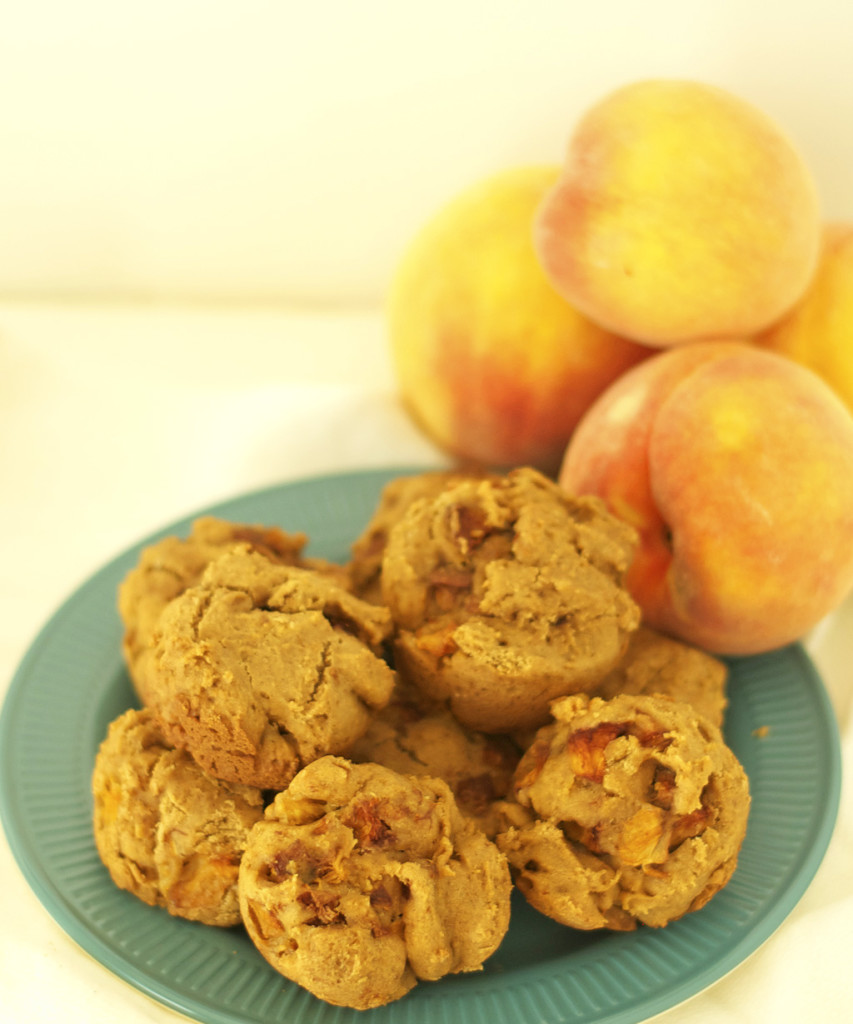 I was tired of oatmeal, so not wanting pancakes, waffles or french toast (all gluten free, of course) but knew skipping breakfast was not in my (or anyone having to deal with me) best interest.
What is it 'they' say? Breakfast is the most important meal of the day…yeah, I def have to have something to eat 1) to go with my coffee and 2) to keep me from becoming that raging hungry, angry beast at about 1030!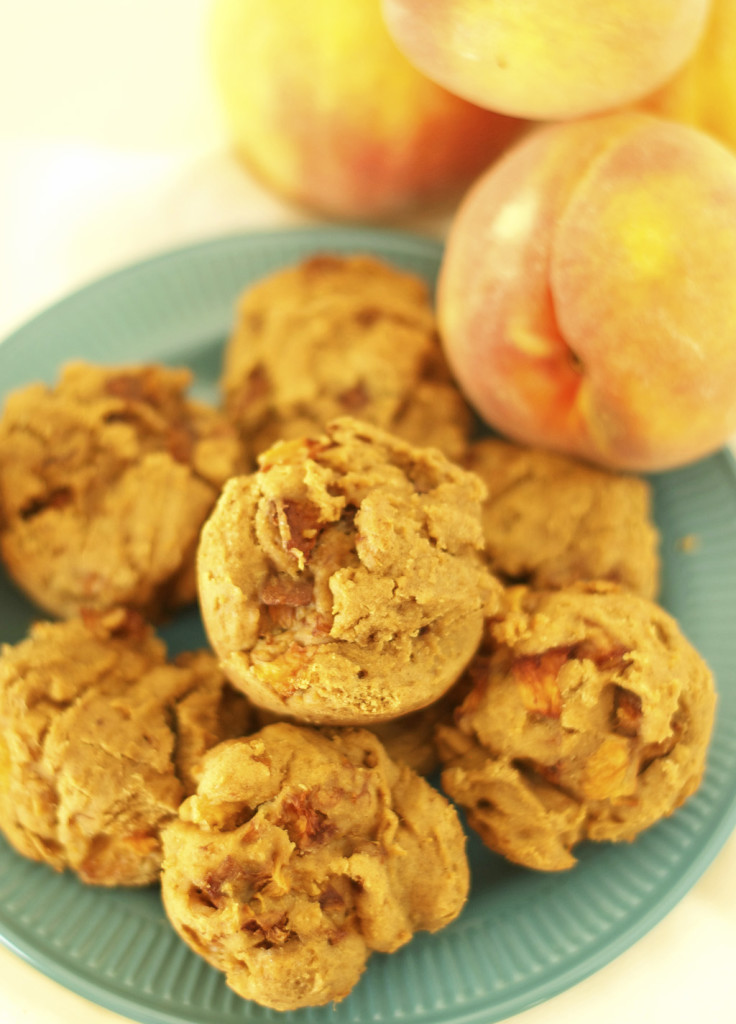 I started recalling breakfast from my childhood and remembered mom making those packaged breakfast muffins.  You know the kind where you dump the dry ingredients in a bowl, add milk and maybe egg, mix it up and spoon into the cupcake papers?  You don't remember?  Never was that privileged?  Well, you don't know what you were missing…just being able to eat something out of cupcake paper for breakfast felt sinfully wonderful, and they weren't half bad either.
Yeah, those were the good ole days, fighting with my brother over who got to help mix and who had the privilege of scooping the mixture into the cupcake liners in the muffin tin….
OK, think girl what kind of muffin can you make from scratch that meets the requirements: gluten free, dairy free, moist, dripping with flavor, hits the spot with coffee and can be eaten on the run?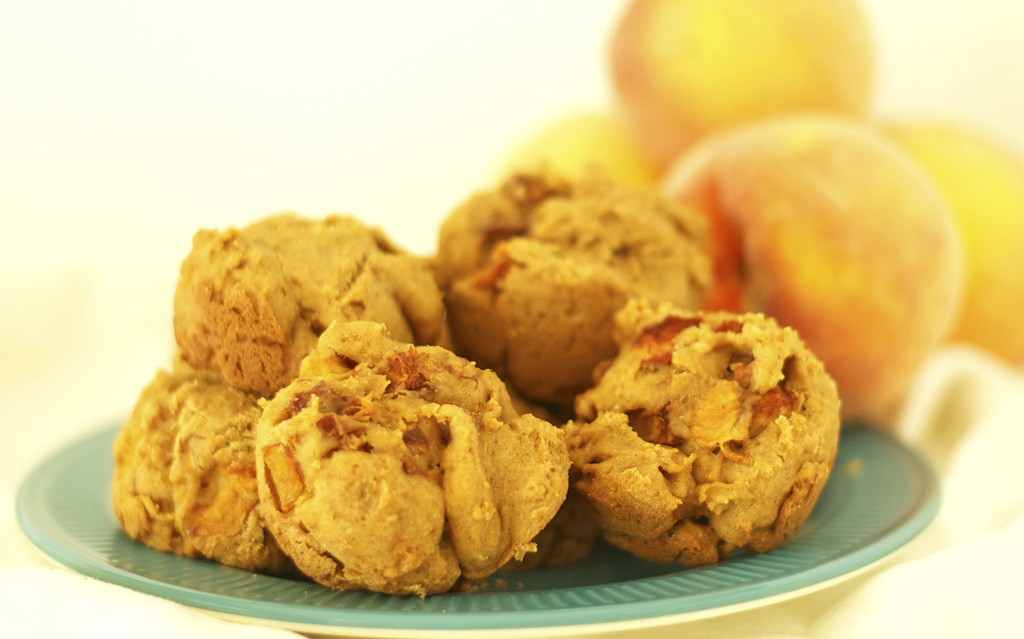 You know, that is one of the saddest statements of our time: 'eat on the run'.
It seems we never really get to sit down and savor our food anymore; we are running to the next project or job or errand.
Well, I say NO MORE!! Beginning this moment, I will enjoy that meal I have worked on, I will taste every morsel and savor the delectable flavors I have been able to create!!
Off the soapbox and back to the breakfast creation.
Peach muffins!! Well, why on earth hadn't I thought of this before?  Why limit myself to blueberry, apple, banana or cinnamon?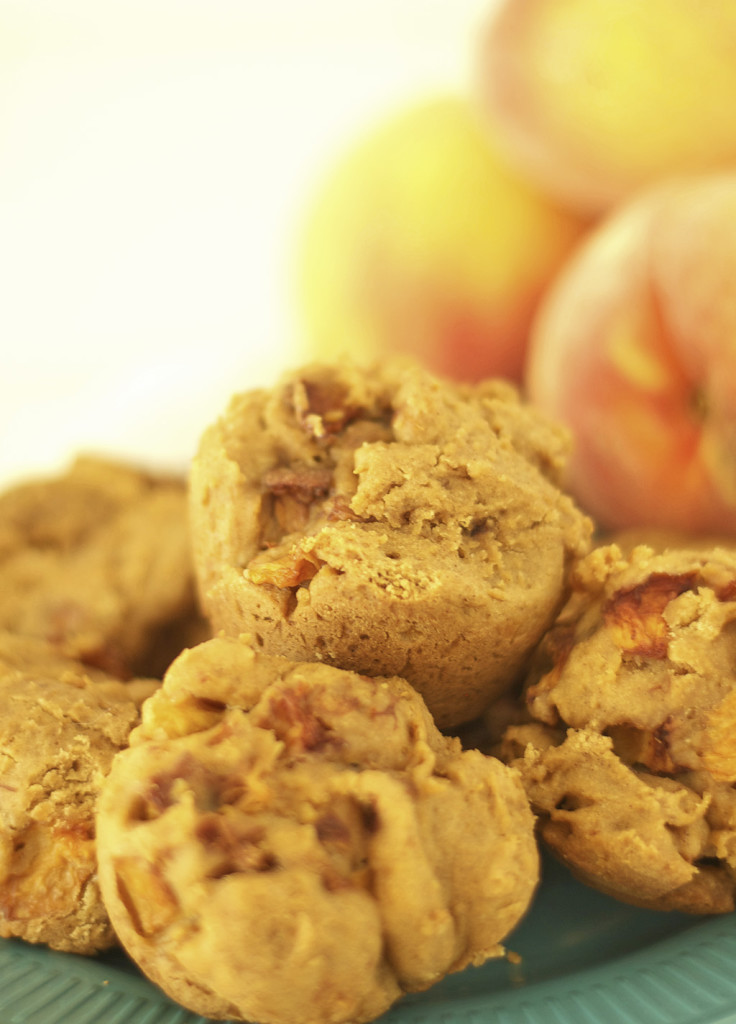 In my section of the universe, there is hardly anything better than a fresh South Carolina or Georgia peach.  It is very hard not to eat this wonderful fruit morning, noon, night and all snacks in between.  There are not enough words to describe that sweet aroma and fresh, juicy taste in those newly ripened peaches, except be still my heart and slow down my watering mouth!
I played around with this recipe so the true essence of the peach could be fully appreciated.
These peach muffins were moist with a 'just right' texture that were scrumptious warm and truly delectable once they had cooled off.
This is an easy recipe to make and is so, so, so good!
Peach Muffins Gluten Free Dairy Free
Ingredients
2 cups Pamela's Artisan Flour Blend
½ tsp salt
½ tsp baking soda
½ tsp cinnamon
2 large eggs
¼ cup melted coconut oil
⅓ cup raw coconut nectar or raw honey
1½ tsps gf vanilla extract
1¼ cups peaches, diced
Instructions
Preheat oven to 350 degrees.
Grease a 12 cup muffin pan.
In a large bowl, whisk together the dry ingredients.
In a medium bowl, whisk together the wet ingredients.
Gently and thoroughly combine the wet ingredients into the dry.
Fold in peaches.
Divide batter evenly in muffin pan.
Bake for 20 to 30 minutes or until a cake tester comes out clean.