Chocolate Mousse Pie is not only a silky smooth dessert but it's Gluten and Dairy Free!
Too much chocolate?

Chocolate Mousse Pie Gluten and Dairy Free
Ingredients
1 GF Chocolate Pie Crust*
¼ cup plus 2 Tbsp water, divided
2 tsp unflavored gelatin
½ cup So Delicious culinary cream
½ cup sugar, divided
⅓ cup unsweetened cocoa powder
1 large egg, lightly beaten
1 tsp gf vanilla extract
⅓ cup enjoy life dairy free chocolate chips
4 tsp dried egg whites
Instructions
Place 2 tbsp water in a small bowl.
Sprinkle gelatin over water.
Stir until dissolved and set aside.
Place cream, ¼ cup sugar, cocoa powder, egg and vanilla in a 2qt sauce pan.
Cook over medium-low heat, stirring constantly with a whisk, 6-8 minutes or until thickened.
Remove saucepan from heat.
Stir in gelatin mixture and chocolate chips.
Transfer chocolate mixture to a bowl, preferably stainless still.
Refrigerate 10 minutes or until cooled to room temperature.
Combine remaining ¼ cup water and dried egg whites.
Using an electric mixer, beat on high speed until frothy.
Add remaining ¼ cup sugar; beat until soft peaks form.
Gently fold half of the egg whites into chocolate mixture.
Repeat with remaining egg whites; fold until incorporated.
Pour mousse into pie shell.
Refrigerate until mousse is set, 4 hours or overnight.
Serve with strawberries, if desired.
Notes
*If you are unable to find a gf pie crust you can make one.
30 gf chocolate sandwich cookies (I use glutino)
2 tsp butter, melted (use a vegan if you want recipe to be dairy free)
1 tsp water
Scrape out filling in cookies.
Crush cookies into a fine crumble.
Combine crumbs, butter and water.
Spread crumbs evenly over pie plate.
Pack crumbs down evenly onto bottom and sides.
Bake at 350 degrees for 9-11 minutes or until firm. Let cool completely.
Are you serious?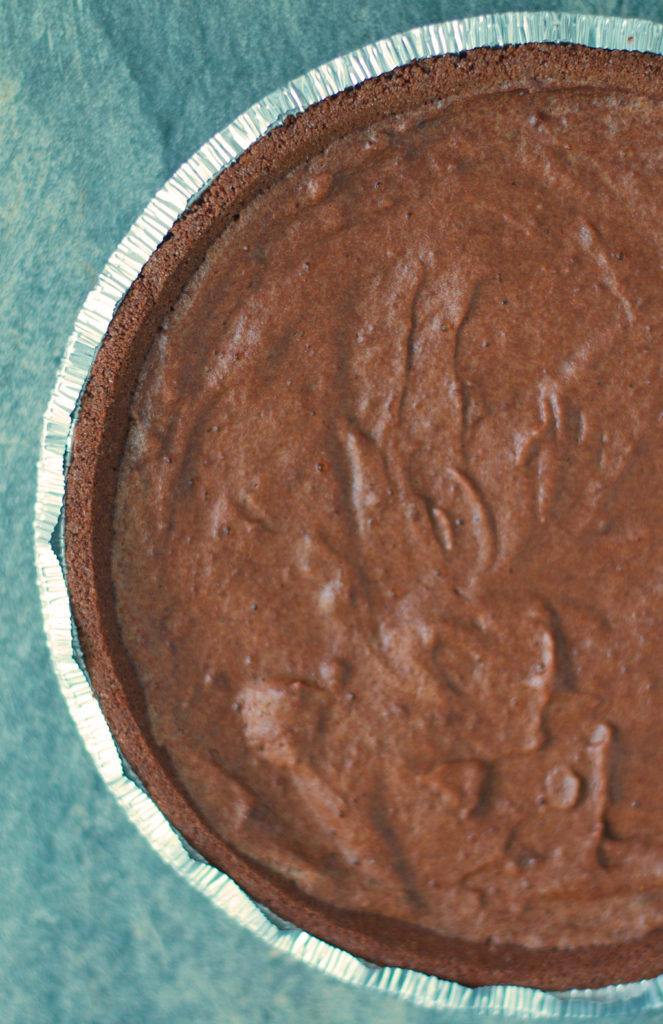 If I had to leave all other dessert flavors behind (well, I think that is where most of them end up anyway) it would definitely NOT include chocolate.
Some people have coffee, wine or soda as their guilty pleasure but mine would be CHOCOLATE.
I admit, I have an addiction, a mental fixation on all things chocolate.
In fact, I don't think I have ever eaten any chocolate that I did not like.
All flavors: white, dark chocolate and yes, even bitter chocolate are appealing to me.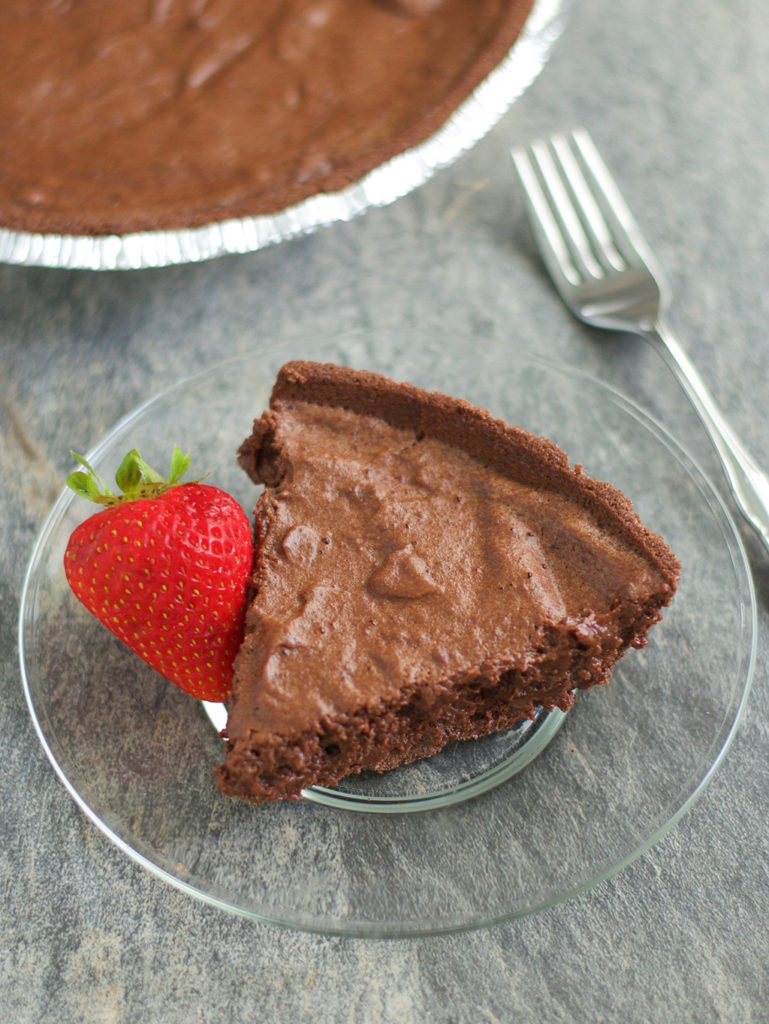 So I came across a recipe that included 3, count them 3 of my favorite desserts: mousse-yes, pie-yes and chocolate YES!
I have a very hard time resisting a rich, creamy smooth mousse and if it is chocolate mousse, well, I am in taste overload!
And you're putting all of that silky deliciousness in a gluten free pie? Shut Up!!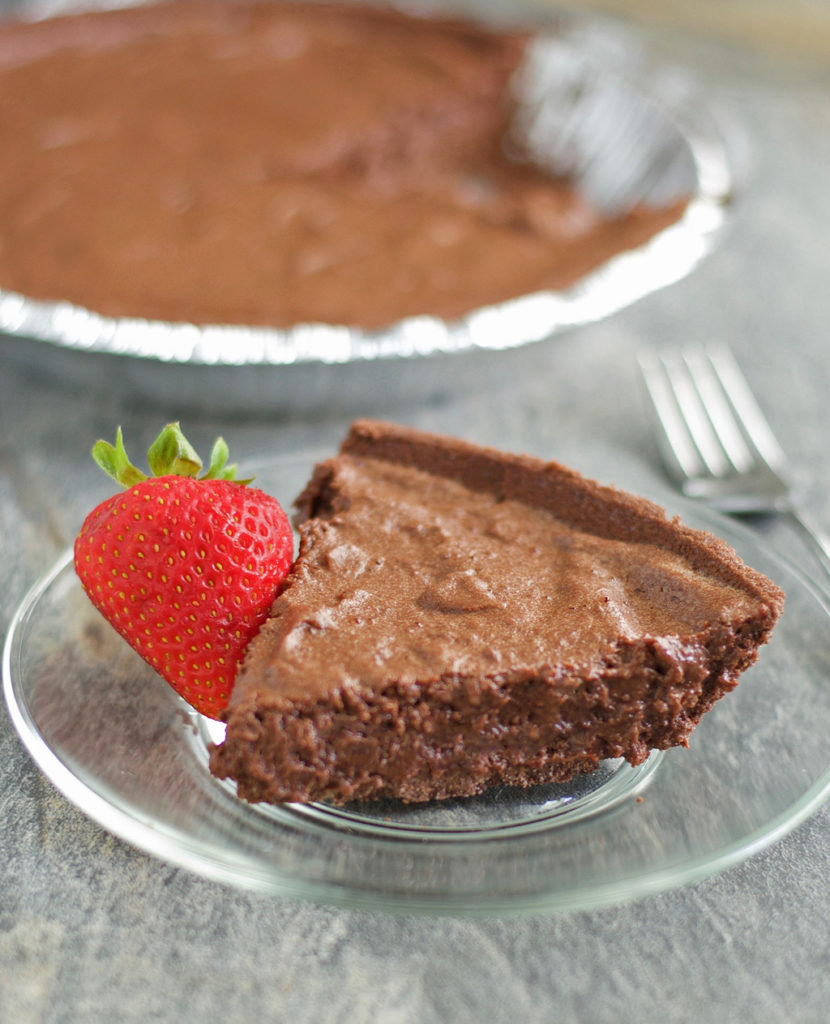 I will be indebted to you for life (or until the next fantastic chocolate dessert comes along)!
This is a super easy, super delicious Chocolate Mousse Pie recipe.
Full flavored chocolate goodness is in every bite from start to finish and believe me, there will be very little leftover in my house!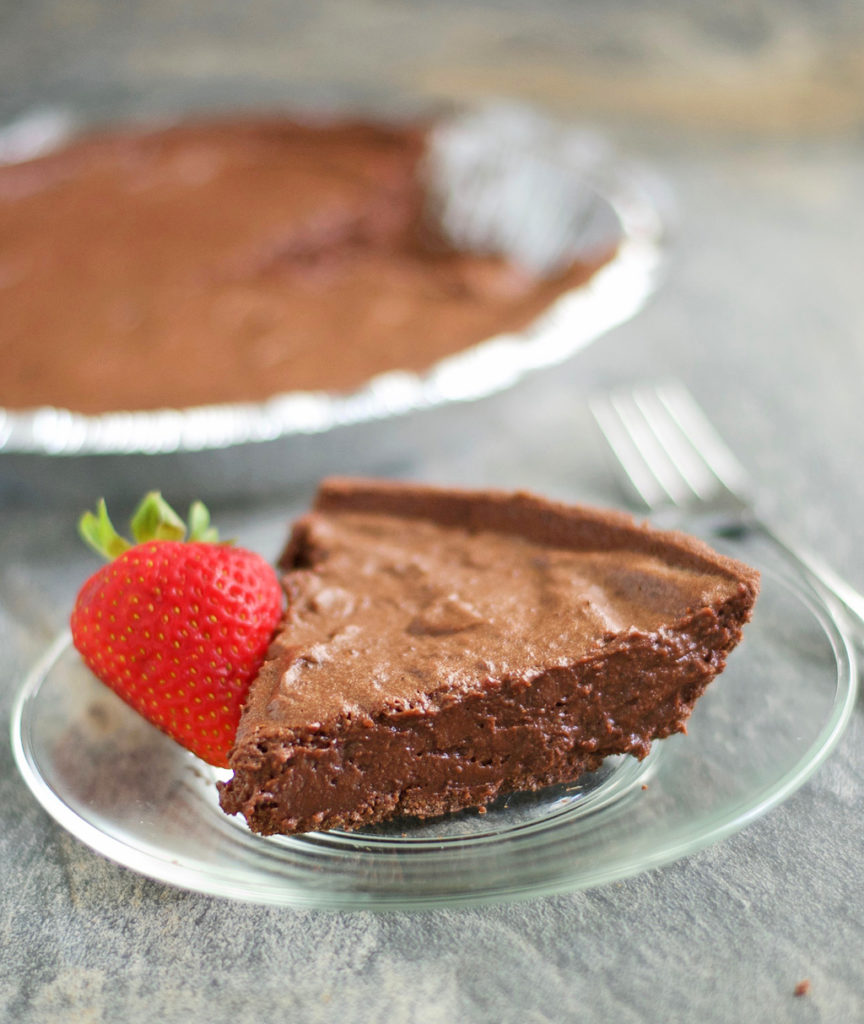 Enjoy!