Gluten Free Baked Chicken Parmesan Recipe is THE dish to satisfy those Italian food cravings.
Every now and then I want some authentic Italian cuisine.  You know what I'm talking about: pasta dripping with marinara sauce, garlic bread and a Caeser salad!!
Of course, two of those three are loaded with gluten!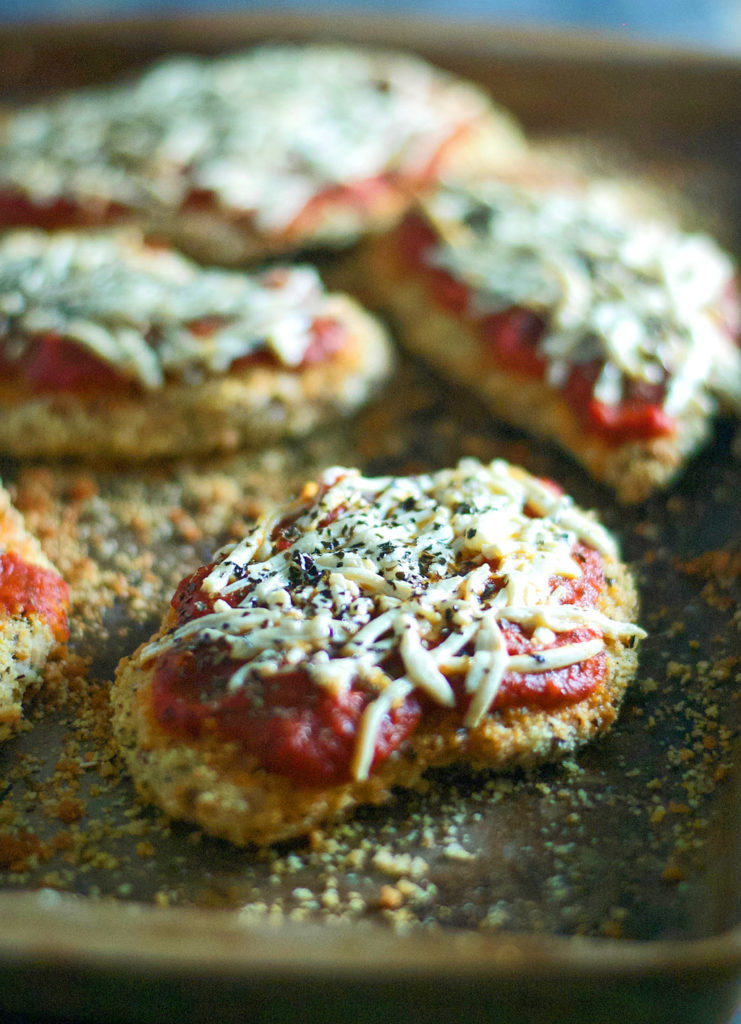 Unfortunately, there are no gluten free Italian restaurants close to me, so tastebud cravings are the mother of invention!
I love my favorite gluten free pasta, but for today I was thinking a fantastic parmesan recipe.
Since I did not have any eggplant, chicken it was going to be.
You know how some baked chicken can be so dry even a gallon of wine water is not enough liquid to make it taste good?
Heck with the gallon of wine, who would care?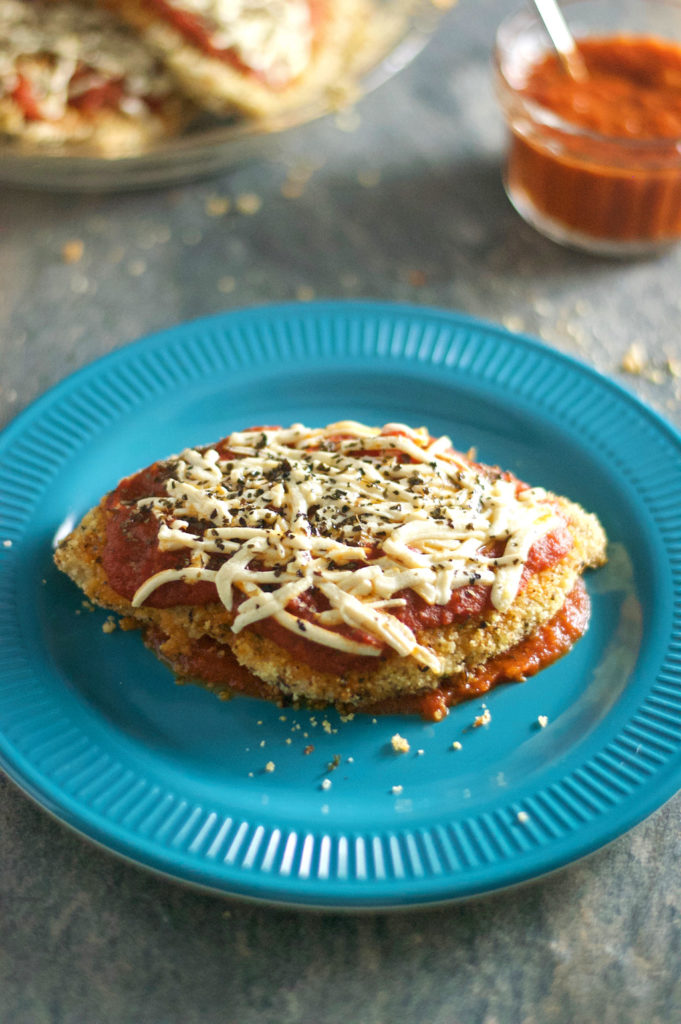 But I digress, this Gluten Free Baked Chicken Parmesan is so rich with all of the herbs and spices added to my favorite marinara sauce and then you get a bite of that chicken….we are talking so moist, so tender, so perfect!
The moistness of the chicken is due, I believe, to the coating the meat in butter before rolling in the breadcrumbs, and also turning the chicken halfway through the baking process.
You might ask (and I don't mind that you do) how moist is this Gluten Free Baked Chicken Parmesan?
It is so moist, I was able to cut it with a fork!!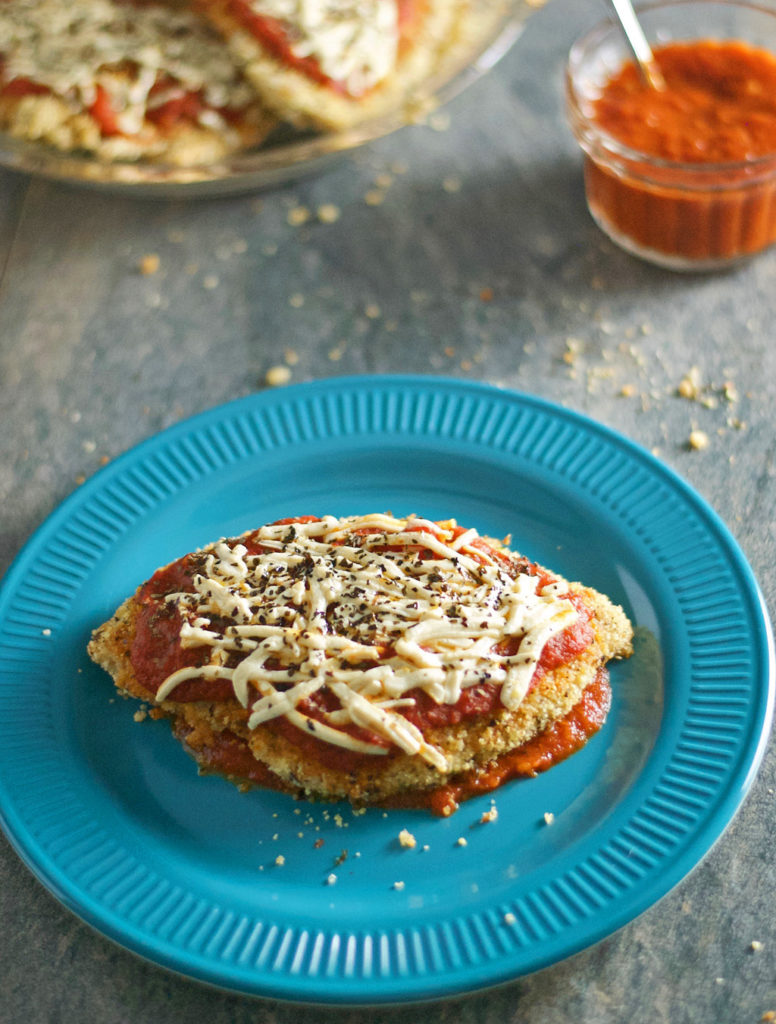 I'm telling you this dish was to die for!
Moist chicken, herb infused marinara sauce, melted stringy cheese deliciousness….can you imagine the oregano/basil smell wafting through my kitchen?
Whoa, I gotta stop with the description because I am getting hungry for some more heavenly moist marinara covered chicken and I have no leftovers!!!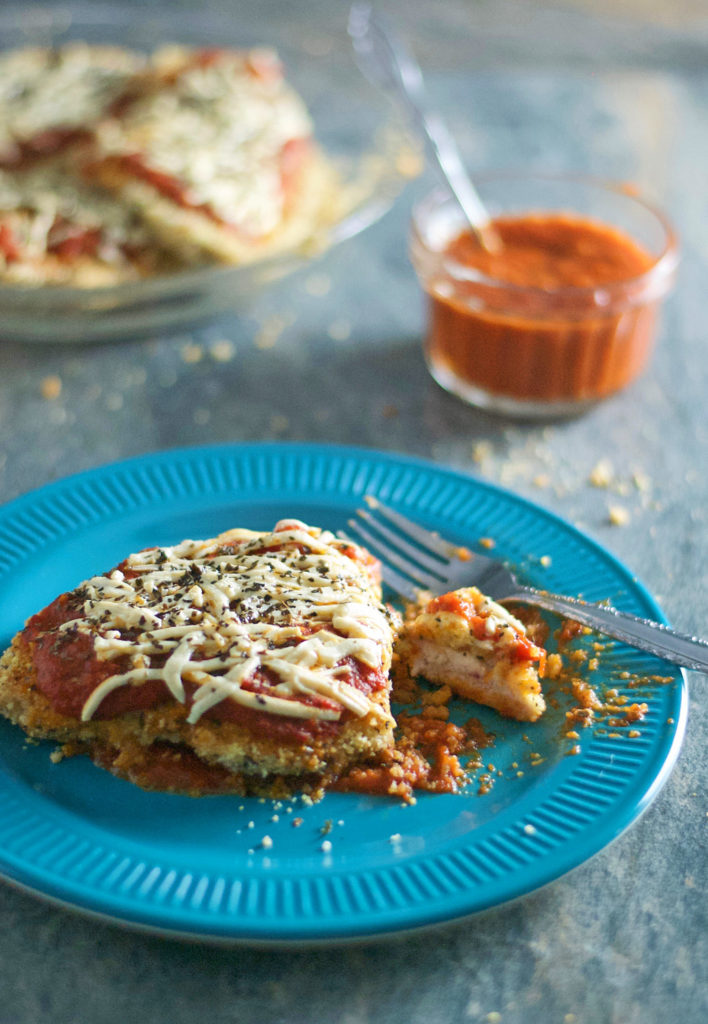 I'm going to have to make some more very soon!
Treat yourself to this gorgeous to look at and even better to eat Gluten Free Baked Chicken Parmesan.
Enjoy!
Gluten Free Baked Chicken Parmesan
Ingredients
1.5 pounds chicken breast or cutlets
½ cup GF bread crumbs
½ cup GF Seasoned bread crumbs
1 tsp kosher salt
½ tsp black pepper
½ tsp garlic powder
1 tsp dried parsley
1 tsp dried oregano
1 tsp dried basil
¼ cup grated Parmigiano reggiano
1 Tbsp butter
1 Tbsp extra virgin olive oil
8 ounces of your favorite marinara sauce
mozzarella cheese
extra dried basil for garnish
Instructions
Preheat oven to 400 degrees.
Mix bread crumbs, and next 7 ingredients together in a shallow dish.
Pound chicken to an even thickness.
Cut in half if chicken is thick.
Melt butter. (I melt my butter in an oven safe dish, in the oven, while it is preheating.)
Once butter is melted mix in the olive oil.
Brush chicken with butter mixture.
Press chicken into bread crumb mixture.
Make sure chicken is evenly coated.
Place in a baking pan coated with cooking spray.
Once all the chicken is coated top with at least 2 Tbsp marinara sauce.
I like to put enough marinara sauce to cover most of the chicken.
Bake for 15 minutes flipping chicken half way through.
Sprinkle with mozzarella cheese and basil.
Bake an additional 3-4 minutes or until cheese is melted.