Gluten Free Blueberry Muffins!  THE summertime blueberry treat that will have them coming back for more!
In MY world, I would have fresh, emphasis on fresh, blueberries to eat everyday.  Yes, I love them that much.
That beautiful blue color, the plump little berry full of sweetness and that wonderful juiciness…I could go on, but you get the jest of my obsession.
My love affair with blueberries may have begun in childhood while visiting and then living near my great aunt.  Her goal in later life was to have an edible landscape and boy, did she!  Blackberries, raspberries and blueberries were grown at the back of her yard in old whiskey barrels.  The joy of helping to pick, and then eating, those wonderful dew covered plump, blue beauties were worth every mosquito bite I received during the harvesting process!!
My mom would make blueberry muffins during the school year, and although they were a processed out the wazoo packaged muffin mix, the smell of those baking blueberry muffins were enough to wake me out of a deep sleep.
Several years ago, I decided to buy a blueberry bush of my own.  I was proud and happy when it began producing that luscious fruit!! That was a real sense of accomplishment for me!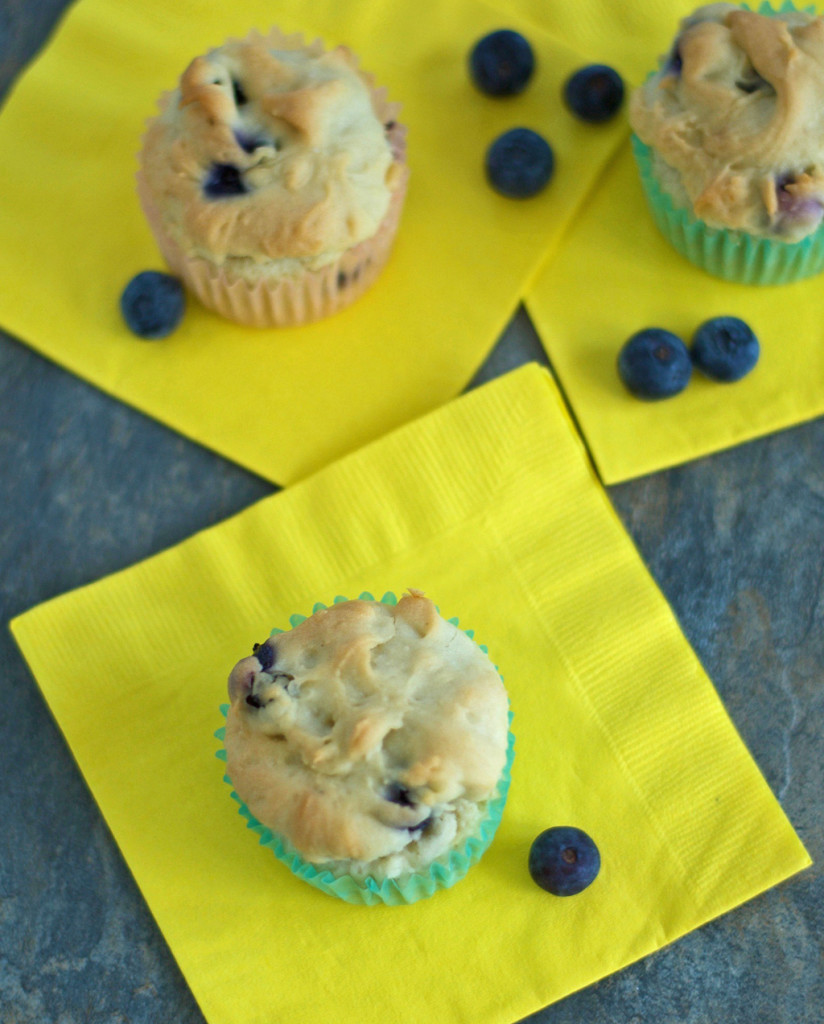 Enter two home relocations and trans-plantings later, and my blueberry bush is just barely hanging on!! Translation: I have had very few to none blueberries on my plant for the last 2 summers; can we say major blueberry withdrawal??
I have had to resort to the local farmers' market for these past two summers and this year has seen not only a bumper crop, but a fantastically delicious crop of blueberries.
My blueberry diet has consisted of fresh blueberries by themselves or covered with almond milk and a little organic sugar after I have slightly frozen those blue gems of perfection to have an icy blueberry treat.  There have been gluten free blueberry pancakes, blueberry smoothies, and the latest homage to blueberries has been Gluten Free Blueberry Muffins!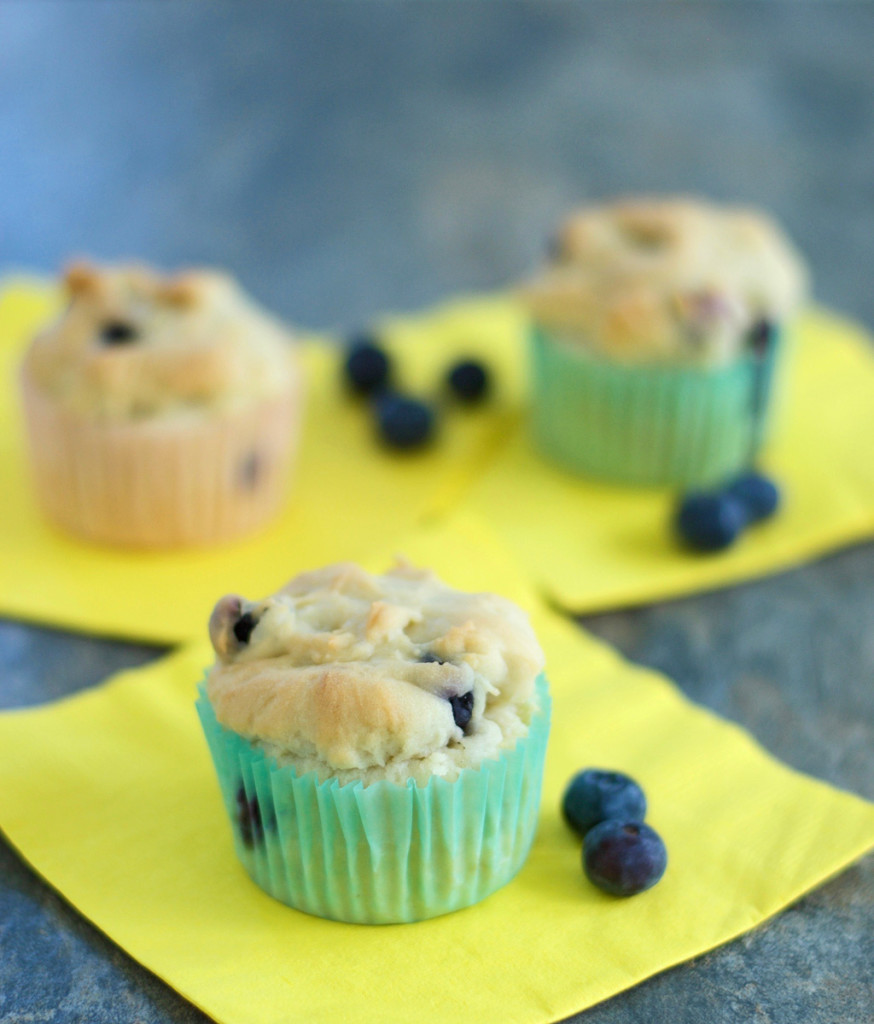 Gluten Free Blueberry Muffins are lip smacking, eyes closed in joy at their out-of-this-world deliciousness good.
This blueberry recipe is so much fun to make, but that may be due to my obsession with blueberries.
I look at it this way, if I'm going to have an obsession, it might as well be a healthy one!!
In case you were unaware of the benefits of consuming blueberries, whfoods.org, or the World's Healthiest Foods website, reports that after years of research, there is evidence that not only are blueberries one of the highest foods with antioxidant capacities, they possess potential benefits for the nervous system and brain health.  Blueberries have been found to improve memory in one study group of 76 year olds who consumed blueberries daily for a 12 week period!  I think I will encourage my parents up their blueberry consumption!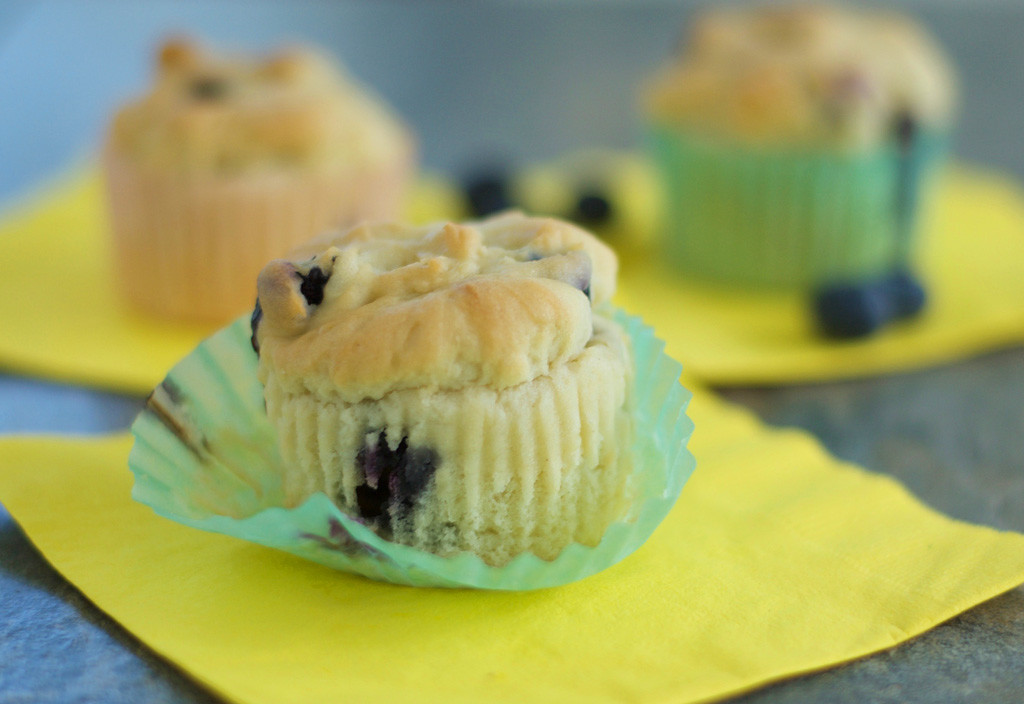 Back to the Gluten Free Blueberry Muffins…they are moist, they are sweet, they have blueberries in every bite, and that is just the muffin itself, add in the icing and you have a serious dose of blueberries!
These Gluten Free Blueberry Muffins have a unique sweetness that is just enough to bring you back for another and another…..
Now we know I love all things blueberry, but the tried and true family test gave this gluten free blueberry muffin recipe a two thumbs up stamp of approval!!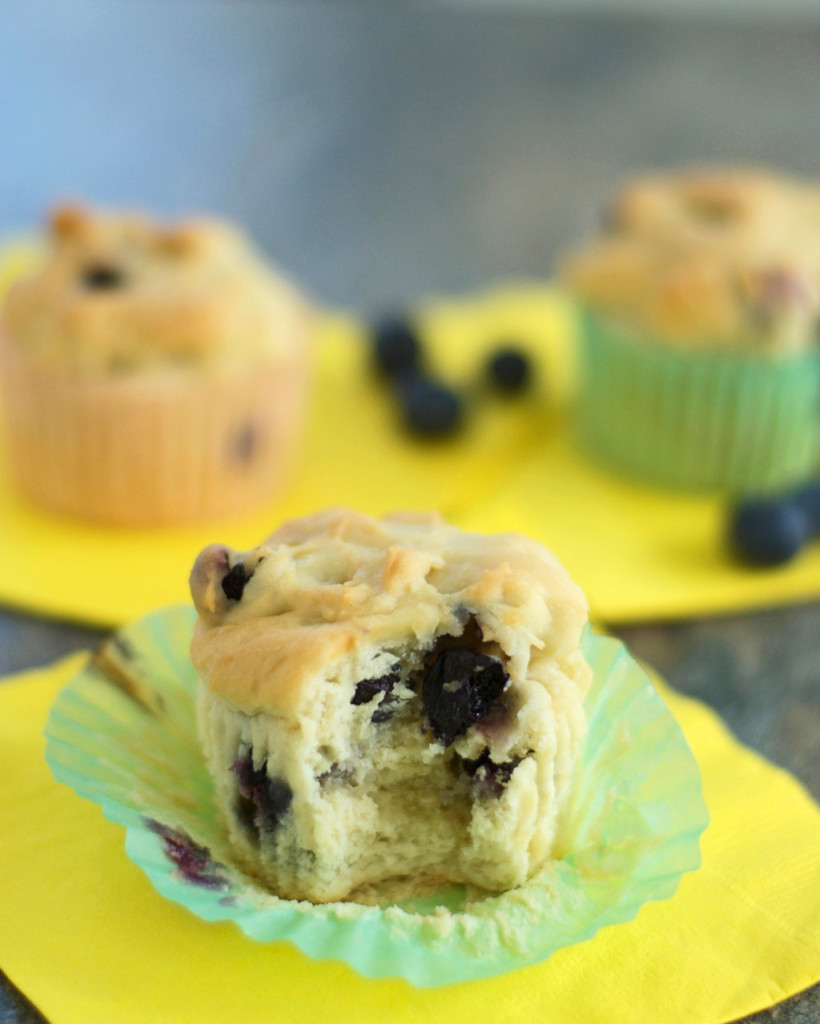 You owe it to yourself to find some fresh blueberries and make these super easy, super delicious Gluten Free Blueberry Muffins to impress your friends' and family's taste buds.
(Yeah, they really are that good!)
As always, enjoy!

Gluten Free Blueberry Muffins
Ingredients
1¾ cups gf flour*
2 tsp baking powder
¼ tsp salt
½ cup unsalted butter, softened
¾ cup sugar
2 eggs
¾ cup milk (I used almond milk)
1 tsp gf vanilla extract
¾ cup fresh blueberries
Instructions
Heat oven to 375 degrees.
Line a standard size 12 cup muffin pan with cupcake liners.
In medium bowl, combine flour, baking powder and salt.
In large mixing bowl, beat butter with an electric mixer until smooth.
Add sugar and beat until pale and fluffy.
Beat in eggs, 1 at a time.
On low speed, add half the flour mixture.
Beat in the milk and vanilla.
Add remaining flour mixture.
Fold in blueberries.
Spoon batter into pan, a little over half in each cupcake liner.
Bake for 20-25 minutes, rotating pan once during baking.
Cool in pan on wire rack.
Remove cakes from pan to cool completely.
Notes
*I use Pamela's Artisan Flour Blend or Better Batter All Purpose Flour