Easy Gluten Free Dairy Free Cobbler is the perfect summertime dessert! Fresh fruit oozing from a buttery cobbler crust will have them lining up for a helping!
Everybody sing, or hum along, 'Summertime, and the living is easy….' and the fruit cobbler is the reigning dessert.
You might ask 'Are you crazy? Cobbler in this heat? Haven't you ever heard of ice cream, sherbet, POPSICLES!!????'
To answer: No, Yes and yes, yes, yes.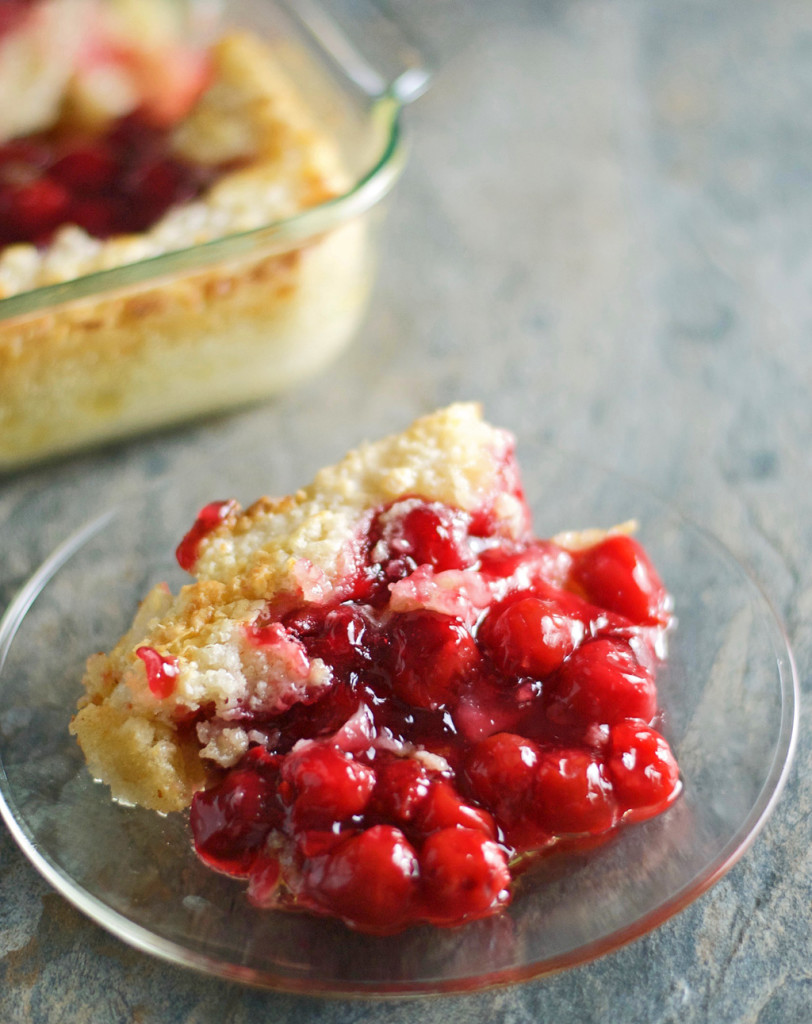 Summertime in the South is a time for making memories in our slow moving heat and humidity.  You go out early (when you fight JUST mosquitos and not horrible humidity) and pick the fruit  ripening on the trees or vines.  You have a small window of opportunity to gather in all that seasonal lusciousness before it is gone for the summer.
Cherries in early summer with their tart sweetness, blueberries usually in mid to late June with their beautiful color and flavor, blackberries around July 4 with their seeds, dripping juice, prickly briars, and not to be forgotten, chiggers!  Of course, you have peaches you purchase at the fresh fruit stands, preferably on your way to and from the beach.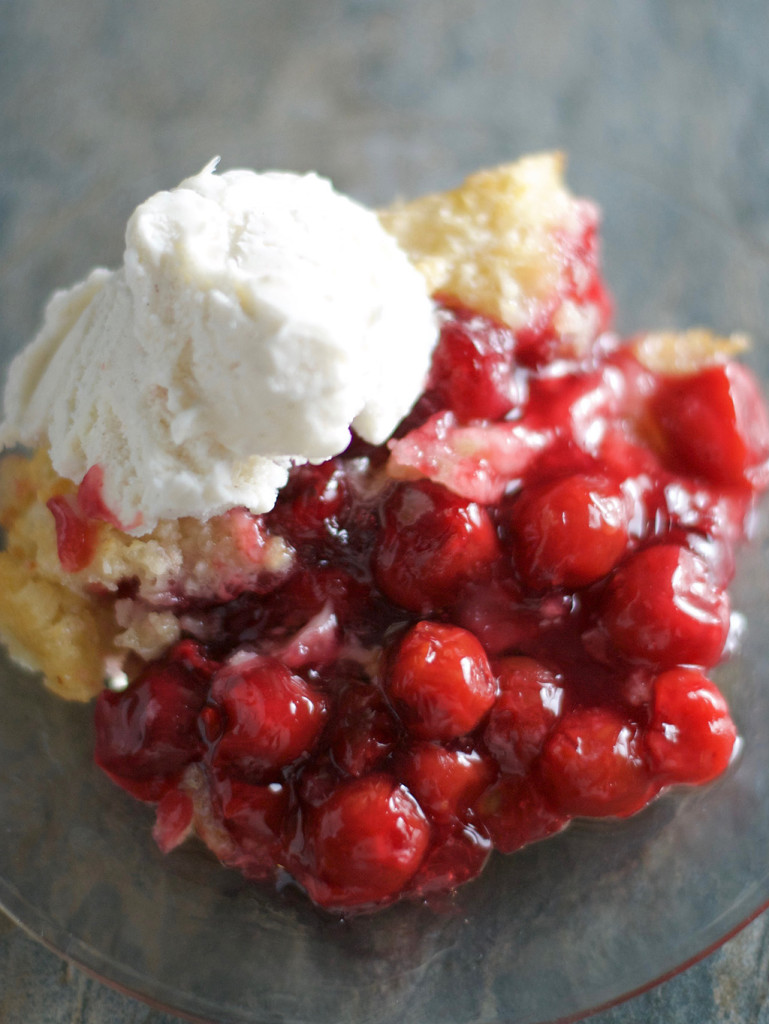 Now back to your original questioning of my sanity.
I eat a fair amount of these fruits fresh and, sigh, I have attempted to can some jams/jellies/pie filling, but canning and I do not communicate on the same level (translation: when those jars do not give me that golden sound of sealing, I am prone to angry outbursts and my family runs for cover!)
Not wanting to waste any of this seasonal perfection, I found the perfect cobbler recipe!
It is SO EASY!
And the resulting taste is enough to knock your diet into September or October!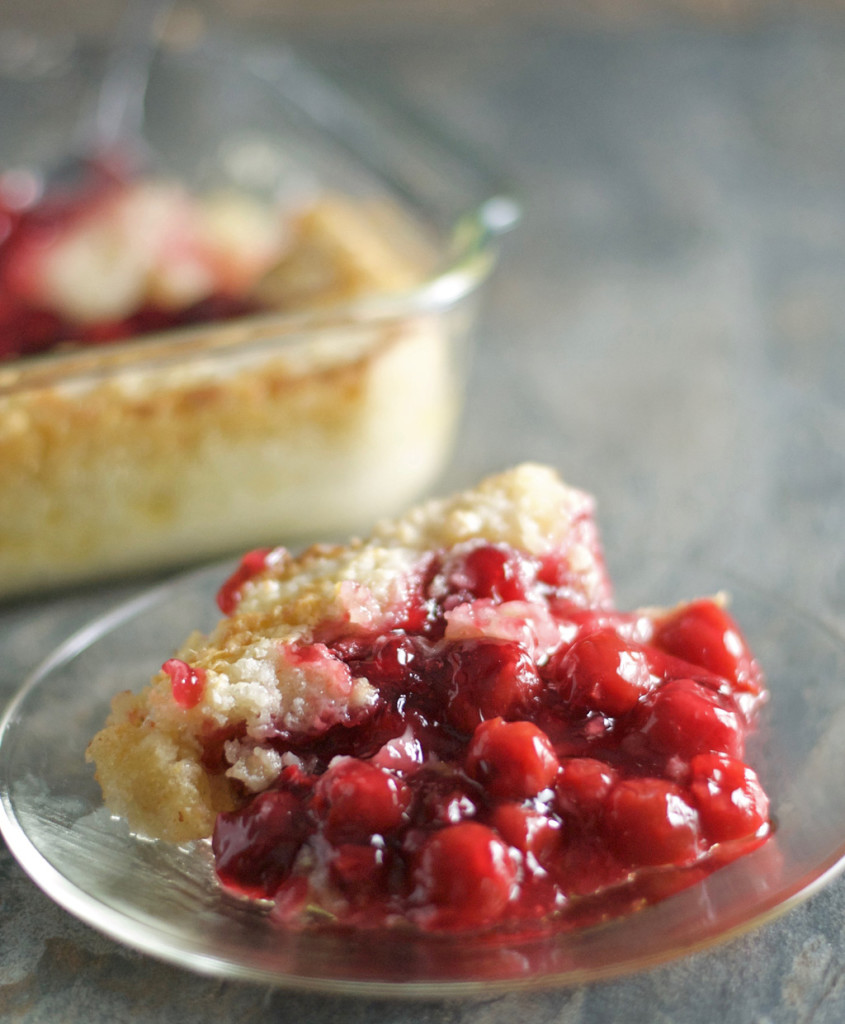 This Easy Gluten Free Dairy Free Cobbler just oozes with buttery cobbler dough, and the sweet, fresh fruit I have worked so hard to gather. This cobbler is a dump type dessert if there ever was one!
To me, the most difficult part of this recipe is gathering the ingredients and heating up the kitchen via the 350 oven, but the results are so worth it!
Of course if the heat is getting to you, you could serve your section of cobbler covered in ice cream, but I enjoy the fresh fruit and cobbler goodness just as they are: sweet, syrupy, buttery textured cake…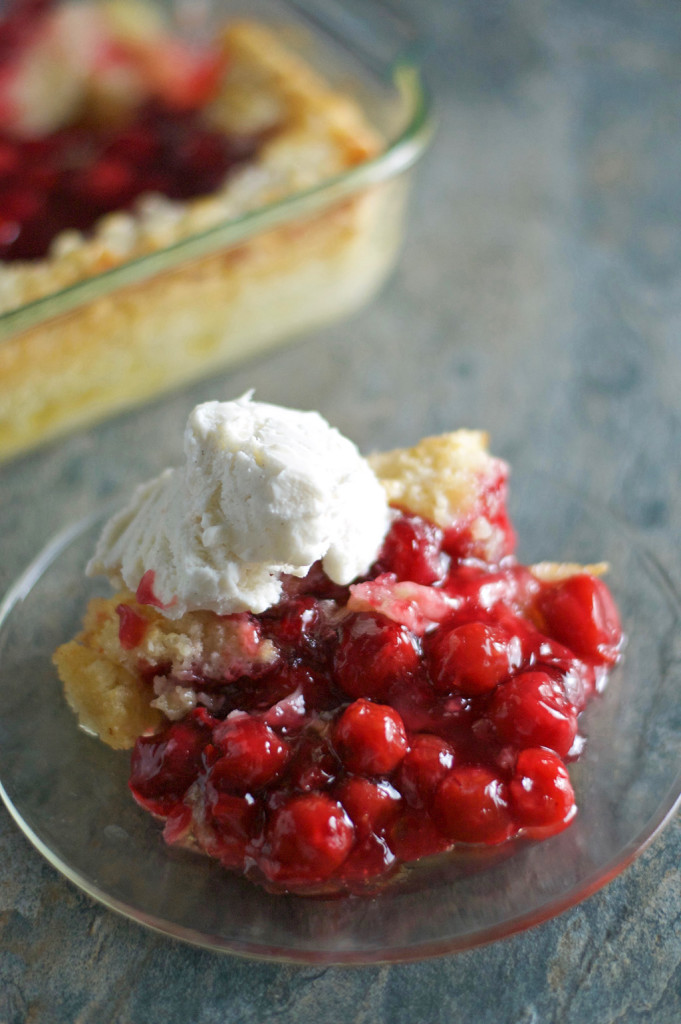 Alright, enough about the wonderful flavor of this cobbler, I'm off to the kitchen for another serving bite of this easy and delicious cobbler (today it is cherry, but tomorrow I'm pretty sure it will be blueberry, no wait, maybe blackberry–oh the difficult decisions!)
Enjoy!

Easy Gluten Free Dairy Free Cobbler
Ingredients
1 cup gf flour (I use Pamela's Artisan or Better Batter)
1 cup sugar
1 cup almond milk or any non dairy milk
2 tsp baking powder
¼ cup coconut oil or vegan butter
4 cups fresh fruit mixed with ¼ cup sugar*
Instructions
Melt butter or coconut oil into a 8x8 or 9x9 glass baking dish.
I melt mine in the oven while it is preheating.
Preheat oven to 350 degrees.
Mix flour, sugar, milk and baking powder together.
Pour over melted butter/coconut oil.
DO NOT STIR TOGETHER!
Pour Fruit topping on top.
DO NOT STIR TOGETHER!
Bake for 35-45 minutes until lightly brown.
Serve warm with your favorite dairy free ice cream.
Notes
*Could substitute with one can of pie filling