Delicious way to eat veggies that are so good for us!
I like vegetables, I really do.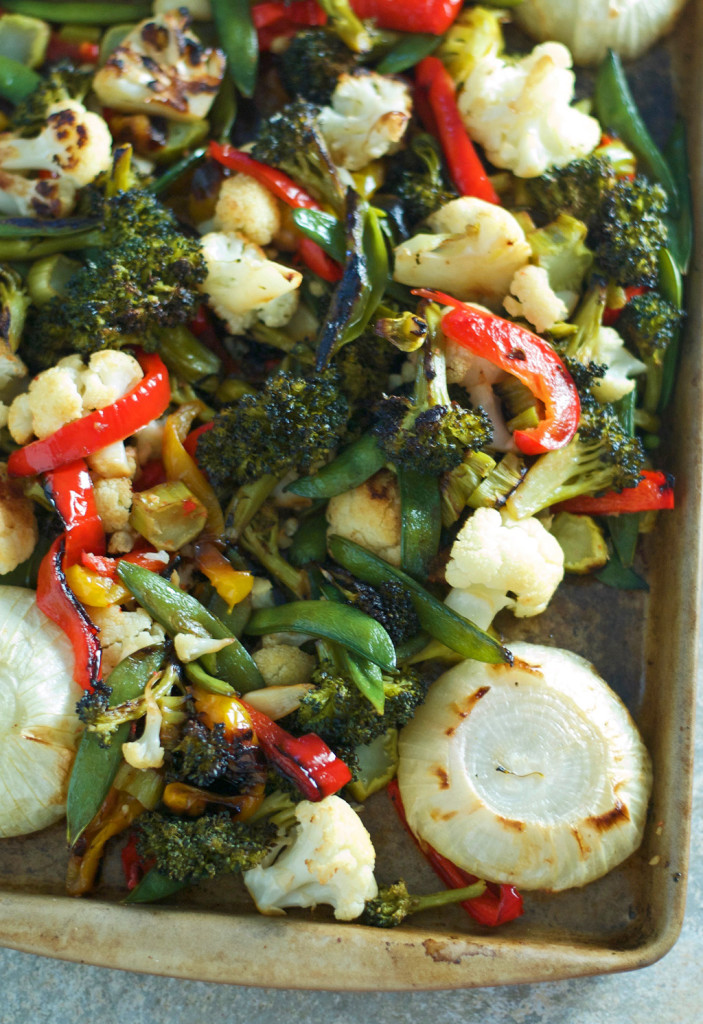 One of the great memories from my childhood is helping in my great-grandmother's vegetable garden and helping to preserve the hard work that was produced from that garden.
My great-grandmom was a fantastic cook (and I have the pictures of the chubby me as a child to prove it) cakes, side dishes, Southern staples like collard greens, mac and cheese and cornbread!
But I really loved her all vegetable meals: fried okra or squash, fresh garden tomatoes, cucumbers, corn on the cob…..ahh those wonderful veggies so lovingly prepared for all of us!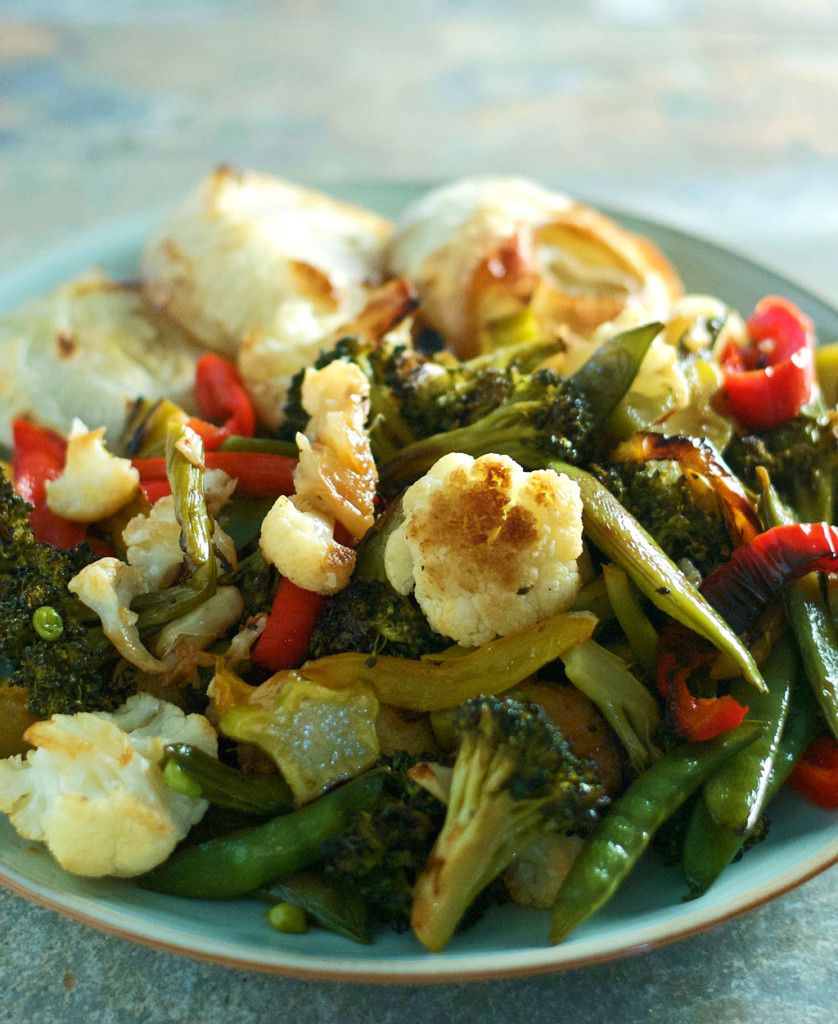 Well, my grandmother died when I was 15, so I have lived more years without her than I had with her, but I have never lost my love of vegetables!
I like fried vegetables, steamed vegetables, raw vegetables, baked vegetables….I'm sure you get the picture!
Enter roasted vegetables a few years ago.
OH. MAN.
I just Thought I knew how I much I enjoyed fresh vegetables.
I have to admit, I want my veggies to have a little crunch to them when I am ready to inhale consume eat them. Roasted veggies gives me that crunchiness I love!
I started out making kale chips and one thing led to another.  Like, hmm, I wonder what roasted broccoli or cauliflower or onions or bell pepper (the list is almost endless!) would taste like?  Well, let's just find out.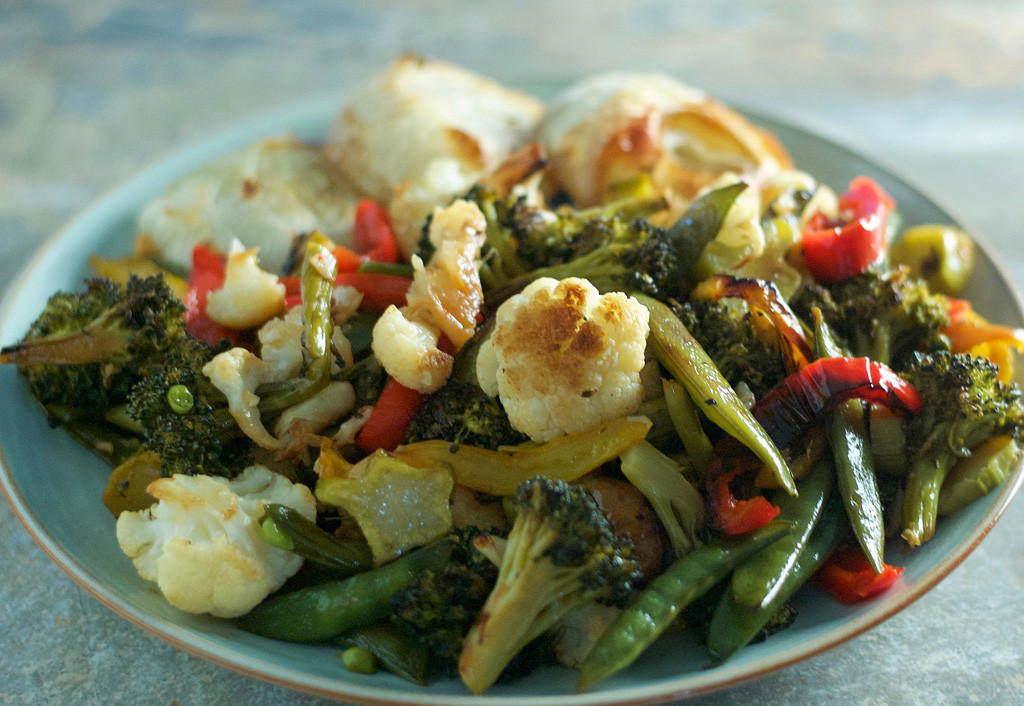 They are Fantastic!!  The crunchiness, the flavor, the texture; roasted vegetables are a true win-win meal in my opinion.
In fact, most of the time when I roast vegetables I do not prepare anything else to serve with them. Why mess with perfection?
Roasted veggies are so FULL of natural flavor that sometimes they do not make it to a dish!  We just stand around the straight-from-the-oven casserole dish and eat to our contentment! I have NEVER had any roasted vegetable leftovers!
This is one of the easiest healthy dishes to prepare.  The most difficult part of this recipe (other than being eaten way too soon) is the washing and cutting up; doesn't get much more simple than that.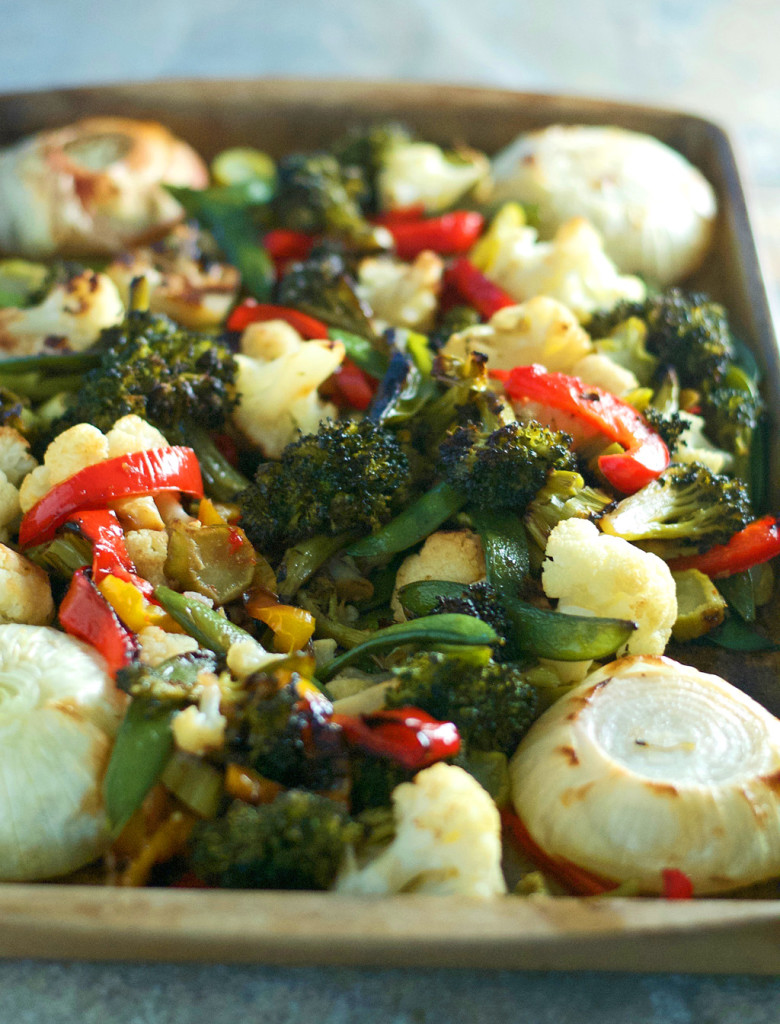 Love veggies? Want a new way to inspire your family to eat more veggies?
This is the way to prepare them for everyone to enjoy!

Roasted Vegetables
Ingredients
1-2 onions, peeled and cut in half
Bell Peppers
Broccoli
Cauliflower
Carrots
Pea Pods
Zucchini
Squash
Garlic, peeled
Olive Oil
Salt & Peeper
Instructions
Preheat oven to 400 degrees.
Can use any assortment of these vegetables.
Put Pea Pods and garlic in whole.
Chop all veggies into similar size chunks.
Spread vegetables evenly on a large baking dish, place onion halves in corners.
Drizzle with Oil and toss to coat.
Sprinkle with salt and pepper to taste.
Bake in oven for 15 minutes.
Stir vegetables.
Bake additional 15 minutes.
Check for desired tenderness.
If not to desired tenderness, bake an additional 5 to 10 minutes.