Light, but filling Apple Avocado Quinoa Salad Recipe is that perfect dish for lunch or supper. Packed with fresh, organic fruits and vegetables that not only taste good but is good for you!
It has been one of THOSE DAYS!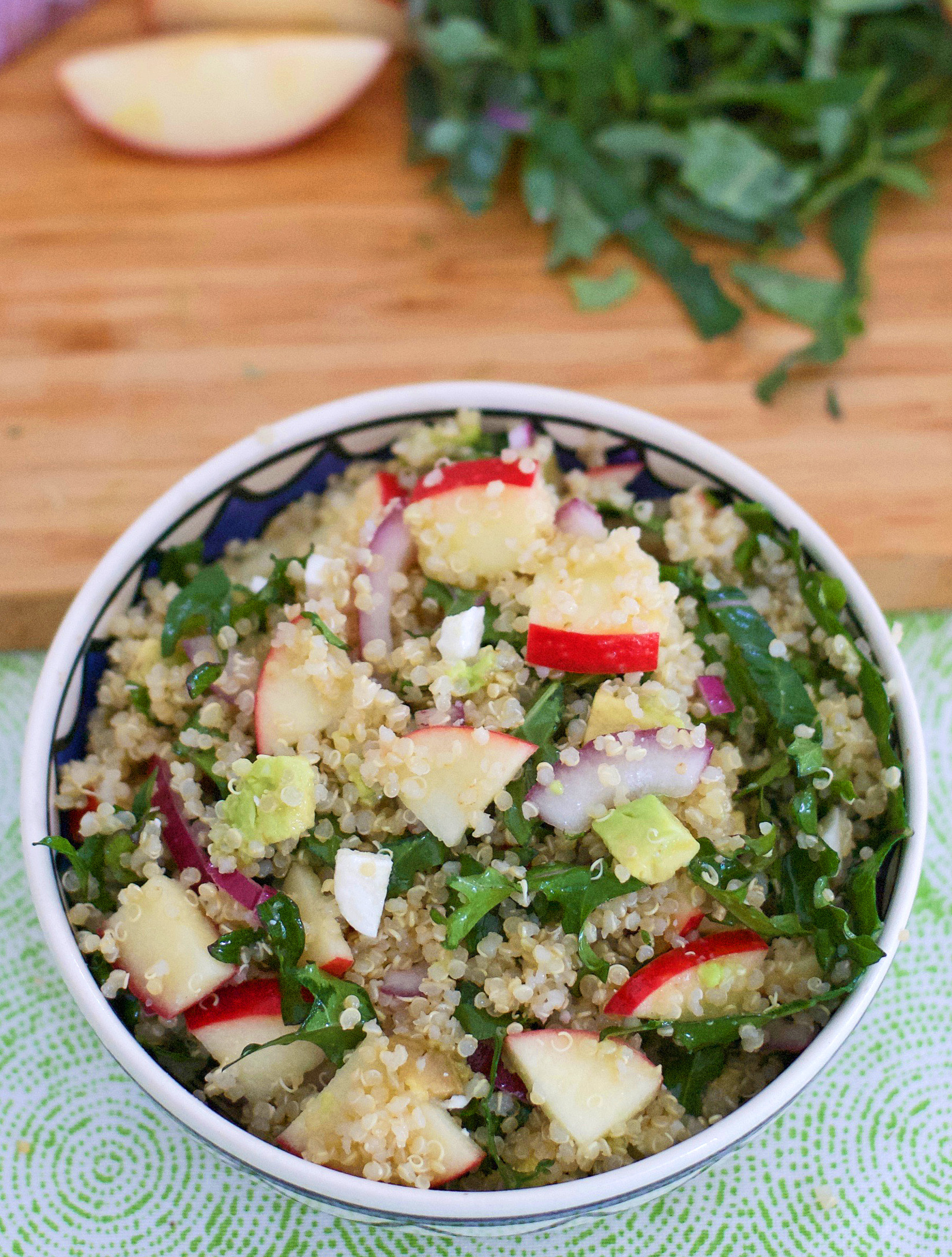 You know what I'm talking about.  You go out to the car, you're running late and the car has fumes in it.  You get far enough to get gas, arrive at your appointment with minutes to spare and can't find a parking place.  Take care of your business and errands, come home to get on the computer to get some work done and the internet is not working! Let's not forget the loads of clothes that need to be put away, the 2 and 4 legged animals wanting something to eat and you are getting HANGRY!! yes that is a word in my family, you are so hungry you are becoming angry!
Since this was how my day went, I reminded myself to take a deep breath and search for something that was quick to make and healthy; because who needs quick processed foods that are not good for you?
Searching the fridge, I spied some left over quinoa, hmmm.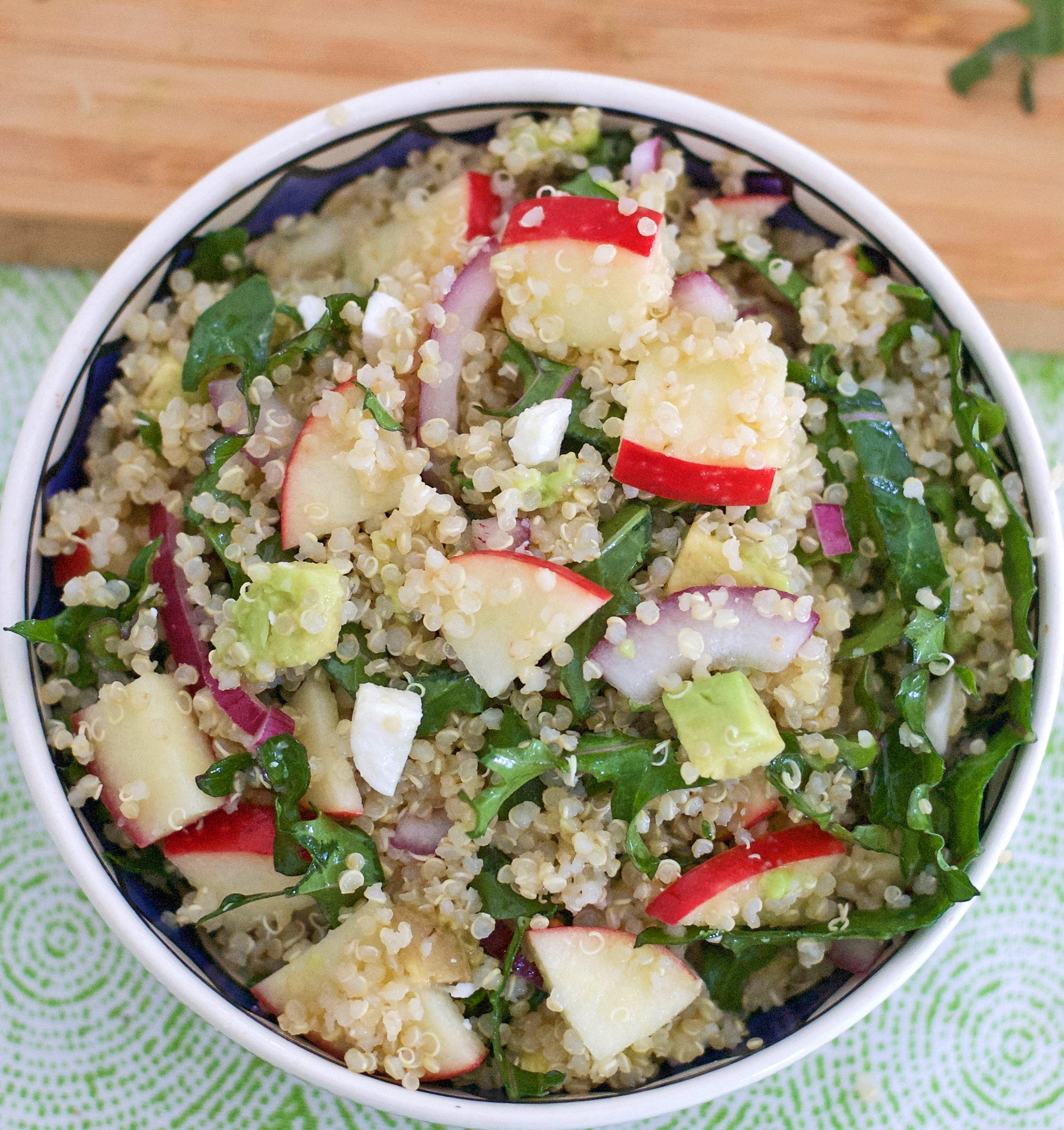 There are three personal rules for my household I live by:
I will ALWAYS have on hand:
1. organic fruits
2. vegetables and
3. toilet paper (I might get low, but I NEVER run out of any of those three!)
So back to the leftover quinoa.  Quinoa is one staple in my house as it is Gluten Free and an excellent source of protein, high in fiber and full of various beneficial antioxidants.
Ah ha I had some apples, kale, avocados and lemons to go with my wonderful leftover quinoa.
A salad it will be!
I had never combined these ingredients for my family, but they were all items we love and enjoy in a variety of ways: roasted, baked, raw, drizzled with oil….you get the idea.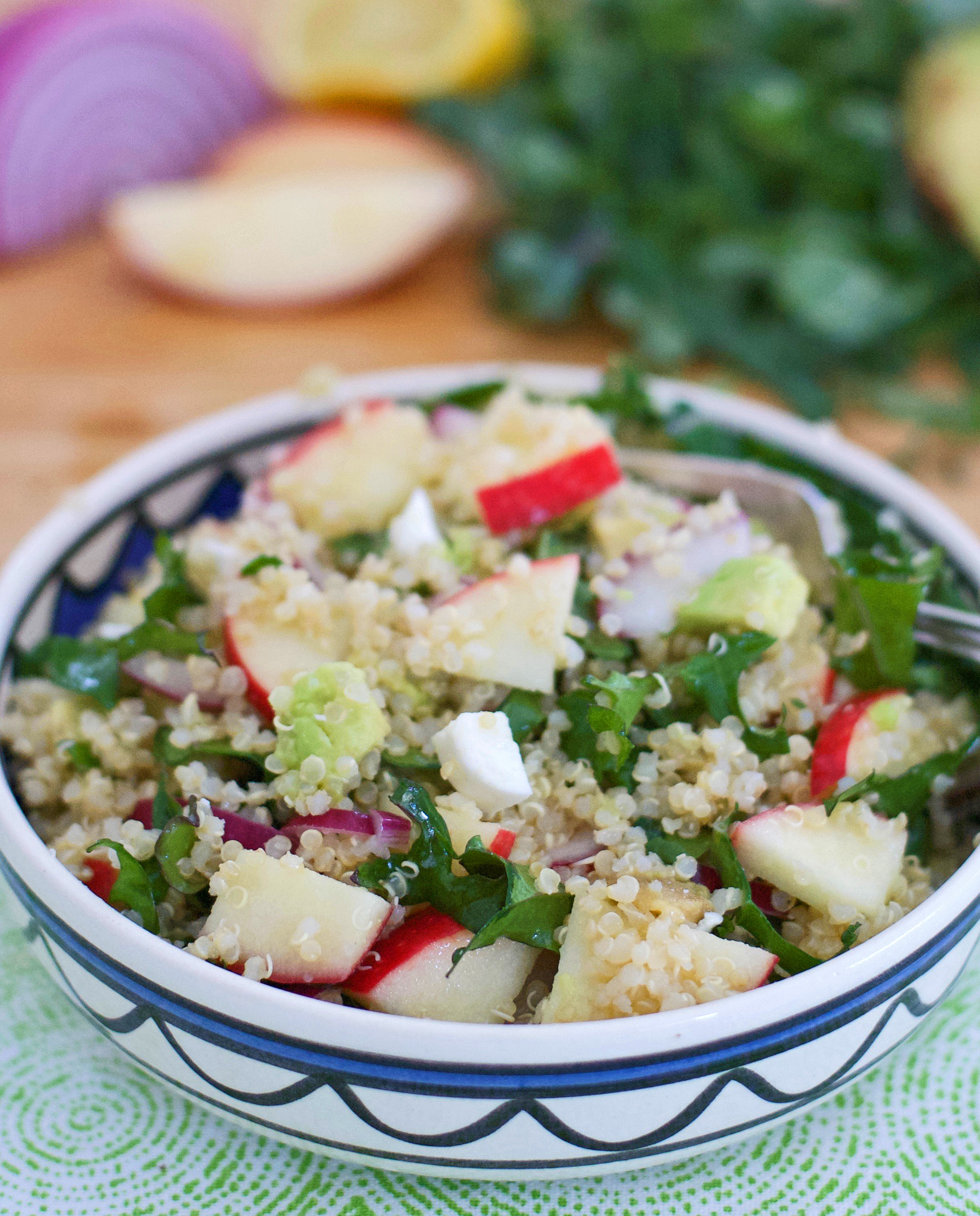 I cannot tell you how glad I am that I made this Apple Avocado Quinoa Salad!  It was light, flavorful and was absolutely inhaled by my family!
The crunchiness of the apples, sweetness of the red onion and just the right amount of tartness from the lemons and feta cheese.  EVERY bite was an explosion of flavor.  And let's not forget the flavor and texture of the avocado and kale-a win-win any way you looked, or tasted it!
It was so wonderful that the very small amount we had left had to be added to so we could enjoy this apple avocado quinoa salad the next day.
If you are one of those very organized and blessed people that never has one of THOSE days, I am jealous; but if you know what one of those days that seem to be falling apart feels like, this would be the meal for you!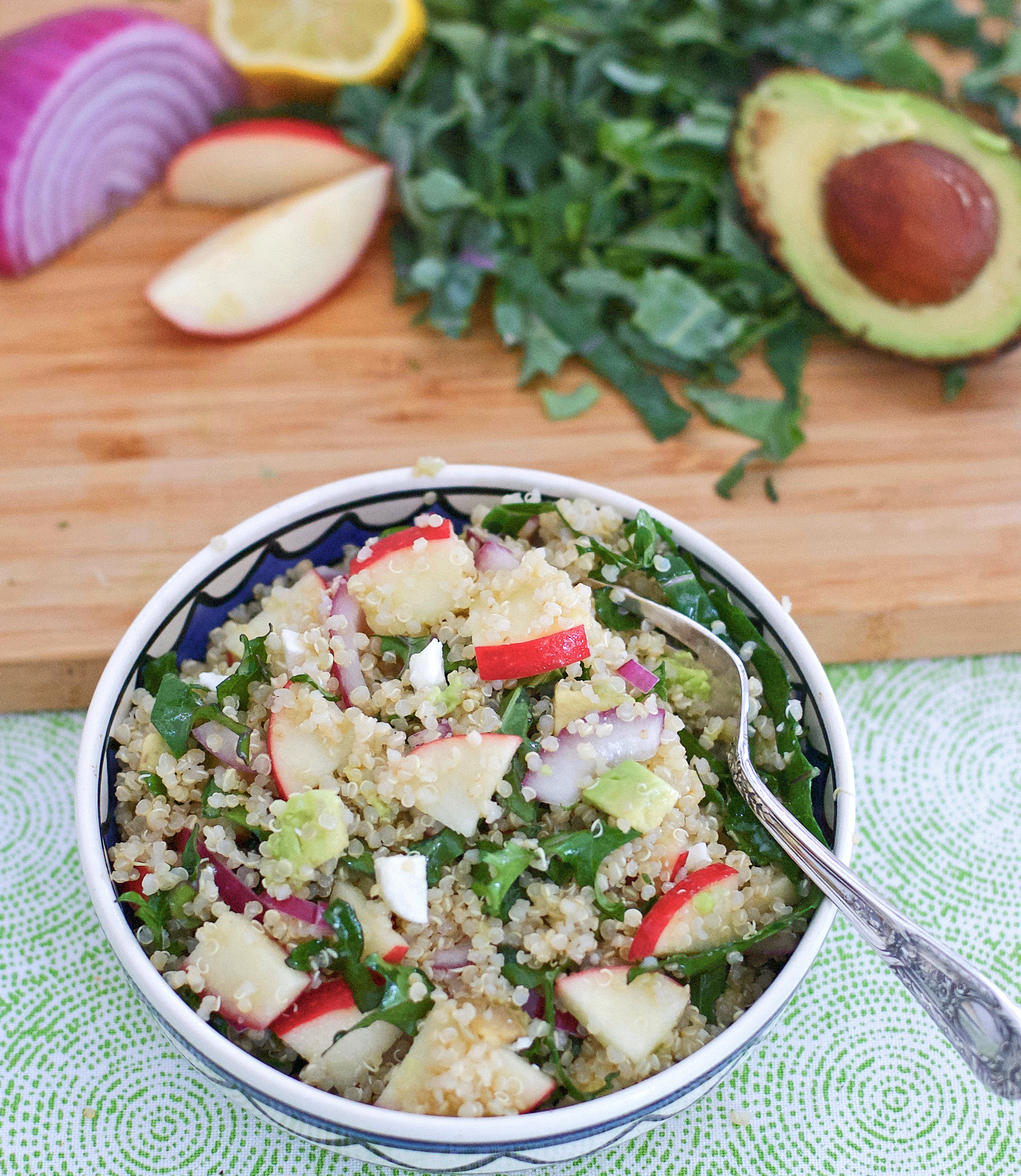 What was that commercial way back when, You deserve a break today? Well, you do so whip up this easy, healthy Apple Avocado Quinoa Salad crowd favorite soon!
Enjoy!  And tomorrow will be better…….

Apple Avocado Quinoa Salad
Ingredients
3 cups cooked quinoa, cooled
¼ red onion, thinly sliced
1 apple, thinly sliced into half moons*
2 cups kale leaves, sliced into ribbons
Juice of 1 lemon
2 Tbsp extra virgin olive oil
2 tsp honey
Dash of sea salt
1 avocado, cubed
¼ cup crumbled feta cheese
Instructions
In a large bowl, toss quinoa, onions, apple and kale to combine.
In a separate bowl; mix lemon juice, oil, honey and salt until combined.
Drizzle dressing over quinoa mixture.
Toss to coat.
Gently fold in avocado and cheese.
Notes
*Fuji, pink lady, gala are all good apples to use. Could use granny smith if you like a little bit of tartness in your salad.