Creamy flavor, beautiful to the eye and oh do delicious side dish!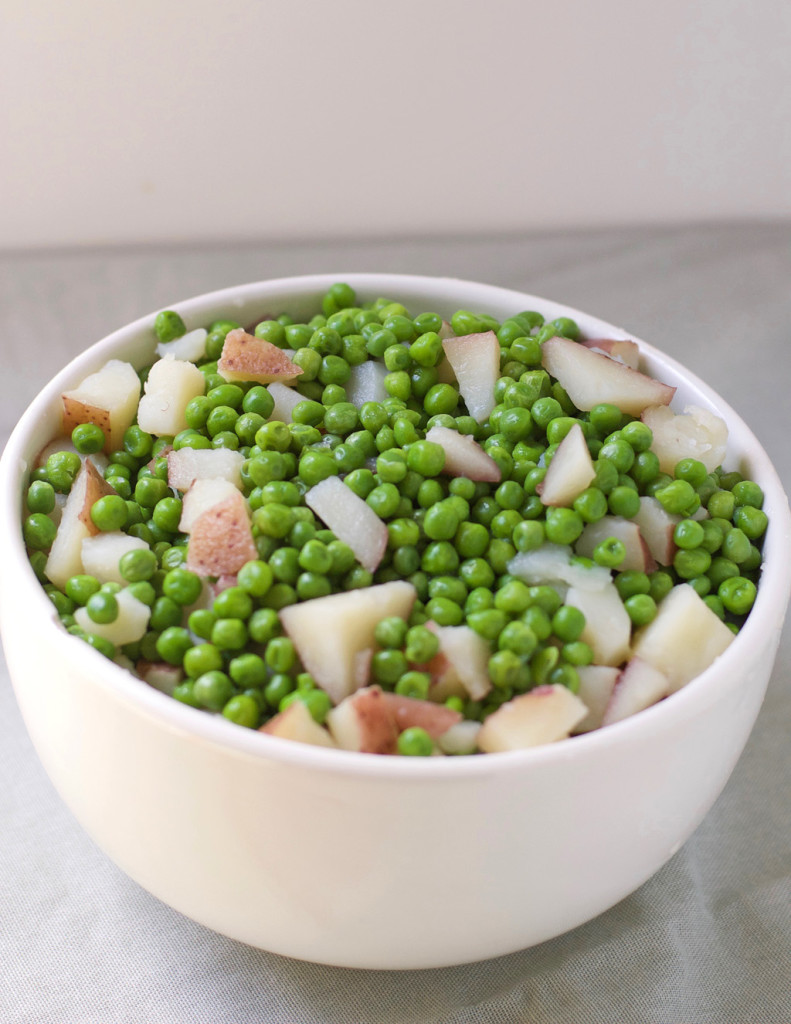 Don't you just love hate looking at an eye appealing dish and wonder if it is all looks and no taste?  Me too.
I want it to taste as good as it looks and look as good as it tastes!  And sometimes that just does not happen.
But these creamed peas and potatoes are not only beautiful to look at, but they are so doggone good too!
I love the colors of spring time and try to be a seasonal food type of cook.
Spring time shouts green: grass, garden seedlings peeping out of the ground, trees budding, a dusting of pollen everywhere…. GREEN!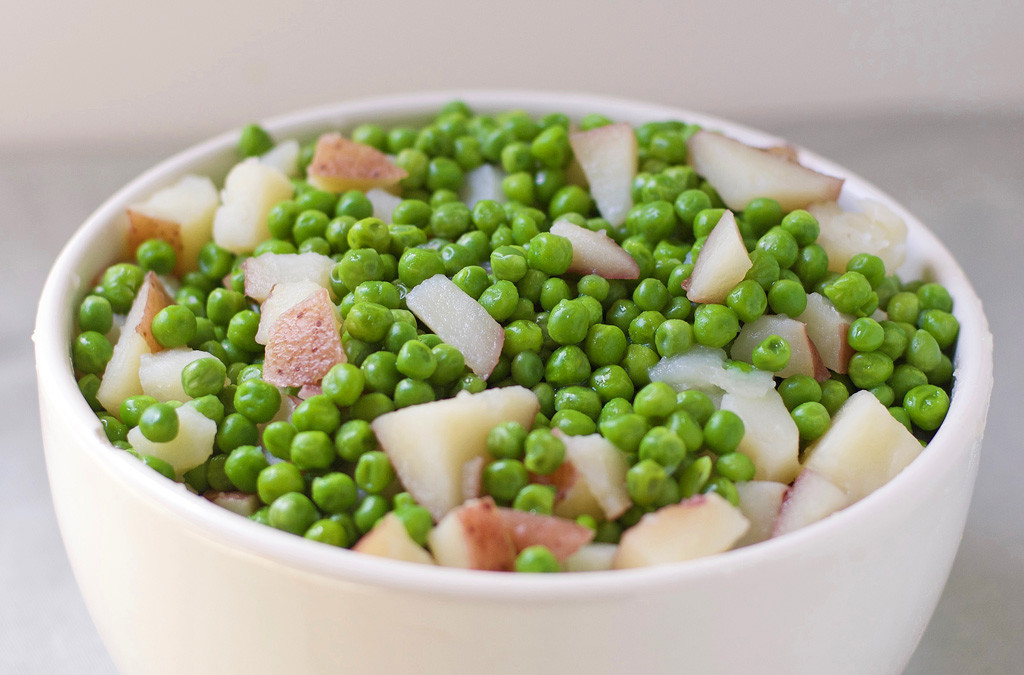 So I wanted a recipe that would carry out that shouting theme: look at me, it's Spring!!
Kick up your heels, breathe in that spring time air, never mind that pollen, it's the time for rebirth!
The dish needed to be vibrant in color AND flavor.  A dish that would make you think 'Man, this is delicious, I need to get this recipe, I bet my peeps would love this dish!'
Well, HELLO, this creamed peas and potatoes recipe has it all: vibrant color, creamy flavor, easy to make and the best part?  It's Gluten Free!!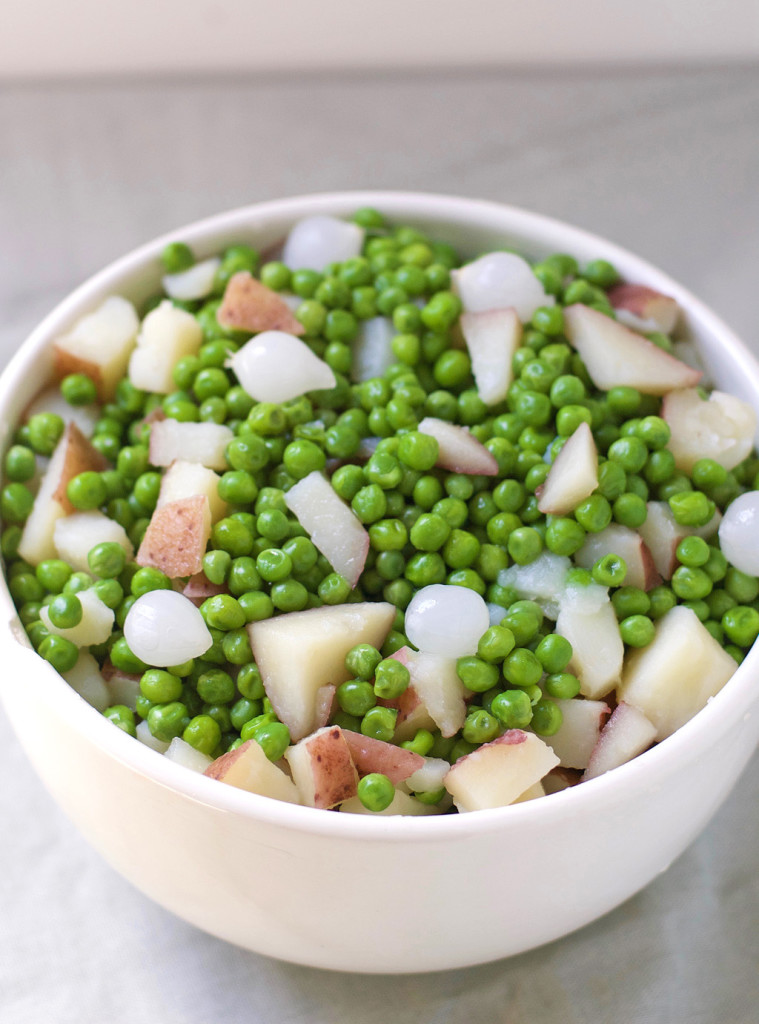 I can hardly wait to get the first green peas and new potatoes out of our kitchen garden.  Their flavors are good!  And I feel such an accomplishment that what I have planted has actually sprouted and grown!
The peas, the potatoes and the cream sauce umm, umm and when I decided to try the cocktail onions, WOW, what a kick to the taste factor of this dish.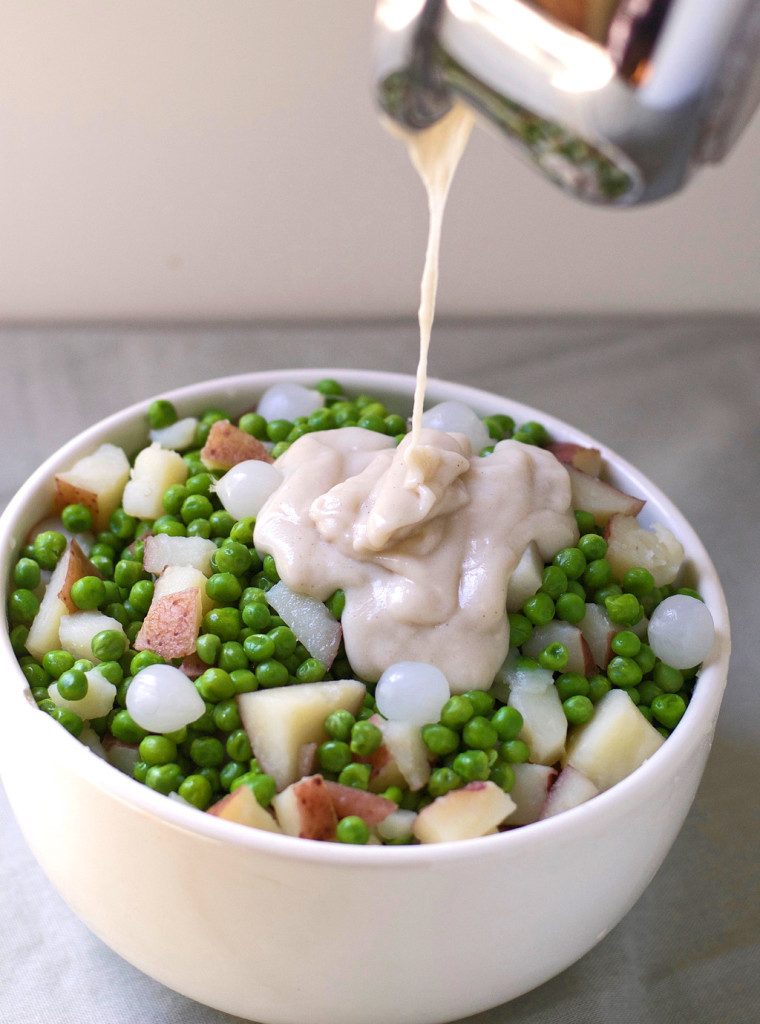 This recipe is another one that is so easy to make, mainly because I want all the nutrients from those potato skins, and peeling potatoes would be the most difficult step in this recipe.
If you are looking for an eye candy side dish that tastes as good as it looks Creamed Peas and Potatoes is the recipe for you!
Creamed Peas and Potatoes
Ingredients
3 medium red potatoes, unpeeled and cubed
3 cups Low Sodium Chicken Broth
1 10 ounce package of frozen peas (do NOT use canned peas!)
2 tablespoon butter
2 tablespoons gluten free all purpose flour
salt to taste
¼ teaspoon white pepper
1½ cups almond milk
½ to 1 cup cocktail onions
Instructions
Cook potatoes in saucepan with chicken broth until tender
Prepare frozen peas per package directions
In a saucepan, melt butter and add flour, salt and pepper to form a paste
Gradually add in milk, stirring frequently and bring to a boil
Boil for one minute or until bubbly and thickens
Drain potatoes and peas
Combine potatoes and peas in serving bowl
Pour sauce over and stir
Add cocktail onions prior to serving
Creamy flavor, beautiful to the eye and oh do delicious side dish!