Three Pepper Salad is a colorful great low carb side dish that is super easy as well as very delicious.
I have been watching my carbohydrates lately, as in I watch them on other people's plate and not so much on mine.
A low carbohydrate intake for me has really improved my energy and all over well being, but…..
I have sunk into a deep, and I'm talking seriously deep, rut with my carbohydrate counting.
I love fresh veggies and lean chicken and turkey and let's not forget the eggs, but they can be so b-0-r-i-n-g meal after meal after meal….
I was wanting desperately craving a meal with some spunk, some excitement to shoot down my boredom without skyrocketing my carb intake.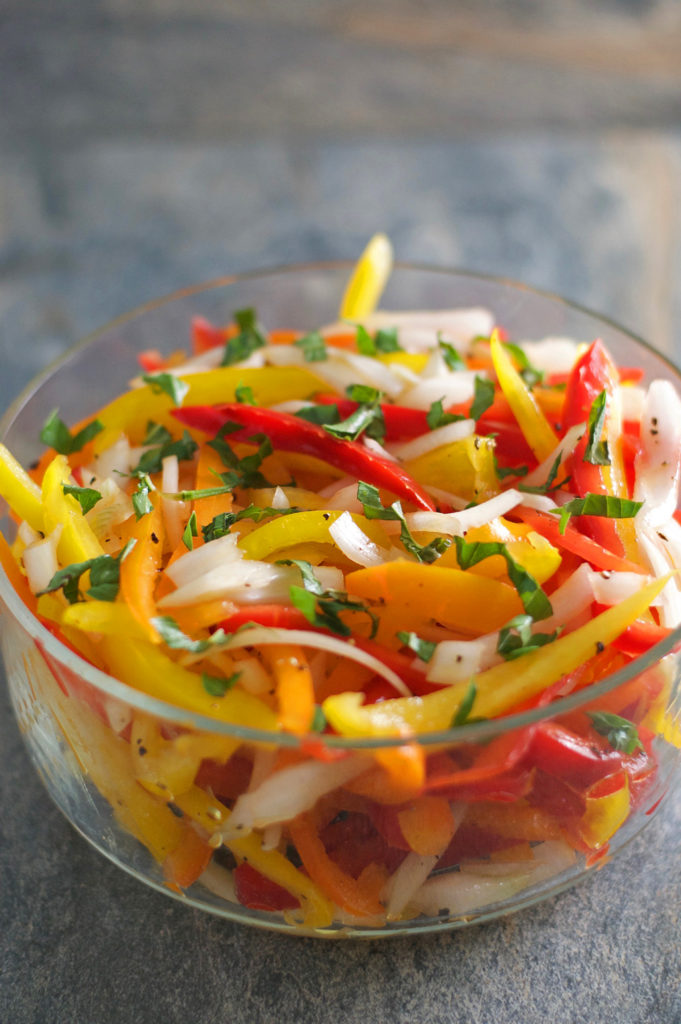 The Farmer's Market can be your very best friend if you are gluten free and counting carbs.
On this week's buying session I saw the most beautiful yellow, red and orange bell peppers….they seemed to be calling my name, 'Clearance'!
Hmm, what could I make with these beautiful bell peppers?  I prefer my veggies to be crunchy even when I steam them, it's that whole texture thing I have going on.  Anyway, it is really just too hot and humid to be adding more humidity to the kitchen by steaming these beauties.
Light bulb moment!
I'll make a Three Pepper Salad and kick it up a notch with some basil!!
Can I say easy, simple, beautiful to look at?  Yes, I certainly can as well as DELICIOUS!
There is just something about that basil, sesame oil and rice vinegar that gives this dish just the umph I was looking for!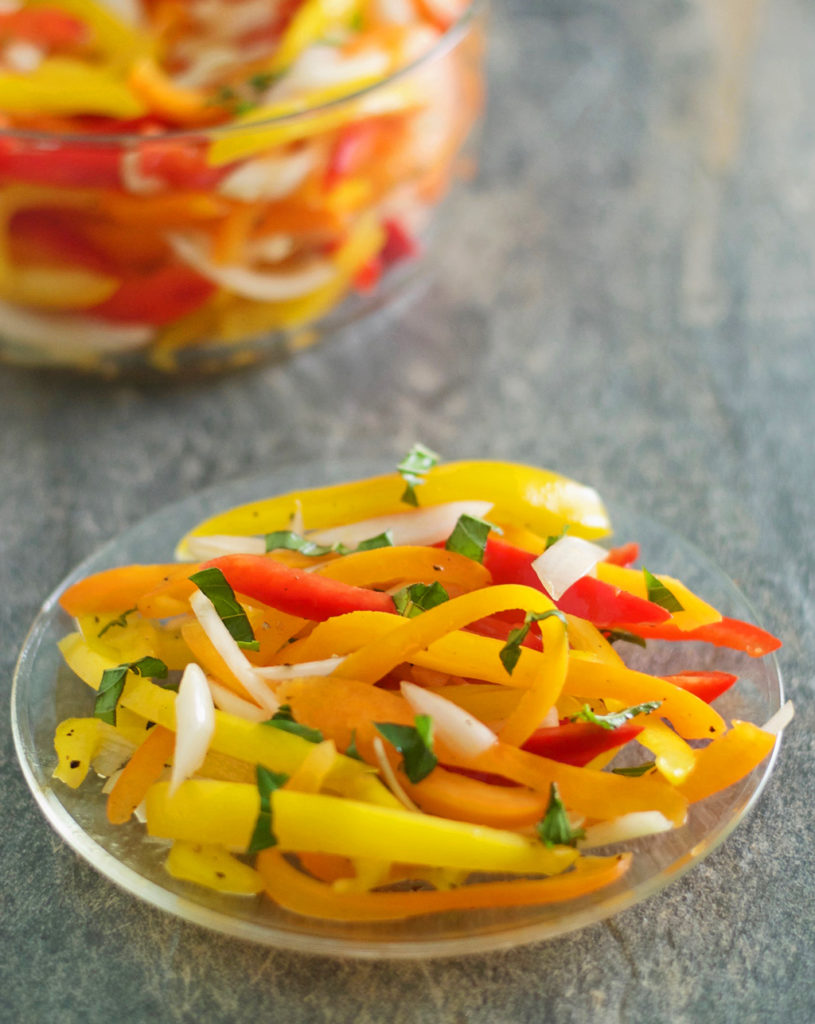 I ate this Three Pepper Salad as a side with baked turkey breast.
I consumed them whipped up in an omelet.
And best of all, I put them on a gluten free pizza crust!! Oh lawd my mouth is watering just remembering how over the top THAT meal was!!
Uh, yeah the carbs went off the chart that night, but oh man was it fantastic!
I'm sure I will think of several more ways to use this Three Pepper Salad…and I plan to real soon (if they'll just go on sale again).
Perfect recipe: simple, easy to prepare and delicious!
Enjoy!

Three pepper salad
Ingredients
1 red bell pepper, cored and seeded
1 yellow bell pepper, cored and seeded
1 orange bell pepper, cored and seeded
1 small sweet onion, peeled
¼ cup chopped fresh parsley or fresh basil leaves
Coarse Salt
Freshly ground black pepper
1 Tbsp rice wine vinegar
1 Tbsp sesame oil
Instructions
Slice peppers and onion into matchstick size pieces.
Add to a medium size bowl.
Add parsley or basil.
Sprinkle with salt and pepper.
Add vinegar and oil.
Stir to mix well.