I have to admit I love banana bread and really do not like to embellish it but I had to try this.
My mom really likes anything tart: lemons, raspberries, limes.
I saw some raspberries and thought hmmm.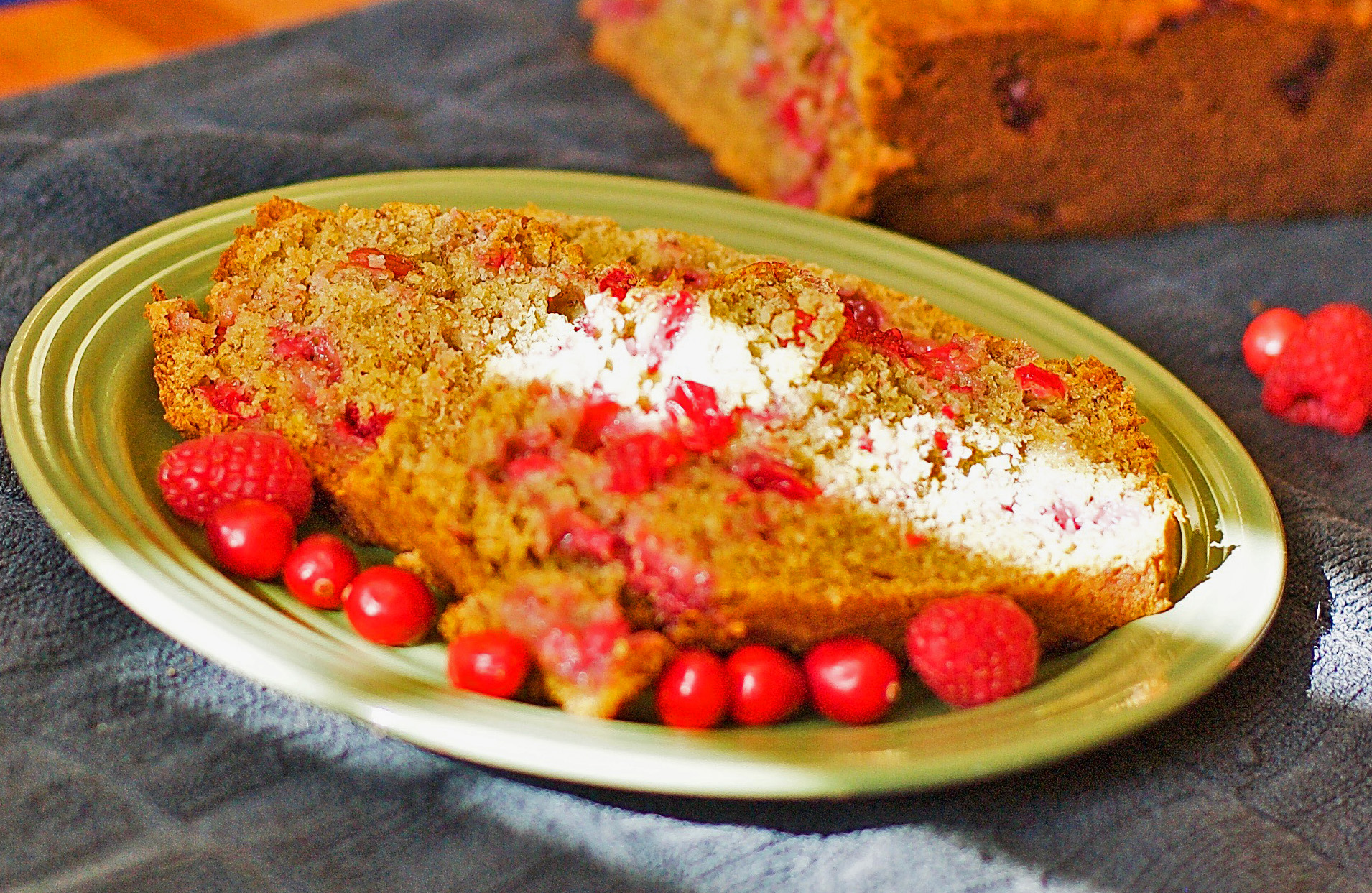 I tried adding raspberries to my gluten/cow's milk free banana bread and wow.  What a flavor combination!!
My mom may have converted me over to the tart side!
Gluten Free Raspberry Banana Bread with Cranberry
Ingredients
1¾ Pamela's Artisan Flour Blend minus 1 Tbsp
¼ cup ground flaxseeds (flaxseed meal)
2 teaspoons baking powder
½ teaspoon baking soda
¾ teaspoon salt
6 ounces Raspberries
1 cup fresh cranberries
1 cup mashed ripe bananas (about 3 bananas)
¾ cup packed brown sugar
¼ cup melted butter (use vegan butter to make dairy free)
2 large eggs
1 teaspoon vanilla extract, gluten free
Instructions
Preheat oven to 350 degrees. Lightly grease a 9x5 inch loaf pan.
Mix flour, flaxseeds, baking powder, baking soda and salt in a medium bowl. Remove 2 tablespoons of flour mixture and toss with raspberries and cranberries in a separate bowl. Stir together bananas, brown sugar, butter, eggs and vanilla in a separate large bowl. Add flour mixture to banana mixture, stirring just until combined. Gently fold in raspberries and cranberries until evenly blended. Pour batter into prepared loaf pan.
Bake about 1 hour, or until browned and a pick inserted in center comes out clean. Cool in pan 20 minutes. Remove from pan and cool completely on a wire rack before slicing.