Soft, chewy and moist Gluten Free Strawberry Shortcake Cookies are easy AND made from scratch with a secret ingredient!
I can HARDLY wait!
Springtime and the livin' is easy….or is that another season, another song?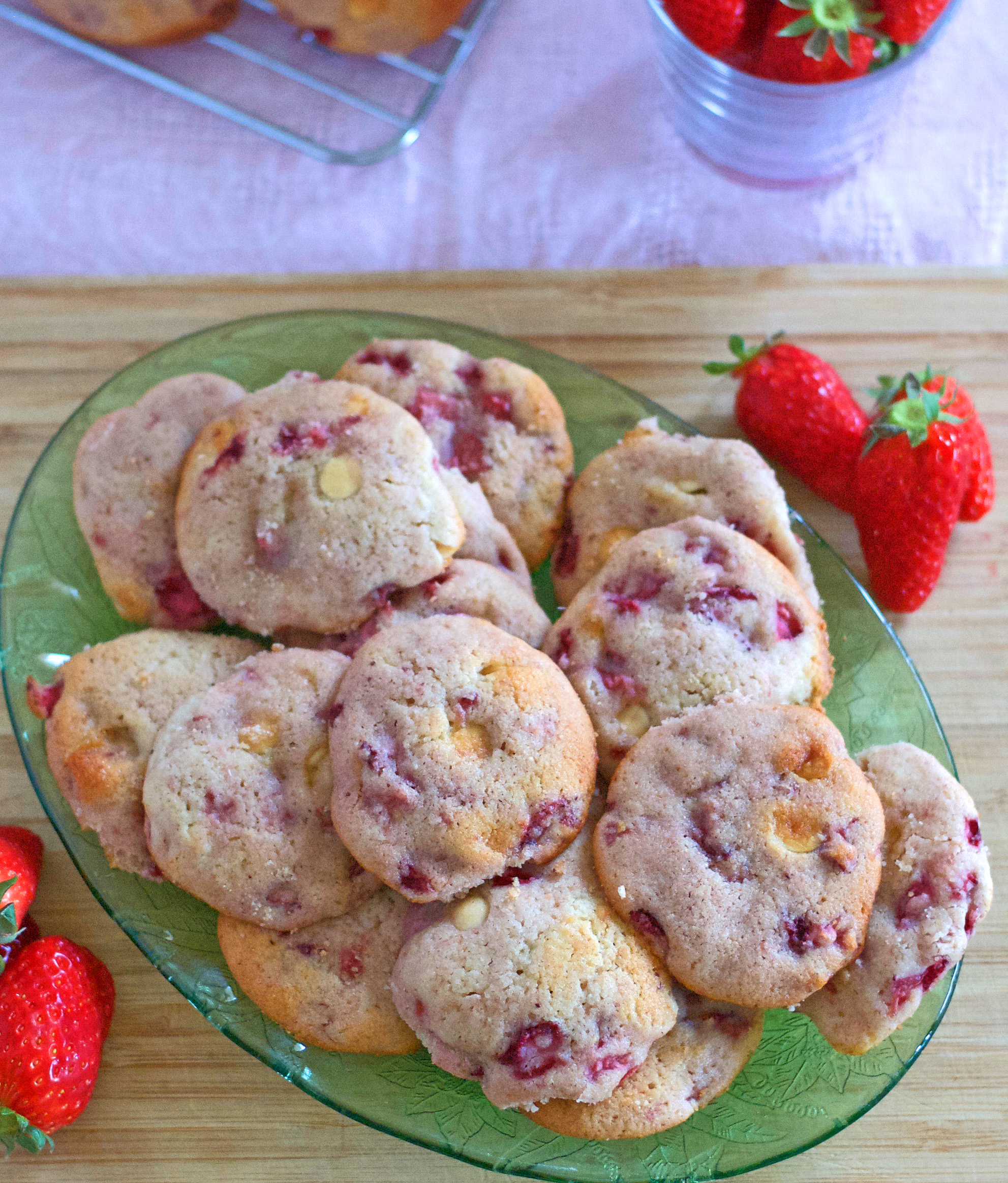 It's almost time for the local strawberry farm to open their mobile store and I can replenish my strawberry stock.
Do you love the smell of fresh strawberries? Do you love shortcake? Do you make strawberry shortcake in the spring?
Huh, do you?  Well, then let's talk because you are definitely my kind of people!
I'm not sure why my entire body does not have a strawberry glow in the spring because I LOVE those red, plump fragrant berries that much. Can you o d on strawberries?  Because when they are in season I make smoothies, milkshakes, waffles to garnish with strawberries, muffins, jams, jellies…..and I should be 6 feet under with the amount of strawberries I consume!
I have a new rule this year: I WILL PACE MYSELF WHEN IT COMES TO MY STRAWBERRY CONSUMPTION!!
No, really I will.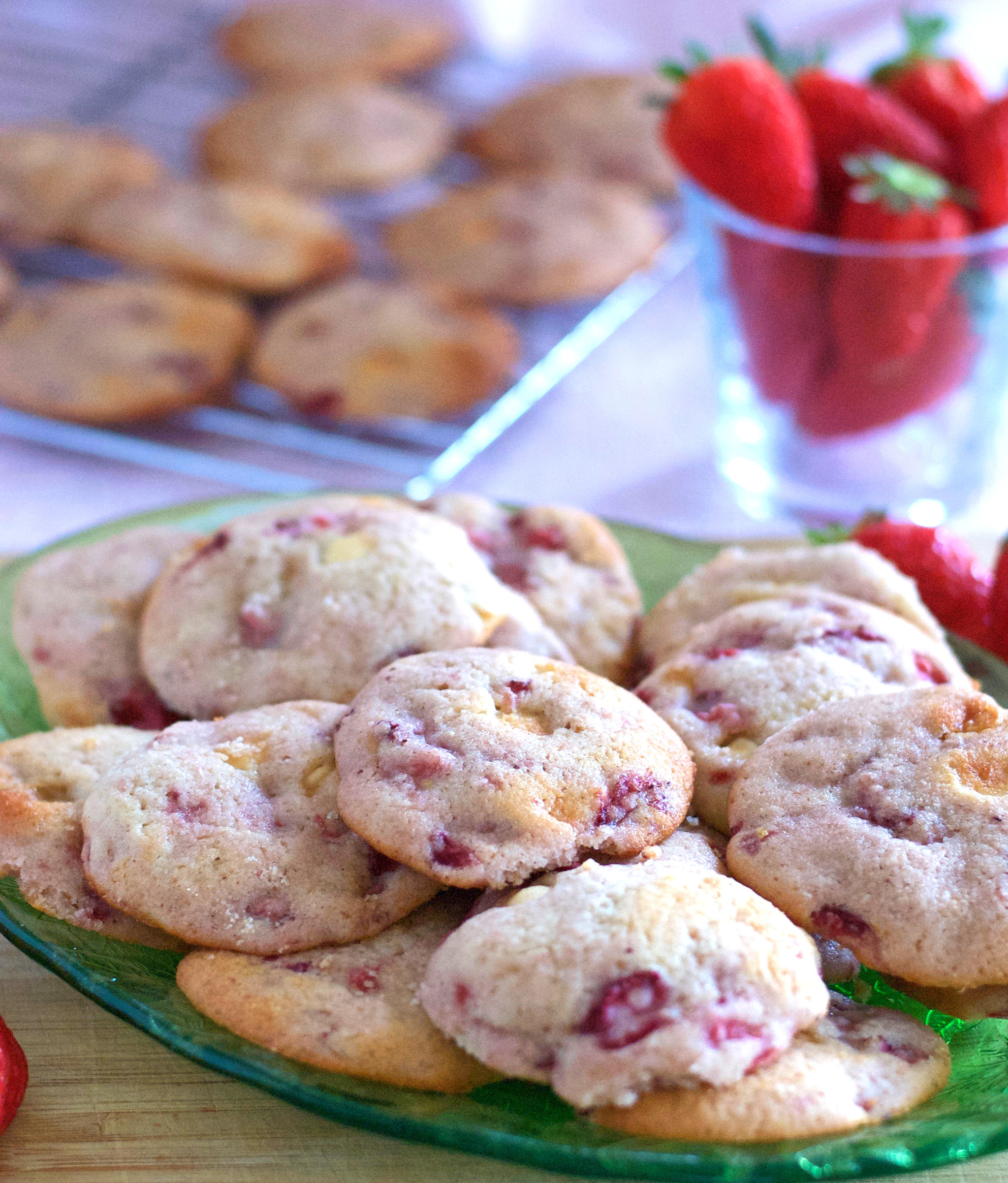 But a girl's gotta have a little something strawberry to tide her over while she is prepping all those luscious berries to put in the freezer, doesn't she?
Enter Gluten Free Strawberry Shortcake Cookies!  These are made from scratch and are super simple to put together, in one bowl no less!
I love a soft chewy melt in your mouth cookie and this recipe for Gluten Free Strawberry Shortcake Cookies fits the bill.  These little delights satisfy that sweet craving I get with the wonderful strawberries that have an added punch of flavor from-are you ready? lemon zest!!  The lemon is just enough to carry the strawberry flavor to a new height!
You might be asking, why lemon zest?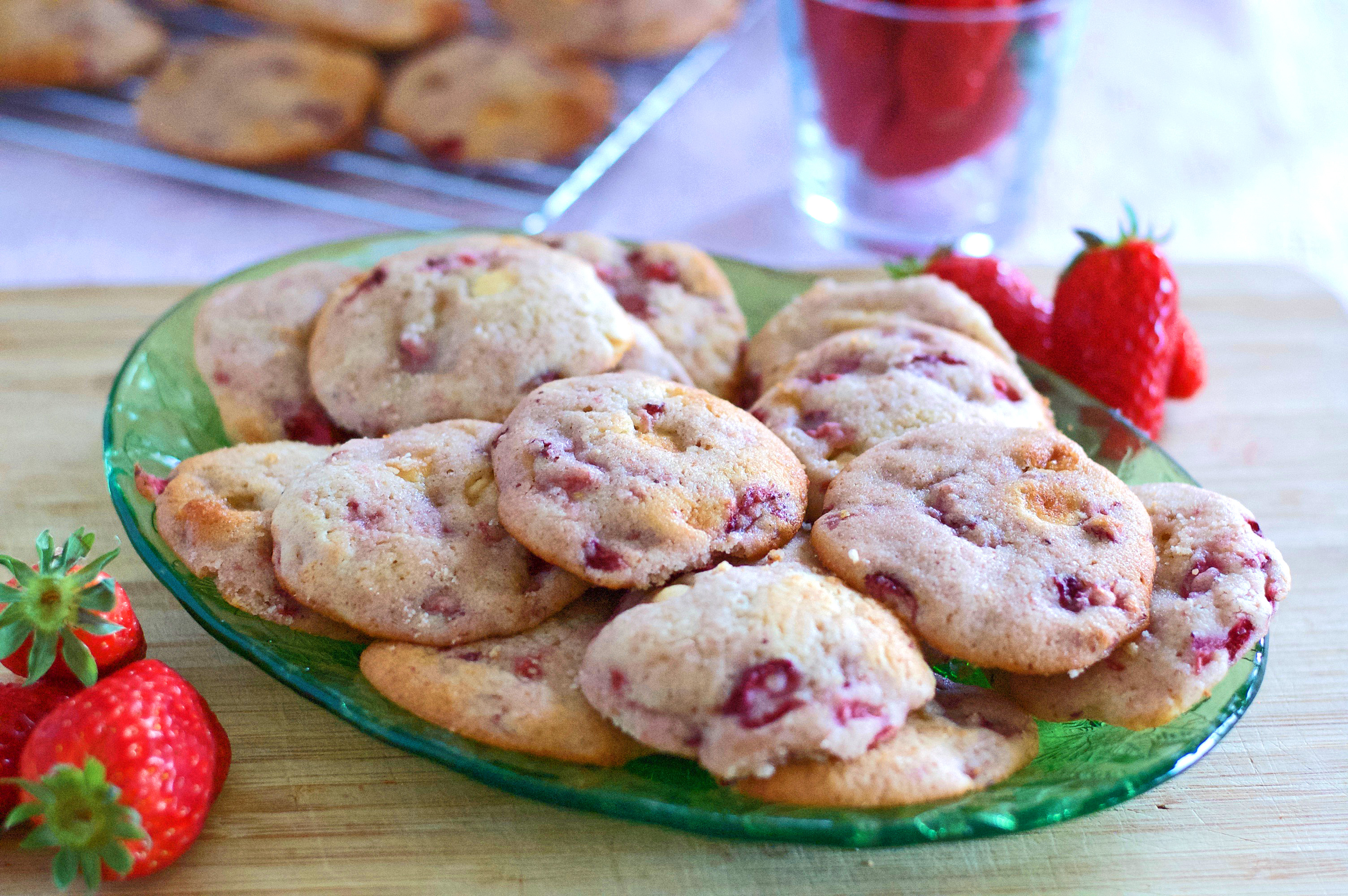 Sometimes things just don't go as planned in the kitchen (usually when I am trying to do too many things at one time).
I was zesting some lemons to dry and freeze for future recipes, because why buy one lemon for zest in a single recipe when there are so many uses for lemons?  Back to my kitchen mishap, or adventure depending on your perspective. I was zesting said lemons, was interrupted with zester in hand, turned and accidentally dropped lemon zest in the Gluten Free Strawberry Shortcake cookie batter. Oh darn! But wait a minute, haven't I seen recipes for a strawberry lemon cake? Why, yes, I think I have.  Let's just mix that lemon zest in the batter and hope for the best.
During the baking process that sweet strawberry fragrance wafted throughout the kitchen and house, bringing two and four legged creatures into the kitchen to spy out what was being made.
Finished product?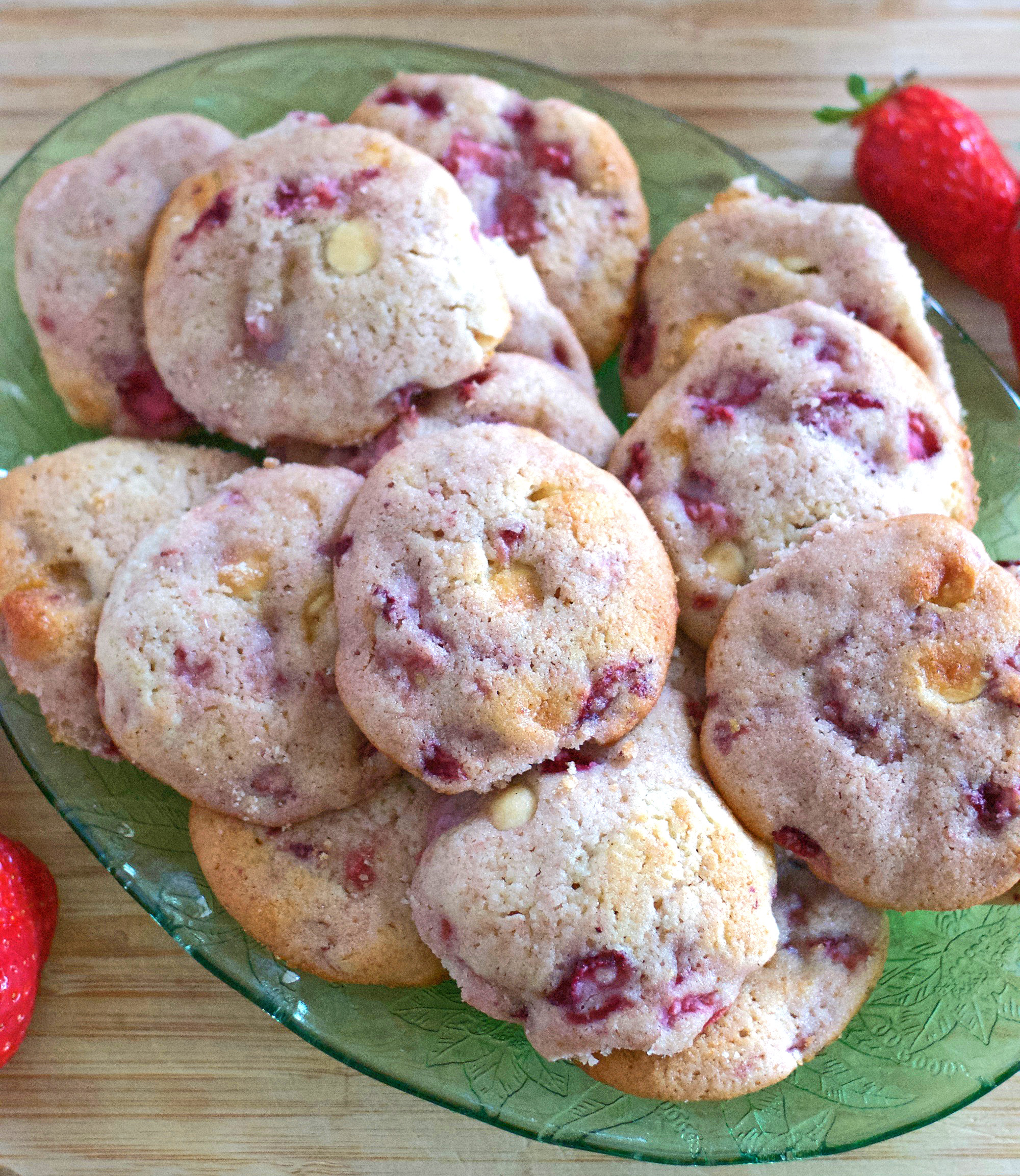 These Gluten Free Strawberry Shortcake Cookies tasted even better than they smelled and the little zing of lemon you got with the occasional bite was Wonderful!
So if you or your family love strawberries as much as I do, this is the recipe for you!
Enjoy!

Gluten Free Strawberry Shortcake Cookies
Ingredients
4 oz cream cheese, room temperature
10 Tbsp butter, softened
1 cup sugar
1 egg
2 cups gluten free flour*
½ tsp baking powder
½ tsp salt
¼ tsp baking soda
1 cup white chocolate chips
Zest of one lemon
1½ cups strawberries, diced into tiny pieces (could use frozen)
Instructions
Preheat oven to 350 degrees.
Lina a baking sheet with parchment paper and set aside.
In a large bowl cream together cream cheese and butter.
Add in sugar and egg.
Add in flour.
Add the lemon zest, baking powder, salt and baking soda.
Mix until dough forms.
Fold in chocolate chips and strawberries.
Using a small scoop, scoop out the cookie dough and place on prepared baking sheet about 1 inch apart.
Bake for about 10 minutes.
Transfer cookies to a cooling rack.
Store in airtight container in the fridge.
Notes
*I use Pamela's Artisan Flour Blend or Better Batter All Purpose Flour Mix

This is a soft cookie.