Perfect meal for that cold winter evening. This German Potato Soup is super good comfort food!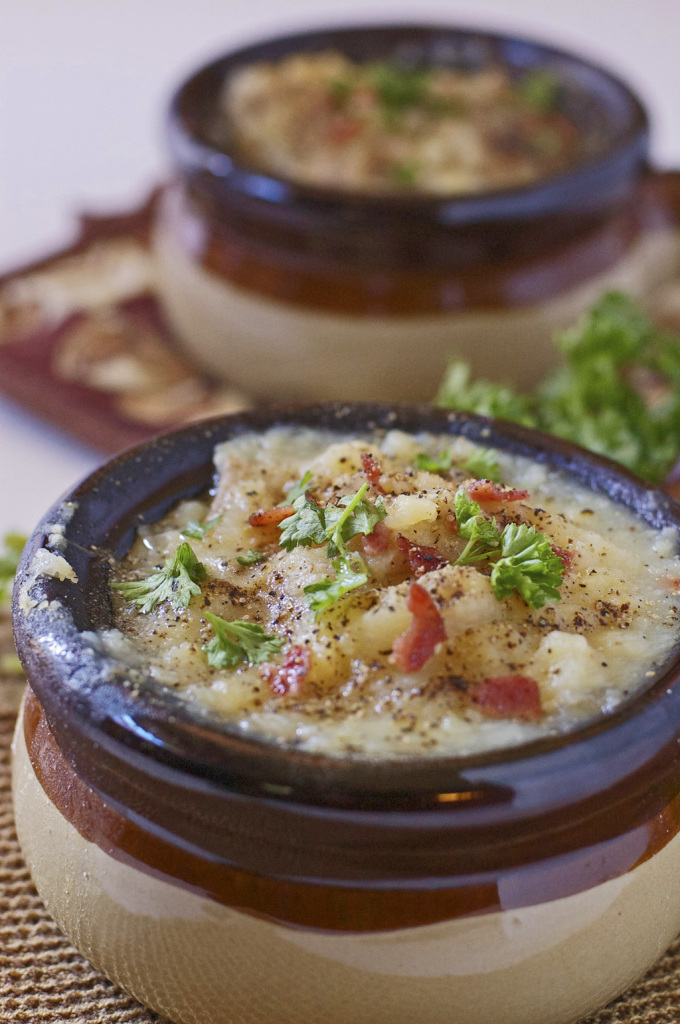 Cold weather has me thinking rich, thick, robust soup;  soup my mom talked about her Pennsylvania grandmother making.
I wanted some soup that would make me feel like I was wrapped up in my favorite warm blanket in front of a fire gently burning on the hearth. Ahhhh…so comforting!
To me cold, brrrr teeth chattering winter nights have GERMAN POTATO SOUP flashing in neon lights!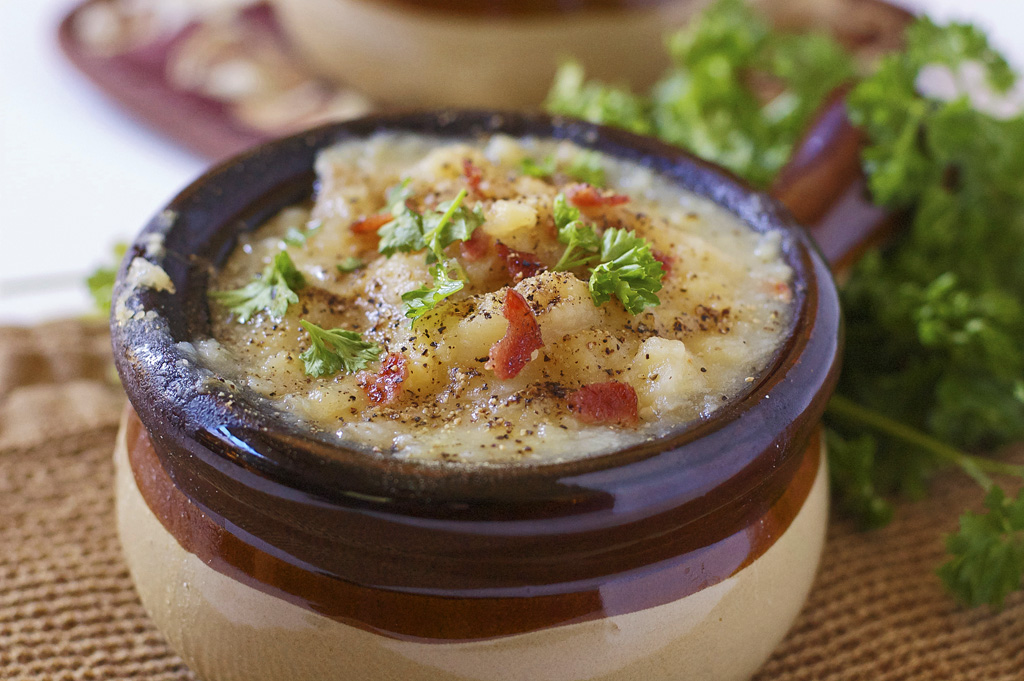 I found this recipe in my late Aunt Helen's clipped recipes. It appears to be a recipe in a collection that was going to be made into a church cookbook, but I have no idea where that cookbook is now.
The really neat thing about this recipe is it is written on a piece of scratch paper that appears to be a letter started by a child. It is dated Dec 22, 1959 and starts out "Dear grandmother & grandfather   Hello, IT IS THREE" I think this is so cute…this child seems to be reminding his grandparents Christmas is in 3 days.  My imagination gets kicked into overdrive with tidbits like this, but that's another story!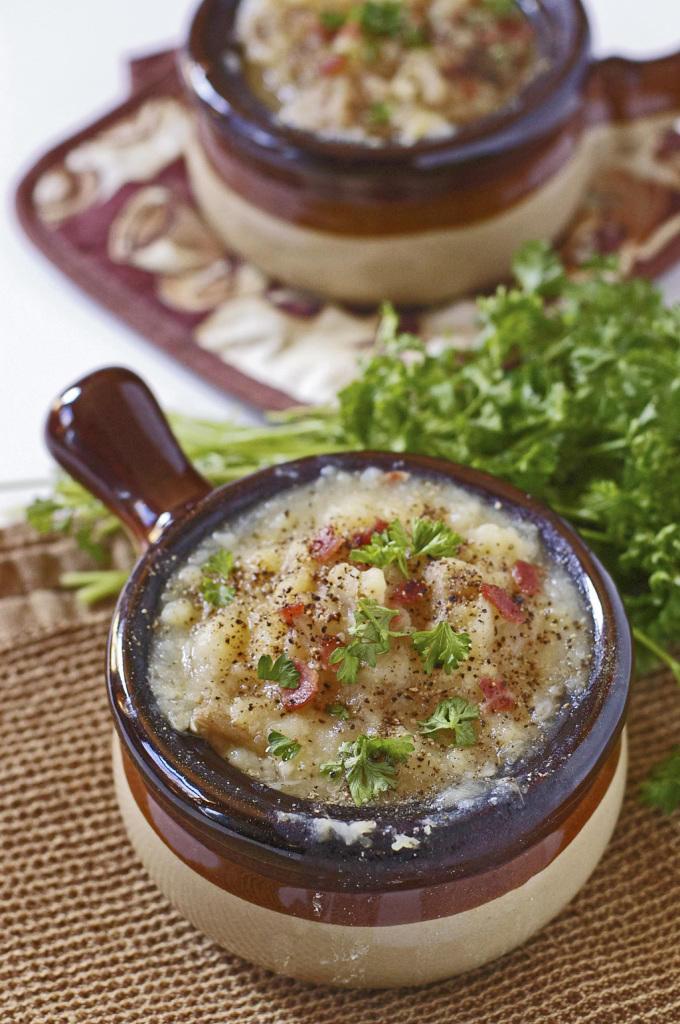 I knew if my Aunt Helen had this recipe, even if it was to be included in a church cookbook, it had to be super good and flavorful.
That was enough for me to try it.
I love the aroma of onions and potatoes simmering on the stove.  I don't know why, but that aroma in itself makes me feel warm.
I never peel any potatoes that I cook, because I want all the nutrients that come in those potato skins.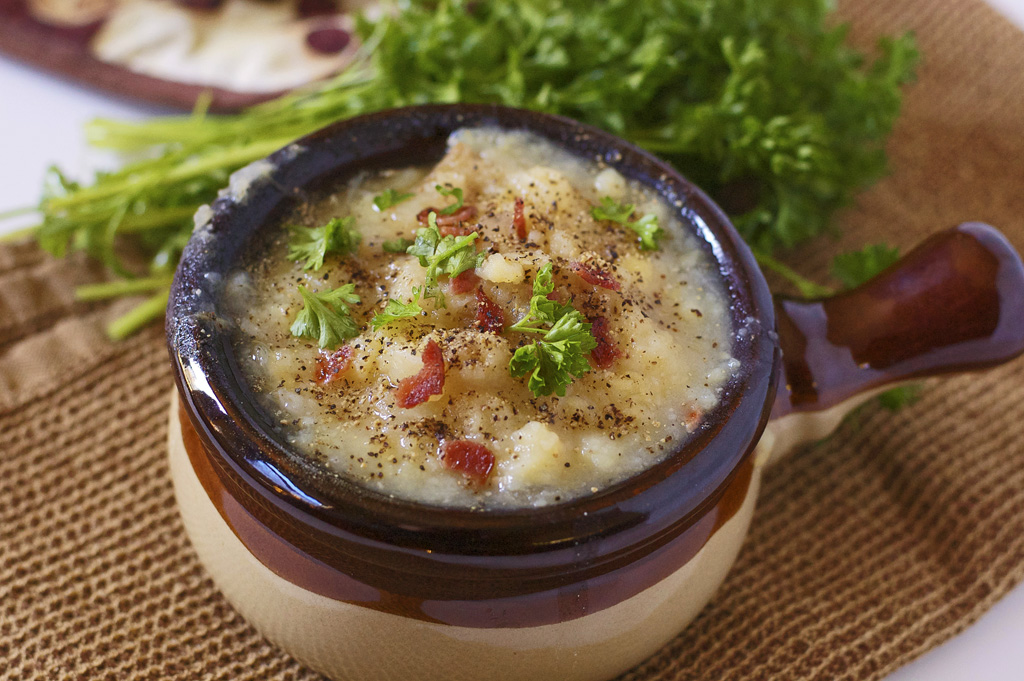 This soup is so easy, so good tasting, so aromatic and is very filling.
I love this German Potato soup as a good basis for multi-vegetable soup. Your tastebuds and vegetable supply would be your only limit.
Make a big ole pot of this delightful German Potato Soup, grab your favorite blanket and have that fire going and you've got yourself a nice winter evening ahead!
German Potato Soup Gluten Free
Ingredients
6-8 potatoes*
3-4 onions
2-3 slices of bacon*
2 Tablespoons Pamela's Artisan Flour Blend
Salt/pepper to taste
Parsley (optional)
Celery leaves (optional)
Instructions
Peel potatoes (If desired)*
Quarter potatoes and onions
Place in just enough COLD water to cover.*
Cook until tender, do NOT drain water.
Mash the potatoes and onions in water.
Fry bacon until crisp and able to crumble.
Stir flour into bacon crumbles and drippings.
Stir this mixture into soup. If is is too thick add more HOT water until desired consistency.
Season to taste.
Add chopped parsley or chopped celery leaves and simmer.
Serve with gluten free croutons or gluten free crackers.
Notes
*Select number of potatoes desired and half that number of onions
*I use turkey bacon
*I used 6 cups of Chicken Broth and the remainder COLD water to cover