Hearty, savory flavor in this best of comfort foods Brunswick Stew!!
Am I the only one, or do you get food cravings during the year, for say, a fall or winter dish, and it's the end of spring sliding into summer?  Strange, I know, but that is me.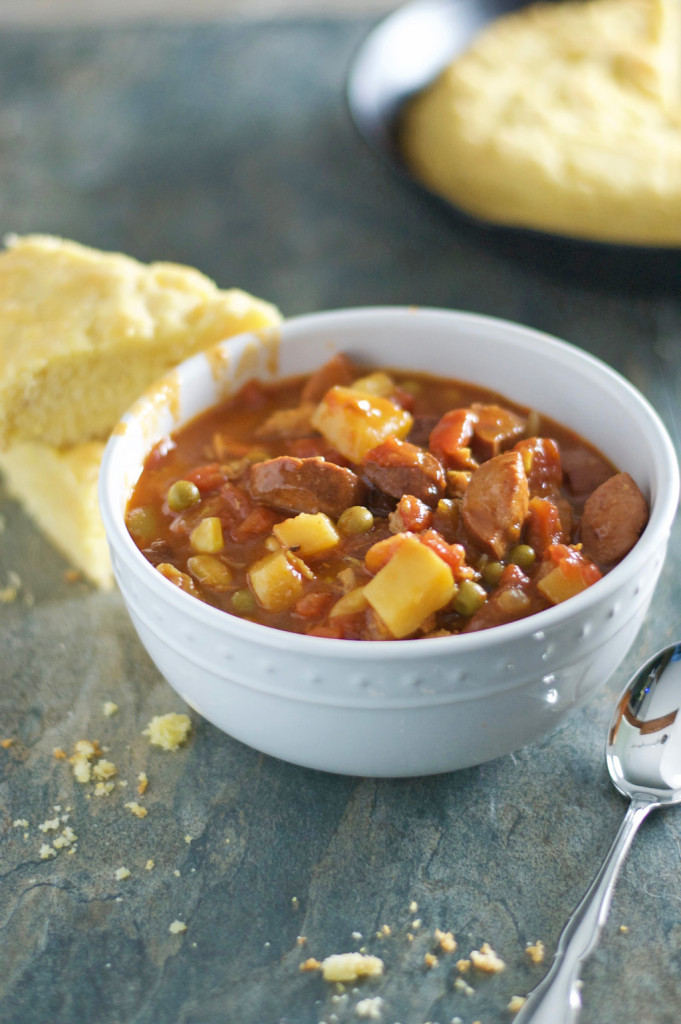 For some unknown reason, I have been wanting some dish which is spicy, filling and that will satisfy this gnawing hunger!!  I hate feeling hungry 30 minutes after eating, don't you?
Brunswick stew, gumbo or jambalaya kept coming to mind, so the recipe search was on…..
I wanted something full of flavor and texture, meat and vegetables and some spice.  Brunswick stew was the winner of the recipe search!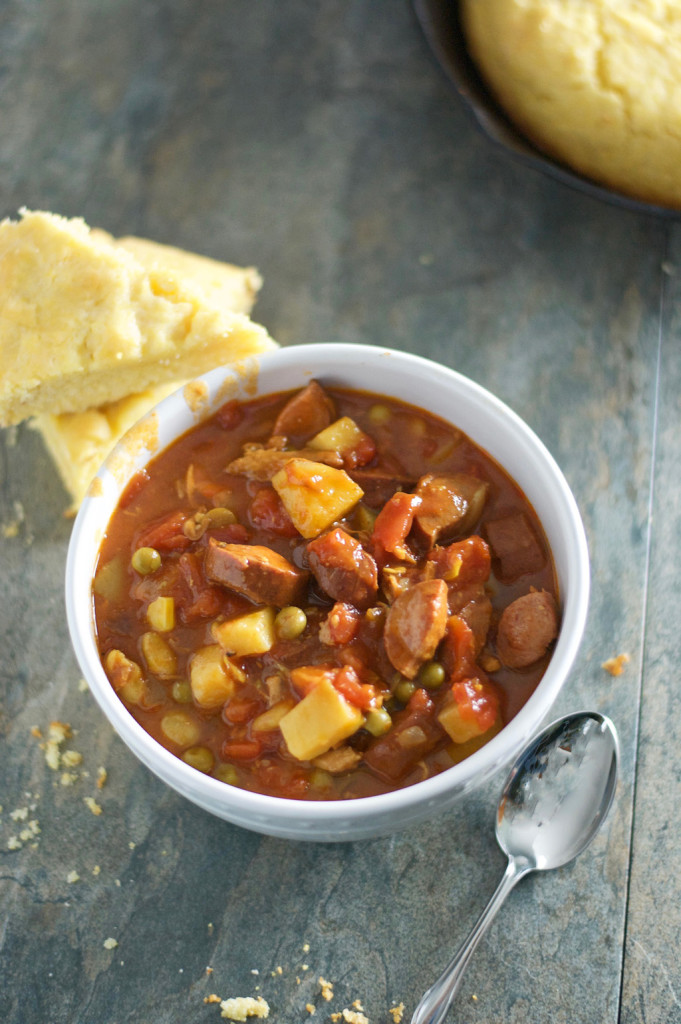 This Brunswick stew has the best, and I mean BEST, blend of flavors.
While I was assembling the ingredients, mixing and adding, the aroma was intoxicating!! It actually had my mouth watering, I kid you not!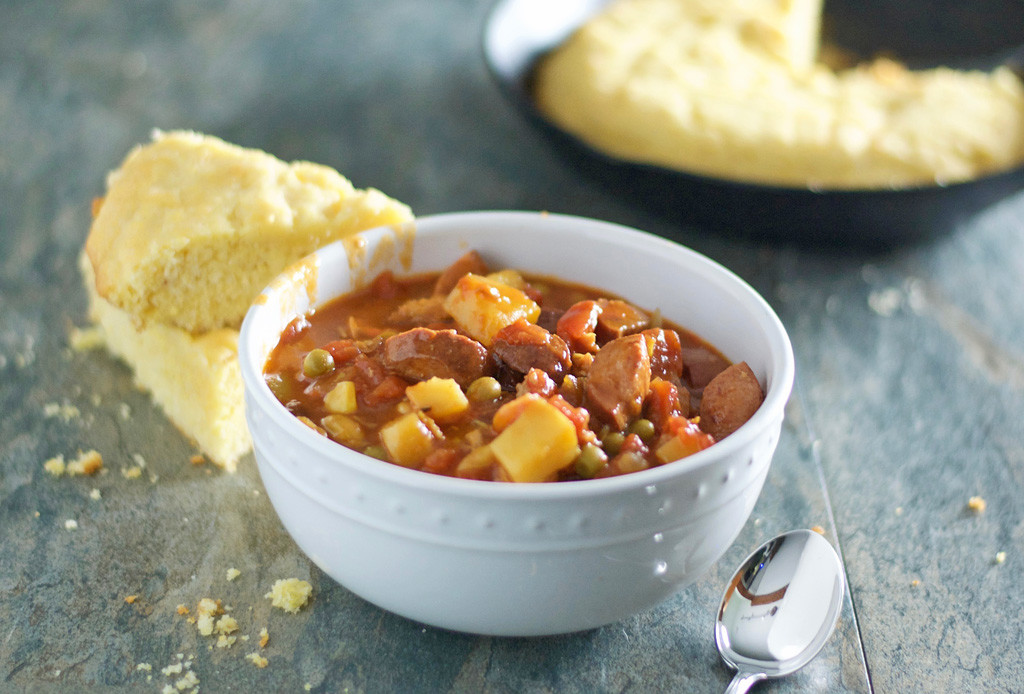 I like my food slightly spicy (as I want my nose to start running, spicy, but not make me break out in a sweat, spicy, I do have my limits!)
My dad does not tolerate spicy foods very well, so we always issue a warning to him that something will probably taste hot to him.
This Brunswick stew was just slightly spicy warm to me, but you would have thought he had bitten into a 3 alarm fire, the way he acted!  But he kept right on eating it and mopping his bald forehead!
Dad, what is wrong with you?  Dad: yeah, it's hot but boy is it good!
PICK ME UP OFF THE FLOOR!
He has even taken some to share with a friend who is opening a restaurant soon.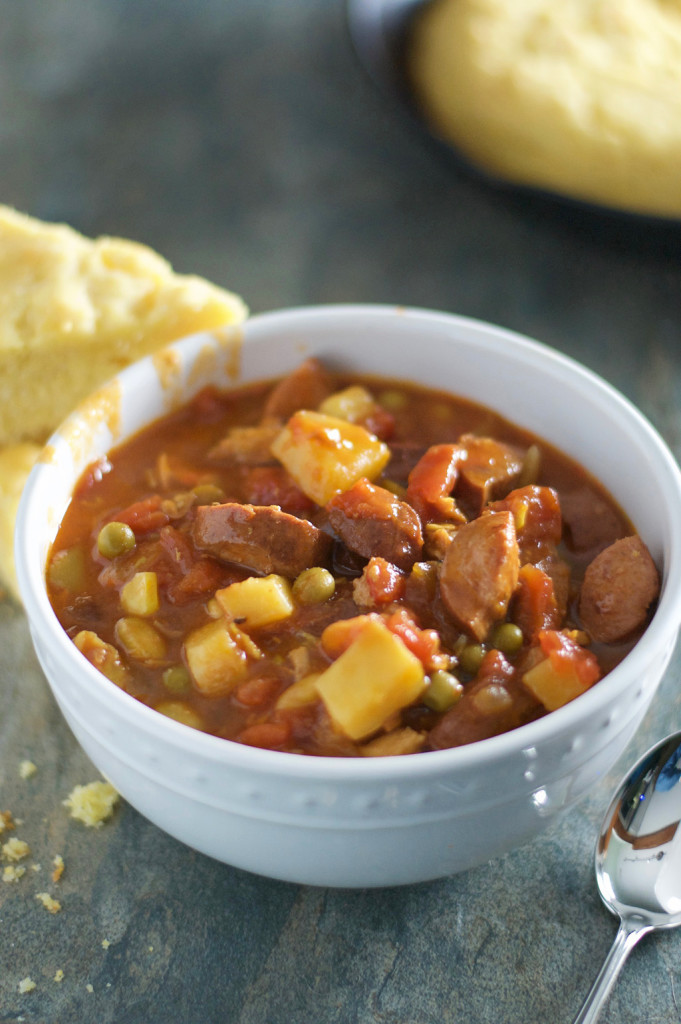 Now I think this is a fantastic Brunswick stew and I don't mind sharing, but he is going overboard sharing this far and wide.
You might ask how he could share that much when the recipe makes a gallon?  Well, I have been strongly requested to make this on a weekly basis!
I have no idea how good this Brunswick stew could be if the ingredients had the chance to blend together, say as leftovers in the fridge! because it is inhaled consumed so quickly!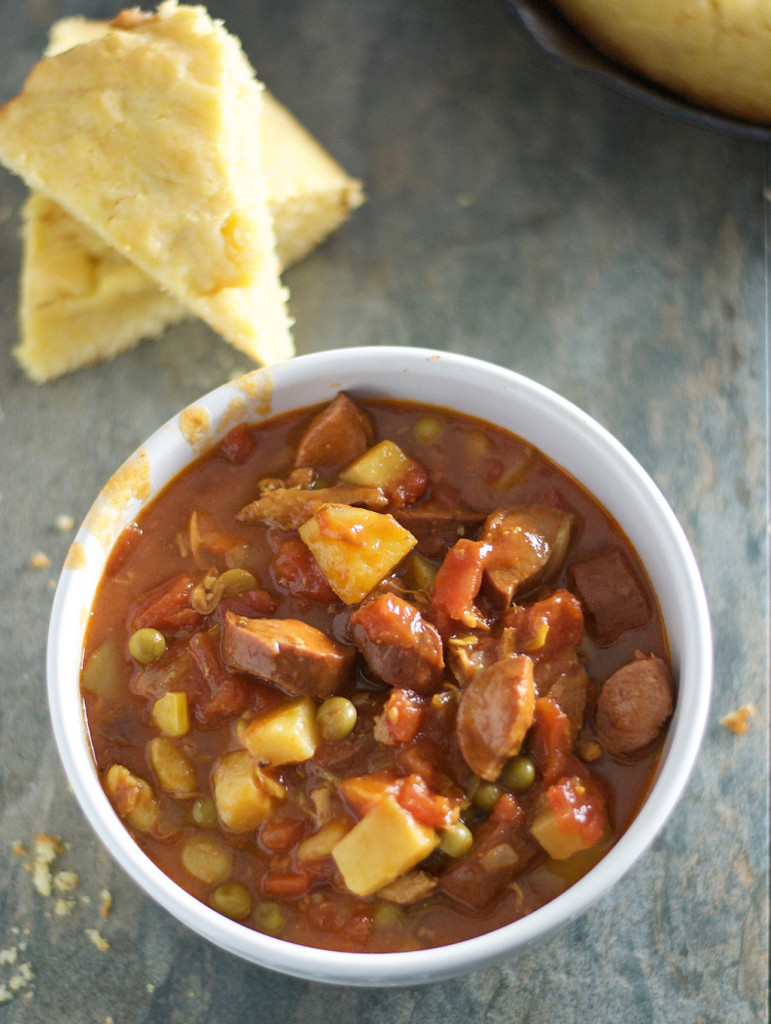 The recipe sounds time consuming but it really isn't that bad, and since I have made it at least a dozen times, I can now mix it up fairly quickly.
I can hardly wait to bring this to a family gathering, like a family bonfire in cooler weather.
If you are wanting a delicious Brunswick Stew that is slightly spicy and will fill you up, this is the recipe you want!
Gluten Free Brunswick Stew
Ingredients
Sauce
¼ cup of butter
1¾ cups of ketchup
¼ cup of mustard
½ cup white vinegar
1 tablespoon chopped garlic
2 teaspoons coarse ground black pepper
1 teaspoon crushed red pepper
2 teaspoon kosher salt
2 tablespoons Liquid Smoke
4 tablespoons gf Worcestershire sauce
2 tablespoons Sriracha sauce
1 tablespoon fresh lemon juice*
½ cup dark brown sugar
Stew
¼ cup of butter
3 cups small diced potatoes
1 cup small diced onion
2 cans (14.5 oz) low sodium chicken broth
1 lb cooked chicken, shredded **
13 oz Butterball Hardwood Smoked Turkey Sausage, diced
1 (15 oz) can early peas, drained
3 cans (15 oz) diced tomatoes, chop tomatoes and add with liquid***
Sauce from above
1 15 oz can baby lima beans, drained
¼ cup liquid smoke
1 15 oz can creamed corn
Instructions
Sauce
In 2 2/12 quart sauce pan, over low heat, melt butter.
Add and blend until smooth: ketchup, mustard and vinegar.
Then add and continue to blend until smoother: garlic, black pepper, red pepper, liquid smoke, salt, Worcestershire sauce, Sriracha, lemon juice.
Once smooth add dark brown sugar.
Stir constantly, increase heat to simmer (DO NOT BOIL) for approximately 10 minutes.
Turn heat to low and keep on burner until added to stew.
Stew
In a 2 gallon pot, melt butter.
Add potatoes, onions, chicken broth, chicken, turkey sausage.
Bring to a rolling boil, stirring until potatoes are nearly done.
Once potatoes are nearly done add peas, tomatoes, prepared sauce, lima beans, liquid smoke, and creamed corn.
Slow simmer for 45 minutes to 1 hour (stir occasionally to prevent burning)
Notes
*I used Real Lemon juice
**I used boneless, skinless chicken breast but dark meat could also be used
***I use 2 cans petite diced and 1 can petite dices WITH green chilies for extra spice
Hearty, savory flavor in this best of comfort foods!!