Be still my heart!! The PERFECT dessert for the coffee lover who craves chocolate or the chocolate lover who craves coffee. This Mocha Cake with Chocolate Espresso Icing packs rich chocolate and coffee flavors in every tempting morsel and it's Gluten FREE!!!  Mmmmmm delicious!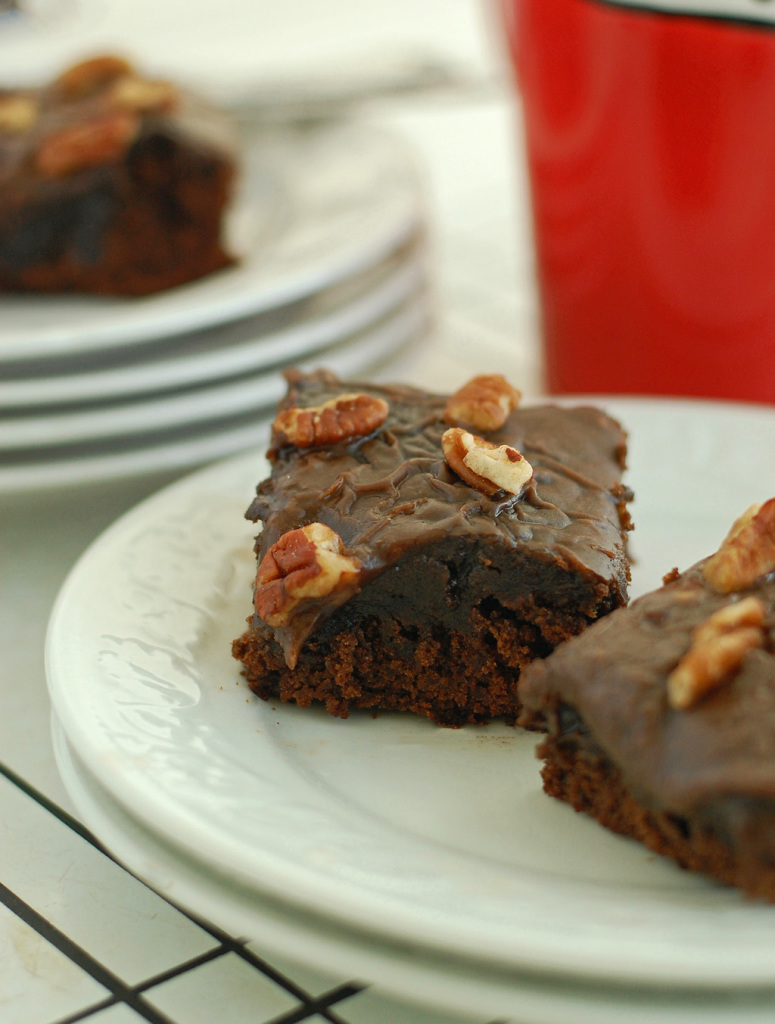 Ah, the aroma of a full bodied cup of caffe mocha or chocolate espresso; can't you just close your eyes and smell it?  Well, I can and did, in my memories of smells.  And, well yeah, you guessed it, I wanted more than just a memory.
I wanted the real thing!!
I am over-the-top about very few things…and caffe mocha or chocolate espresso are at the top of that list right along with just plain ole decadent chocolate.
You can never give me enough of these rich dark flavors.  I really do try to limit my consumption of them, well at least most of the time!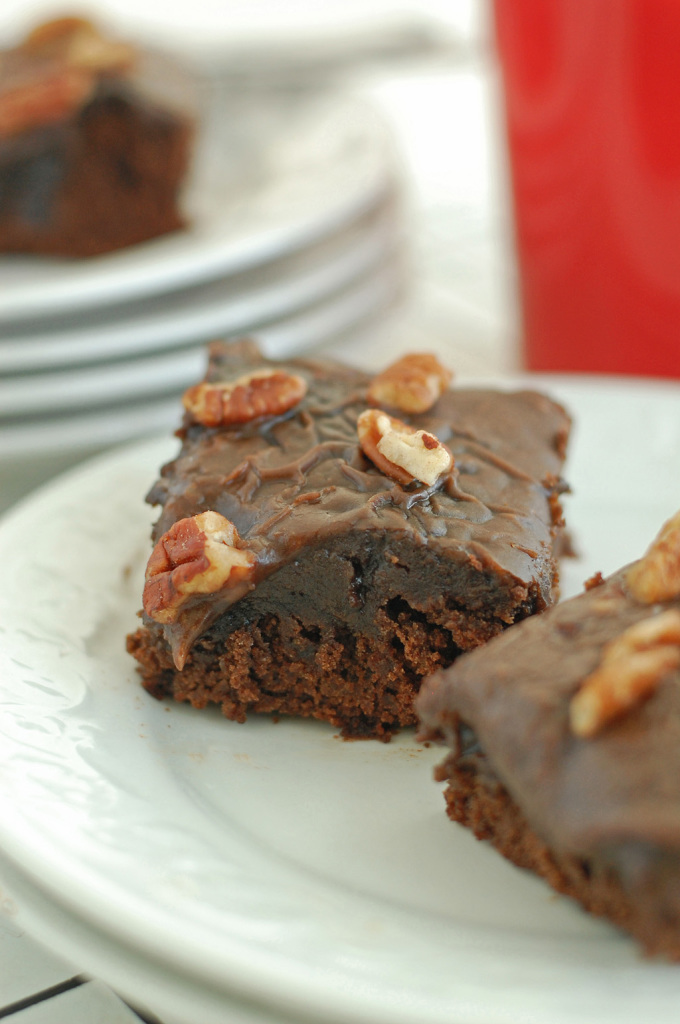 The weather is cooler, would love to have some aromatic coffee right now, but it is an expensive treat for me.  So I decided to see how I could incorporate it into something a little larger.
As in more than just a single serving!
So what confection can I come up with?  Cookies, bars, pudding or cake?  I started thinking and looking at different recipes and cake was the choice.
This recipe more than met my expectations in the taste and texture department.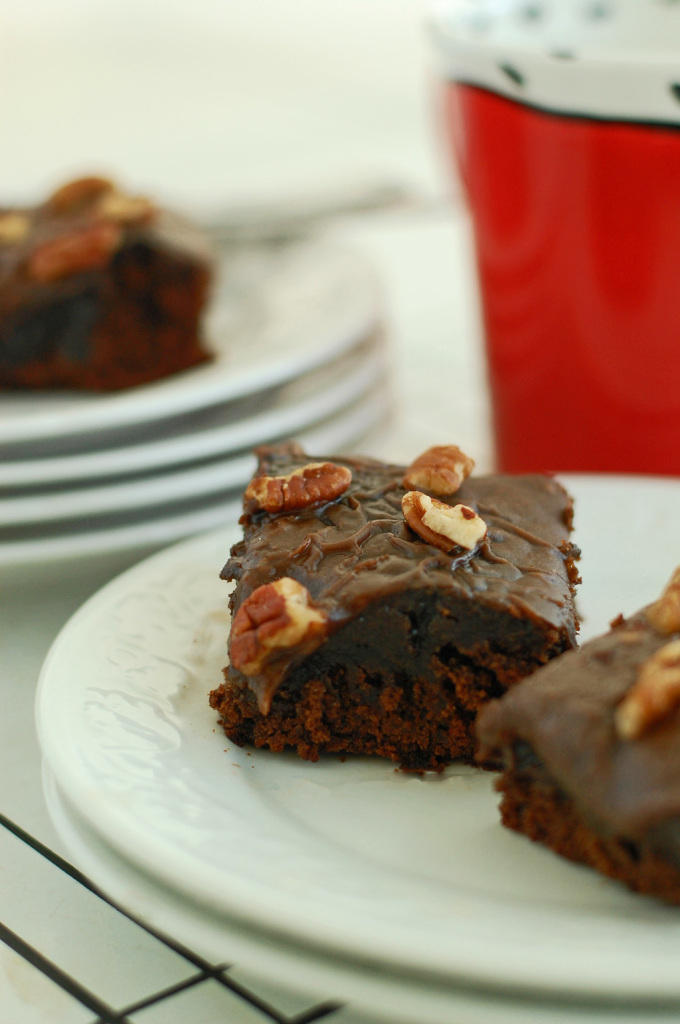 The espresso powder in the cake and icing kick this cake up a notch.  The rich dark flavor it adds to the other ingredients is beyond description.
When I first pulled it out of the oven, it was such a dark color I thought this is going to be so rich I am going to have to add ice cream or a whipped topping to counterbalance the rich chocolate espresso flavor.
Boy, was I wrong!! The espresso icing enhances but does not overwhelm the rich chocolate of the cake.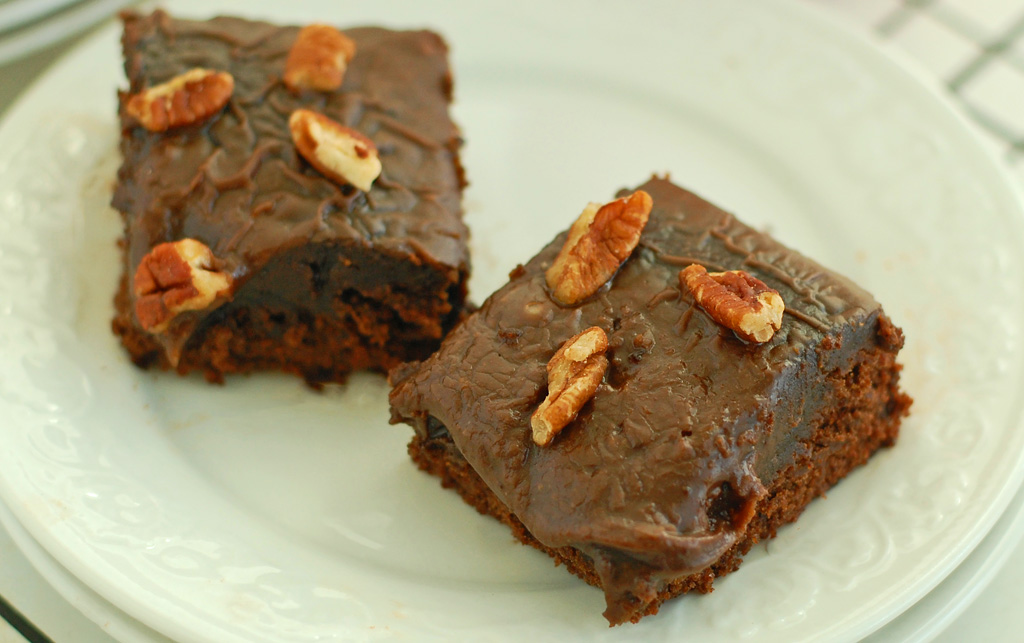 I took that first bite of this cake and I was in my favorite coffee shop with all the smells and espresso machine sounds.
I took the next bite and realized I could now indulge my mocha, chocolate espresso desires in a non liquid, more than one serving only form!
Seriously, y'all have got to try this rich, moist mocha cake with this fantastic chocolate espresso icing real soon!!
Mocha Cake with Chocolate Espresso Icing Gluten Free
Ingredients
Cake Ingredients
4 teaspoons espresso coffee powder
1 cup boiling water
1 cup butter (2 sticks)
⅓ cup unsweetened cocoa powder
2 cups sugar
2 cups Pamela's Artisan Flour Blend
2 eggs, lightly beaten
½ cup buttermilk*
1 teaspoon baking soda
1 teaspoon gf vanilla extract
1 teaspoon ground cinnamon
½ teaspoon salt
Icing Ingredients
⅓ cup butter
½ cup buttermilk*
⅓ cup unsweetened cocoa powder
1 teaspoon instant espresso coffee powder
3 cups powder sugar
1 teaspoon gf vanilla extract
1 cup chopped pecans (optional)
Instructions
Cake Directions
Preheat oven to 350 degrees
Generously grease a rectangle cake pan.
Dissolve espresso powder in the bowling water.
In a medium sauce pan combine brewed espresso, butter and cocoa powder.
Bring to a boil, stirring constantly.
Remove from heat and let cool for 10 minutes.
In a large bowl whisk together the sugar and flour.
Add warm cocoa mixture; stir to blend well.
Add eggs, buttermilk, baking soda, vanilla, cinnamon and salt; mix well.
Spread batter evenly into prepared pan.
Bake 20-25 minutes or until cake tester or tooth pick inserted in the center comes out clean.
Icing Directions
In a medium saucepan heat butter, buttermilk, cocoa powder and espresso powder over medium-low heat until butter melts, stirring constantly.
Remove from heat.
With an electric mixer beat vanilla and powder sugar.
I add the powder sugar in ½ cup at a time to make less of a mess.
Immediately frost hot cake with icing.
Sprinkle with pecans.
Cool to room temperature before cutting.
Notes
*Pour 1 Tablespoon in a one cup measuring cup. Fill until it reaches 1 cup with almond milk or any non dairy milk.
Mocha Cake with Chocolate Espresso Icing Gluten Free Dairy Free Recipe