Hmm…seriously addicted to melted cheese with ground meat, refried beans, corn and tortillas!! Throw in some spicy salsa and this Mexican Casserole has me dancing around the kitchen!
I don't know what is going on with me.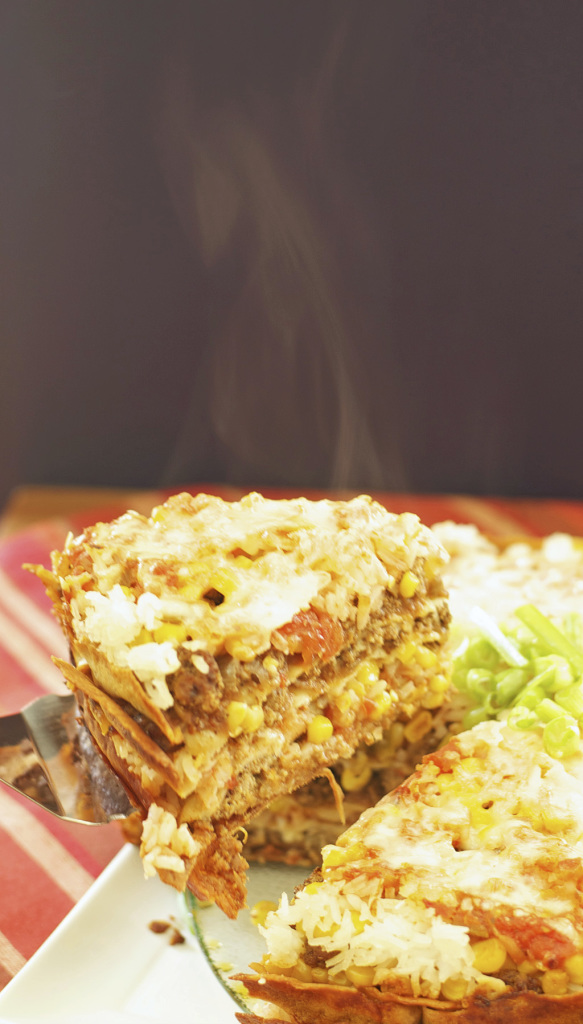 I CANNOT get enough of that spicy Mexican blend of refried beans, tortillas, corn and salsa.  And let's not forget the rice and melted cheese!  Ah, the aroma, the texture the TASTE!!
Growing up, I loved when Mom would have a taco night (yes, this is the woman who did not like to cook, but she came through on occasion…love ya, Mom!)
She would have the meat mixture, the hard taco shells (no such thing as a soft shell back then), grated cheese, chopped onions, lettuce, cucumbers, tomatoes, sour cream and we would pile it all in that shell and enter Mexican food nirvana!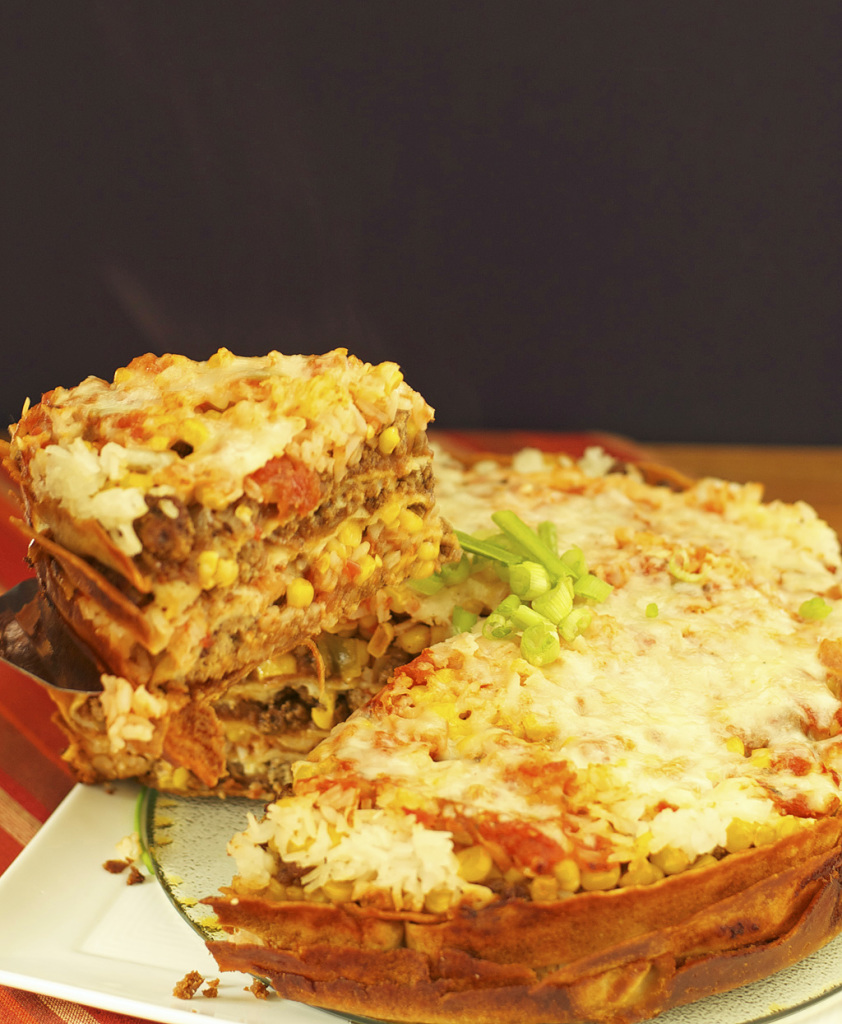 Then you took that first bite, second bite and third bite….shell disintegration!  I'm talking meat mixture dripping down your arm, lettuce, cheese, tomatoes, onions falling on your plate or wherever; it was truly messy but OH SO GOOD!
Now, I don't mind a good ole culinary mess once in a while if the cause (my tummy) is right, but today, when the craving for some Mexican flavored beans, rice and tortillas hit, I did not want to waste time with a mess!
Recipe thinking hat on….casseroles are always good…mix your ingredients, season to your taste, make a lot of it, throw it in the oven and get ready for some great results!!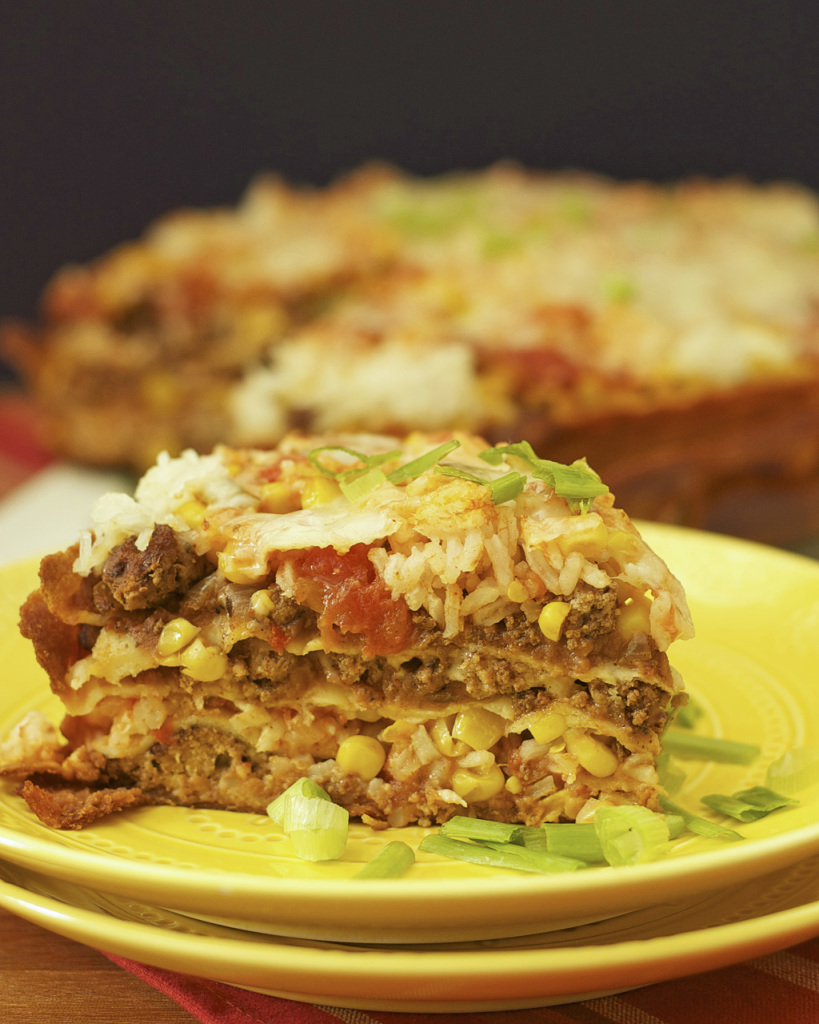 I knew I had to have some type of meat mixture; back in the day, it was ground beef but now I love ground turkey.  Grab the onions, favorite taco seasoning, mix together and ta da we are on the way to a Mexican casserole tonight honey.
I always try to have some refried beans for two reasons: they taste good and they are a great source of protein, no make that 3 reasons: I also like the texture they bring to a dish.
What south of the border dish would be complete without some rice, tortillas, corn and tomato ingredients?  Not this one, so they were part of this luscious casserole also. (Next time I think I'll use Mexican corn blend so I have the pepper kick to add to the flavors).
This combination of Mexican flavors came together so easily and pretty quick.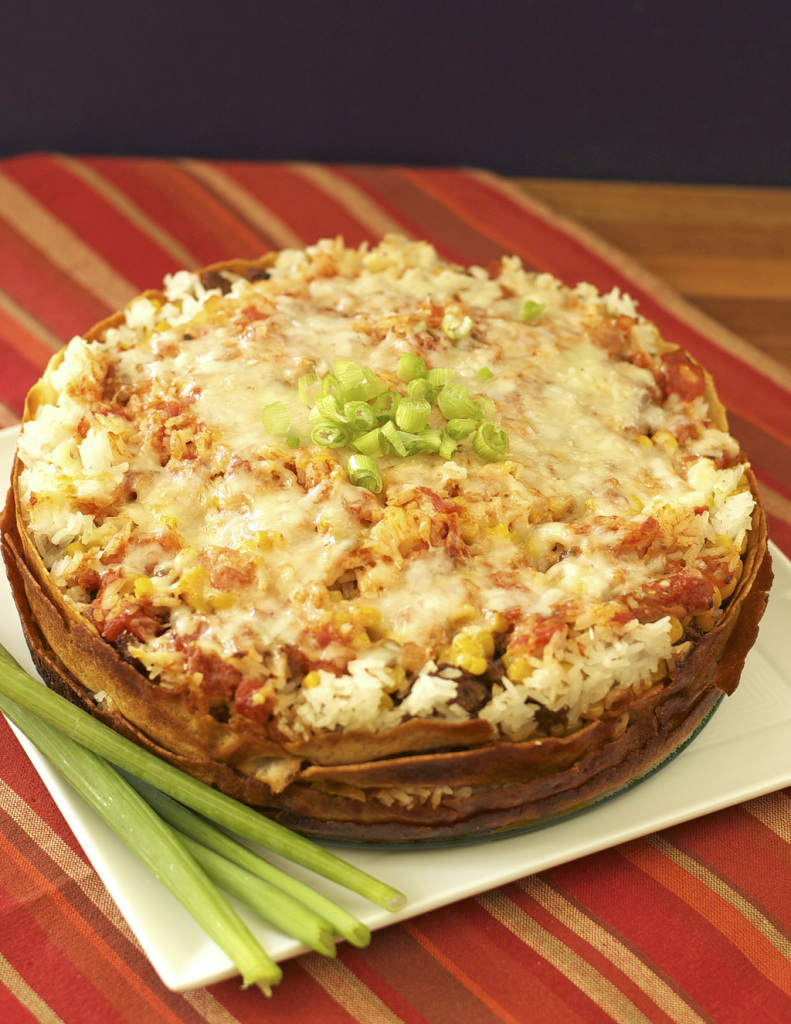 Pulling it out of the oven and seeing all that melted cheese and smelling that rich aroma of spices, beans and meat was an ahhhh and yummmm moment.
I added some shredded lettuce, sour cream and I was transported back to my childhood (without the crunchy, dripping "how am I suppose to eat this if I can't keep it together?") taco night.
Try this fantastically delicious Mexican Casserole that is Gluten Free real soon…your tastebuds will thank you!
Mexican Casserole Gluten Free Recipe
Ingredients
1 lb ground beef or turkey
½ cup diced onion
1 pack taco seasoning
2 cup shredded cheddar cheese
1 can refried beans (warm the beans so they will be easier to spread)
1 cup prepared rice
1 can Mexican blend corn, drained
4-5 gluten free tortillas
8 oz chunky salsa
Instructions
Spray a spring form or round casserole dish with cooking spray.
Preheat oven to 350 degrees.
Brown ground meat and onion. Drain
Add taco seasoning and stir until blended.
Lay 1 tortilla in bottom of prepared dish and spread ⅓ of beans on it.
Top with ⅓ cup meat mixture and sprinkle with cheese.
Place second tortilla on top and top with ½ the rice, ½ salsa and ½ the corn and cheese.
Top with third tortilla, ⅓ beans, ⅓ meat mixture and cheese.
Top with last tortilla, beans, meat, corn, rice salsa and cheese.
Bake covered with foil for 40 minutes and bake uncovered 10-15 minutes longer.
Let sit 5 minutes before cutting.
After baking top with sour cream, diced onion and shredded lettuce if desired.
Mexican Casserole Gluten Free Recipe