Great tasting, good for you…the perfect way to begin your day: Sweet Potato Kale Frittata and it's Gluten Free!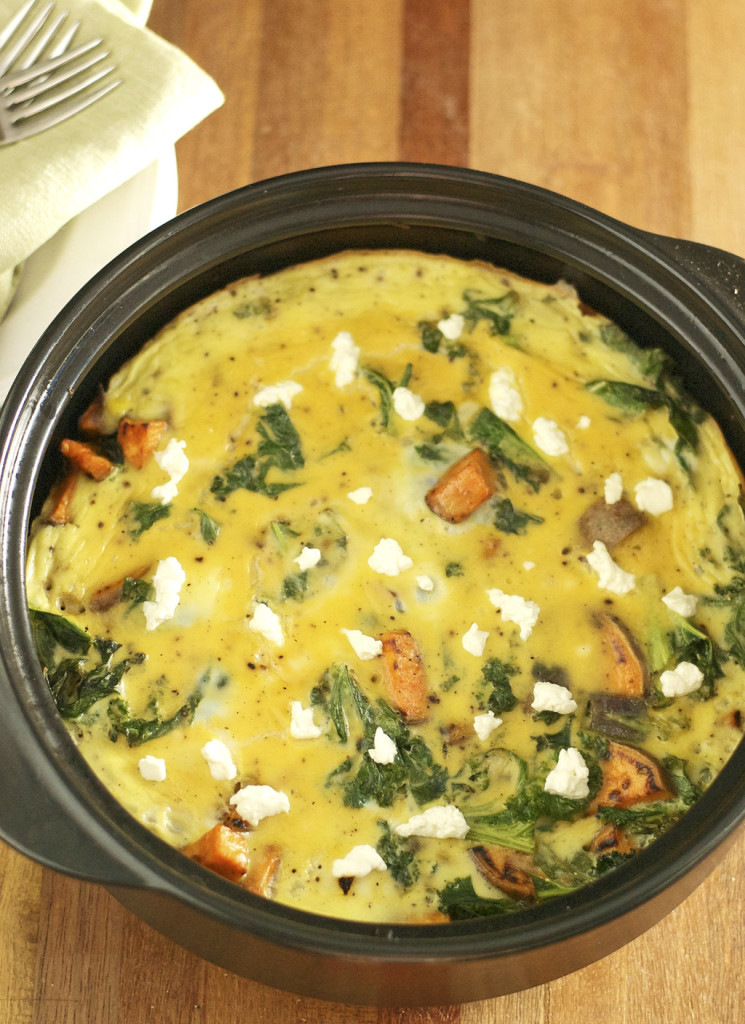 I fell in love with frittatas when my family started camping several years ago.
They are so easy to make over a campfire!! What, you thought we had a fully equipped RV kitchen?  Tsk, tsk I'm talking tent-sleeping bags-rocks on the ground-getting wet when it rains-camping.  The type of family activity that bonds you closer together…and makes you appreciate an indoor shower with hot water and all of your toiletries on a counter and not in a large ziploc bag.
To me the greatest thing about camping is the time spent around a campfire conversing or just watching the night sky.  There is a lot of world to see when there is no cell phone service or WiFi!!
There is so much to be learned from one another if there is no or limited technology!!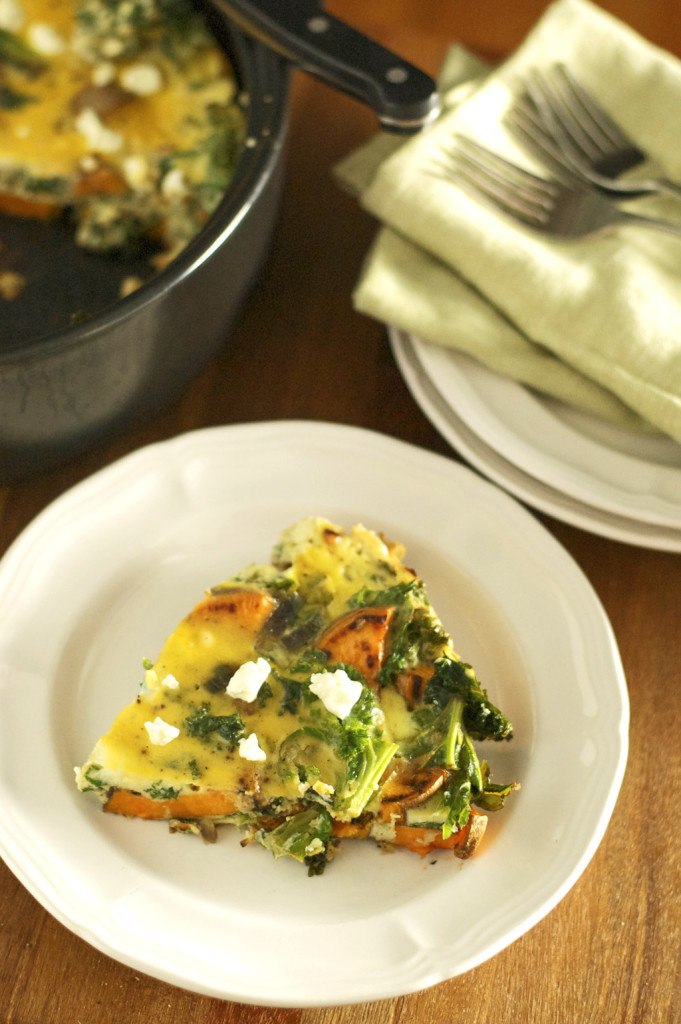 Enter family food preparation for our camping extravagance.  I handle this one of two ways, and have been known to mix it up. We either chop and bag the sweet potatoes, onions, garlic and fasten the bags of prepped items together to place in the cooler, or we stand around the work/picnic table and prep them prior to putting them together to cook.  Either way, I enlist all my campers to help, that way I can enjoy some nature loving of my own!! And the added bonus?  When we are prepping together, sans cell phones or iPods, we actually TALK to one another and share ideas!! Win, win in my book!
Back to the frittata.
I like mixing things up for breakfast (oh, who am I kidding? I'll mix it up for any meal!).  Eggs with meat and the standard peppers/onions/tomatoes and cheese for breakfast is so boring.
I plan out as many camping meals as possible before the annual expedition.  I always make a frittata or two during camping week and this year I wanted to branch out from the usual, the mundane, the same recipes I have used for the last couple of years.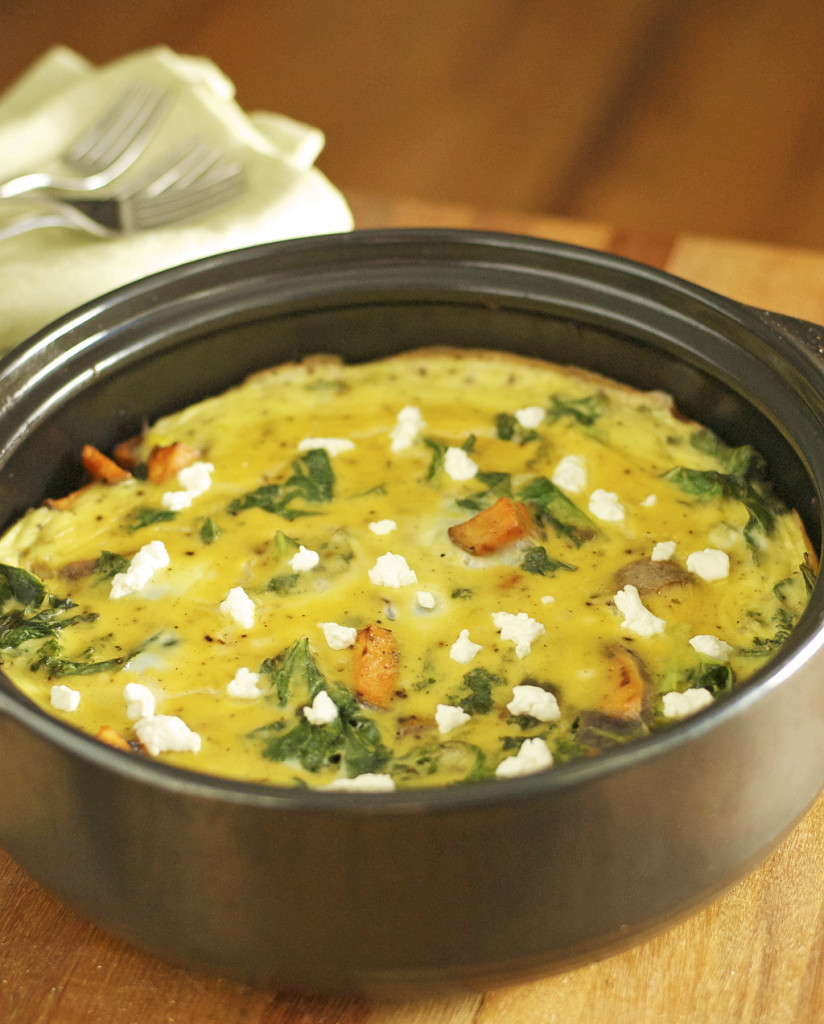 Enter kale and sweet potatoes!!
Kale is one of my favorite green vegetables and I recently came across this great article about kale.  http://www.well-beingsecrets.com/health-benefits-of-kale/
I know it sounds a little strange for breakfast, but trust me, this dish rocks.  I mean, I roast kale, onions and garlic together all the time and love the flavor.  Adding them to eggs, cheese and sweet potatoes made a lip smacking dish that gives you plenty of protein and energy for hiking trails, swimming or any of your other activities at the campsite.
The beauty of this dish is the great blend between mild sweetness and savory goodness. The aroma while this is cooking, whether over an open fire or in the oven in your home, is mouth watering.
Unfortunately, I did not get a picture of the camping version of Sweet Potato Kale Frittata but it tastes just as good prepared inside the kitchen oven.
You owe it to yourself to try this tasty Sweet Potato Kale Frittata recipe soon!

Sweet Potato Kale Frittata Recipe
Ingredients
6 large eggs
1 cup So Delicious Culinary Coconut Cream
1 teaspoon salt
½ teaspoon pepper
2 cups sweet potatoes, ½-3/4 inch cubed
2 Tablespoons olive oil
2 cups firmly packed chopped kale
½ small red onion, chopped
2 garlic cloves, minced
3 ounces goat cheese, crumbled
Instructions
Preheat oven to 350 degrees.
Whisk together eggs, cream, salt and pepper.
Saute sweet potatoes in 1 tablespoon hot oil in a 10 inch oven proof skillet over medium heat for 8 to 10 minutes or until potatoes are tender and golden.
Remove potatoes from pan and keep warm.
Saute kale, onion and garlic in remaining oil for 3 to 4 minutes or until kale is wilted and tender.
Stir in potatoes.
Pour egg mixture evenly over vegetables.
Bake for 8 to 12 minutes or until egg mixture is set.
Sprinkle with goat cheese.
NOTE:    
When I cook this on our camping trips over a campfire I make it in a cast iron pan and cover the top with aluminum foil.