Slow Cooker Roast with Veggies Gluten Free Recipe is one of those great comfort food recipes that is so tasty and easy to make.
We all need some type of comfort food at some point, or at least I do and I don't think I am alone. Slow Cooker Roast with Veggies that just happens to be gluten free is one of those recipes for me.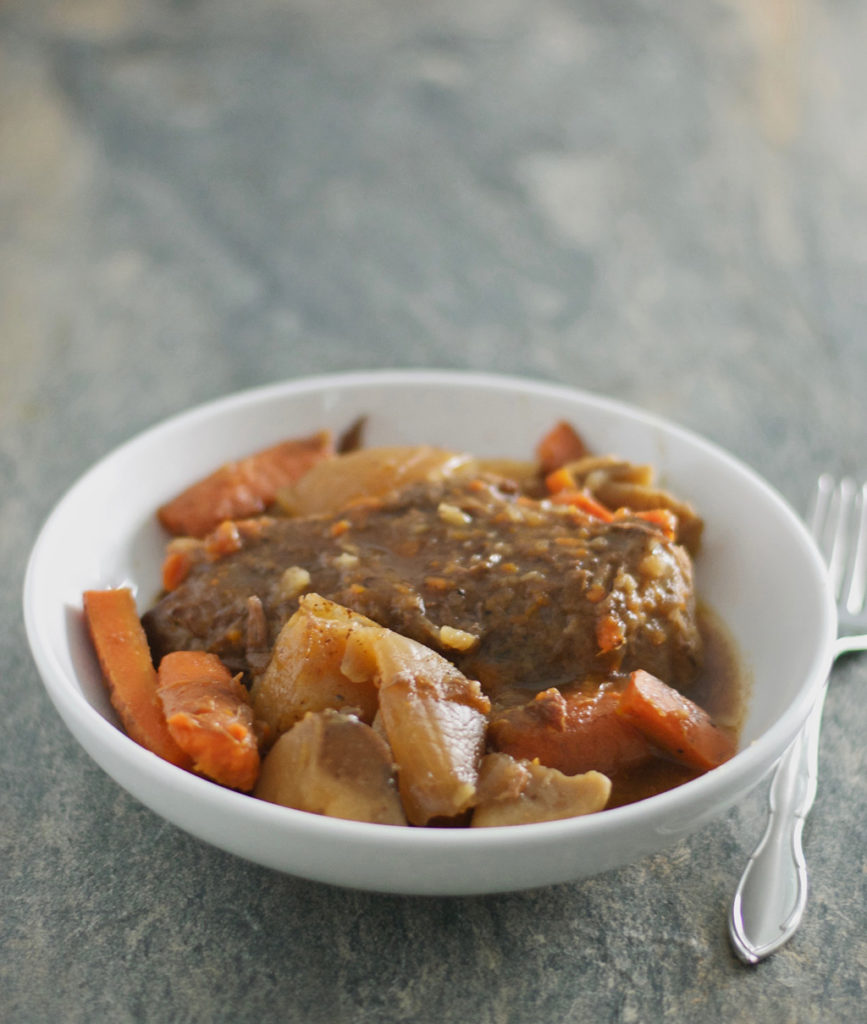 You heard me mention, my mom the 'I don't like to cook, but I'm a great nurse and bookkeeper' whom God blessed me with as a wonderful parent.  While she did not like to cook, she could prepare some wonderful meals. She has a few standard go-to meals.  Slow Cooker Roast with potatoes, carrots and onions is one of them.  She said her mom made it for their large family, but prepared it in a pressure cooker.  Since we never had a pressure cooker, but did have a slow cooker that is how she would make it for us.  May I tell you that the aroma of roast and mixed vegetables greeting you as you came in the door from school or wherever was enough to make your mouth water! Since I wanted to continue a family tradition, I also make roast with veggies, but I make sure it is gluten free, so I can enjoy without any symptoms. I usually get a chuck roast with very little fat on it.  They have always turned out very tender.  If I am in a time crunch (IF I'm in a time crunch, when am I not?) I will use baby carrots to save the time in prepping/cutting carrots.   The gluten free Worcestershire sauce is THE key ingredient in making this such a flavorful dish.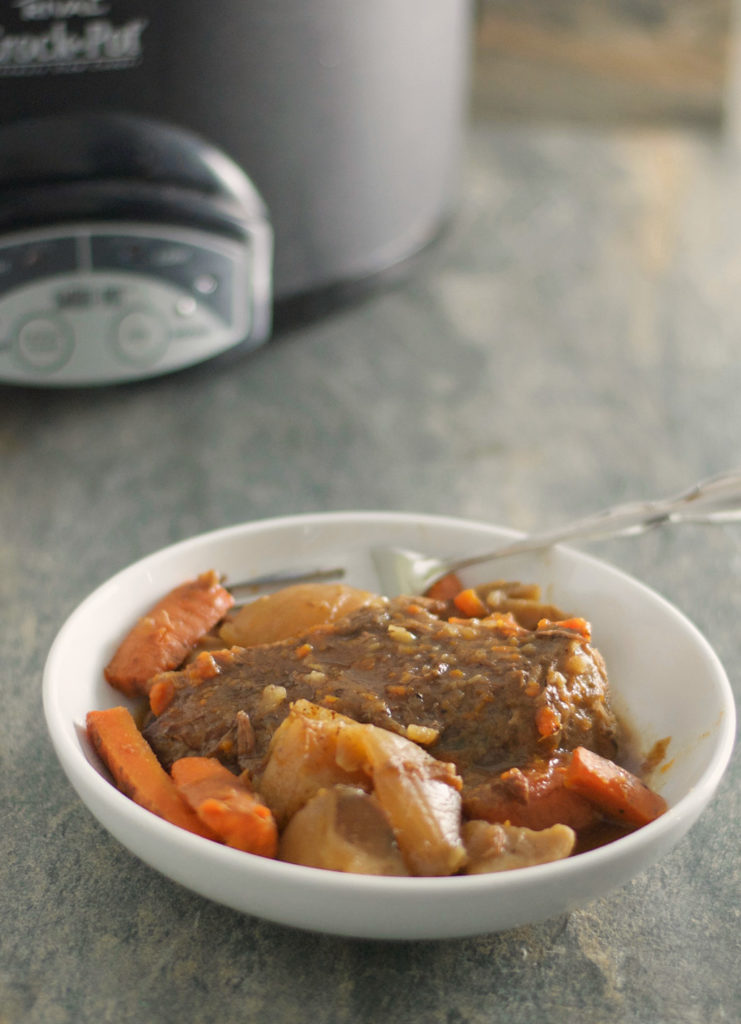 Slow Cooker Roast with Veggies is one of my most versatile dishes. I usually purchase at least a 4 pound roast so I have enough to use in sandwiches the next day or so.  If you have never had a roast beef sandwich with mayonnaise, lettuce and tomato, you have missed out. As another dish, I will shred the roast and mix it in with mashed potatoes, some of the cooking liquid, onions and carrot bits from cooking the roast and veggies.  Mmmm, mmm lip smacking goodness! This dish is so flavorful with the onions, Worcestershire and beef broth.  I have always thought that carrots, potatoes and onions are a unique flavor blend that appeals to my savory and sweet taste buds.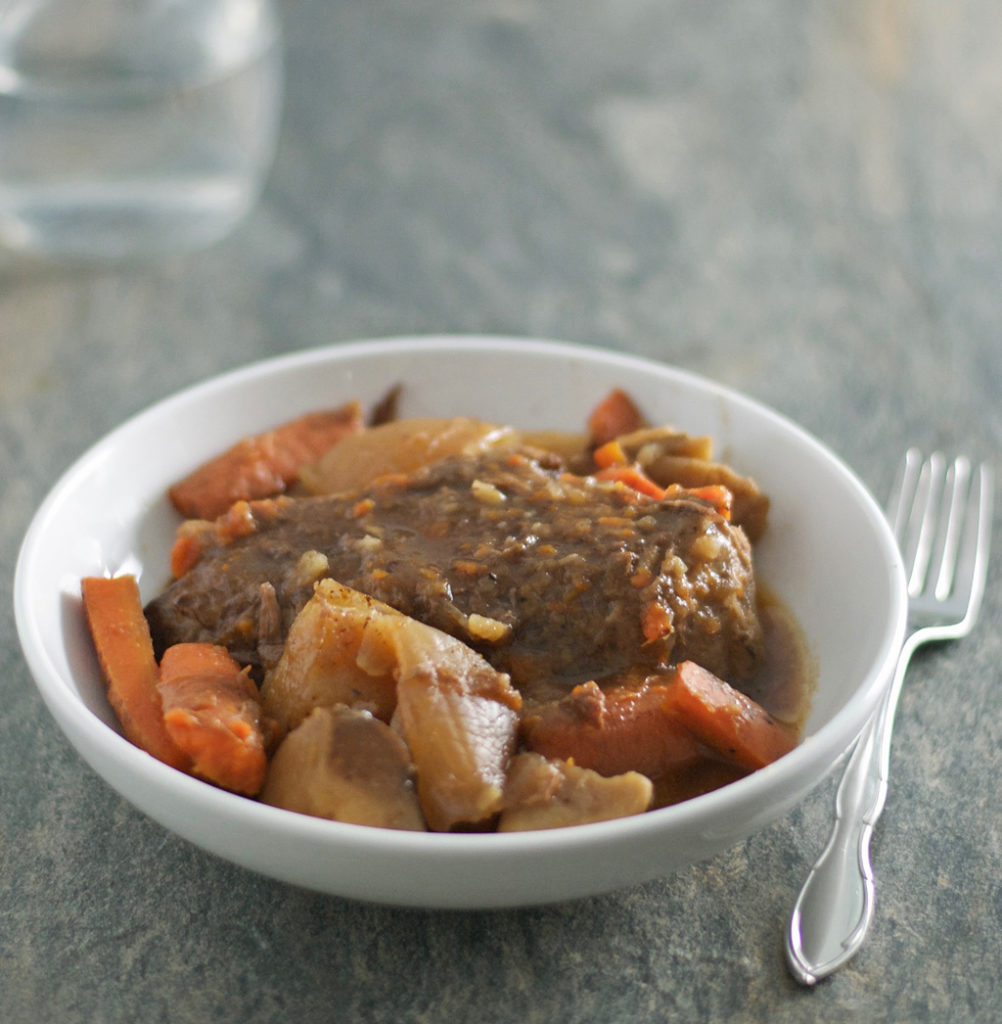 Slow cooker Roast with veggies is one of the hardy, comforting meals that are so good in cooler weather. Cool, rainy day in the forecast? Need a delicious meal that gets a lot of mileage? Slow Cooker Roast with Veggies Gluten Free would be the delicious dish you need! Enjoy!
Slow Cooker Roast with Veggies Recipe
Ingredients
2-4 pound roast
4-8 potatoes, cut into chunks
6-10 carrots, cut into chunks
1-2 onions, cut into fourths
10-15 cloves of garlic, peeled (I have used a whole bulb)
2 Tbsp GF Worcestershire sauce
24-32 ounces beef broth
Instructions
Place roast in slow cooker.
Season with salt and pepper.
Pour worcestershire sauce on roast.
Add all your vegetables.
Add broth.
Cover and cook 4 hours on high or 8 hours on low.
Notes
All the vegetables you use will depend on how much you want and what will fit in your slow cooker.