I love bananas but sometimes I do not get them all eaten before they start getting brown spots.  Even though bananas are one of my favorite fruits I like for them to be a little firm when I eat them.  So, when they start to get spots and a little mushy I get creative and find a way to use them.  I might mix them with some peanut butter and make a sandwich, make some pancakes but today I decided some banana bread would be the way to use up my bananas.  Plus, banana bread should always be made with over ripened bananas.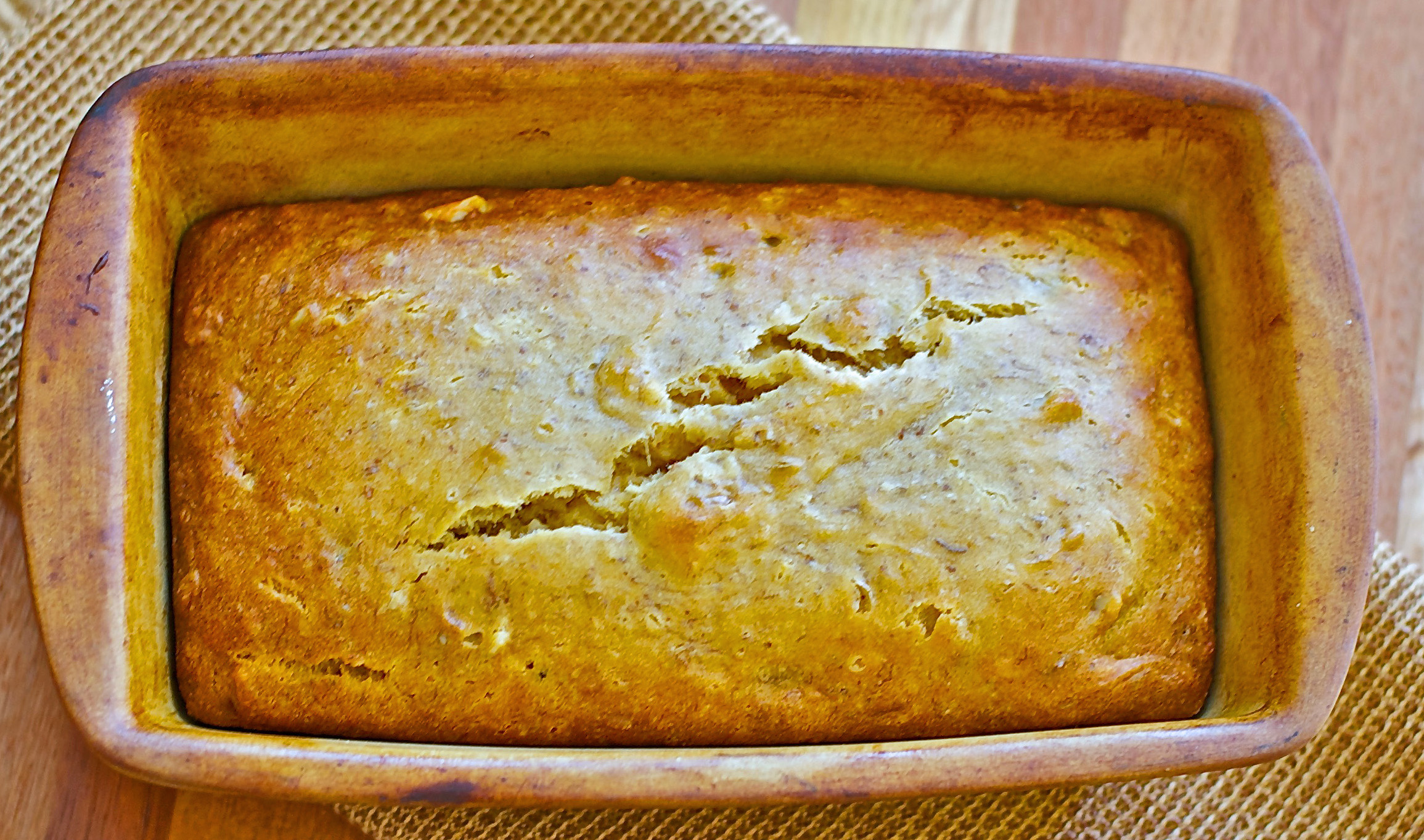 This recipe is pretty easy to whip together and makes the house smell so good.  Left overs are always great for breakfast with a cup of coffee.
Banana Bread Gluten Free
Ingredients
2 cups Pamela's Artisan gf flour blend
¾ cup sugar
¾ teaspoon baking soda
½ teaspoon salt
3 very ripe, darkly speckled large bananas, mashed well
¼ cup almond buttermilk*
2 large eggs, beaten lightly
6 Tablespoons butter, melted and cooled
1½ teaspoons gf vanilla extract
¼ teaspoon pumpkin pie spice
½ cup walnuts or pecans (optional)
*In a one cup measuring cup pour 1 Tablespoon of vinegar then add almond milk to fill remainder of the cup. Let sit for 5 minutes.
Instructions
Preheat oven to 350 degrees. Grease a 9-inch loaf pan.
Whisk together the flour, sugar, baking soda and salt in a bowl. Set aside.
Mix mashed bananas, buttermilk, eggs, melted butter, vanilla, pumpkin pie spice and nuts in a medium bowl.
Lightly fold banana mixture into dry ingredients with rubber spatula just until combined and batter looks thick and chunky.
Pour batter into prepared loaf pan.
Bake the bread for 45 minutes or until a toothpick inserted comes out clean.
Allow the loaf to cool in the pan for 5 minutes before transferring it to a cooling rack to continue cooling. Slice and serve.