Savory, healthy cabbage entree that your family will love!  And, it's Gluten Free!
I haven't always been a big fan of cooked cabbage as a side dish (unless it's coleslaw!) or entree, until I tried some stuffed cabbage a friend was serving.
And my viewpoint became: this is pretty doggone good, wonder if the troops would like it?
I go home with my friend's recipe and the reasonable expectation that I will make it!!  So excited to try something new and so eye appealing.  I mean her dish looked beautiful.
Yeah, well HER dish was beautiful, mine? not so much.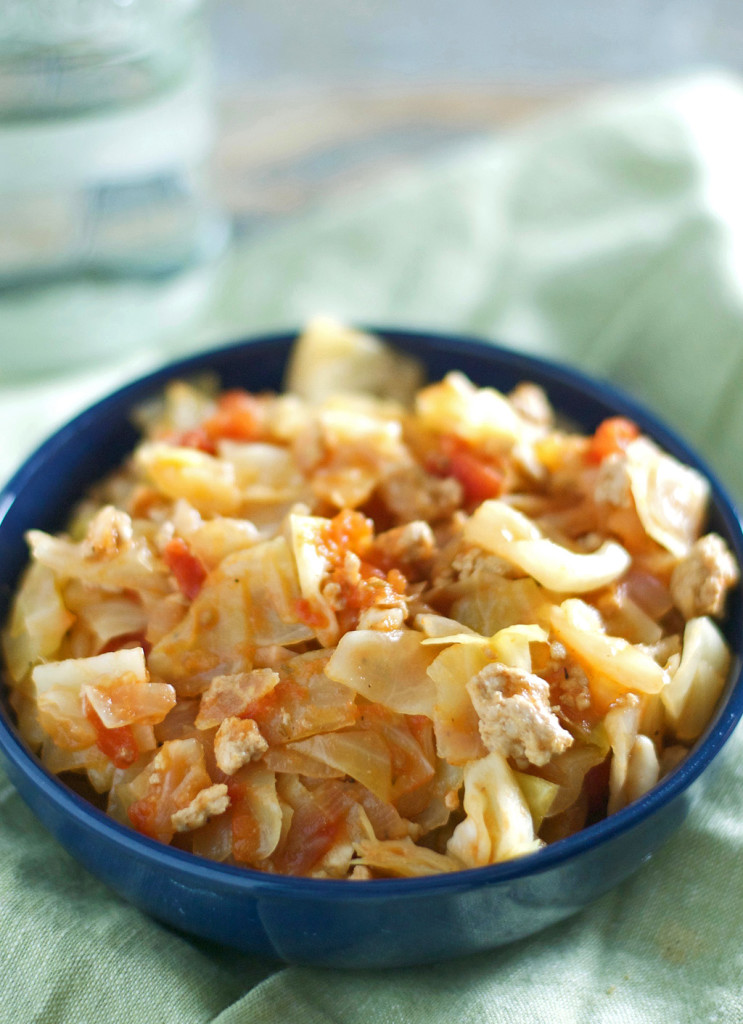 Don't you just hate it when you try a recipe, following the instructions to the letter, and it looks like a disaster?
Example, I prepared the stuffed cabbage, kitchen was filled with mouth watering aromas, but the end product looked beyond horrible.
My daughter came in, took a sniff, broke into a smile and then uttered these words on spying the pan of stuffed cabbage, "Wow, that really smells too good for dog food"
Me: "That is our supper."
Daughter: "No Way!"
Me: "Way"
Daughter: "Well, it smells really good, but what the heck is it?"
Me: "That stuffed cabbage dish I had at —'s house"
Daughter: "And you not only ate something that looked like that, but ASKED for the recipe?  Have you sunk to a food whore level?"
Me: "Believe me, HERS looked NOTHING like this mess!"
I hate to admit she was right (not about the food whore level) the dish did look like something healthy I would have made for our dogs.
I have no idea what I did wrong but my stuffed cabbage looked like bits of green with tomatoes and meat that had erupted in a casserole dish.
OK, back to the chopping block: let's make unstuffed cabbage rolls!  The ingredients still tasted really good, despite that fact that it looked like exploded instead of stuffed cabbage rolls!
Yeah! That's what I will do: Unstuffed Cabbage Rolls.
In my research, I have found that cabbage has some very healthy properties.
Steamed cabbage has cholesterol-lowering properties (raw cabbage lowers cholesterol some but not as much as steamed cabbage).  However, in a recent study per The World's Healthiest Foods, short cooked and raw cabbage were shown to have cancer-preventative benefits.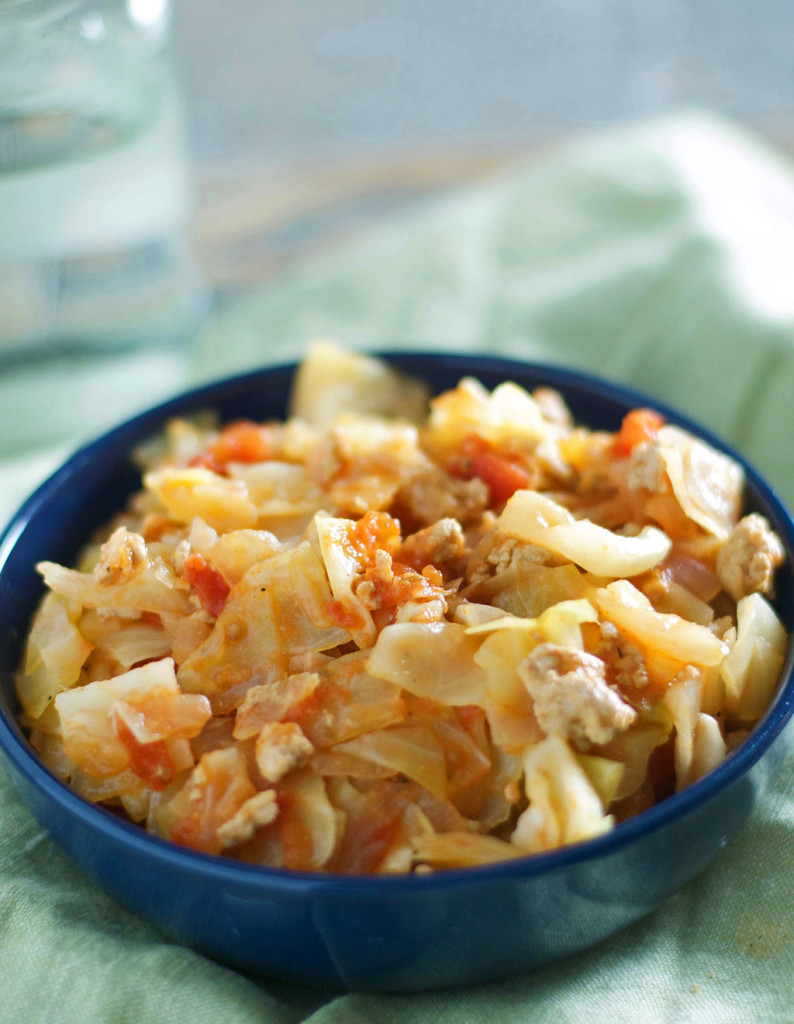 Of course, I did my fact finding after my initial try at unstuffed cabbage, but I have made it again using a short cook method and I like having that somewhat crunchiness to the cabbage, and the great health benefits.
So if you are wanting a healthy dish, that isn't eye popping gorgeous, but IS easy and healthy-this is the dish for you!

Unstuffed Cabbage Rolls Recipe
Ingredients
1 pound ground turkey (could use beef or chicken)
1 large onion, chopped
1 clove garlic, minced
1 small cabbage, chopped
2 cans roasted garlic & onion diced tomatoes (could use Italian)
8 ounces tomato sauce
½ cup water
1 teaspoon pepper
1½ teaspoon salt
Instructions
Coat skillet with cooking spray or use a tablespoon of oil.
Heat a large skillet over medium heat.
Add onion and ground turkey and cook, stirring until meat is no longer pink.
Add garlic and cook for 1 minute.
Add the cabbage, tomatoes, tomato sauce, water, salt and pepper.
Bring to a boil.
Cover and simmer for 20 to 30 minutes or until cabbage is tender.