Gluten Free Pumpkin Chocolate Chip Cookies are so moist and delicious!  Who knew combining pumpkin and chocolate chips could be so tasty?
Pumpkin latte countdown…are you serious?  Pumpkin cereal, pumpkin cakes, pumpkin candy and let's not forget the original pumpkin that is destined to be carved!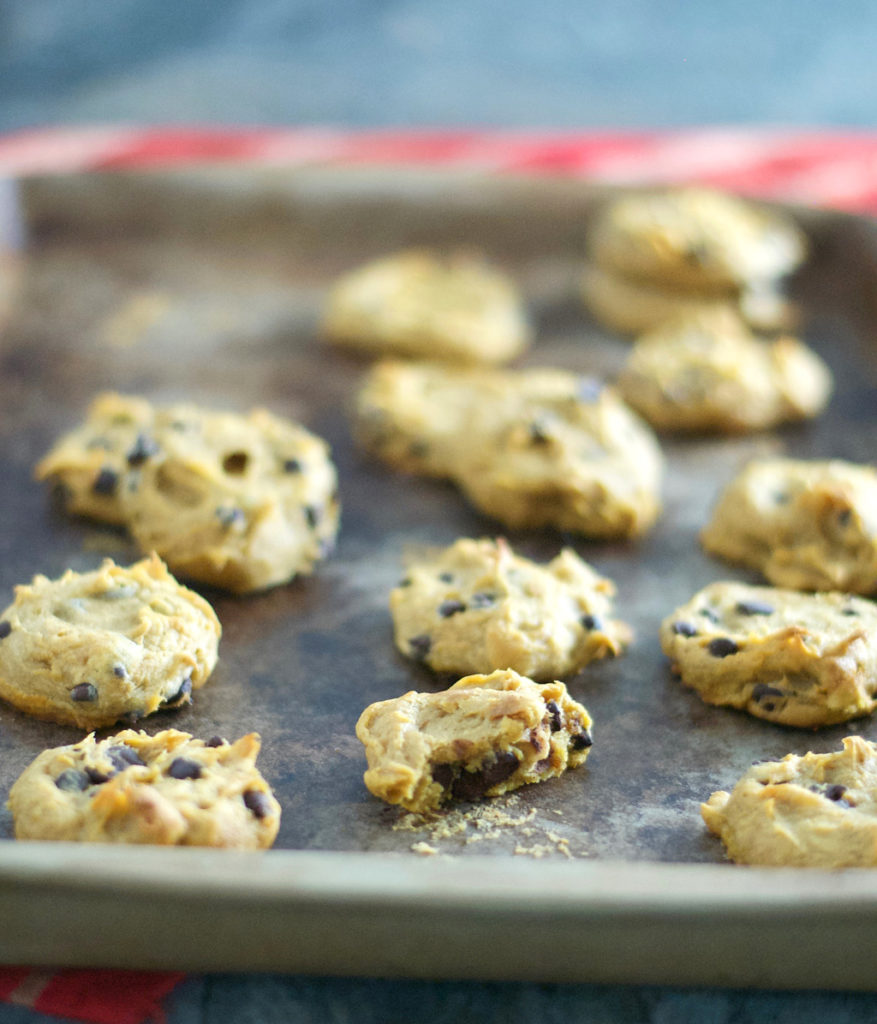 Don't get me wrong, I love pumpkin pie as well as anyone else, but I seriously do not start thinking about pumpkins until much closer to October 31…like maybe the 29th (because I so do not want to rush any season, well except maybe the heat and mosquitos of late August-but that is another story!)
September 6, 2016 seemed to be the beginning of the pumpkin avalanche and I was so not ready!
Pumpkins are crisp fall mornings with the mist rising above the ground and colorful leaves slowly drifting to the ground.  But September 6, 2016 with its 92 degrees in my area of the country screams ice cold beverages, sunscreen and a large straw hat definitely NOT pumpkins.
I guess another thing that bothers me is the constant rush-July 5 you start seeing Labor Day and Fall Decorations, mid August the Halloween goodies start appearing, with the Thanksgiving turkey not too far in the distance, and then by October 15 Christmas decorations are appearing in the stores!  COME ON!  Life has not slowed down one bit for me, in fact, it has sped up and now retailers are adding to my rush!!!
OK, ok end of soapbox rant!
The end of October is upon us and I have finally gotten in the mood for something pumpkin. Not a whole pumpkin or even a pie, just a little of that moist, sweet and unique pumpkin taste.
Cookies seemed to be the perfect avenue for that little bit of pumpkin I was looking for.
Enter Gluten Free Pumpkin Chocolate Chip cookies!!
They are moist, fragrant, pumpkin goodness with chocolate chips thrown in to liven up your taste buds.
I have to tell you from my experience with these pumpkin chocolate chip cookies everyone has a different taste experience.  My mom loved them but expected a little more pumpkin flavor (so she kept eating them to see if one had more pumpkin than another!)  My dad said he could not really taste the chocolate chips but they were really good cookies, anyway.  My daughter liked them best straight out of the oven and still warm.  Me?  I would have just liked to have had a whole cookie to eat instead of the crumbs!  But the crumbs were fabulous and went quite well with a cup of coffee!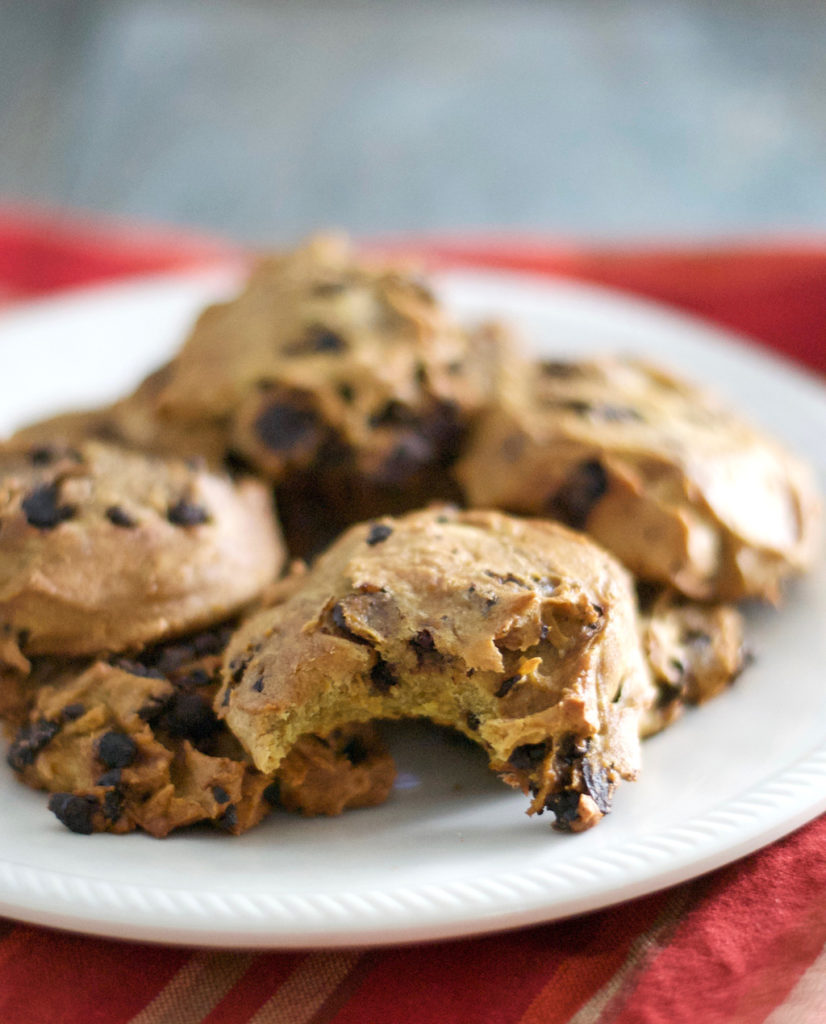 Two days after the initial taste test, my dad was over asking for more!  I had to gently remind him that between him searching for a cookie with more chocolate chips and mom trying to find one with more pumpkin flavor, they pretty much wiped the entire batch out in less than 24 hours.
I think I have found a winner in Gluten Free Pumpkin Chocolate Chip Cookies, and yes, we have made a couple more batches since the first one!
Easy to make, moist and tasty pumpkin cookies that you are sure to love.
Make some Gluten Free Pumpkin Chocolate Chip Cookies soon (before the season changes on us again!)
Enjoy!

Gluten Free Pumpkin Chocolate Chip Cookies
Ingredients
1 cup (2 sticks) unsalted butter, softened
1 cup white sugar
1 cup light brown sugar
2 large eggs
1 tsp gf vanilla extract
1 cup canned pumpkin puree
3 cup gf all purpose flour*
2 tsp baking soda
½ tsp salt
2 tsp pumpkin pie spice
2 cups chocolate chips**
Instructions
Heat oven to 350 degrees.
Prepare cookie sheets with nonstick spray or line with parchment paper.
Using a mixer, beat the butter until smooth.
Beat in both sugars.
Beat in the eggs one at a time.
Mix in vanilla and pumpkin puree.
In a separate bowl, mix together the flour, baking soda, salt, and pumpkin pie spice.
Slowly beat the flour mixture into the batter. DO NOT add all at one time.
Stir in the chocolate chips.
Using a tablespoon, scoop cookie dough onto cookie sheets.
Bake for 15 to 20 minutes or until cookies are browned around the edges.
Remove the cookie sheets from the oven and let rest for 2 minutes.
Using a spatula, transfer cookies to a wire rack to cool.
Notes
*I used Better Batter GF Flour
**I used Enjoy Life Dairy Free Chocolate Chips