Gluten Free Rocky Road Pizza is a seriously delicious dessert that is just plain fun to make and eat!
Yeah, I missed National Pizza Day by, oh about 8 months but one of my mottos is: Better late than never!
And it's not like this Gluten Free Rocky Road Pizza is your 'normal' pizza.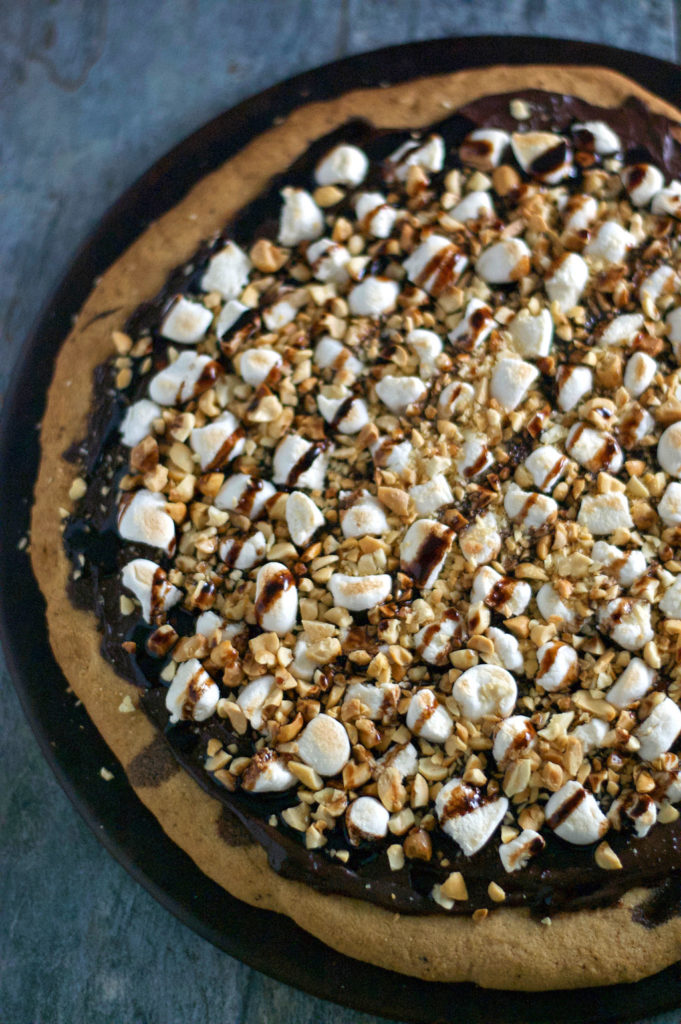 I was digging through the fall recipes and remembering fun times of the past.
Like the first time my parents took my brother and  me 'camping' in a cabin my grandfather had built on his property for my dad and uncle.  We were so excited!  We were going to have food made over a campfire and sleep outside (well as outside as you can be in a cabin with a roof and 4 walls that contained screen as part of the wall).  My mom was going to make hamburgers cooked in tinfoil in a pit that she remembered from her girl scout days (I was way too young for an eye roll and thought this sounded pretty good).  She could not convince my father he needed to dig the pit and start the fire as soon as we got there for the coals to be hot enough to cook the meat.  Long story short: my brother and I were awakened at 11:30 PM to 'enjoy' the hamburgers!!
Yeah, great memories and belly laughs now!
And to really top things off, the wind picked up that night and we just about froze.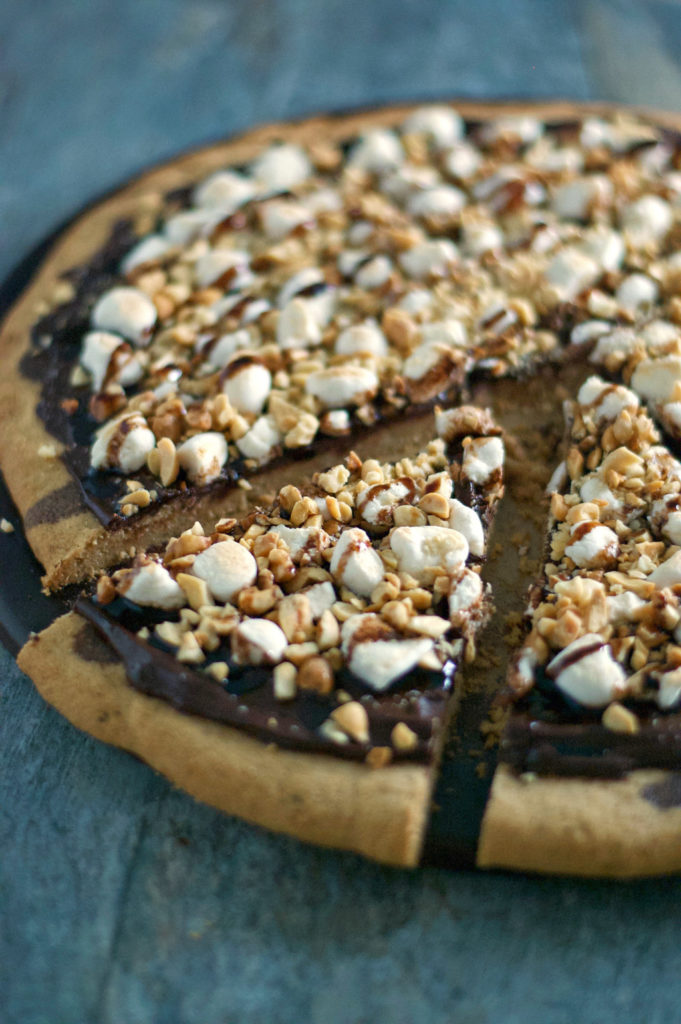 Whenever anyone mentions camping now, we roll our eyes and start giggling.
So back to memories: camping, campfires, bonfires without camping, roasting hot dogs over the open flames, roasting marshmallows…smores!!! Oh yeah, recipe idea taking form!
You know my weakness for rich, dark chocolate.  Melt it on something sweet and I am ALL in!
The 'crust' for my Rocky Road pizza was so easy to make and was the perfect setting for all that deliciously melted chocolate, gooey marshmallows and generous sprinkling of peanuts.
Now, I do realize peanuts are not on s'mores, but neither are s'mores made on a pizza crust!  So live a little!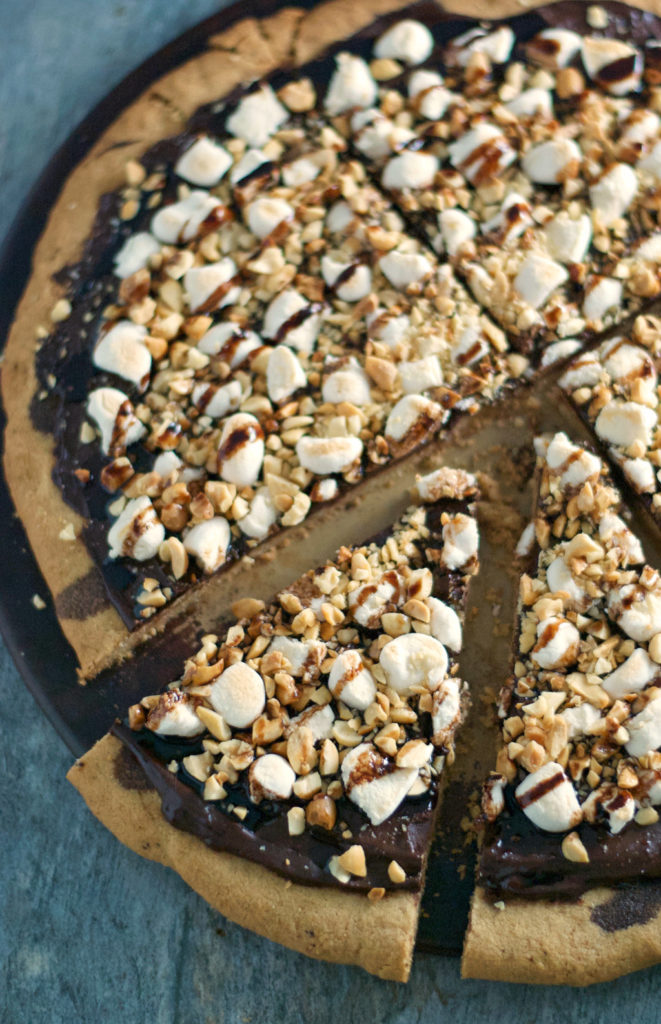 I CANNOT begin to tell you how wonderful this Gluten Free Rocky Road Pizza smelled and once it was cool enough to eat?  BE.STILL.MY.HEART and tastebuds!
Melted chocolate, roasted marshmallows oozing down your fingers when you take that first bite was the beginning of a fun, delightful dessert that did not require a camping trip or bonfire for me to pronounce it perfect!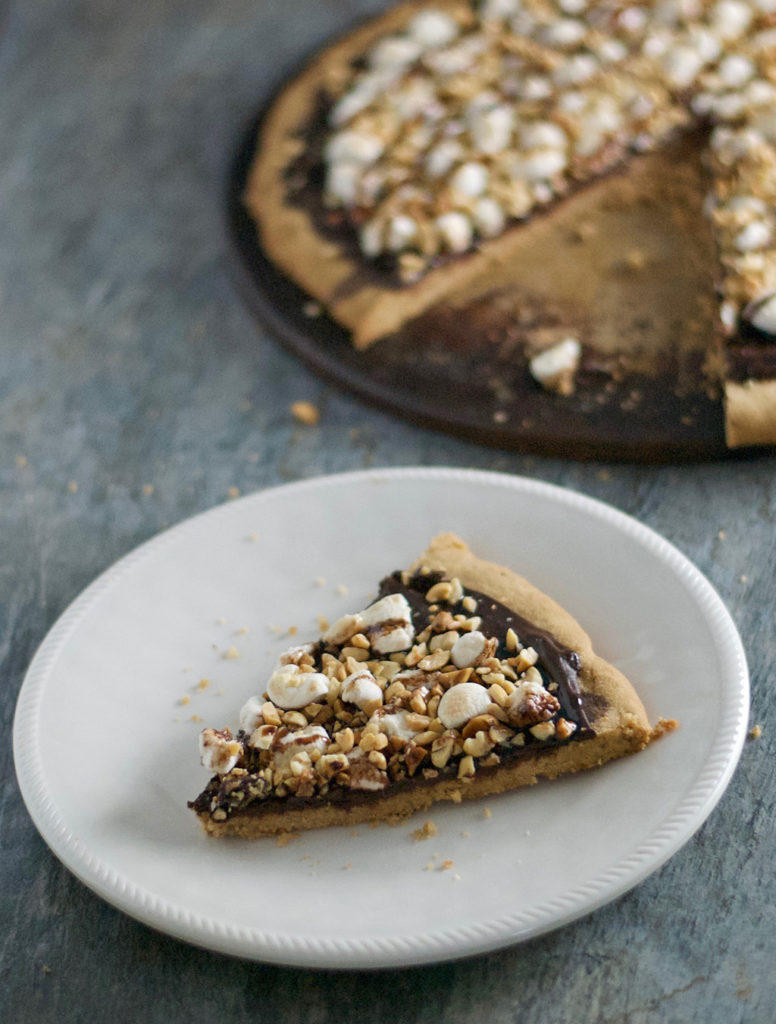 Gather your family or friends around, make some memories and totally delicious Gluten Free Rocky Road Pizza and have a great time!
Enjoy!

Gluten Free Rocky Road Pizza
Ingredients
¾ cup softened butter
¾ cup brown sugar
1 egg yolk
1 tsp gf vanilla extract
1½ cups gf all purpose flour (I used better batter)
1 cup chocolate chips (I used Enjoy Life)
1 cup miniature marshmallows
½ cup chopped peanuts
Instructions
Preheat oven to 350 degrees.
Beat butter in a large mixing bowl with an electric mixer.
Add brown sugar and beat until combined.
Beat in egg yolk and vanilla until combined.
Beat in half the flour until blended.
Add remaining flour and beat until blended.
Spread dough in a lightly greased 12 inch pizza pan.
Bake for 20-25 minutes or until golden.
Sprinkle chocolate chips onto hot crust.
Let stand 1 to 2 minutes to soften.
Spread chocolate evenly over crust.
Sprinkle with marshmallows and nuts.
Bake 3-5 minutes until marshmallows are puffed.
Cool in pan on wire rack.
Drizzle chocolate syrup or melted chocolate over cooled pizza.