Gluten Free Do Nothing Cake Recipe is a made from scratch super simple moist, moist, moist cake.
Leave it to my mama…you know the person who does not share my love of making fabulous creations in the kitchen?
She is so notorious a non-cook that for years we were able to hide any surprise present for her birthday or whatever occasion in the oven!!
She never opens the door, so the surprise was beyond safe!
Well, guess who found this recipe?  Personally, I think it must have drifted down from heaven and she stepped on it!
However, when I think about it, a 'Do Nothing' cake WOULD be the perfect fit for her.
Anyway, she came across this recipe and, miracles of miracles, she made it!
I was so proud, you'd have thought I was the parent!
And Holy Cow when she gets a recipe, wouldn't you know it is knock your flip flops off fantastic??!!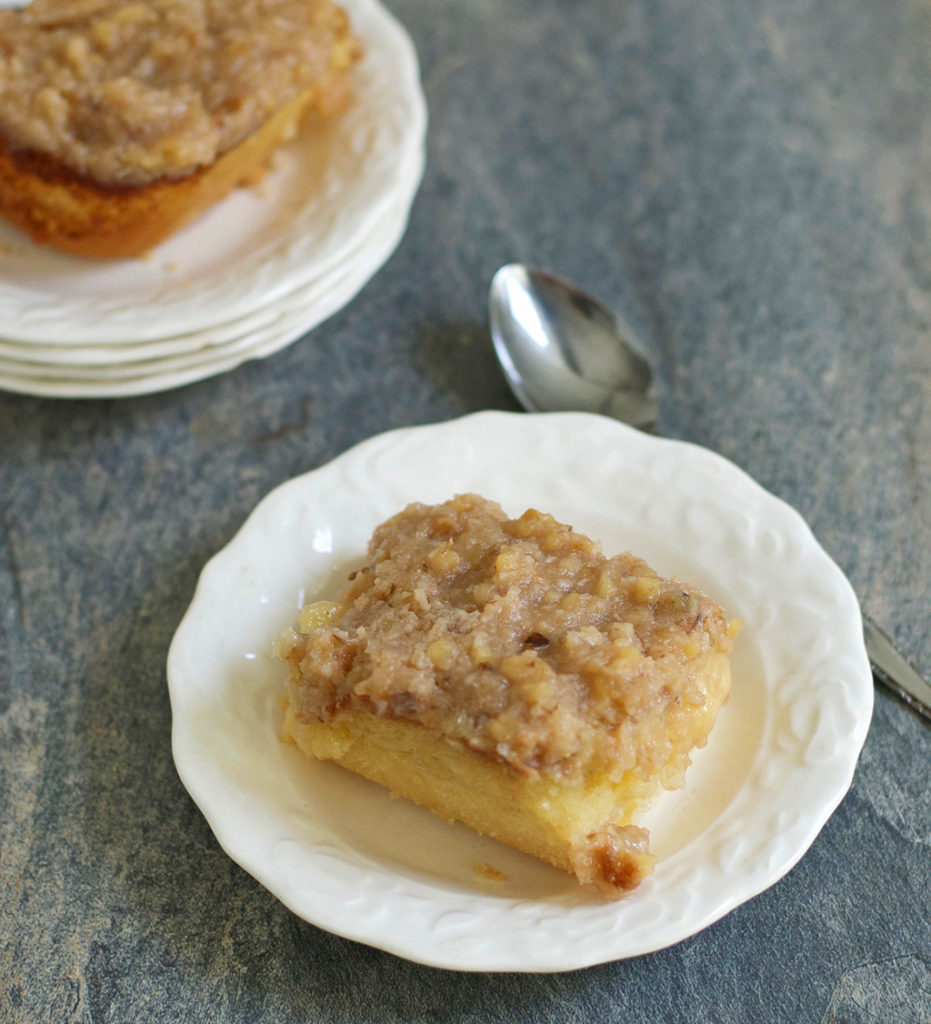 Gluten Free Do Nothing Cake is soooo moist with a light texture.  The cake is so delicious with its pineapple sweetness but the topping makes this cake extra special.  An icing that has coconut and chopped nuts in a milk and sugary base just cannot be beat.
Yes, I know, I know,  I am not usually a fan of coconut but since I have found a finely shredded coconut, I finally realized that what I did not care for in the past was the texture and not the flavor.  Who knew changing the texture could make me a lover of coconut?
Now the sweet moist flavor of this No Nothing cake without a doubt is one of my new favorite desserts, but the fact that you actually DO NOTHING outstanding to prepare this cake, will move this to the top of my list when I need a cake in a hurry.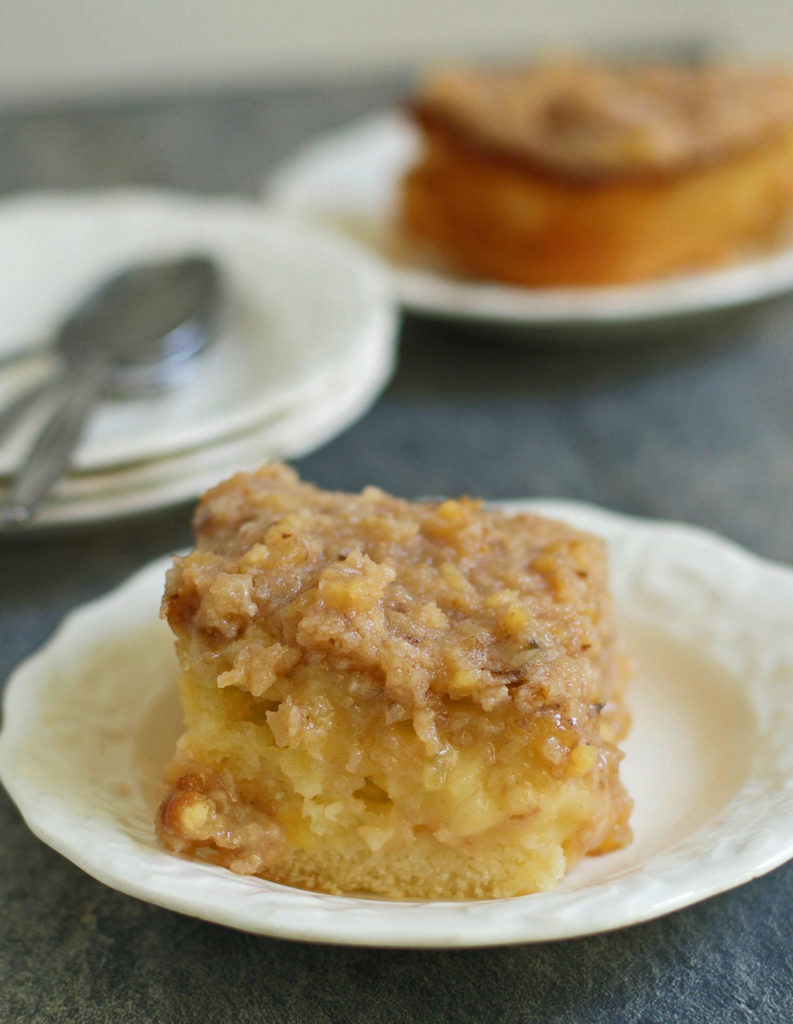 I mean how difficult is it to measure, dump in bowl, open can of crushed pineapple and stir, yes stir!! it all together.
No hauling out the big mixer or hand held electric mixer!
It is as simple as scoop out flour, sugar and add to bowl and then pour the crushed pineapple in to the mix and stir.
Naw, strike that- the hardest part is greasing the baking dish and bringing the topping to a boil!
Word of Advice:  do NOT give out this recipe at your next family function because you do not want those catty relatives knowing how easy this super delicious cake is to prepare; let them think you worked like a dog for this deliciousness!
Just sayin'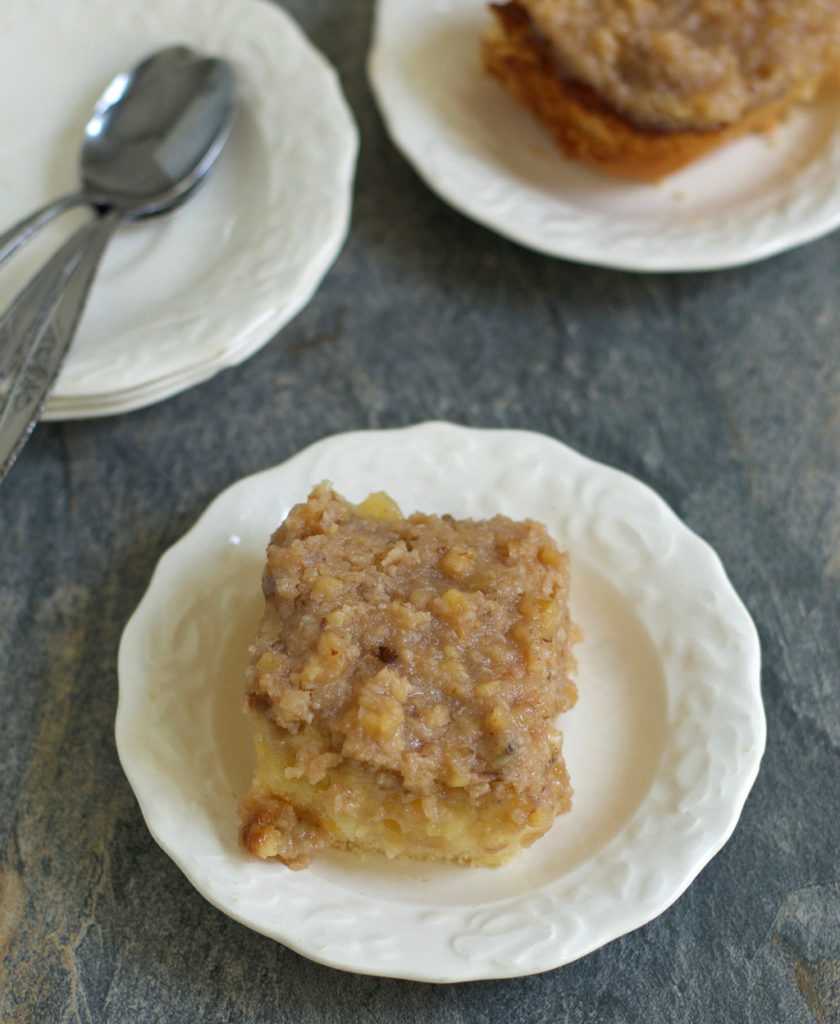 Fast, easy, simple and delicious!
What more could you ask for?
Enjoy!

Gluten Free Do Nothing Cake Recipe
Ingredients
2 cups gf flour
2 cups sugar
2 eggs
1 teaspoon gf vanilla extract
1 large can of crushed pineapple Juice included
Topping
1 stick of butter
1 cup of sugar
1 small can of evaporated milk
1 cup chopped nuts (I used walnuts)
1 cup of shredded coconut
Instructions
Preheat oven to 350.
Grease 9x13 pan. *
Mix all cake ingredients together- you do NOT have to use a mixer.
Pour into prepared pan and bake for 25-40 minutes
Topping
Melt butter in sauce pan then add sugar and can of milk
Cook slowly and stir, bringing to a boil; once it boils allow to boil for 5 minutes
Then add nuts and coconut
Pour on cake while cake is still warm
Notes
* I always use unsalted butter to grease my baking dish