Gluten Free Lemon Cupcakes with Raspberry Jam are a super delicious blend of sweet and tart in each and every bite!
My mother LOVES all things tart (maybe that is why we get along so well??!!)
Her two all-time tart dessert favorites are: lemon slice ice cream (a true Southern and local delicacy) and raspberry jam filled donuts.  Since she is also gluten free and cow's milk intolerant, she has not been able to indulge in quite a while (translation: some whining and tears with sighs of 'oh, poor me').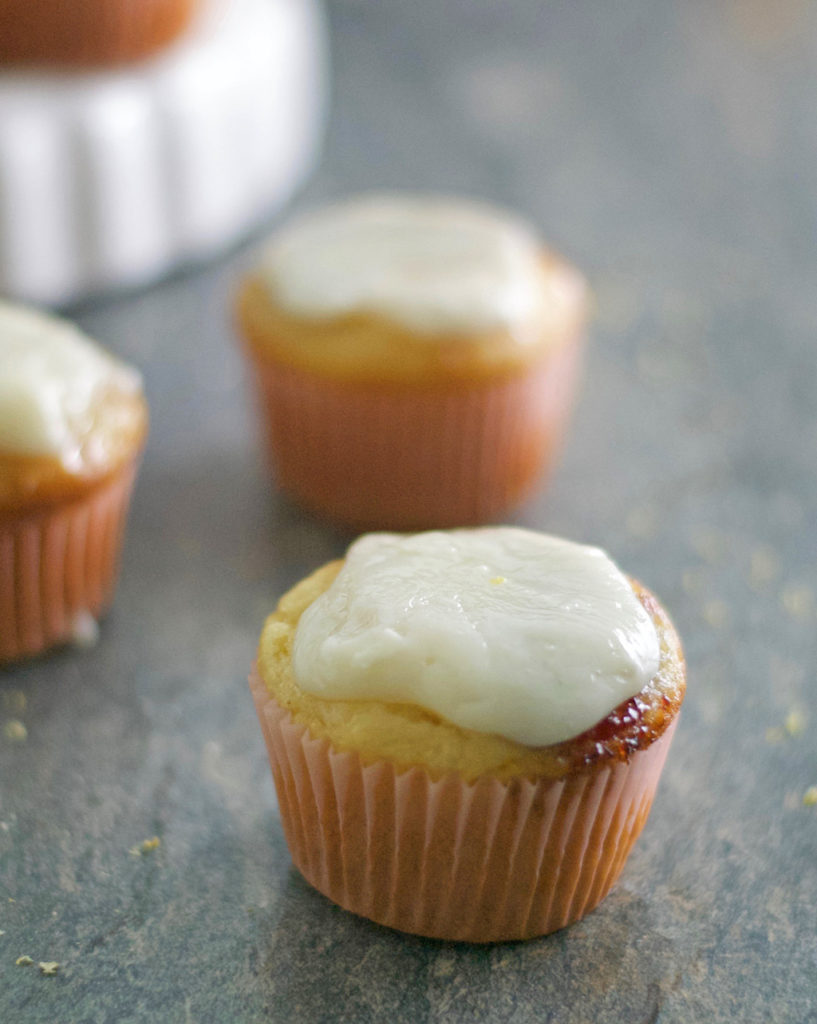 In honor of her recent birthday I wanted to give her something I knew she would enjoy and appreciate.
After much trial and error, Gluten Free Lemon Cupcakes with Raspberry Jam were created!
This cupcake was a hit!!
It is moist, just sweet enough, and has the tartness my mama loves but isn't so tart that I cannot enjoy it!
The cupcake is infused with the raspberry jam AND I put it on top of the cupcake before I iced it.  I wanted to make sure my mom could taste the raspberry tartness.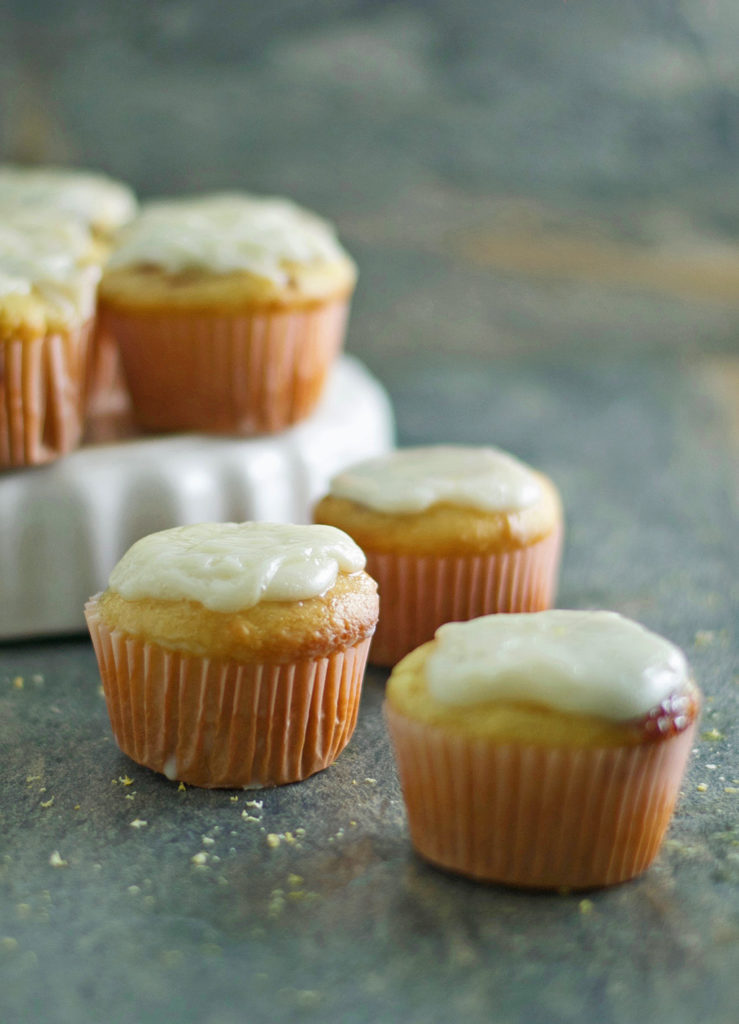 These little cakes have just the right amount of crumble and taste so delicious you don't want to lose a morsel!
If I do say so myself, this a stress free delicious treat.
The cupcake is super easy to make and the glaze is also an almost no-brainer.  My kind of recipe!
Moist-check, delicious-check, sweet-check, tart-check and packaged in a delicate cake treat-check.
Birthday surprise? Oh, yeah!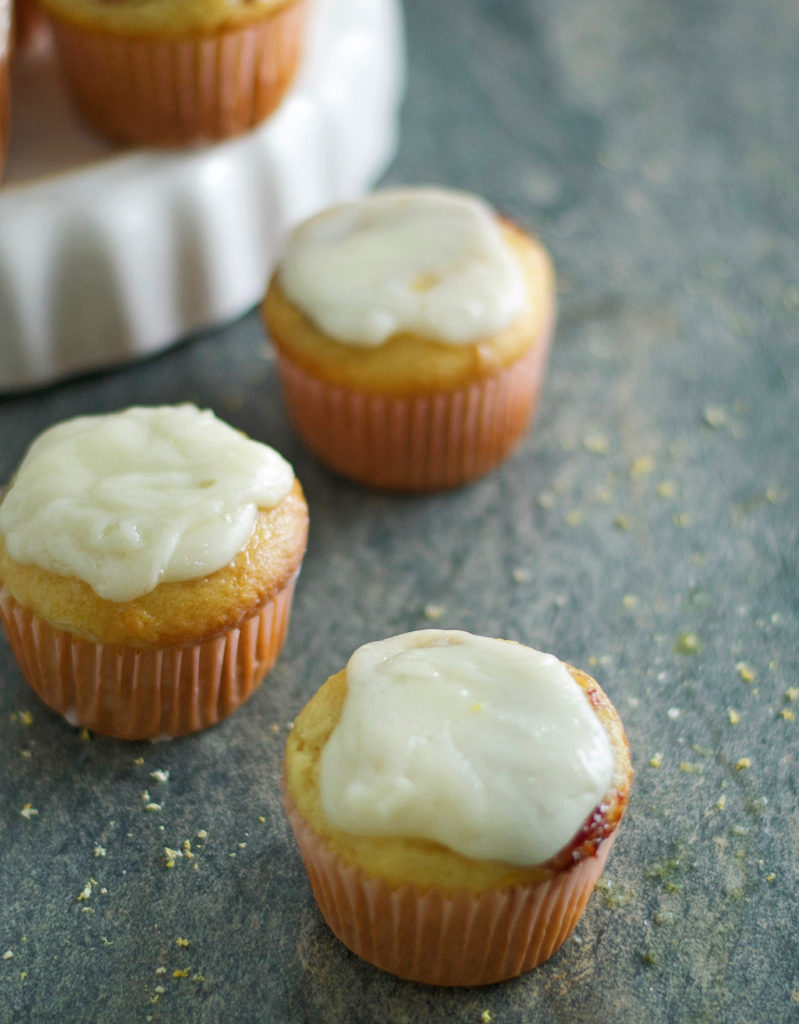 Tasty treat? Thumbs up!
Worthy to share? Yes, indeed!
Mom very happy?  Just call me the best daughter in the WHOLE WORLD (of course, it doesn't hurt that I'm her only daughter, but we won't go there!)
If you have a family member who is gluten free, loves dessert, loves sweet AND tart then this is the recipe for you and them.
Gluten Free Lemon Cupcakes with Raspberry Jam, I pronounce you a winner!
Enjoy!

Gluten Free Lemon Cupcakes with Raspberry Jam
Ingredients
Cupcake
1 lemon
¾ cup sugar
3 tbsp oil
⅓ cup plain yogurt
⅓ cup milk (I used almond milk)
1 tbsp lemon extract
1¼ cups gf all purpose flour (I used better batter)
¾ tsp baking soda
¼ tsp salt
2 egg whites, room temperature
¼ cup raspberry jam
Glaze
3 ounces white chocolate for baking
2 Tbsp plain yogurt
1½ tsp lemon extract
Instructions
Cupcake
Preheat oven to 350 degrees.
Place 10 cupcake liners into wells of muffin pan.
In mixing bowl, combine sugar and oil. Mix well.
Add zest, yogurt, milk, and extract until well blended.
Combine flour, baking soda and salt in a separate bowl. Mix well.
Sift flour mixture into wet ingredients; stir until blended.
With a whisk, whisk egg whites vigorously in a mixing bowl 1 minute or until very foamy.
Fold into batter.
Scoop batter into cupcake liners filling each one about ¾ full.
Using a spoon, place about ½ tsp raspberry am onto centers of cupcakes.
Using back of your spoon, push gently into batter.
Bake 20-22 minutes or until tops spring back when lightly pressed.
Remove pan from oven.
Let stand for 5 minutes.
Carefully remove cupcakes from pan.
Glaze
Place chocolate in a microwave safe bowl or double boiler.
Melt chocolate in microwave for 45-60 seconds or on the stove in your double boiler.
Stir chocolate until smooth.
Stir in yogurt and extract.
Spoon glaze evenly onto cupcakes.
Glaze hardens quickly.
Fold into batter.