Easy Dairy Free Orange Fluff Dessert is a super cooling and delicious dessert.
Why is food one of those childhood memories that can transport me back to the age of six or eight or God Forbid the terrible teens?
Family get togethers were full of covered dishes and/or cookouts and shrieking cousins having fun.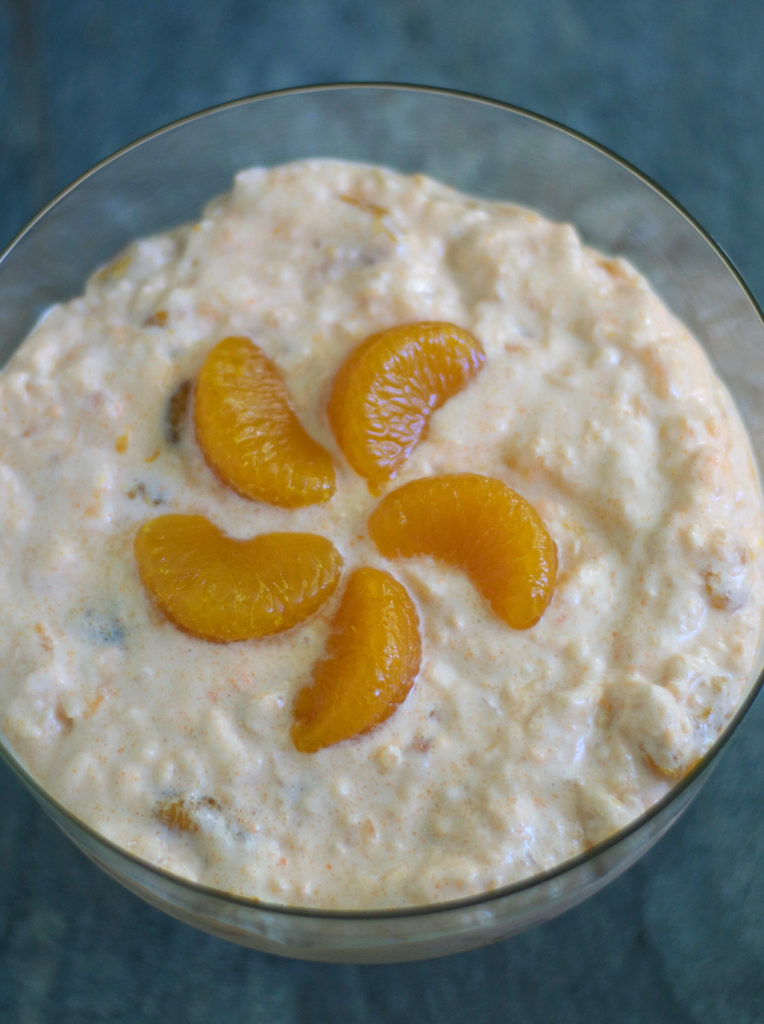 Certain family members had their speciality dish: great grand mom was her home canned green beans and potatoes- those things were to die for!
Her sister, my great great aunt, made the most wonderful cranberry congealed salad.
Papaw did the turkey and dressing or for cookouts his world famous homemade slaw.
Hopefully, some of you have the same memories and if you don't, you have my sincere sympathy!
Enter Easy Dairy Free Orange Fluff Dessert, my mom's claim to fame.
Yes, this is the same mother who would rather go to the dentist than cook, but orange fluff was in a category all its own.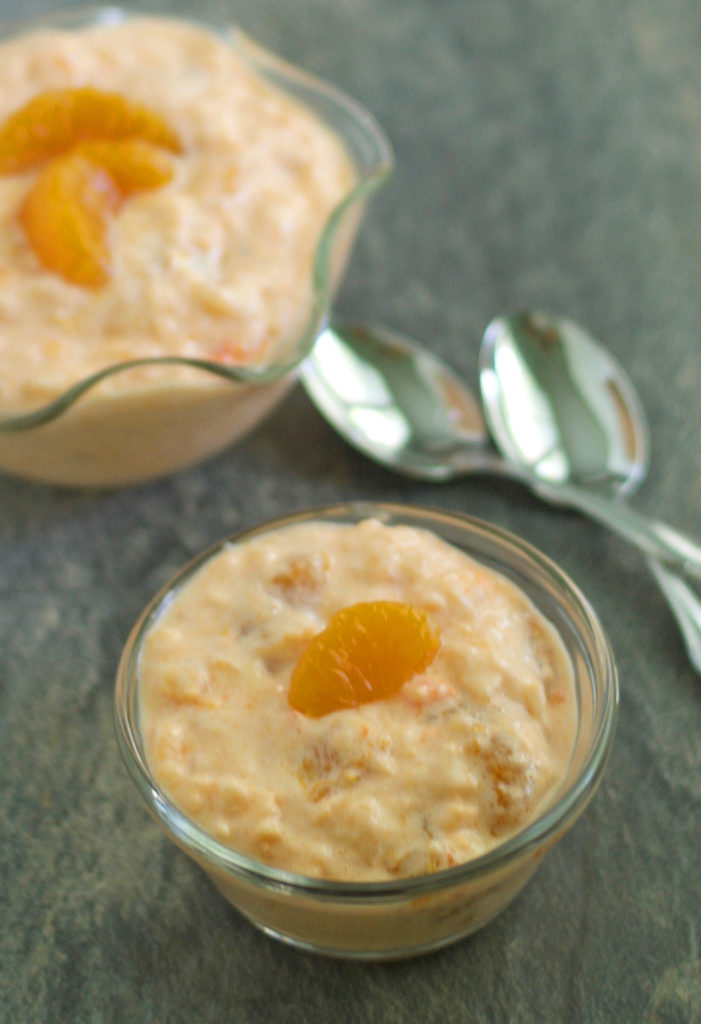 I'm not sure where she heard about this recipe, because let's face it when your family knows the best place to hide her birthday present is the oven, she is not known for her kitchen skills!!
Love you anyway, Ma!
Back to the Orange Fluff, when she was required to provide some type of recipe she had a few requirements.
The dish had to be easy, simple and fool proof (with the emphasis on fool proof).
Easy Dairy Free Orange Fluff is one of her favorite recipes and the one her brothers, sisters, nieces, nephews and children expect to see on the dessert table at a family feast.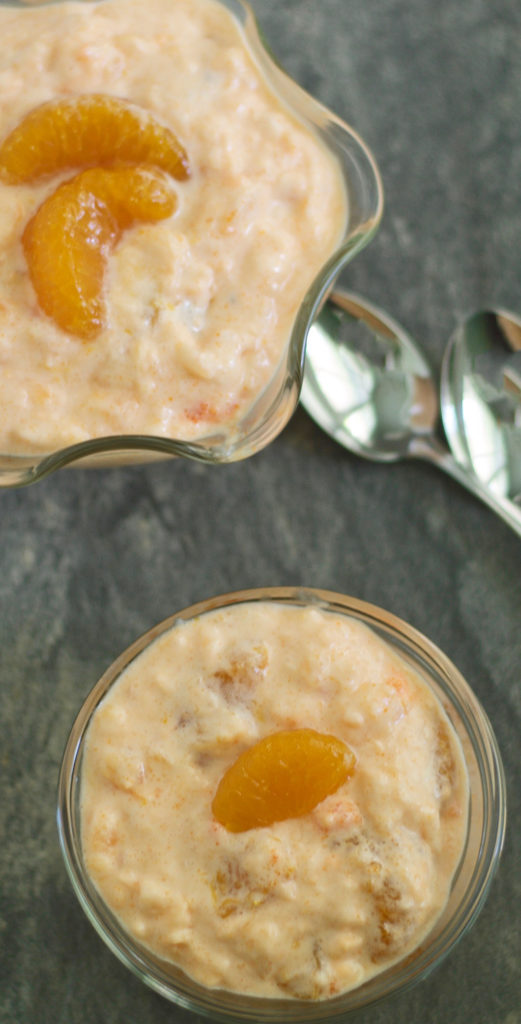 This dessert is so easy to make!!
I mean how hard is opening containers of dry orange jello, coco whip and draining mandarin oranges and pineapples before dumping them all  into a big bowl and stirring??
I love this Orange Fluff dessert as it is easily converted to dairy free, because as a child I was not cow's milk sensitive, and I can once again enjoy this creamy sweet  fruity dessert.
Did I mention this is a great dessert no matter the outside temperature?  It is just as wonderful in the winter as the summer.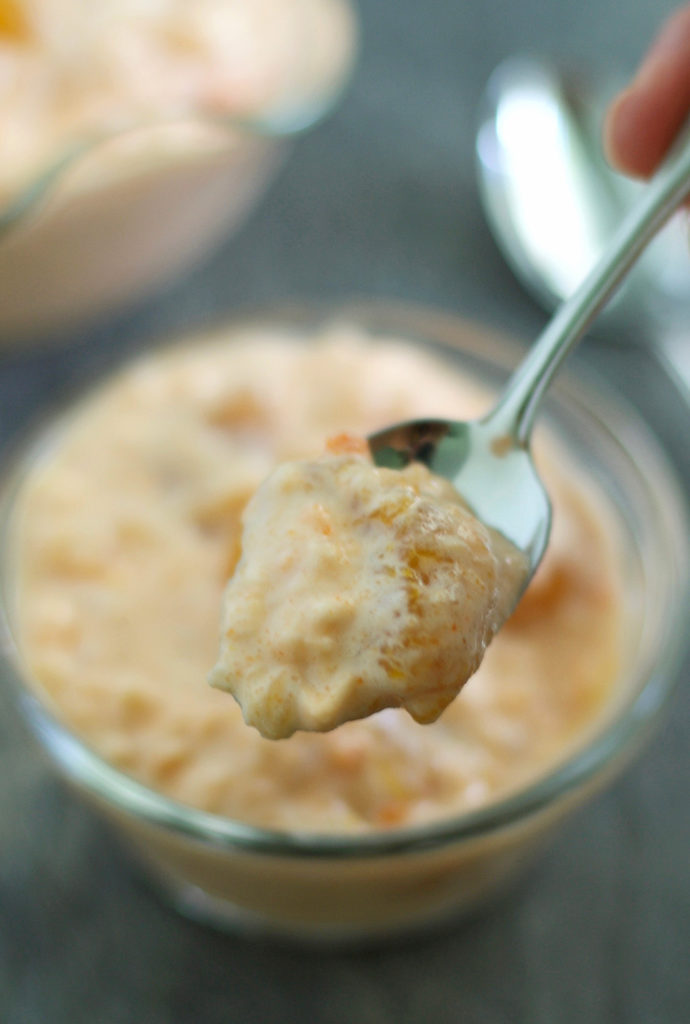 If you need a quick, super easy, sweet creamy dessert full of chunks of fruit then this is your ticket.
Enjoy!

Easy Dairy Free Orange Fluff Dessert
Ingredients
1 can full fat coconut milk*
4 tsp unflavored gelatin*
1 package dry orange jello
1 can mandarin oranges, drained
1 can crushed pineapple, drained
1 container of coco whip
Instructions
In a small bowl sprinkle gelatin over ¼ cup coconut milk.
In a sauce pan, bring remaining coconut milk to a simmer.
Whisk in gelatin mixture and whisk until dissolved.
Pour into a bowl and refrigerate until set, at least 5 hours.
With a butter knife slice through set mixture in all directions until it resembles the look of cottage cheese.
Mix cottage cheese and all other ingredients together and refrigerate 3-4 hours before serving.
Notes
*These two ingredients can be replaced with a carton of cottage cheese. If you do decide to use cottage cheese this recipe will NOT be dairy free.