Gluten Free Caramel Nut Brownies Recipe is oozing with over-the-top chocolate goodness and caramel sweetness!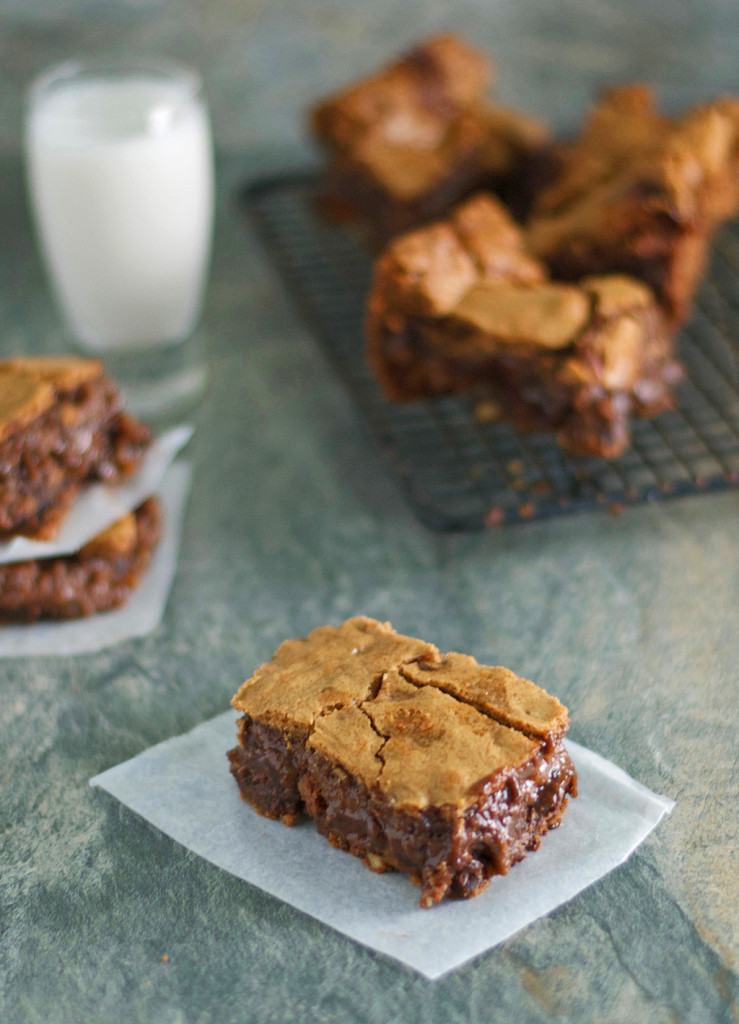 When I was growing up, for a REAL treat my parents would take us to the local Shoney's restaurant and buy my brother and I a hot fudge cake.  This dessert consisted of a super moist chocolate cake with vanilla ice cream which was absolutely drowning in warm chocolate syrup!!!
My mouth is watering just remembering how it tasted.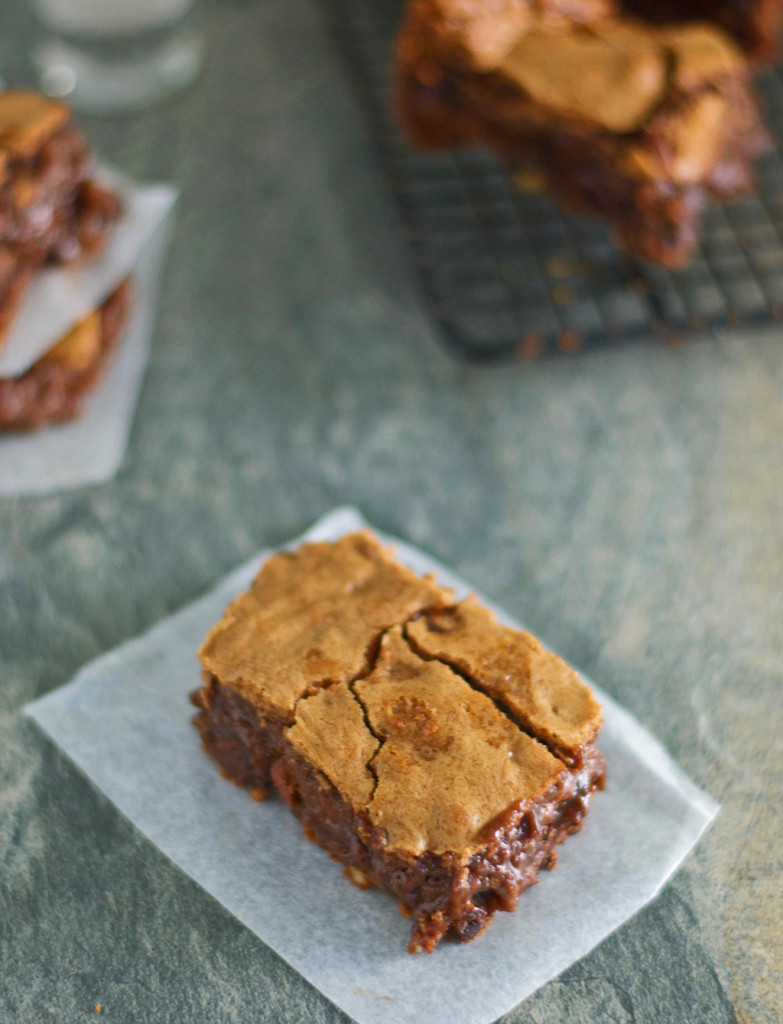 You guessed it: I had a SERIOUS desire to re-visit my childhood via a hot fudge cake but the Shoney's has been closed for several years!
Enter Gluten Free Caramel Nut Brownies!!!
I was just trying to increase my brownie recipe inventory and more kitchen magic happened than I had planned!
At first I thought, 'why does this brownie have a way more moist texture (almost like chocolate syrup, hmmmm what does that remind me of?) than I was anticipating?'
These brownies are beyond oozing chocolate deliciousness.  They have an almost overpowering gooey chocolate goodness.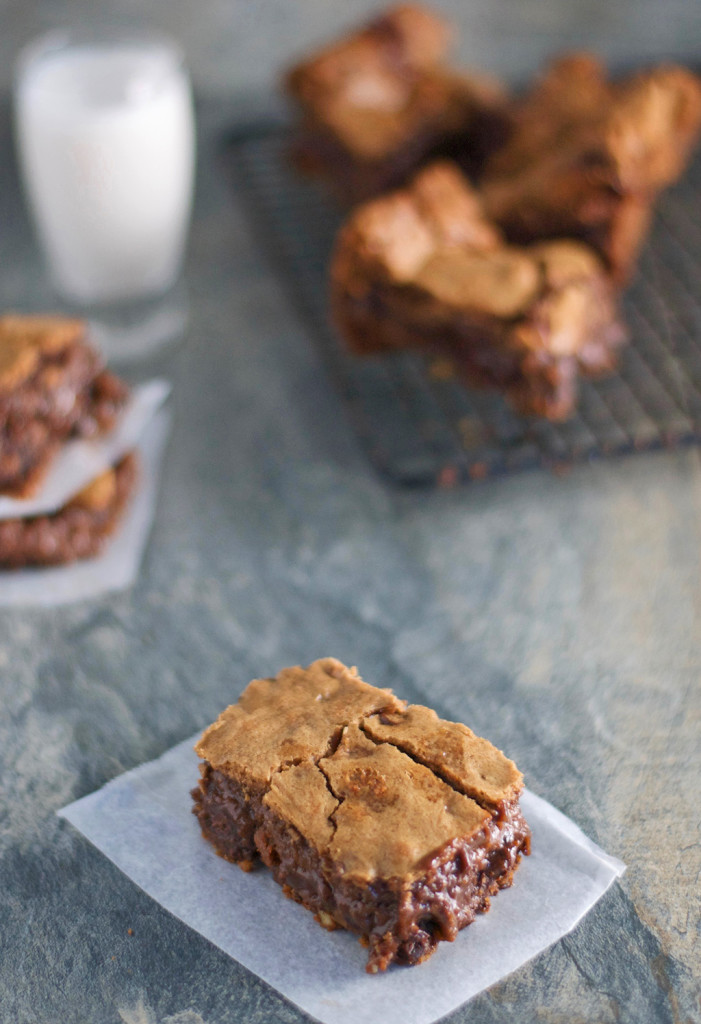 Overpowering chocolate in a brownie?
Have I lost my mind?   How can any chocolate be too much…well, if you ate the whole pan of these Gluten Free Caramel Nut Brownies that would count, but in the real world……
I have gotten way off subject, but these brownies will do that!
Gluten Free Caramel Nut Brownies have the ability to muddle your thought processes with that first ooey, gooey, gorgeous bite.  So much chocolate, a hint of caramel with the added texture of pecans BE.STILL.MY.HEART.
Taking the first bite of this brownie was almost like a religious experience… I HAD to tell somebody, I had to SHARE this decadent caramel nut brownie with someone, anyone (translation: somebody had to save me from eating the whole pan by myself!!)
Thank the heavens,  family showed up when I most needed them.
The look of awe and wonder on their faces with their first bite was testimony enough to let me know I had a hit on my hands.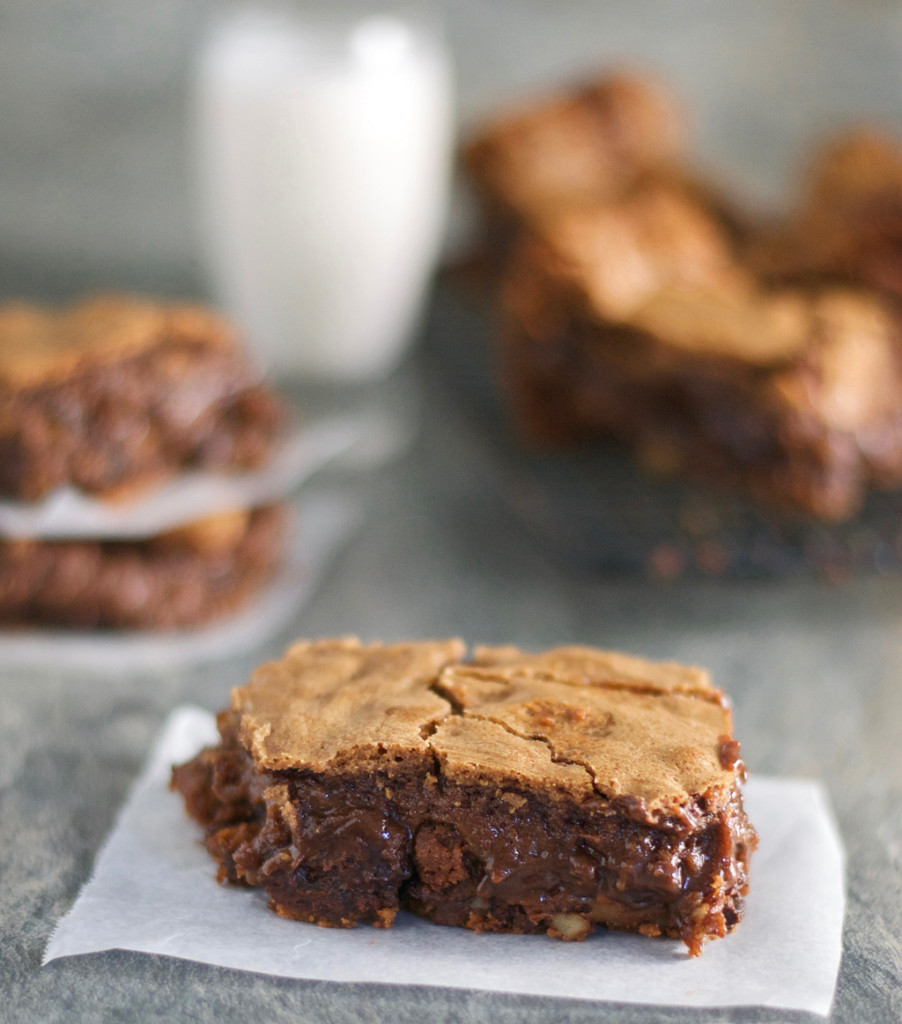 Since I was going for a new brownie and not the hot fudge cake of my childhood, I did not have any ice cream on hand, but we quickly solved that problem!!  Thank you nearby local grocery store.
Picture chocolate oozing brownie and vanilla ice cream smears on faces, hands and table top….yep, we wiped those super moist, beyond sweet and fantastically delicious Gluten Free Caramel Nut Brownies out in less than 45 minutes.
Enjoy, enjoy!

Gluten Free Caramel Nut Brownies
Ingredients
1 cup butter, softened
2 cups packed brown sugar
6 oz semisweet chocolate, melted*
4 eggs
2 tsp gf vanilla extract
1 cup gf flour (I used Pamela's Artisan Flour Blend)
2 cups semisweet chocolate chips*
1 cup chopped pecans
24 vanilla caramels, unwrapped**
2 Tbsp almond milk or any milk
Instructions
Preheat oven to 350 degrees.
Grease a 3 quart rectangular baking pan.
In a large mixing bowl beat butter with an electric mixer on medium for 30 seconds.
Add brown sugar; beat until fluffy.
Add melted chocolate, beating until blended.
Beat in eggs and vanilla until combined.
Beat in flour.
Stir in chocolate pieces and pecans.
In a medium saucepan heat and stir caramels and milk over medium-low heat until melted and smooth.
Spread half of batter evenly in prepared pan.
Drizzle melted caramel over batter.
Pour remaining batter evenly over caramel layer.
Bake for 25 to 35 minutes or until edges are set and top appears dry.
Cool completely on a wire rack before cutting and serving.
Notes
*I used enjoy life semisweet chocolate mini chips
**I used cocomels organic coconut milk caramels vanilla