Umm, umm peanut chocolate chip cookies full of sweet goodness sure to quench any chocolate peanut craving you have!
Some days I want to turn in my adult card!
Being a grown up isn't all it's cracked up to be; being responsible, paying bills, buying groceries, cleaning house, making and keeping appointments…you get my drift.  Or maybe I'm the only one who longs for the carefree days of childhood, but I don't think I am alone in my feelings.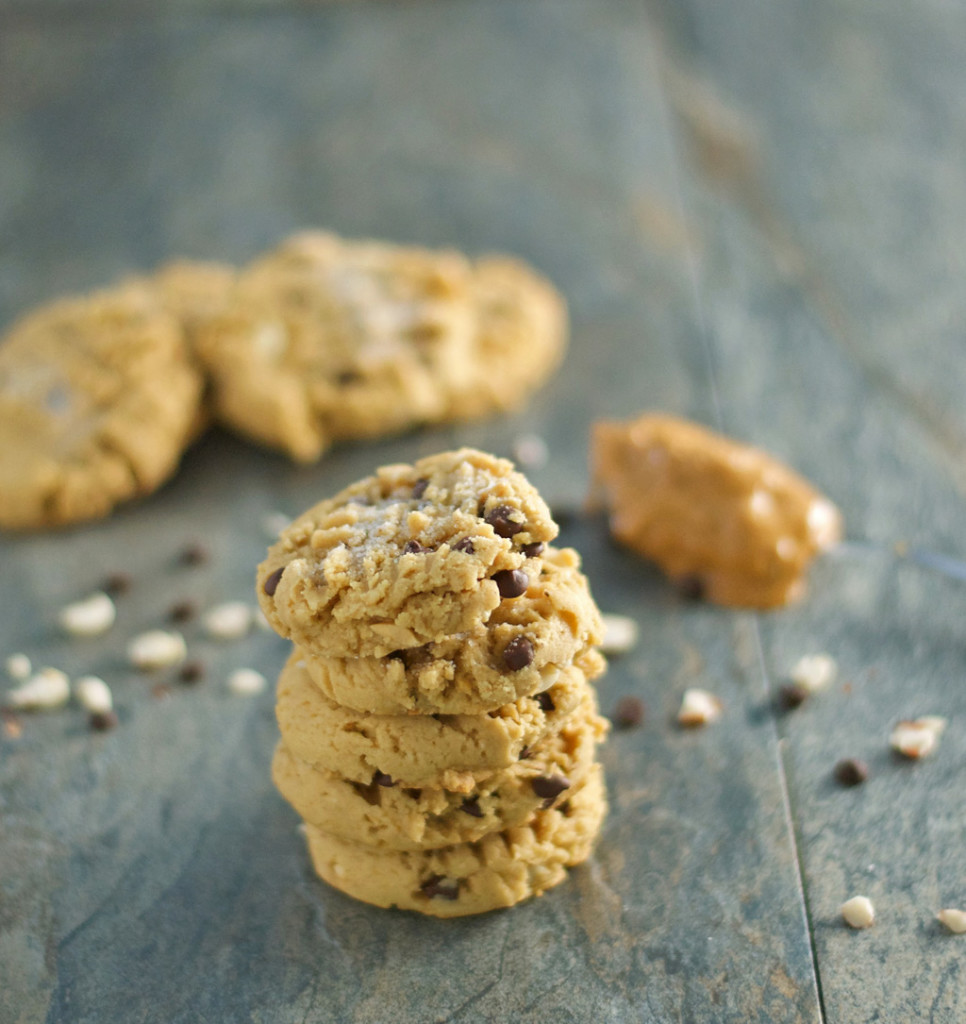 I sure didn't appreciate enough those days of coming in the house and the most responsible thing I had to do was wipe my feet and not slam the door; boy, how age changes things.
Soooo, since I was trying to have a poor-adult-me pity party, I knew just the cure to improve my mood. (No, grabbing myself by the shirt front and telling my image in the mirror to get over it did not work.)
Since I was trying to revert recall and remind myself of my wonderful childhood memories, I decided to treat myself to one of my favorite cookies from that glorious time of my life: Peanut Chocolate Chip Cookies! (But now they are Gluten Free in their goodness).
I have always believed that old adage 'you can't be too rich or too thin' but I add 'or have too many peanut butter or chocolate recipes'.  And believe me, I have a LOT of chocolate recipes, peanut butter recipes and the combination of peanut butter and chocolate recipes.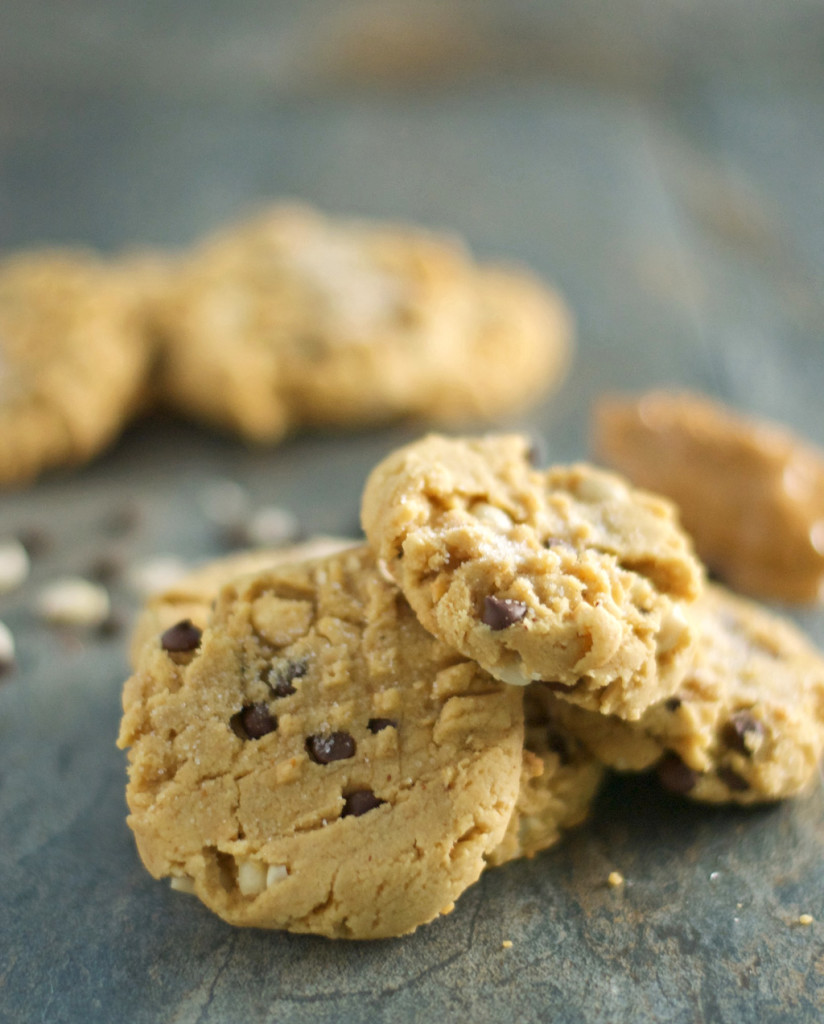 These cookies are beyond addicting!!
They have just the right amount of peanut butter to compliment the rich, gooey chocolate chips!  The chopped peanuts add an additional dimension to the cookie. And did I mention the heavenly moist texture?  I didn't?  Well these peanut chocolate chip cookies have an unbelievable moistness that is just …well, PERFECT!
I was baking a batch of these wonderful cookies and was quickly becoming intoxicated by their peanut butter, chocolate aroma: my mouth was watering!  They took like FOREVER to finish baking! And yes, I'm not too proud to admit, I burnt my tongue on the first one because I had NO patience to wait for them to cool after suffering through that heavenly smell filling my kitchen.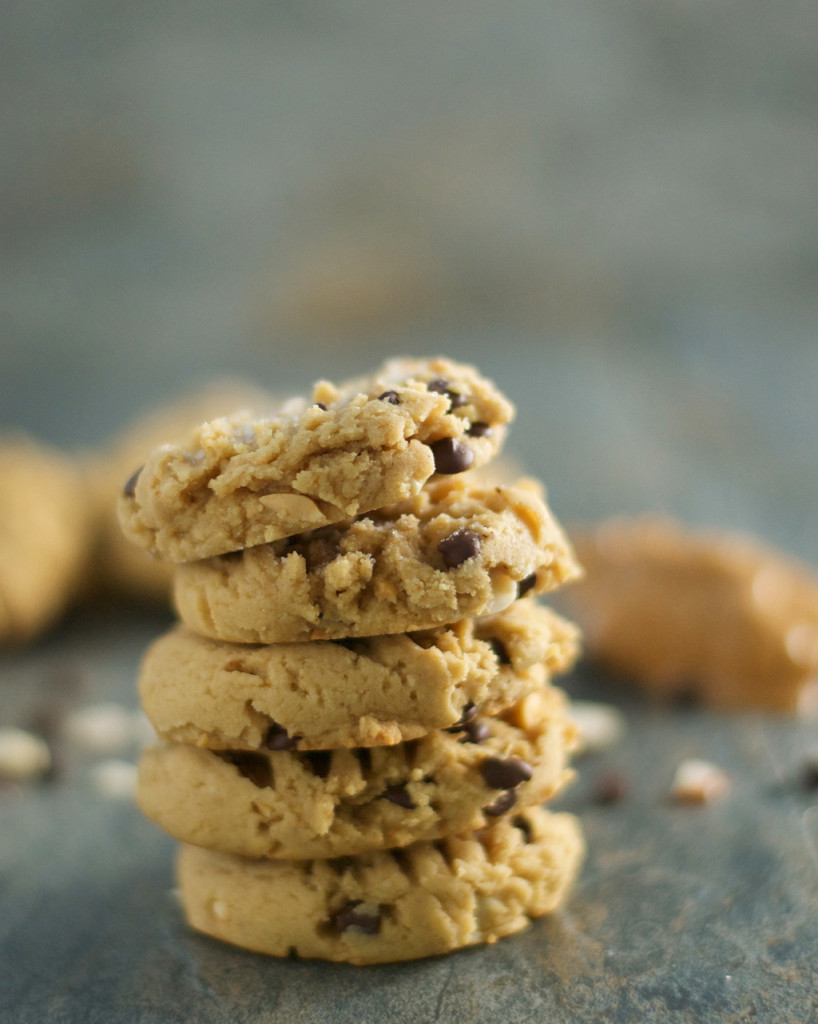 You HAVE to try these fantastic Gluten Free Peanut Chocolate Chip Cookies and do yourself a favor: double the recipe!!  You'll need a double recipe once anyone inhales their wonderful fragrance or tastes one or two of these cookies.
Go ahead and grab your beverage of choice, milk, coffee, etc., pop a peanut chocolate chip cookie in your mouth and be transported by to your carefree childhood or wherever your happy place happens to be!
Enjoy!

Gluten Free Peanut Chocolate Chip Cookies
Ingredients
1¾ cups gf flour
1 tsp baking soda
¼ tsp salt
½ cup peanut butter
¼ cup unsalted butter, softened
½ cup packed light brown sugar
¼ cup plus 1 Tbsp sugar
¼ cup almond milk or any milk
1 egg
1 tsp gf vanilla extract
⅓ cup chocolate chips (I used enjoy life dairy free)
¼ cup finely chopped peanuts
Instructions
Preheat oven to 350 degrees.
In a medium bowl whisk together flour, baking soda and salt.
In a large mixing bowl, beat peanut butter and butter on medium speed until creamy.
Add brown sugar and ¼ cup of the granulated sugar and beat 2 minutes.
Beat in milk, egg and vanilla.
Beat in dry ingredients just until combined.
Stir in chocolate chips and nuts.
Refrigerate dough for 15 minutes.
Preheat oven to 350 degrees.
For each cookie, roll 2 teaspoons of dough into a ball and place on baking sheets 2 inches apart.
With a fork, flatten each ball to a 1½ inch round, making a crosshatch pattern.
Sprinkle a small amount of the remaining sugar on top of each cookie.
Bake for 10 to 12 minute, until lightly browned around edges.
Cool on sheets for 1 minutes.
Transfer to a rack; cool.