Decadently delicious chocolate cake and it is Flour-less!
No Way…a flour less cake?  Be still my gluten free heart (and digestive system)…can it be true?
Will it taste like cardboard?
Or something much worse?  (Full body shiver)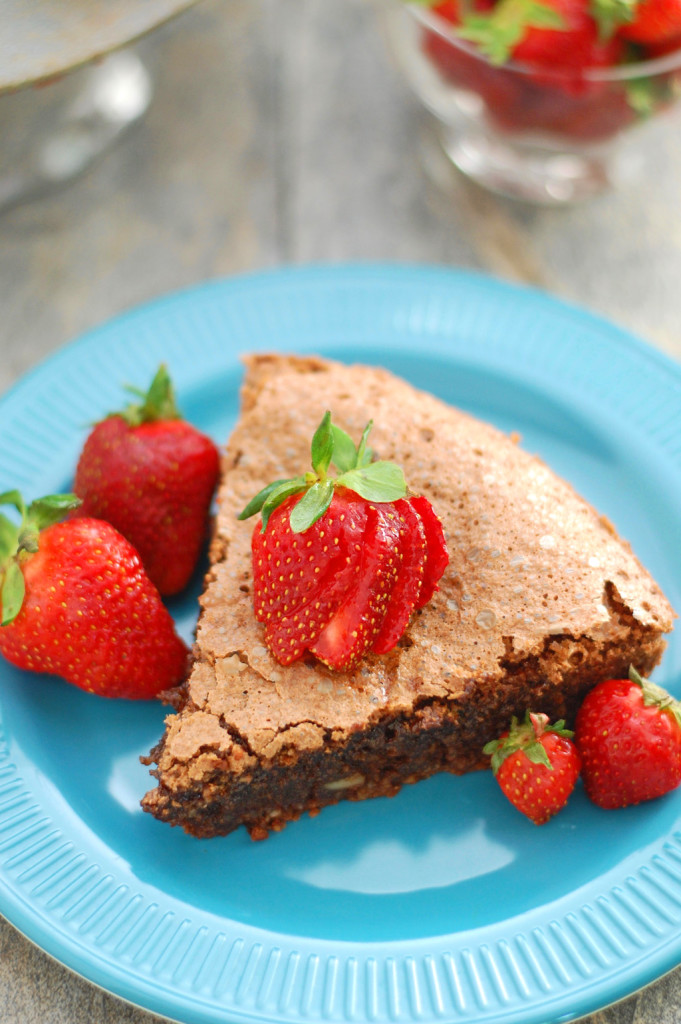 I love L-O-V-E chocolate!
There is nothing, and I mean NOTHING, that could not be improved with chocolate.  Look at chocolate covered strawberries, chocolate covered peanuts, chocolate covered raisins and have you tried chocolate covered pomegranates?  If not run, don't walk, to the store and buy some.  Lord child, I am talking beyond delicious and totally addicting!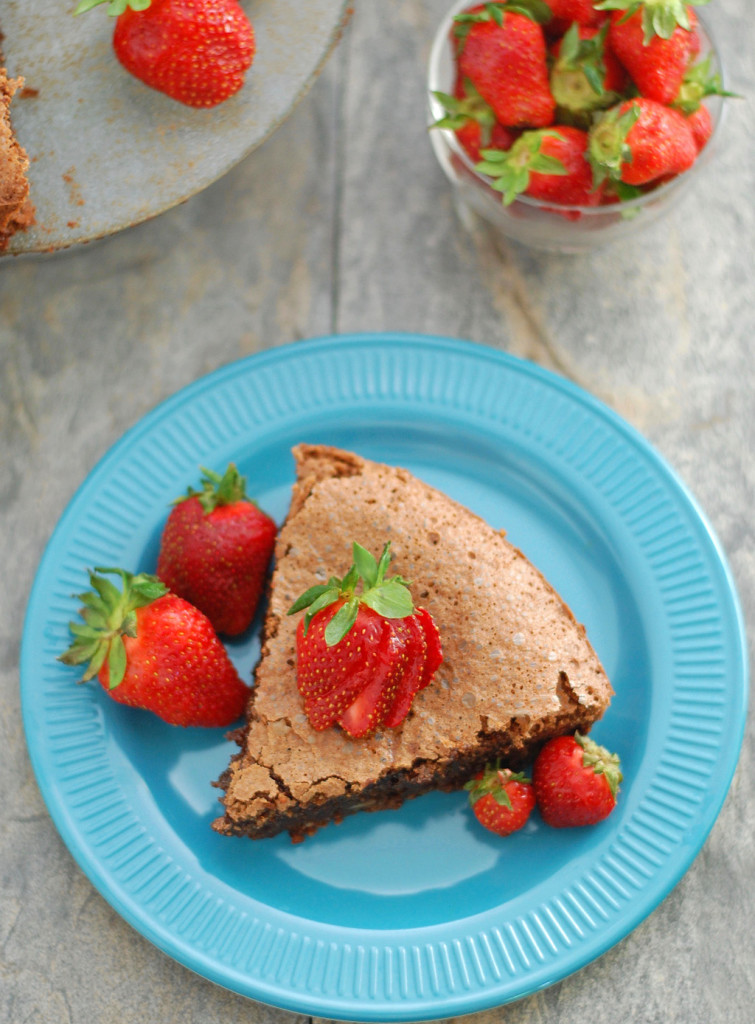 And now I have the chance to make a flour-less chocolate cake, that might taste good?  Count me in.
So I made this Flour-less Chocolate Cake and OH.MY.GOODNESS!  This flour-less cake was beyond the BOMB!
It is so moist, so rich in chocolate flavor, so let me have that second slice, now.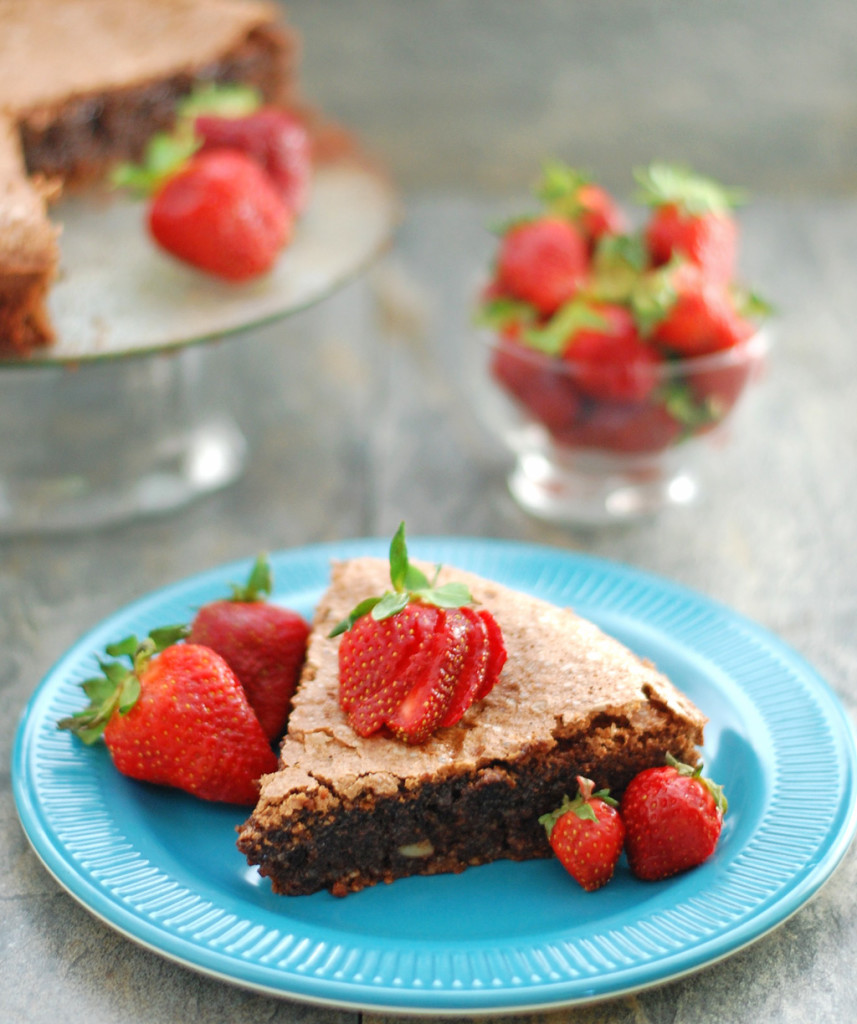 We made this cake for a birthday celebration (ok, it was my birthday celebration and I wanted chocolate) and it was a HIT!!
Top a slice with some fresh strawberries and I want my birthday everyday!
This Flour-less Chocolate Cake recipe is easy, delicious, perfect for any occasion that chocolate is required and the list goes on and on.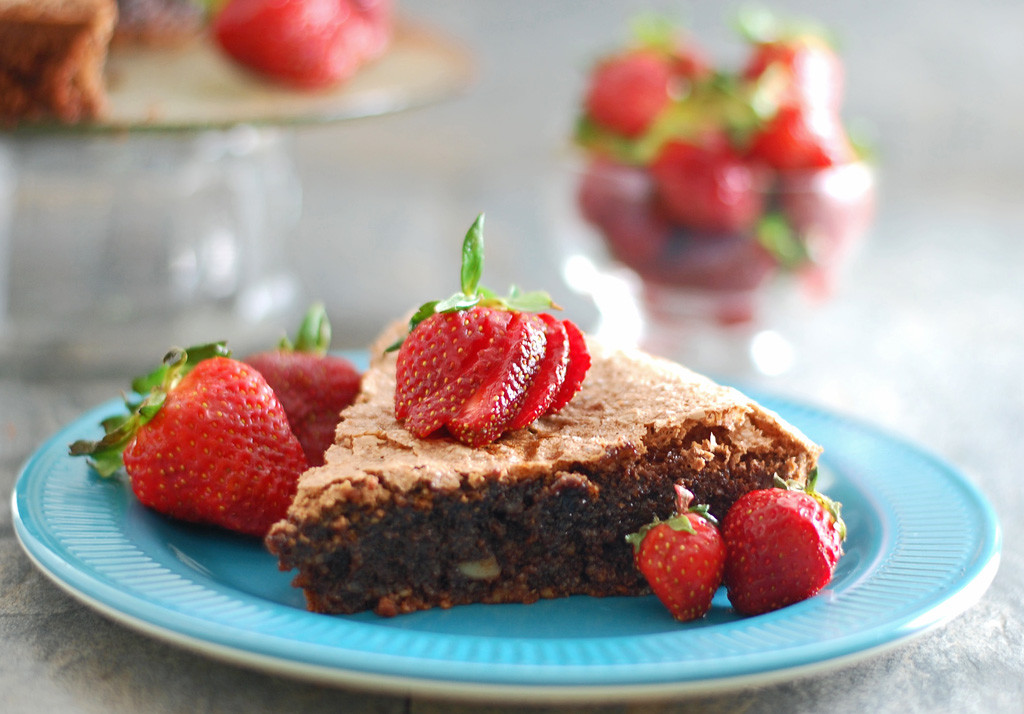 Enjoy this perfect tasting Flour-less Chocolate Cake for your chocolate addiction.

Flour-less Chocolate Cake Recipe
Ingredients
1½ cups skinless slivered almonds
1 cup sugar
8 ounces Enjoy Life Dairy Free semi sweet chocolate chips
5 large eggs, separated
½ teaspoon almond extract
½ teaspoon lemon zest
½ cup coconut oil, room temperature and soft not melted
¼ teaspoon salt
Fresh Strawberries
Instructions
Preheat oven to 350 degrees.
Grease 10 inch diameter spring form pan.
Combine almonds and ⅓ cup sugar in a food processor.
Blend until almonds are very finely ground.
Transfer almond mixture to medium bowl.
Melt chocolate.
Add ⅓ cup sugar and mix in coconut oil until completely melted.
Add chocolate mixture to almond mixture.
Using an electric mixer, beat egg yolks and remaining ⅓ cup sugar in large bowl until mixture falls in heavy ribbon when beaters are lifted, about 5 minutes.
Beat in almond extract and lemon zest.
Remove egg yolk mixture from mixer and gently fold into the chocolate-almond mixture adding it in 3 additions.
Using clean dry beaters, beat egg whites and salt in another large bowl until stiff, but not dry.
Fold whites into chocolate batter in three additions. Be careful not to over mix.
Transfer batter to prepared pan.
Bake cake until toothpick inserted into center comes out with moist crumbs attached, about 40 minutes.
Cool cake completely in pan on rack.
Cut around pan sides to loosen; release sides.
Serve with fresh strawberries.