Creamy, cheesy scalloped potatoes full of comforting flavor.
I don't know which comfort food I enjoy, no make that love, the most: mac and cheese or scalloped potatoes!
I have to confess, I had to grow into a love for scalloped potatoes.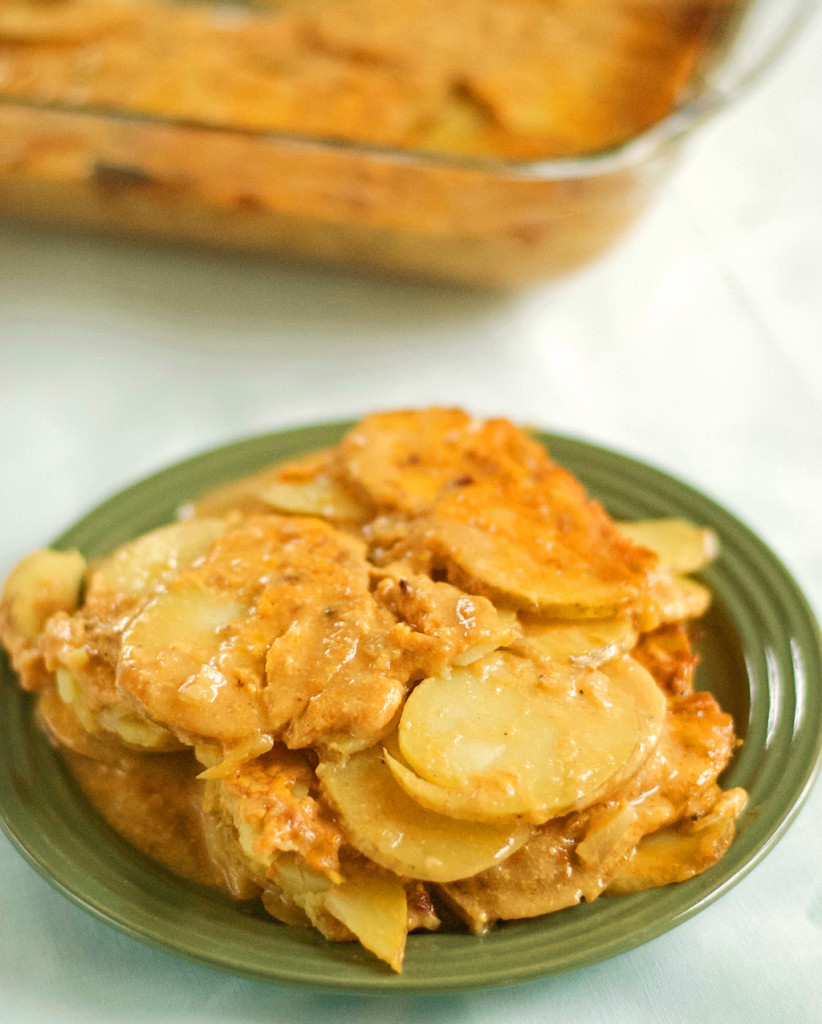 Background: My great-grandmother was the epitome of a Southern lady and cook. She faced the world each day with her Merle Norman make-up, 'ear bobs' and apron in place (and all of this was done before she set a foot out of her bedroom each morning!)  What a woman, what an inspiration.
Anyway, the only seafood she liked, or ate for that matter, was scallops. As a ten year old, I thought they were GROSS!
How on earth could she like that little lump of yuck, when there was beautiful flaky fried flounder or steamed shrimp or deviled crab? I could not understand her choice of seafood.
Enter scalloped potatoes.
I was visiting her house one day, and doing what great-grandmothers do so well, she was preparing a meal.
When I was called to the table, I noted a new type of food and was informed it was scalloped potatoes. To say the least, I was HORRIFIED!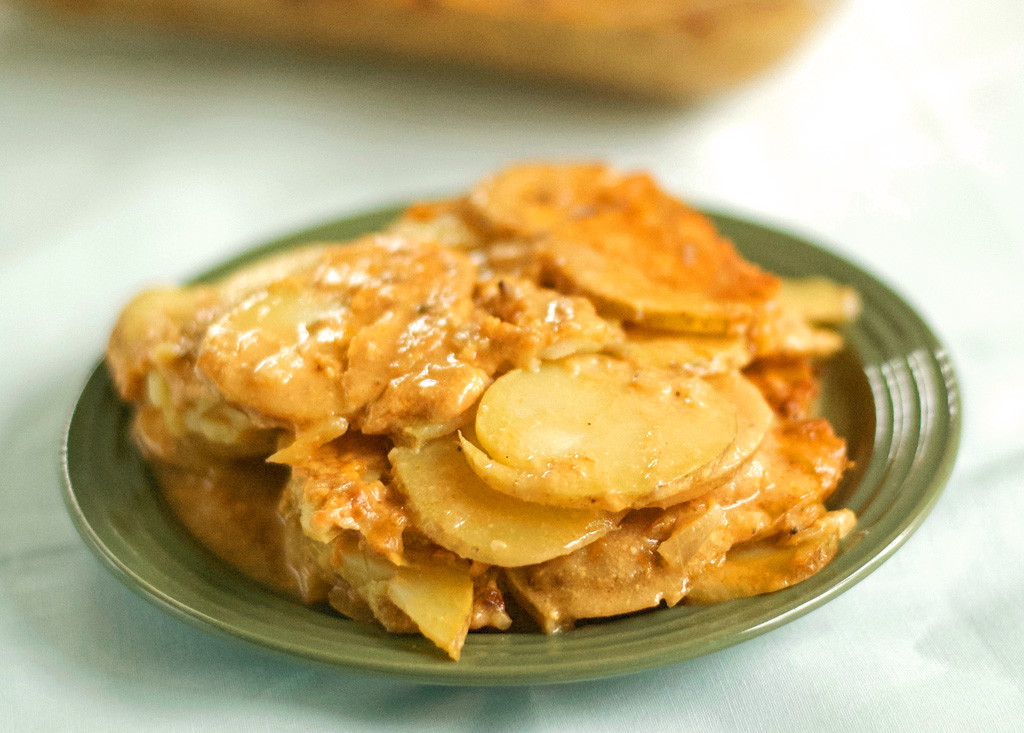 It was white like scallops, she knew I hated scallops, when did my grandmother develop such a mean streak?
She knew my mama's rules: 1. I HAD to try at least 2 bites 2. I could not make faces, comments or run from the table screaming/crying.
The longer I sat there, the bigger that serving of scalloped potatoes on my plate grew.  When grand mom, noticed I was not eating it, she said 'I know you like potatoes, why aren't you eating?'
POTATOES!?! These were potatoes and not that horrible seafood?  Thank you Lord!!
What a relief…and what a dish!!  From the first bite, I was hooked. Creamy, cheesy thinly sliced potatoes, how delicious!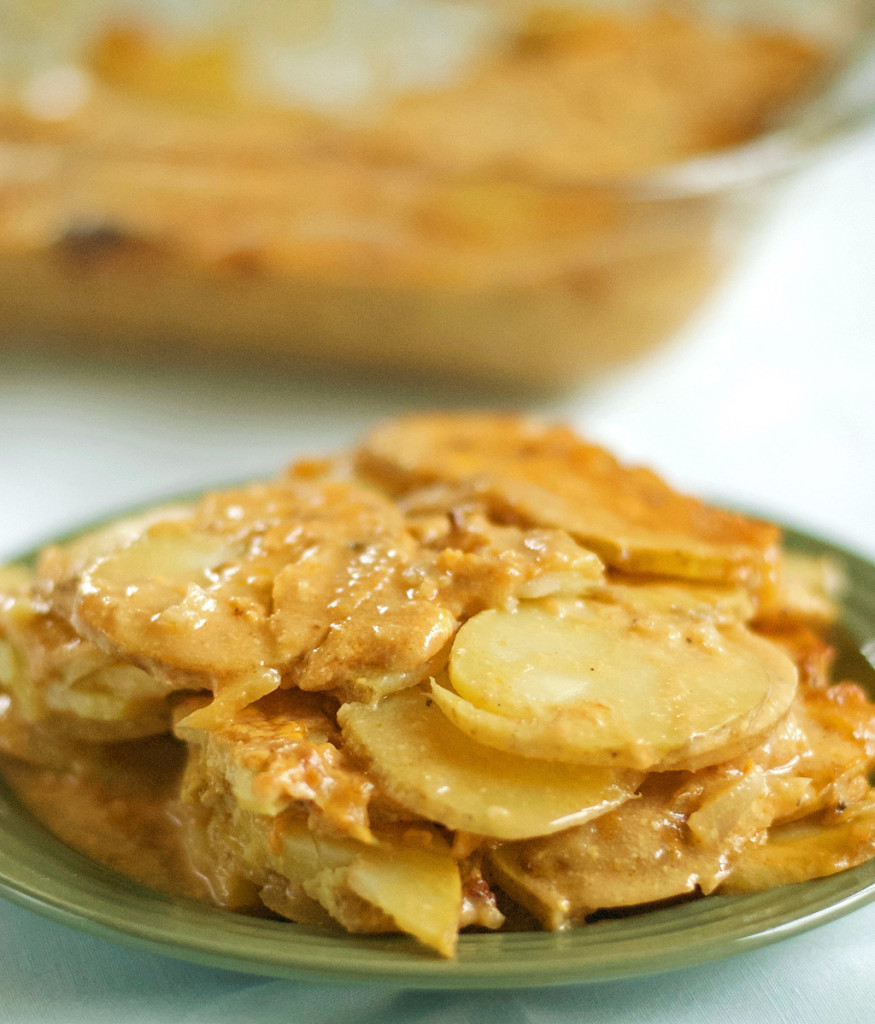 I have tried her recipe a few times, but since it is not prepared by her hands and with her love, it never tastes as good.
This is the Scalloped Potato recipe I have used over the years. Whenever I serve it to family, they love to remind me that I thought it was scallops way back when…whatever, just eat your food and behave!
Try this easy, cheesy, creamy scalloped potato dish that is gluten free!
Scalloped Potatoes
Ingredients
1 cup milk (I used almond milk)
2 cups cheddar cheese, divided
¼ cup ketchup
2 tsp gluten free Worcestershire sauce
½ tsp pepper
2 tsp salt
2½ pounds potatoes, cut into ½" slices (I used Yukon gold)
1 cup chopped onions
Instructions
Preheat oven to 350 degrees.
Combine 1 cup milk, 1 cup cheese, ketchup, worcestershire sauce, salt, and pepper; set aside.
Coat a 9x13 baking dish with cooking spray.
Arrange half the potatoes and half the onions in the bottom of baking dish.
Top with ½ half milk and cheese mixture.
Repeat layers with potatoes, onion, and milk/cheese mixture.
Top with remaining 1 cup cheese.
Cover and bake for 1 hour and 15 minutes or until potatoes are tender and cheese is melted.