Sweet potatoes, apples and Onions? Oh, my!! 
I was not very confident that this combination of sweet potatoes, apples and onions, roasted together, would be flavor combination I would be able to eat enjoy.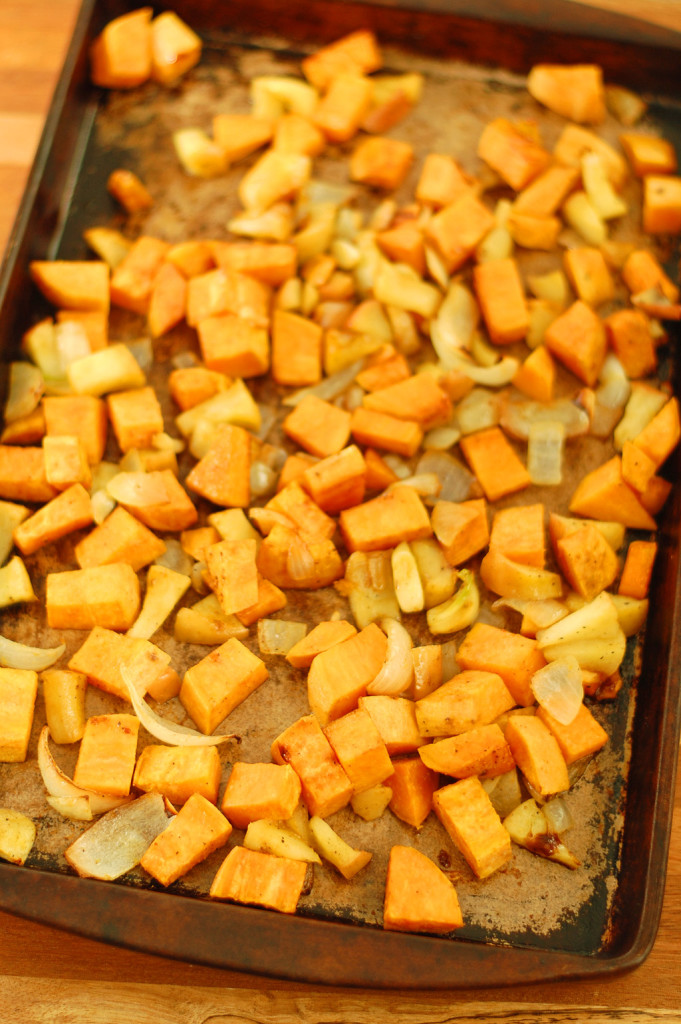 I mean, I have eaten all of them roasted, but never together!! This felt almost sac-religious!
In trying to decide if I wanted to make this unusual food combination, I began to really look at the health benefits of the ingredients.
I've known for quite awhile the many health benefits of sweet potatoes (and let's not forget their wonderful taste).  In fact, the sweet potato has so many wonderful health benefits it is difficult to name them all.  The categories I appreciate the most about sweet potatoes are the nutrients contributing to their being an antioxidant, anti-inflammatory and best of all their blood sugar-regulation.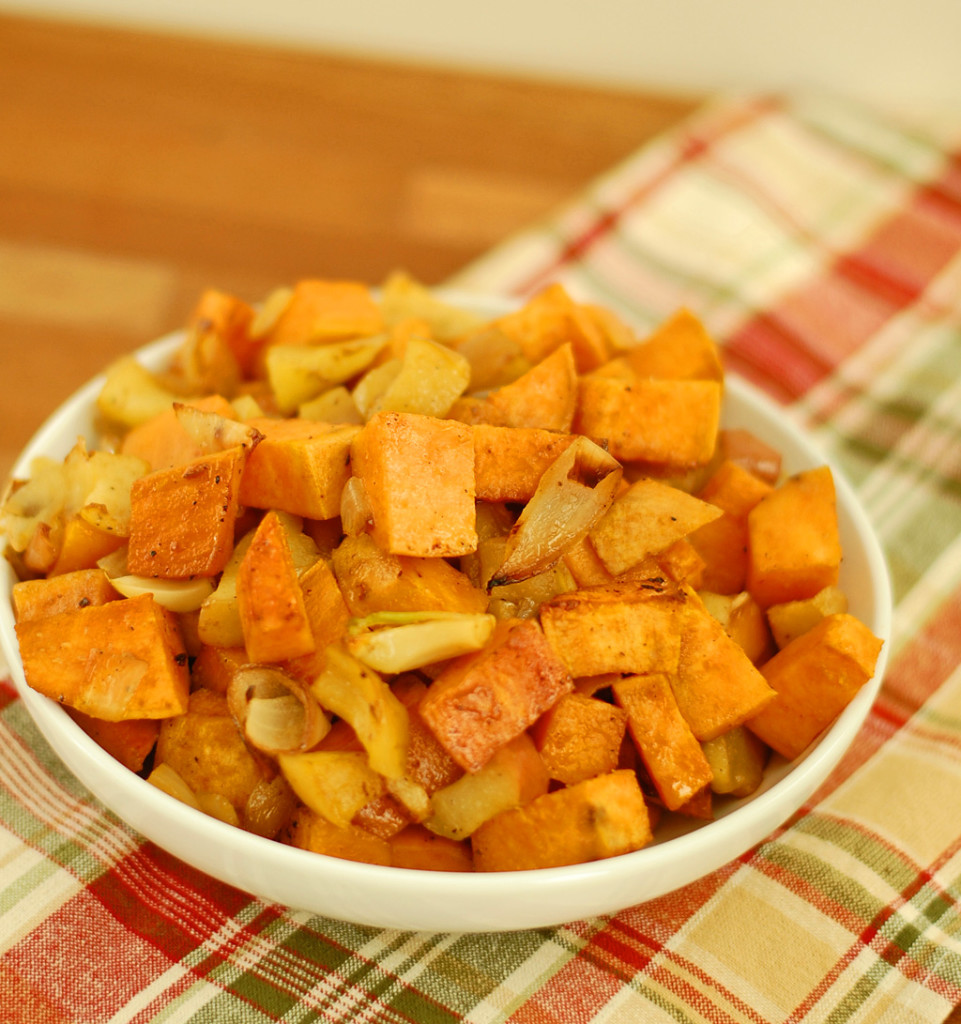 My next main ingredient: apples, so many types and so many delicious tastes!  Sweet, tart, crisp, mellow…surely with all these flavors there is an apple out there to suit everyone's taste buds.
Apples share many of the same health benefits of sweet potatoes plus a few more. Apples are known for their antioxidant, cardiovascular, blood sugar regulation, anti-cancer, and  anti-asthma benefits.  Apples have also been found to be beneficial in several age-related health issues such as Alzheimer's and macular degeneration of the eye.
And the last major player in this recipe, onions just may be the icing on the cake??!! Yeah, I wrote it.
Onions are known to contain nutrients to prevent bacterial infections, cancer prevention, an anti-inflammatory, support bone and connective tissue and have cardiovascular benefits.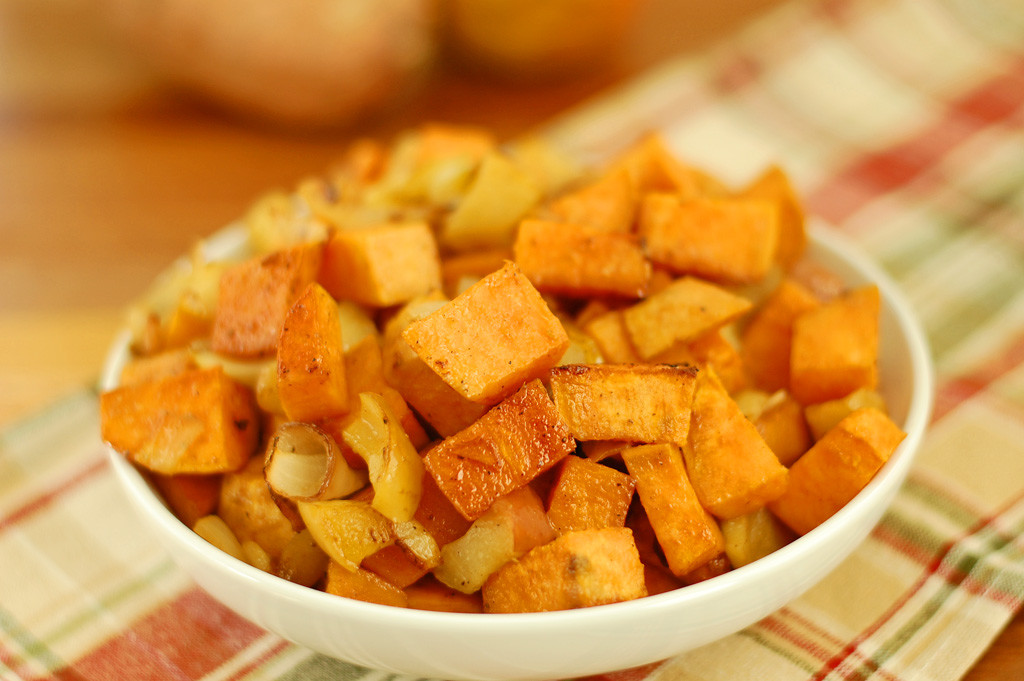 Well, this dish is looking more and more healthy!
Okay, okay so it should be very healthy but are these flavors really going to work together?
Hold my breath, work some cooking magic (translation: prepare and put all the ingredients together).
Drum roll, please…this pan of roasted sweet potatoes, apples and onions are a hit in my side dish world!!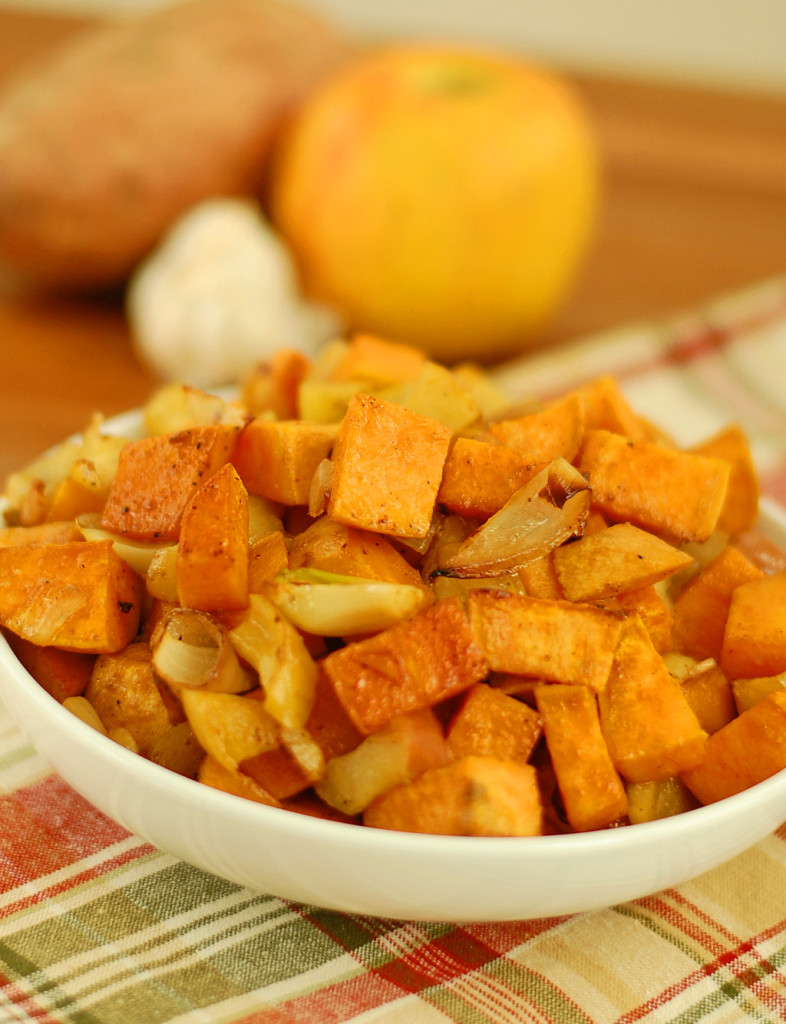 I paired it with some baked chicken and green salad and had a truly scrumptious meal.
I can hardly wait to try it at Thanksgiving!
So, bottom line, the recipe sounds quirky but it is oh so worth making as a delicious, healthy side dish!
Roasted Sweet Potato and Apple
Ingredients
4 cups sweet potatoes, peeled and cubed
1 cup apples, cubed
½ onion, sliced in to ½ inch pieces
4 cloves garlic, peeled
2 Tbsp oil (I used melted coconut oil)
1 Tbsp nutritional yeast
¼ tsp sugar
1 Tbsp brown sugar
Salt and pepper to taste
Instructions
Preheat oven to 400 degrees.
Toss first 4 ingredients in oil and spread a single layer into a bar pan or 9x13 pan. If using glass line with foil.
Mix remaining ingredients in a small bowl.
Sprinkle evenly over sweet potato mix.
Bake for 25 minutes or until sweet potatoes and apples are tender.
Roasted Sweet Potato and Apple Recipe