Good old fashioned vegetable beef soup! Deliciously robust and Gluten Free!
Cooler weather calls for family favorites at my house.
Comfort food is the high priority of cool, damp days.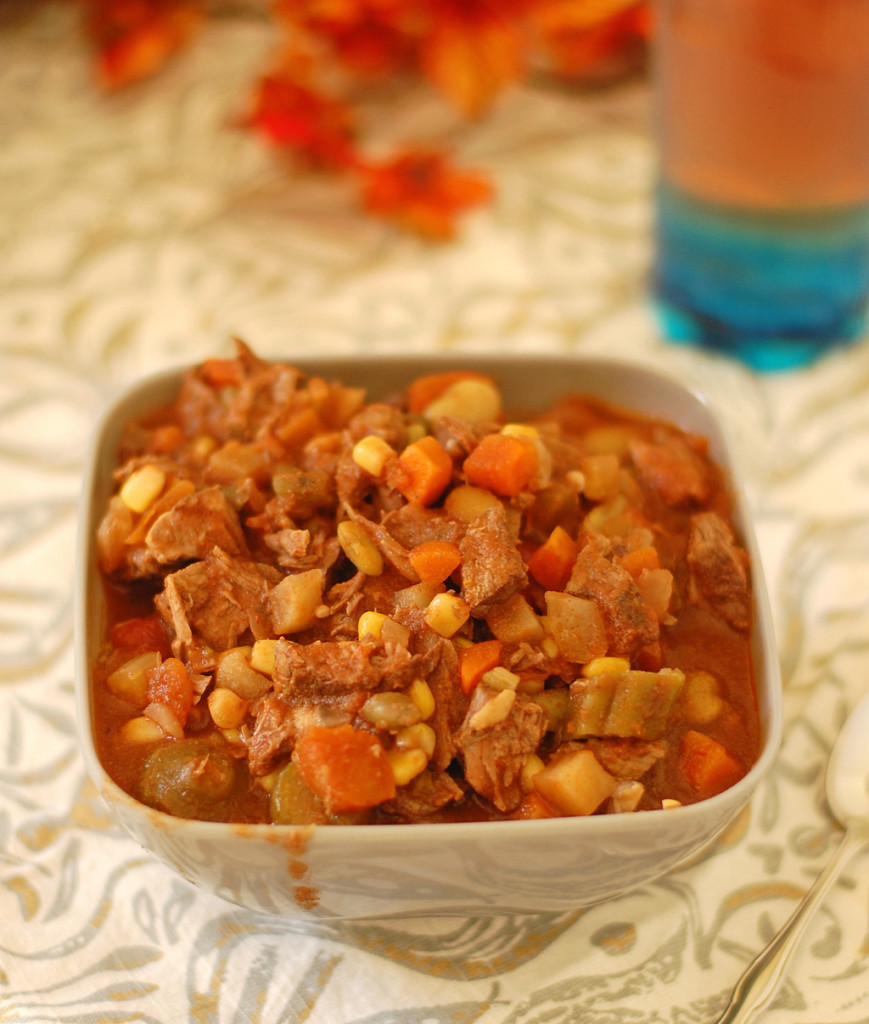 There is just something about a big bowl of hearty veggies and beef in tomato sauce with the steam rising off of it to put a smile on my face.
As a child,  I can remember a pot of vegetable soup could be guaranteed to be sitting on the stove top at the end of a chilly day.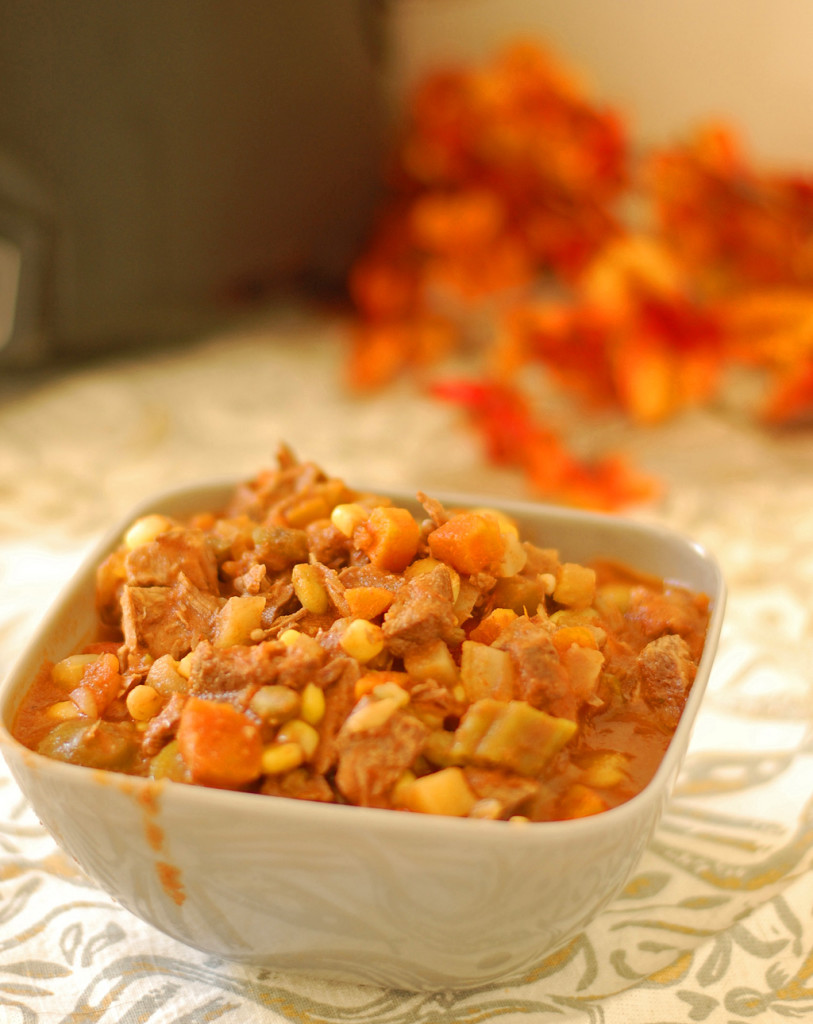 My great grandmother had a very simple vegetable soup recipe, which was out of this world in flavor.  I have tried repeatedly to duplicate it, but the flavor is never quite right!  I am sure the flavor was the result of the love she had for us and her joy in sharing food with us.  It may also have been that all the veggies were canned by her and did not come from some huge box store.
Her recipe?  Super easy 'c, c, oe, oe'.  This was my great aunt's way to remember it without writing it down: cabbage, corn, tomatoes, potatoes!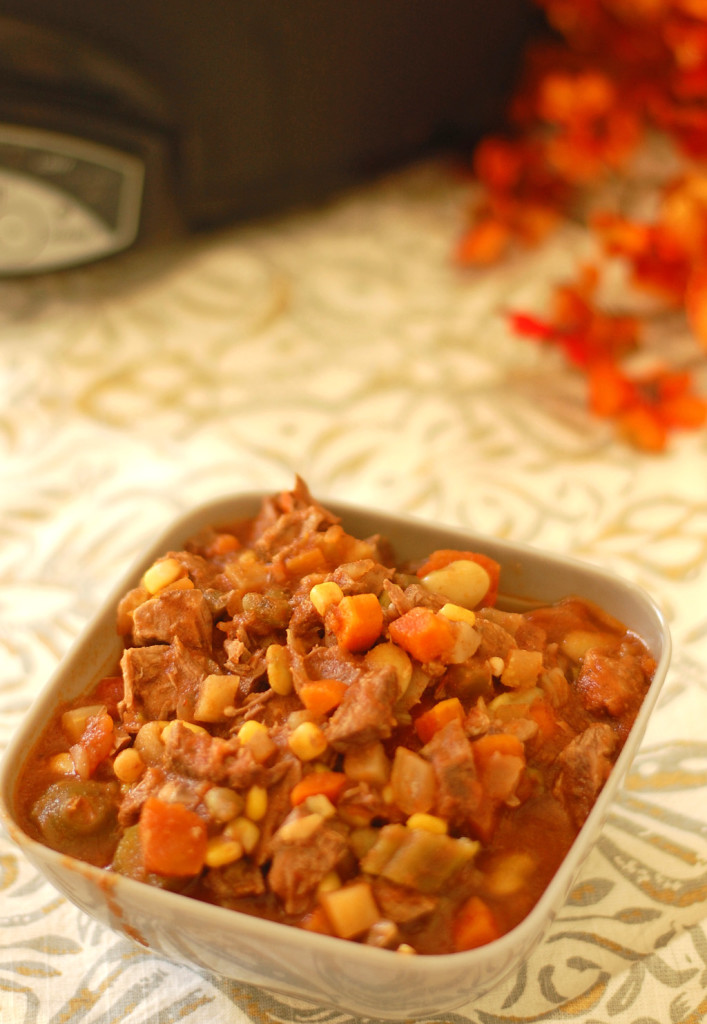 Very rarely did she put any type of meat in it, or any other vegetables and of course, the seasoning was a dash of this, a pinch of that.
There are so many happy memories of sitting around her table sharing this soup. She would share about her childhood, her courtship, stories of my grandmother (her middle daughter who died of cancer at age 50) and so many other interesting topics.
Of course, I often change around the recipe depending on my mood and cravings.
I have used tomato sauce with green chilis to spice it up or tomato sauce with garlic and basil for a different savory flavor.
I certainly appreciate a crockpot recipe because they are so fast, easy and allow me to be working on other projects while my meal is cooking.
I became curious about the origin of 'crock pots', since we had always had one during my childhood.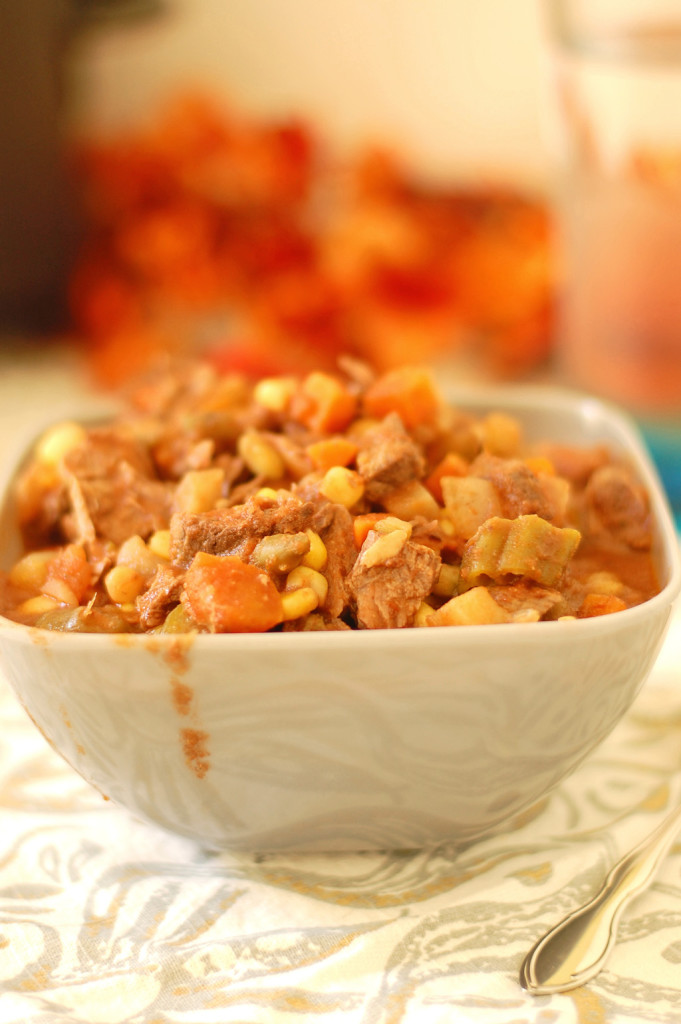 I learned:
Crock Pot is a brand name for a slow cooker, which was named Naxon Beanery,  patented by Irving Naxon in 1940 (he applied for the patent in 1936).
The inspiration for the slow cooker came from his Jewish mother's story of a bean-based stew, cholent, she prepared in her village bakery in Lithuania.
Cholent is a traditional Jewish dish that cooks all day.  The Jewish Sabbath is a day of rest, so observant Jews do no work.
For the family to have a meal that is begun before sundown Friday to eat after services on Saturday, the wife/mother would have to turn off her oven Friday but would place the pot of                                  cholent in the oven and the residual heat would cook the dish over  a period of 24 hours.
Naxon made his device as a portable insert held up by a case holding a heating device which evenly heated the food placed in the insert.
Naxon's wonderful invention became known as a Crock Pot when he sold the design to Rival Manufacturing in the early 1970s.
So now we know!
We enjoy our gluten free Vegetable Beef Soup with a number of garnishes: gluten free multigrain crackers, gluten free cornbread, grated cheese or a dollop of sour cream; oh oh lets not forget a grilled cheese sandwich on gluten free bread!
Put on a pot of this delicious, memory making Crockpot Gluten Free Vegetable Beef Soup and enjoy!
Crockpot Gluten Free Vegetable Soup
Ingredients
1-1½ pounds stew beef (omit to make vegan)
¼ cup gf Worcestershire sauce
32 oz package of frozen mixed vegetables (I always make sure it has okra in it!)
32 oz of tomato sauce
4-6 cups of water, depending on how thick or thin you prefer your soup
½ tsp of salt *
¼ tsp garlic powder *
¼ tsp onion powder *
pepper to taste
Instructions
Place in order all of the ingredients into crockpot.
Cook on low for 4 hours and high for 2 hours *
Notes
* Season to taste-these amounts work for my family

* My crockpot is older and requires the longer time to completely cook the meat