Need a Gluten Free snack that is fast and easy to make?  Try Layered Bean Dip!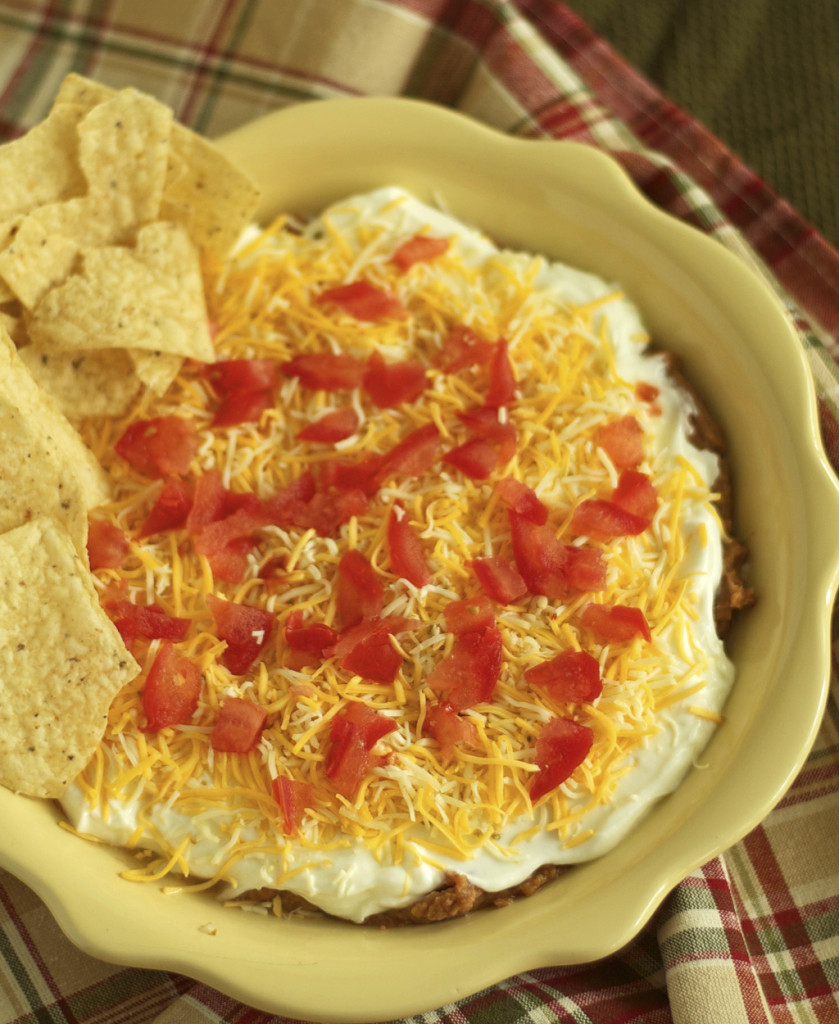 We have always been a family that enjoyed SouthWest or Mexican flavored foods.  So when Judy, a coworker of my mother's, shared a snack she would make to keep her children from "starving" between church and  the Sunday dinner being served AND it was Mexican in flavor…well, the rest is history.
This hearty, but quickly prepared Layered Bean Dip is right in so many ways:
1. Easy to assemble
2. Full of nutritional ingredients: protein, vegetables, calcium
3. Great finger food for the little ones
4. And just plain doggone good!
I try to make and keep my own refried beans, or frijoles refritos as they are known in Spanish, on hand.  I know if I prepare them, I have the healthy ingredients I want to consume.  I use pinto beans because of their somewhat sweet flavor and their "mash ability"; they come out smooth and creamy…but that is another post!
If I do not have any homemade refried beans on hand, I buy Amy's Organic brand of Refried Beans at Target.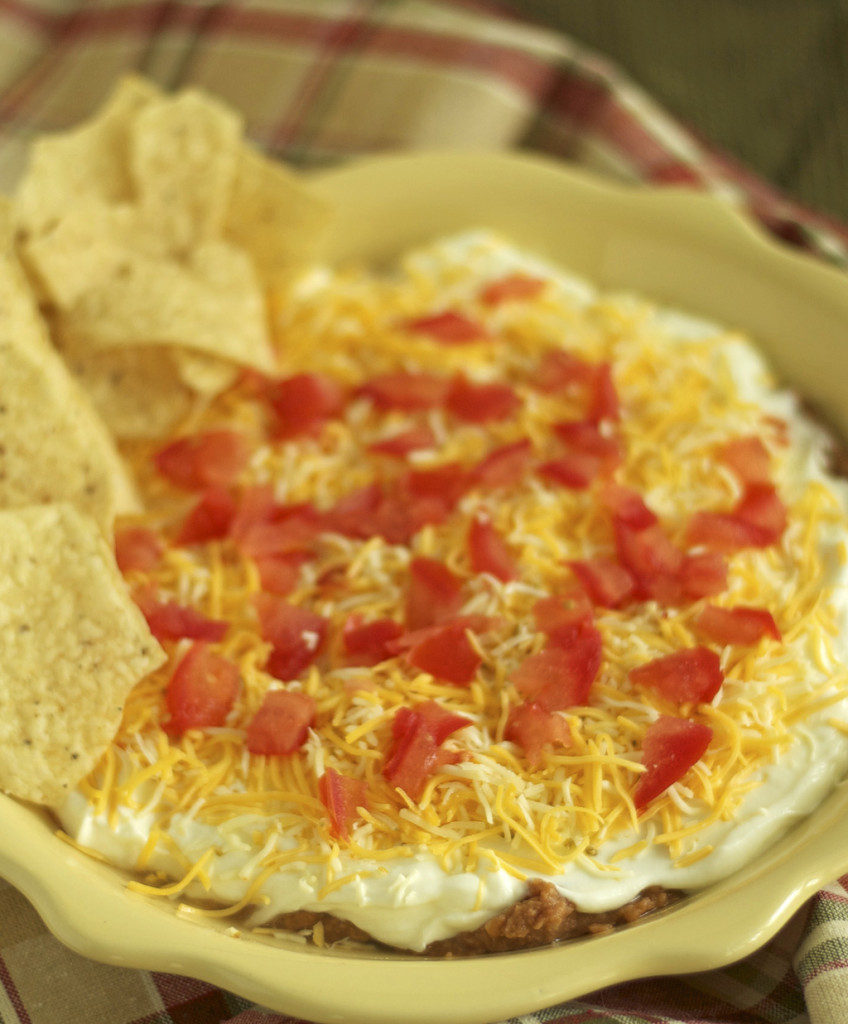 Since I am cow's milk intolerant, I use goat's milk yogurt in place of sour cream, the taste is phenomenal, so rich and smooth.
I also use a goat's milk cheese, cheddar being my favorite!
Sometimes younger children do not like the taste of raw onions.  I have found if I use the yellow sweet or Vidalia onion and chop very fine, the kids do not make any comments except to smack their lips and grin.
What is great about this dip?  You can make it quickly, like right when you want it, or the night before and let those flavors blend.
This refried bean dip is soooo quick and easy!
I mean, the hardest part is chopping the onion and tomato, opening a can and putting it all on the pie plate. Hey, the kids love spreading the beans and then 'painting' the sour cream on top!
Sometimes, not often, they become so engrossed in the preparation, they forget they are hungry!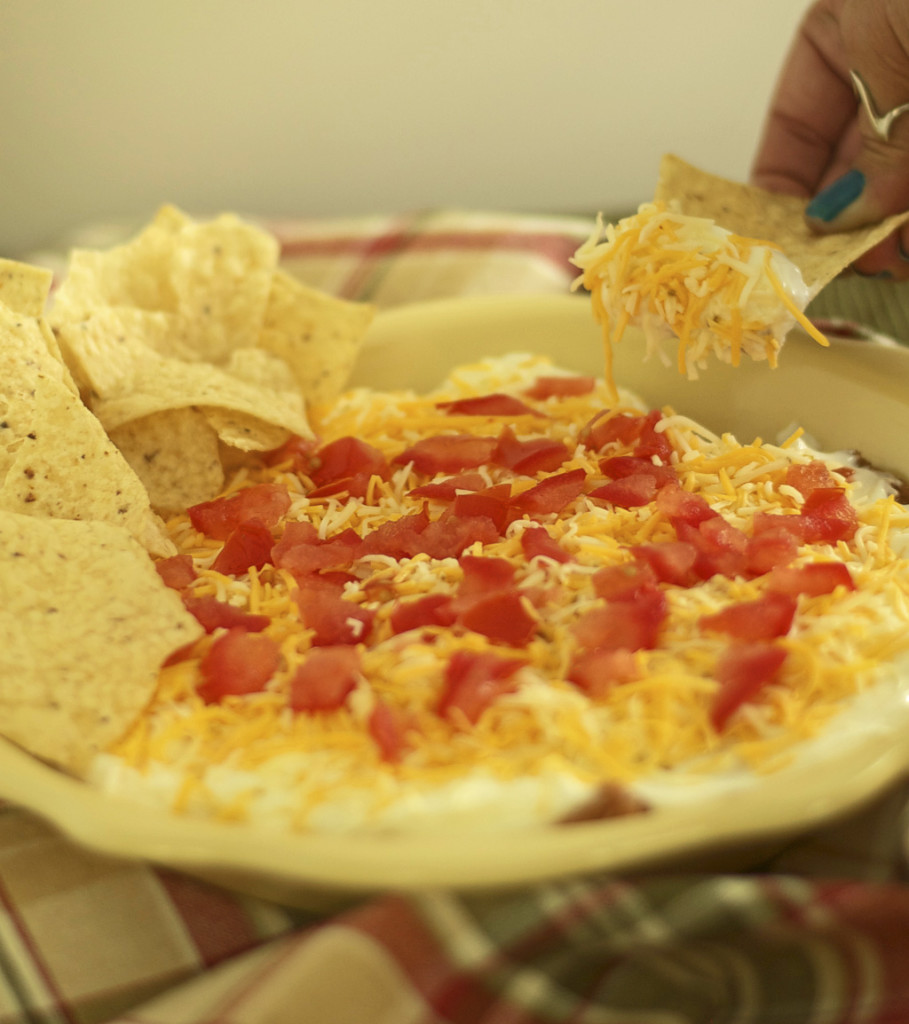 The best part of this refried layered bean dip?
Watching those smiling faces as they scoop it up on their corn tortilla chips (the little white mustaches from the sour cream is pretty cool, too!).
Whether you need a quick stop gap food until the real meal is ready,  a delicious appetizer or a great, fast, easy standby recipe for a party, Judy's Layered Bean Dip fits the bill!
This fast, easy dish has gone from a Sunday staple to "you better bring Judy's Layered Bean Dip to the family party on Friday…or don't bother to show up!"  The nerve of some people!
Win Win Win!!
Layered Bean Dip
Ingredients
1 can of Gluten Free Refried Beans
8 oz Sour cream
1½- 2 cups shredded cheese (I use cheddar)
1 small onion chopped fine
1 small to medium tomato chopped
Instructions
In a 9 inch pie plate, spread the entire can of gluten free refried beans as bottom layer
Cover with sour cream
Sprinkle on shredded cheese
Top with onions and chopped tomatoes
Serve with tortilla chips