Taco Soup! A new adventure in bold flavor and filling soup. And can we say delicious?  Oh most definitely!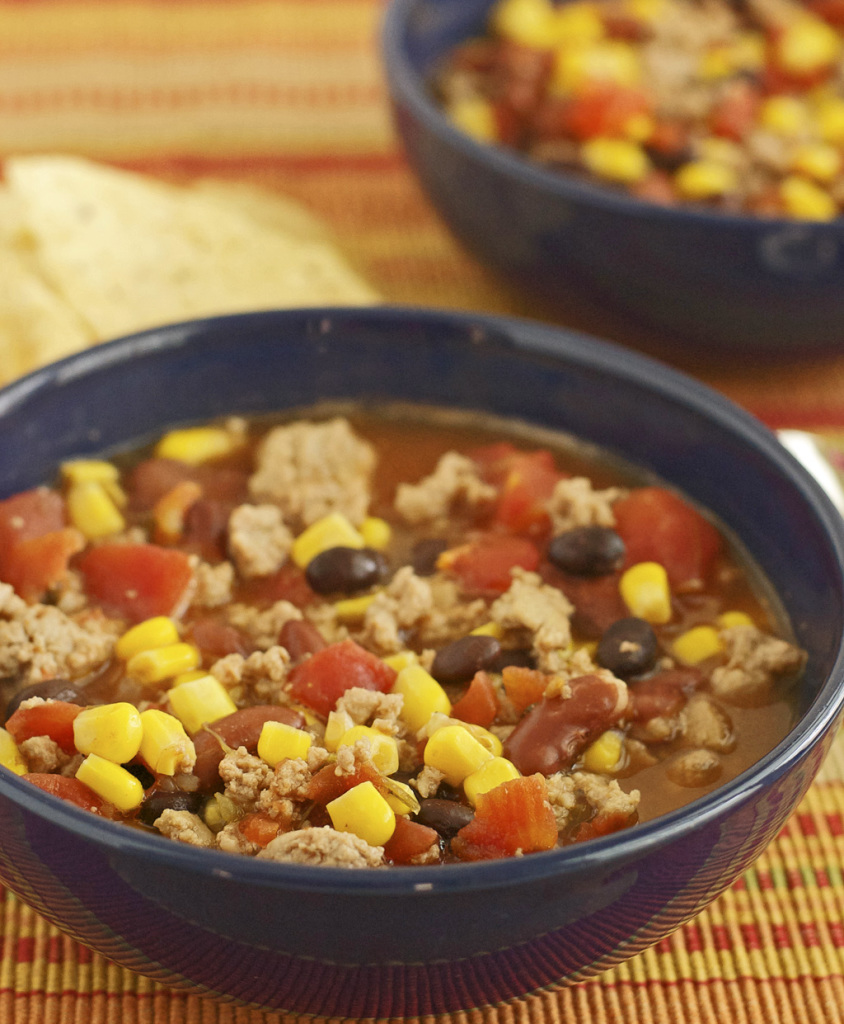 I was not exactly craving any particular food, just something good, with a little spice and easy to throw together so I look like I have been slaving over the stove all day and people will be bowing down when they taste it dish!! (Don't have too many goals, do I?)  And yes, you may call me the princess of sarcasm, because I learned from my mama, the Queen.
So I'm pondering, searching on line, flipping through magazines and studying cookbooks to find another recipe.  Yes, I know I write a blog about gluten free food but looking for recipes is my favorite hobby and was way before the blog.
The only problem with searching, leafing and pondering is it always makes me hungry!!  Strange coincidence that.
So on one of  my recipe searches I began studying soups.  Most of them are gluten free, as long as you leave noodles out. I can live without noodles, just substitute rice, right?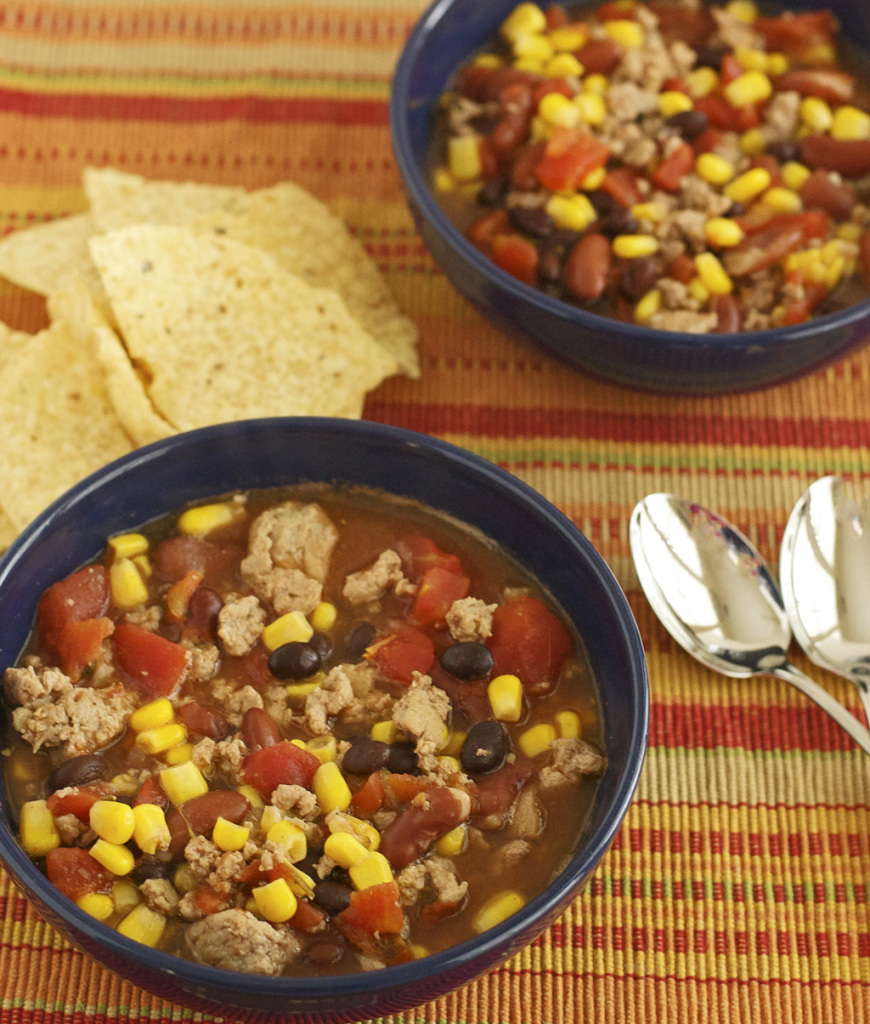 Soups can cover a multitude of sins in the kitchen and be a fantastic way to save money and weight.
I am sure I do not have the only family that eats down to one serving and then decides they do not like or want any leftovers.  I tried to solve the problem of not wasting food by eating it and then had a weight problem to deal with!
So now, when we get to that last small leftover that everyone acts like they can't see; it goes in the soup pot with some robust seasoning and wha-la, they think I am the meal genius!!
This Taco Soup is an all time favorite.  It has a bold flavor and can easily be made even more bold with whatever spices you love.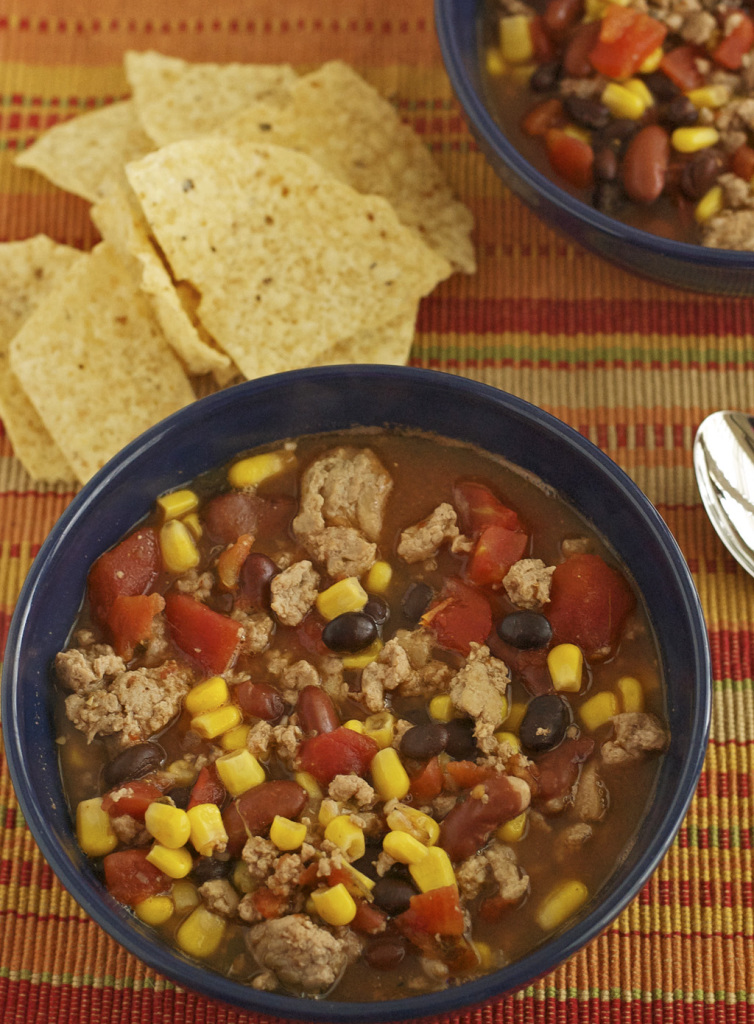 It is one of those easy meals requiring very little prep work, but with fantastic results.
I mean how hard is it to chop some onions and brown some meat?  And with my handy dandy can opener, attack those cans, dump, dump, stir, heat and
the cooking award goes to ME!
My family loves the bold flavors found in Taco seasoning, but I usually mix my own: some chili powder, some cumin added to tomatoes and beans makes for some tasty taco flavors in our house!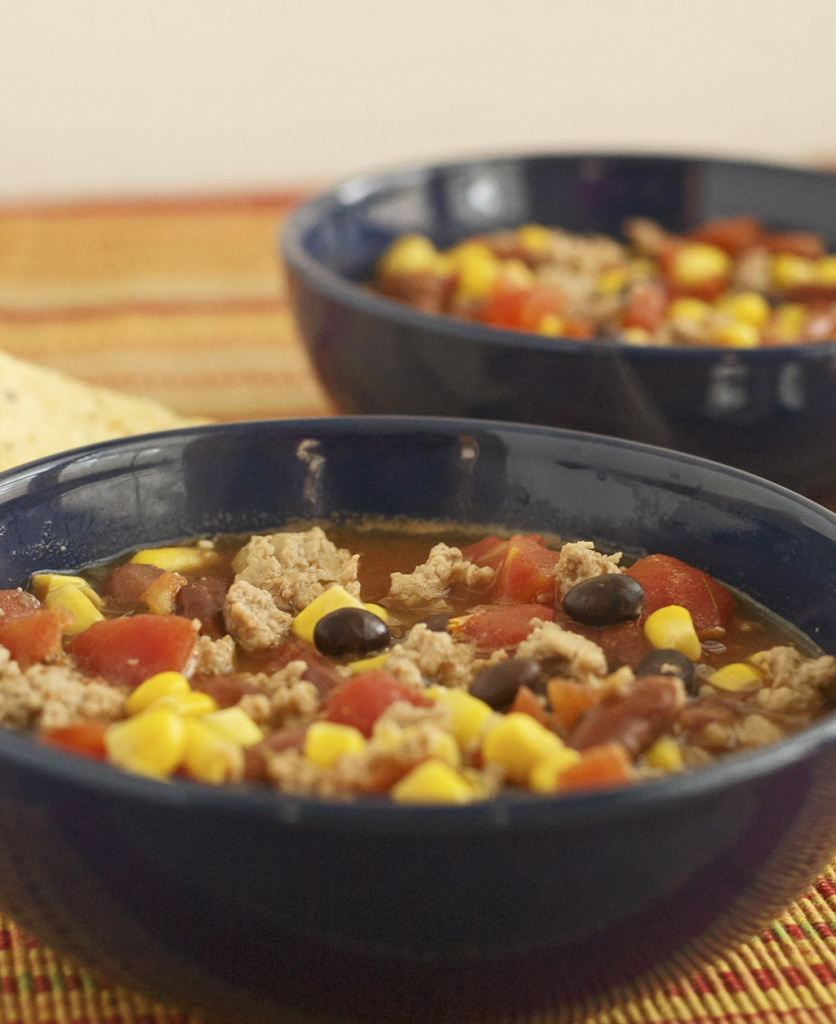 This soup is the best of both worlds: it is great piping hot or even chilled, I love it both ways.
So the outcome of all this?
Wonderful, bold, delicious, easy to make Taco Soup! Oh, and don't forget the corn chips!
Taco Soup Recipe
Ingredients
1 lb ground beef or turkey
1 onion, chopped
1 can Ro-Tel
1 can diced tomatoes
2 cans beans*
2 cans corn
1 package taco season mix**
Instructions
Brown meat and onion in a stock pot.
Drain any fat off the meat.
Add the rest of the ingredients, liquid from the cans also.
Notes
*I have used pinto, kidney, and black beans. I usually use two different beans in a recipe but you could use two cans of the same type bean.
**You can substitute chili powder and cumin for a package of taco seasoning mix.
I have also used the Tastefully Simple Fiesta Party dip mix.
Taco Soup Recipe