Sweet in taste and appearance in these easy to make moist Red Velvet Crinkle Cookies that are Gluten Free!
There is just something about Red Velvet that I love!!
I caught the bug (Red Velvet desserts) while I was in high school and made that first Red Velvet cake for my best friend.  And so far, I have not recovered from the disease!
Cakes, cupcakes, muffins, pancakes, cookies, smoothies- if it has Red Velvet in the title I AM THERE!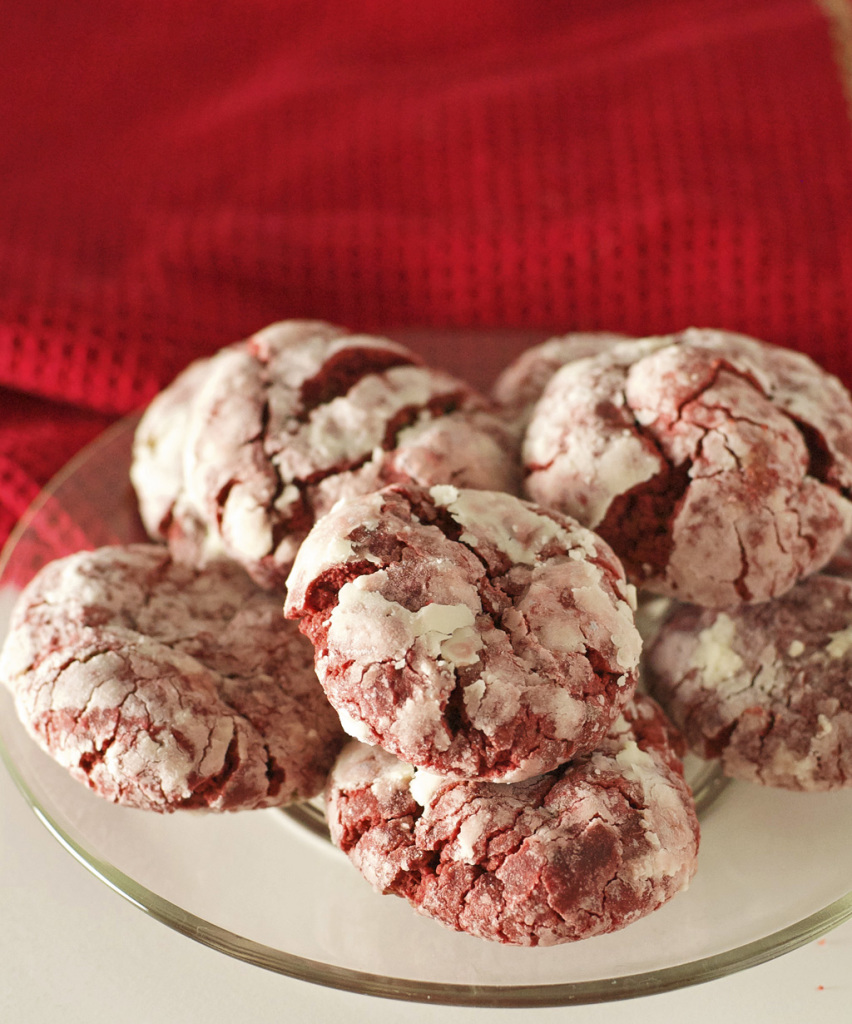 Gluten Free Red Velvet Crinkle Cookies Recipe
Ingredients
2¾ cups Pamela's Artisan Flour Blend or any gf flour
½ cup unsweetened cocoa powder
2 teaspoons baking powder
1 teaspoon salt
½ teaspoon baking soda
2 Tablespoons buttermilk*
1 Tablespoon red food coloring
1½ teaspoons gf vanilla extract
1½ teaspoons white vinegar
2 stick butter, at room temperature
¾ cup sugar
¾ cup light brown sugar
2 eggs
1 cup confectioners' sugar
Instructions
Preheat over to 325 degrees.
In a bowl, whisk the flour, cocoa, baking powder, salt and baking soda.
In a small bowl, whisk the buttermilk, food coloring, vanilla and vinegar.
In a large bowl, using an electric mixer, beat the butter, sugar and brown sugar until light and fluffy.
Add the eggs, 1 at a time, beating to blend between additions.
Add the flour mixture and beat until just blended.
Beat in the buttermilk mixture.
Cover; refrigerate until firm, 2 hours.
Roll half the dough (keep the rest chilled) by the tablespoon into balls.
Roll in confectioners' sugar to thickly coat.
Place 2 inches apart on parchment lined baking sheets.
Bake 12-15 minutes, rotating halfway through, until puffed and crinkled.
Let cool 1 minute before transferring to racks.
Repeat with the rest of the dough.
Notes
*Pour 1 teaspoon of vinegar into a one cup measuring cup. Fill same measuring cup with almond milk or any non dairy milk until it reaches ⅓ cup.
I don't think I have an overactive sweet tooth, but when I get those cravings, look out.
I found this crinkle cookie recipe a while back and decided I would file it away for the future.
Well the future is now and I thought what a great recipe to try for Valentine's Day.  These would be perfect for any Valentine party, whether adult or for a child's classroom party.
These Red Velvet Crinkle cookies are moist but with a slight chewiness.  They have that rich buttery sweetness with a hint of chocolate and we all know how I feel about chocolate….LOVE IT!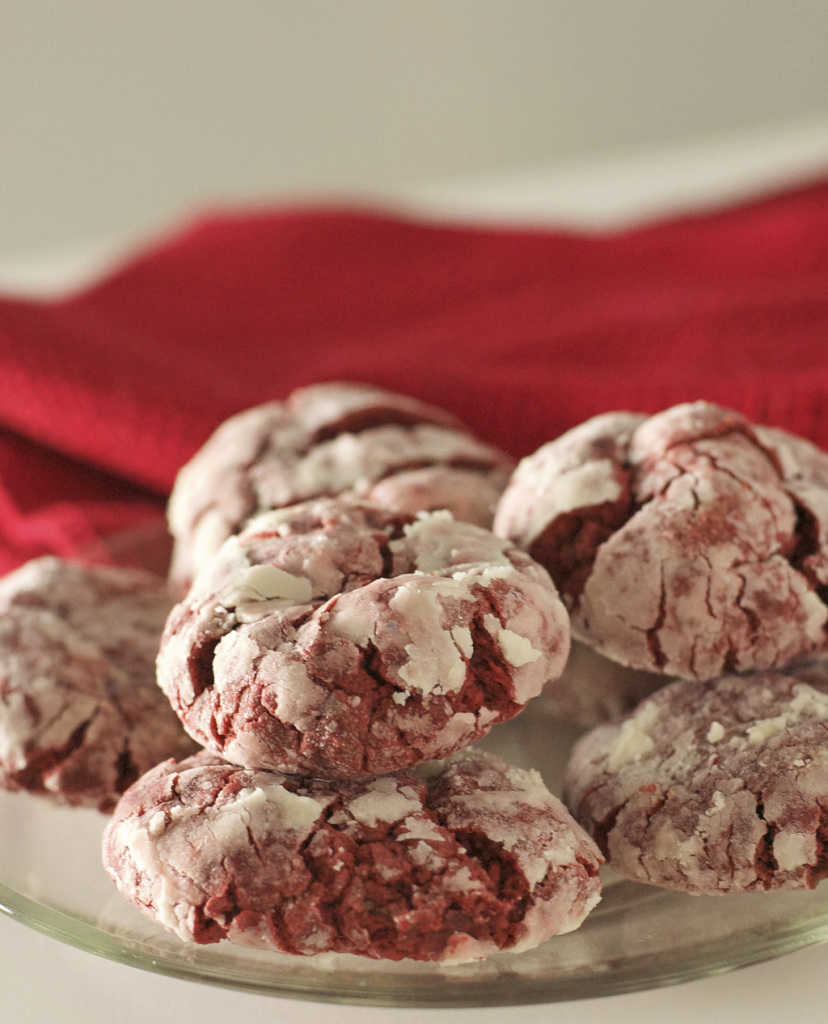 The fact that they are so easy, Gluten Free, delicious and addictive are all added bonuses!
You know I like to research the why of a recipe so:
I found out that a Red Velvet cake, or other desserts by that name, can be a dark red, bright red or even a red-brown color with the reddish color being enhanced by the addition of beetroot, or most often, red food coloring.
The common ingredients in these desserts are butter, cocoa, flour, buttermilk and either the beetroot or red food coloring for the red color.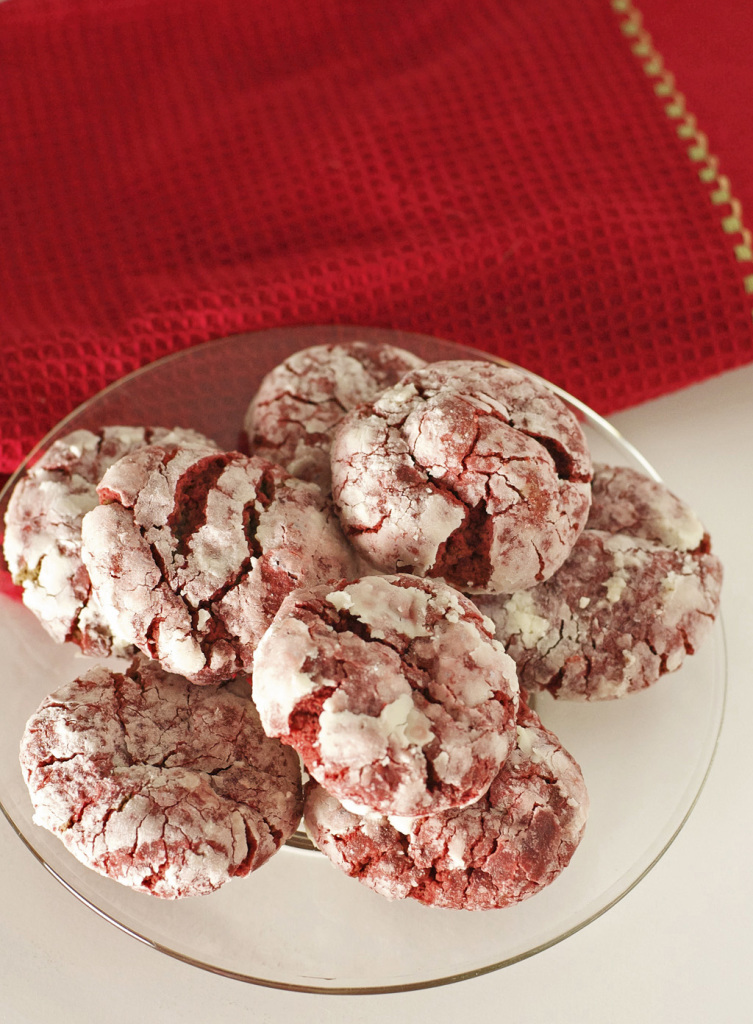 In James Beard's 1972 reference, American Cookery, he stated that in addition to varying amounts of butter, shortening and vegetable oil along with the red food coloring, it was noted the reaction of acidic vinegar and buttermilk tend to
reveal a property in cocoa of red anthocyanin which also contributes to the dessert being moist, fluffy and light.  Of course, this natural tinting may be the source of the "red velvet" name.
During the rationing of World War II, beet juices were boiled to enhance cake color.  The beet can be used as an ingredient in the cake and helps to keep it moist.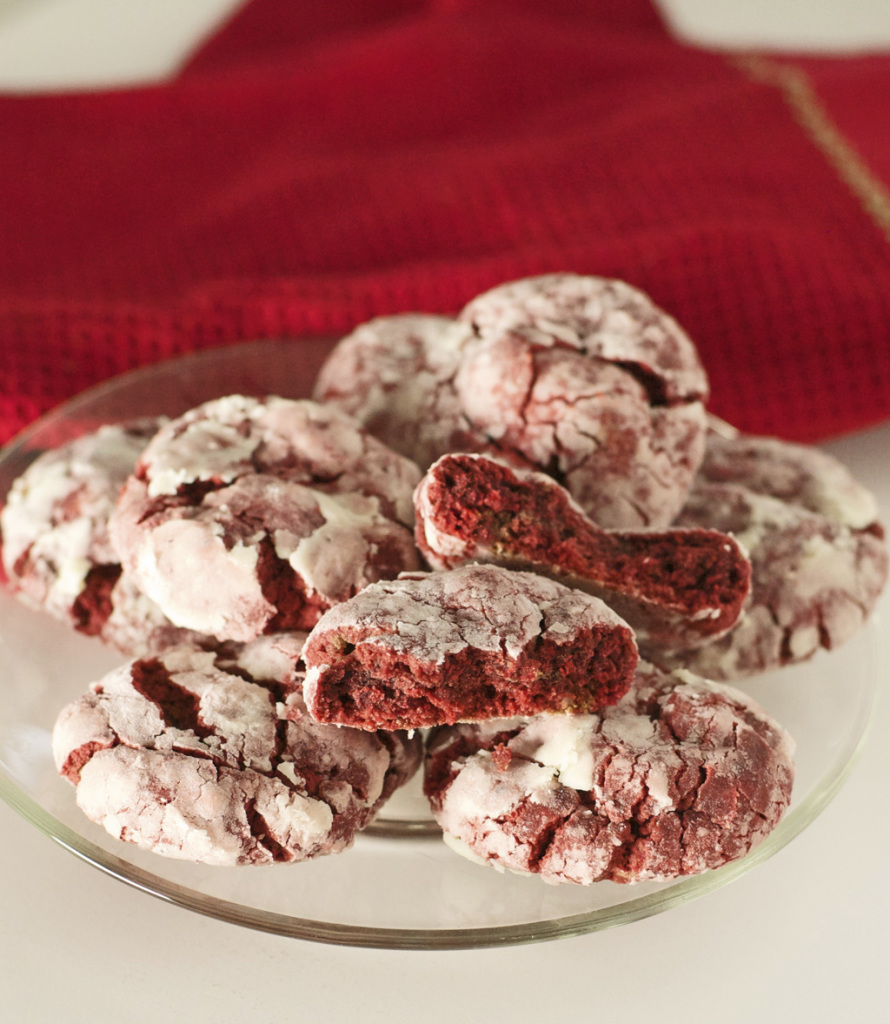 There seemed to be a resurgence in Red Velvet cakes and cupcakes after the movie Steel Magnolias released in 1989, had a groom's cake that was Red Velvet and shaped like an armadillo.  (LOVED that movie).
Any way you look at it, Red Velvet is pretty in appearance and tasty too.
Enjoy these easy to make and sweet to eat Red Velvet Crinkle Cookies that are Gluten Free!
Gluten Free Red Velvet Crinkle Cookies Recipe