Super Bowl party? Need a heading-to-a-touchdown dish? Look no further, this is it!! Winning score Fiesta Casserole 42 Party Dip 13.
Every year I try a new recipe for the Super Bowl.  I figure there are 2 new teams every Super Bowl so why stick with the same party food?  Even if the party is just a couple of people.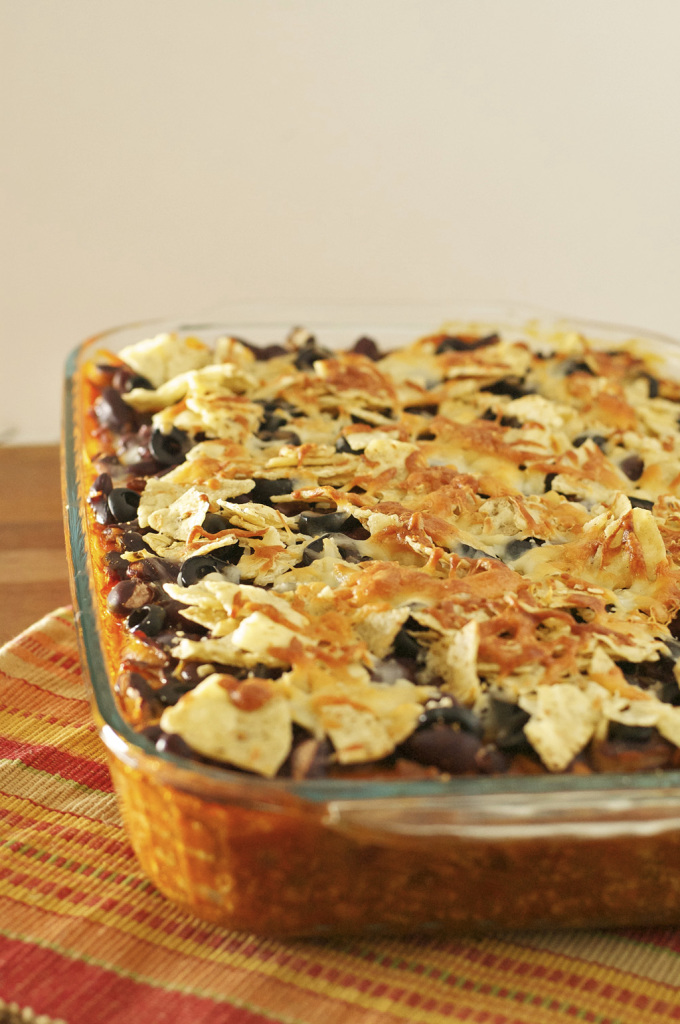 So let's try our hand at a Fiesta Casserole!! Because we know Fiesta means PARRRTAAAY!
I'm thinking melted cheese, healthy beans, some type of meat mixed with some smooth spices with some crunch from tortilla chips.
The perfect casserole, to me, is the savory blend of onion, garlic with some chili powder and cumin thrown in for the umph factor!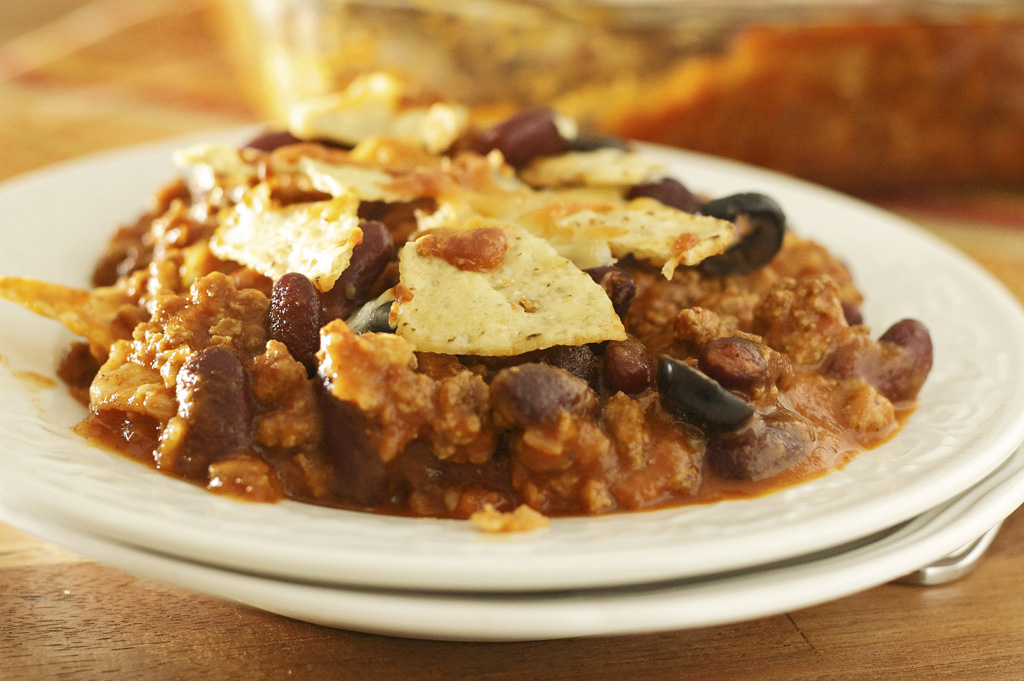 The aroma alone from the meat with onion and garlic makes my mouth water.
Let's not forget, this bad boy doesn't have to be difficult or full of high priced never to use again spices or ingredients to be great.
I like the KISS method of party or dish preparation- Keep It Simple Silly (my mama taught me to NEVER call any one stupid).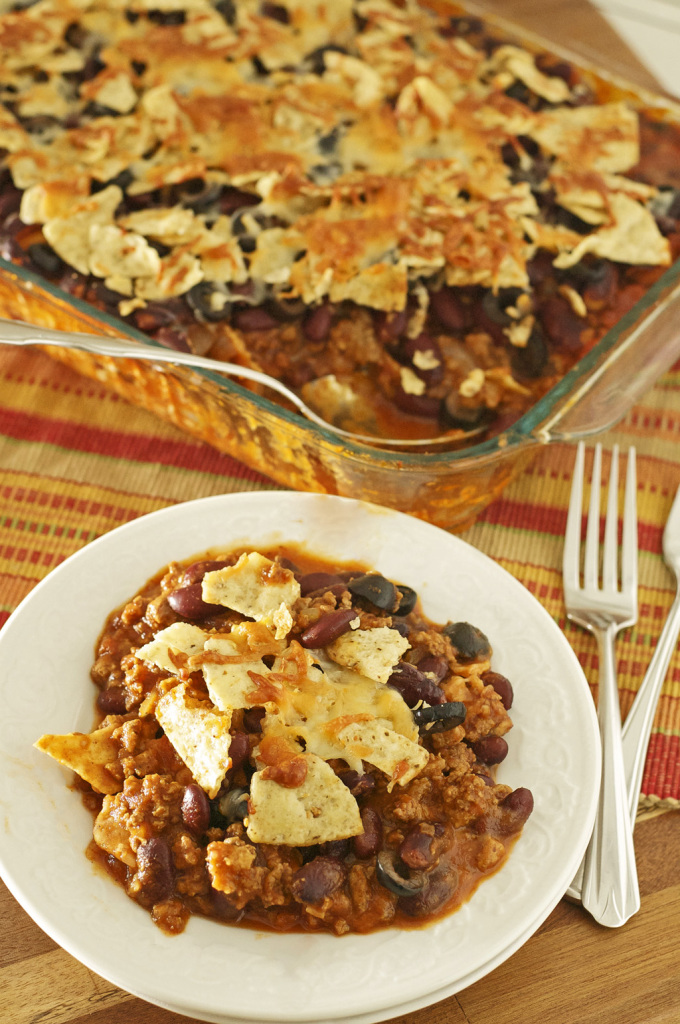 This Fiesta Casserole is easy to throw together the day before and pop in the oven before kickoff or just make it from scratch the day of the Big Game.
I don't know what I like best – the savory meat, beans, tomatoes and olives or the gooey, melted cheese with the tortilla chips.
As with all my recipes, if it doesn't pass the rigorous inspection by my dad or the assorted teenagers passing through, it has to be scrapped; but this one was proclaimed a WINNER!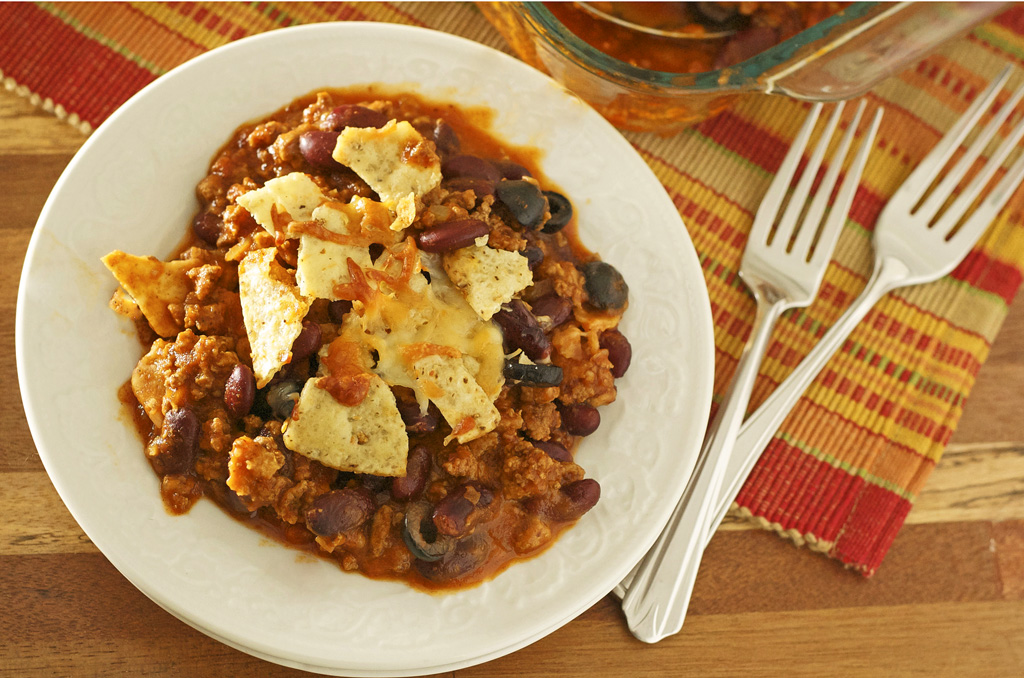 It was such a hit, I had to make 3, yes 3, separate casseroles on 3 separate days before I got to take the first picture (if that gives you any idea how scrumptious this Fiesta Casserole is).
Now are we ready for some Fiesta Casserole with our Football?  Heck yeah!!
Enjoy and may your team be as big a winner as this Fiesta Casserole!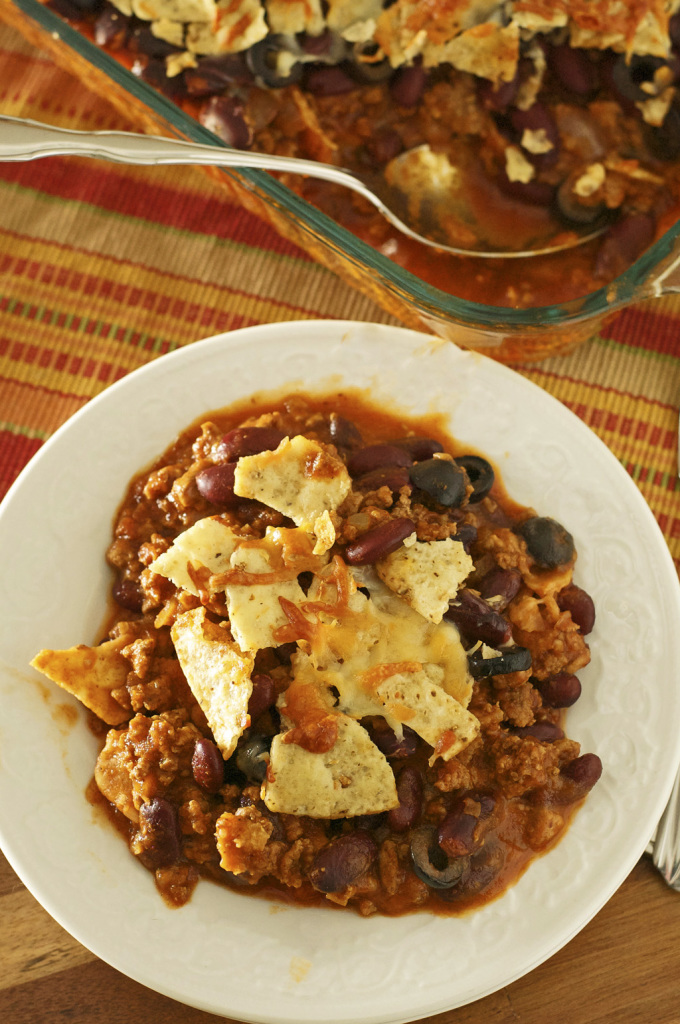 Fiesta Casserole Gluten Free Recipe
Ingredients
2 lbs ground beef or turkey
1 onion, chopped
4 cloves of garlic, minced
¼ cup chili powder
1 Tablespoon ground cumin
3 (15 oz) cans tomato sauce
3 (16oz) cans kidney beans, drained and rinsed
6 ounce can sliced black olives, drained
Tortilla chips
1 lb cheddar cheese, grated
Instructions
Preheat oven to 350 degrees.
Saute meat over medium-high heat until no longer pink.
Add onion; saute for 3 minutes.
Add garlic; cook for 1 minute.
Add chili powder and cumin; cook, stirring for 2 minutes.
Add tomato sauce, lower heat and simmer for 10 minutes.
Spray a deep 9x13 casserole dish with cooking spray.
Spread half of meat mixture in baking dish.
Then half the beans, half the olives, crunched up tortillas, and half the cheese over meat mixture.
Repeat layering with remaining meat mixture, beans, olives, tortillas, and cheese.
Bake 35-40 minutes, until golden and crispy on top and bubbling.