Robust flavor in this savory Roasted Red Pepper Tomato Soup. Perfect soup for a cold winter evening. 
Ever have one of those times when you're not real hungry but you want something comforting and filling?  And you don't want to put a lot of effort into the preparation?
Don't want much, do I? A dish that is easy, delicious, filling but not overwhelming, not too much to ask of a meal.
Bingo!!  I have been on a bell pepper kick, red, green or yellow, didn't matter just as long as it was a bell pepper.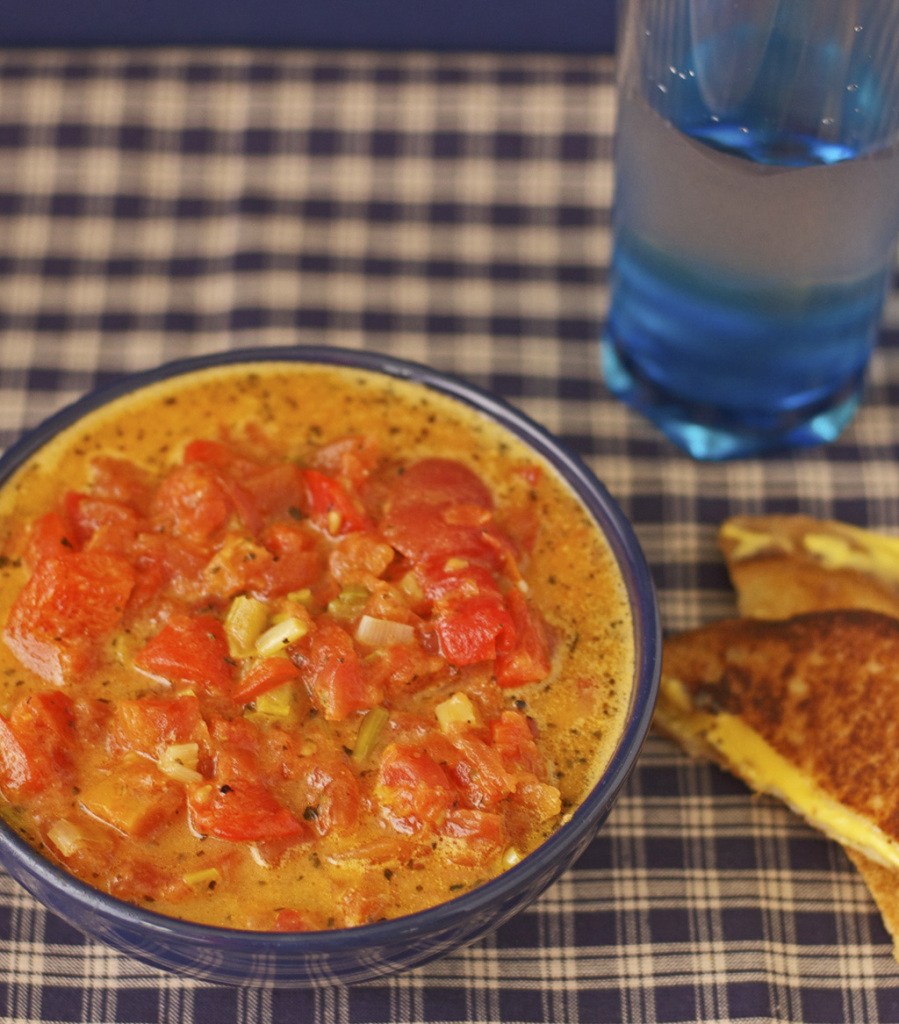 And roasted, the bell pepper needed to be red and roasted!
Now we're on the right track….soup, yes soup should meet all my requirements.
I have fallen in love with roasting my veggies, don't think I'll ever go back to steaming.
Roasting captures the essence of the vegetable's flavor, I think.
In some of my investigating, I learned that roasted red peppers are full of nutritional benefits!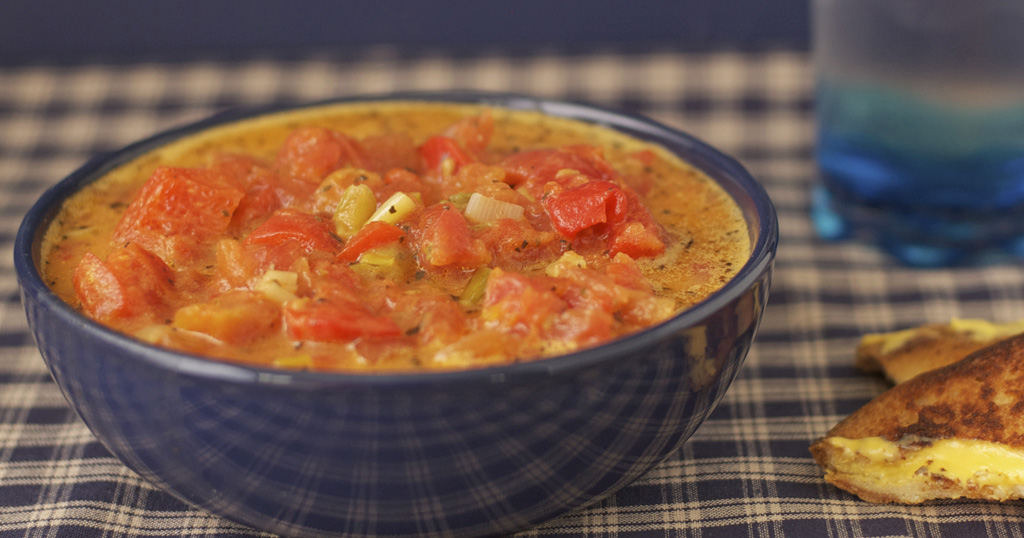 Did you know red peppers burn more calories?  They do not contain the ingredient that makes a pepper spicy hot, but do have a property which increases our metabolism so we burn more calories without increasing our pulse rate or blood pressure like the spicy peppers can.
Red bell peppers are loaded with antioxidants, making them a superfood.  They contain Lycopene which has been tested in preventing many cancers such as lung and prostate.
I found out the high amount of Vitamin A in red peppers supports healthy eyesight, especially night vision!!  (Inside family information: I have been wanting some night vision goggles for years!!! Why?  I just think it would be really cool to go out at night and check things out, well until I got the willies scared out of me, that is).  So I don't think I'll share that red peppers are good for night vision with the family  (cause I still want those goggles!)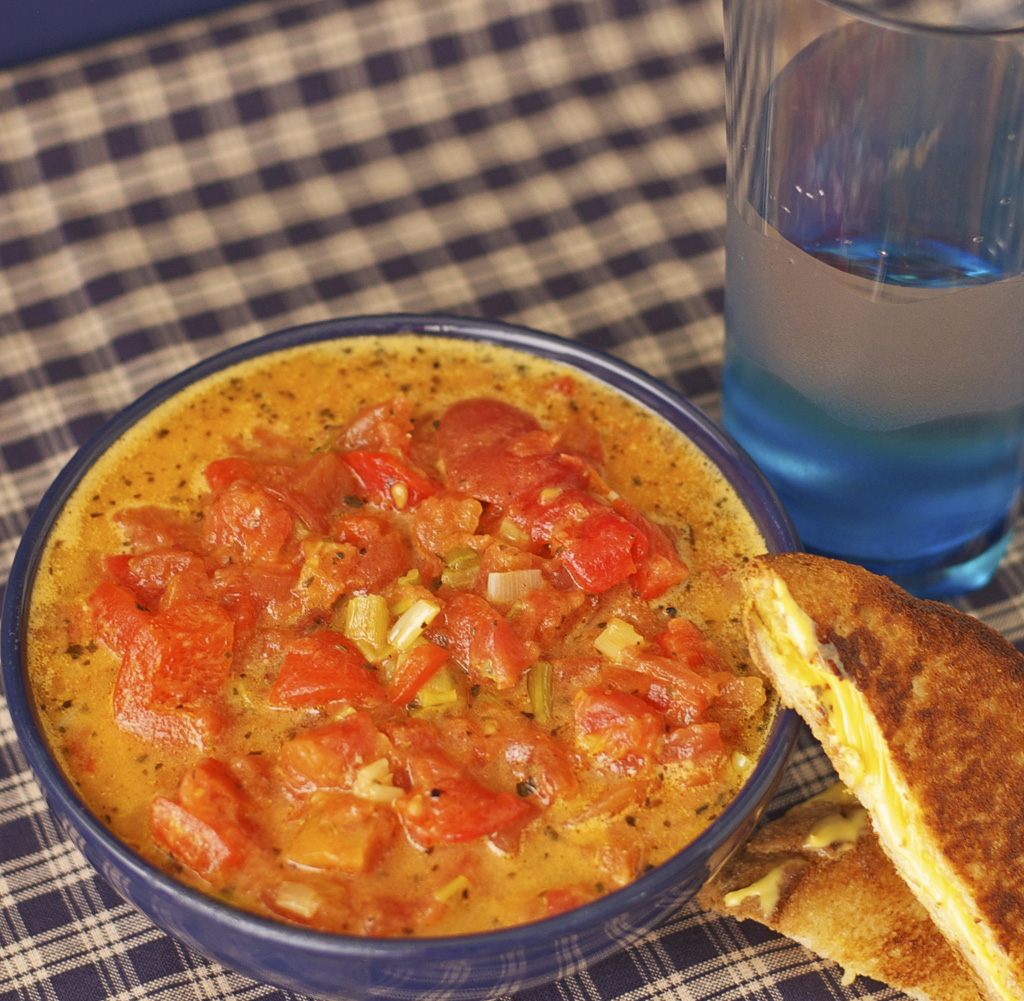 Need some Vitamin C?  Well red peppers are your answer because they contain almost 300 percent of your daily Vitamin C requirement.  Red peppers also help with iron absorption, so if you are prone to anemia, combine red peppers with your iron sources for better absorption.
Red bell peppers can decrease ANXIETY!! I kid you not.  The Vitamin B6 and magnesium they contain make them beneficial for pre menstrual tension.  And since we are talking pre menstrual issues, the Vitamin B 6 is a natural diuretic that can help with bloating.
So now I have these lovely, full of healthy benefits roasted red peppers and I have decided to pair them with some tomatoes, scallions, chicken broth and some spices giving me the perfect filling soup/meal I was wanting!
This soup is so creamy, luscious, full of flavor…..I could go on and on but I seriously need to finish this bowl, like now.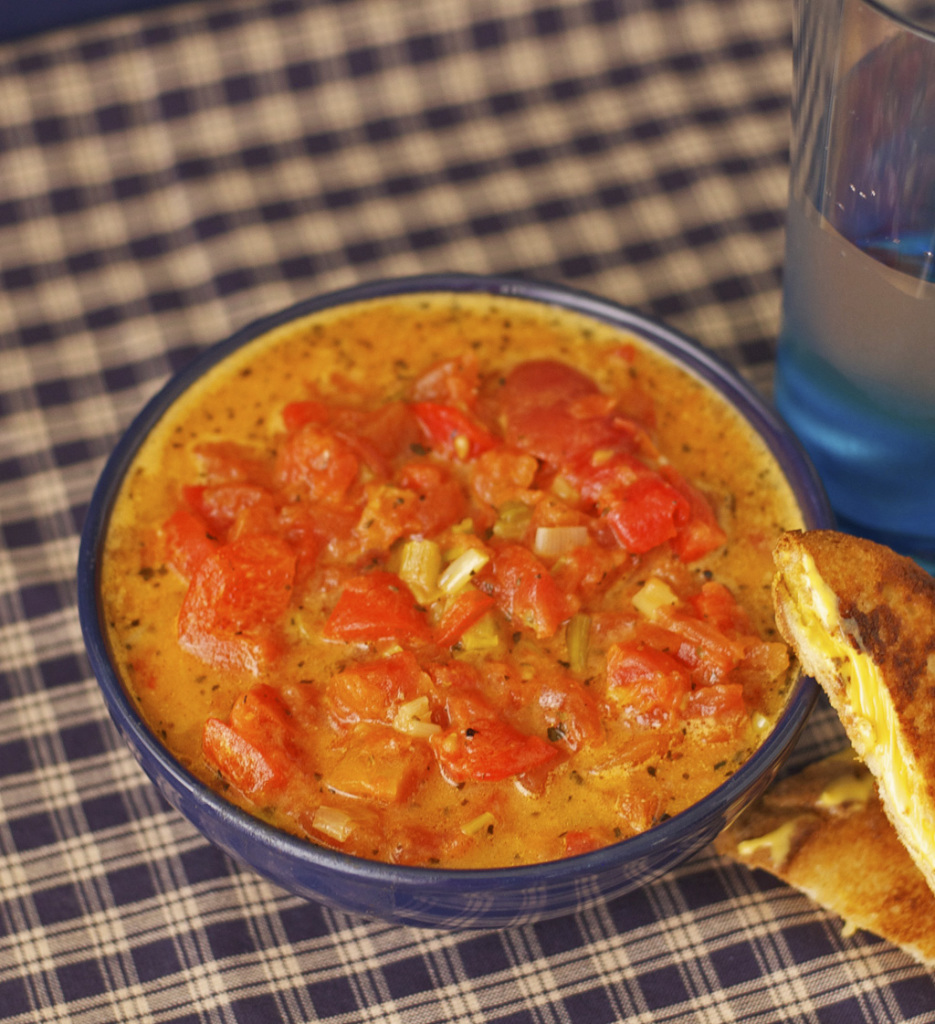 Need a health boast and a great savory soup, then try this roasted red pepper tomato soup.
Night creatures beware, I'll be spying you out real soon (well at least once the weather gets warm again!)

Roasted Red Pepper Tomato Soup
Ingredients
2 Tablespoons vegan butter
4 scallions, thinly sliced
28 ounces of diced tomatoes with liquid
1¾ cups chicken broth
1 jar of roasted red bell pepper, drained and chopped
1 teaspoon dried basil
1 cup So Delicious Culinary Coconut Cream
Instructions
Melt butter over medium heat in a soup pot.
Add scallions and cook, stirring occasionally, about 4 minutes, or until scallions begin to soften.
Stir in tomatoes, chicken broth, roasted peppers, and basil.
Bring mixture to a boil.
Reduce heat and simmer, stirring occasionally, about 10 minutes.
Remove pot from heat, stir in coconut cream and season to taste with salt and pepper.