Rich, dark chocolate goodness in this oh, so moist Chocolate Bundt Cake made gluten free. So rich, a glaze or icing is not needed. 
What can I say?  When I want chocolate, I WANT CHOCOLATE!!  I know, it is mostly a female thing, but I know a few males who do not turn down certain forms of chocolate…like brownies, cupcakes, layer cakes to name a few.  So back to one of my almost hidden desires.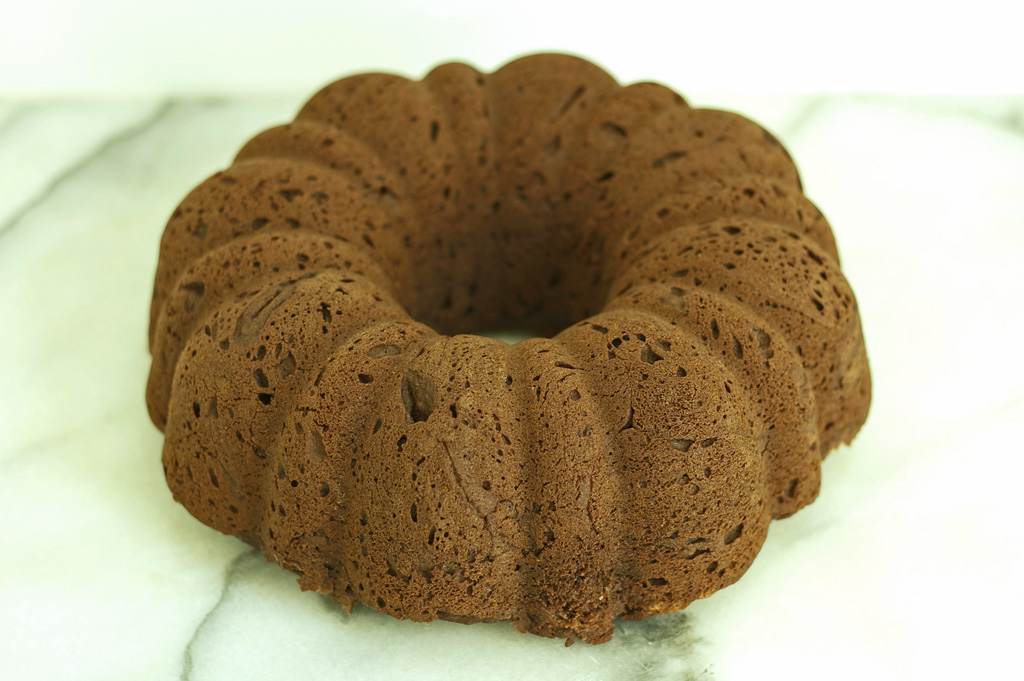 I went through the list: brownies, no, No Bake Cookies, no; cupcakes, no; chocolate milk, no; chocolate pancakes… now there's an idea, but no.
Bundt cake leaped off the recipe list.  I could try something new and satisfy the chocolate monster raging in me.  Oh boy, this Chocolate Bundt Cake did not disappoint.  It is so moist, has that rich dark chocolate flavor…my descriptions are not doing this cake justice.  But imagine, if you will, me by the keyboard with a piece of this chocolate wonderfulness at my side and I am pretty sure I have some chocolate smeared around my mouth.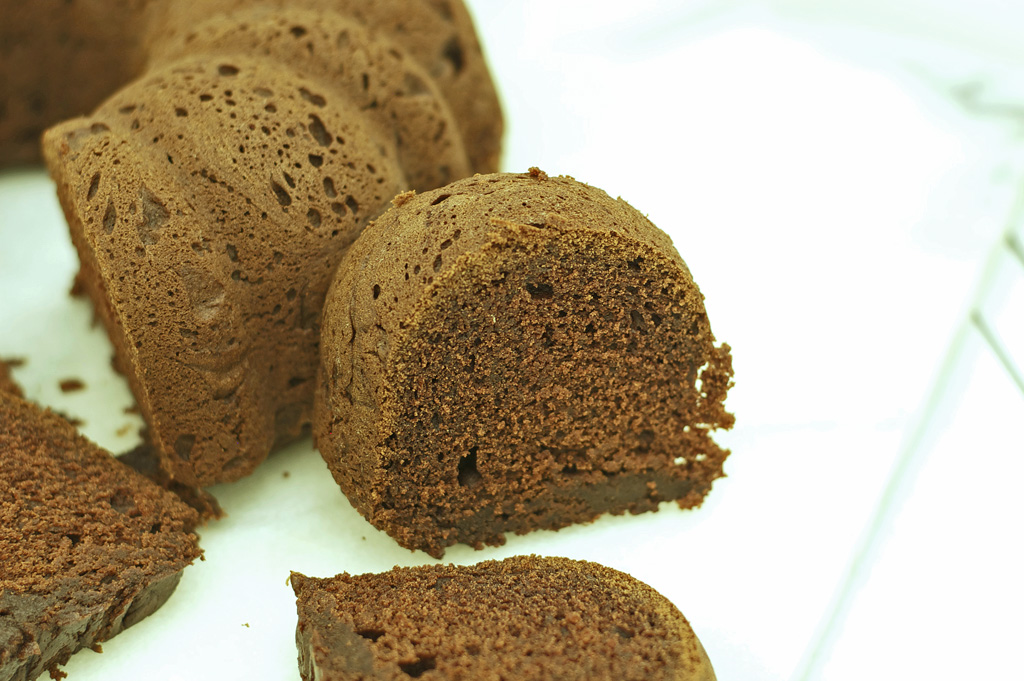 This recipe called for a glaze, but this cake looked so good and when I took that itty bitty pinch (no, I promise it was itty bitty) to taste; well Katie bar the door, there would be no glaze on THIS cake.  I have to tell you, once my taste testers tried this, the look on their faces said "Chocolate Heaven".  Since the taste testers are immediate family, you know I had to hide some of this delish cake so I could have another piece or two for myself for later.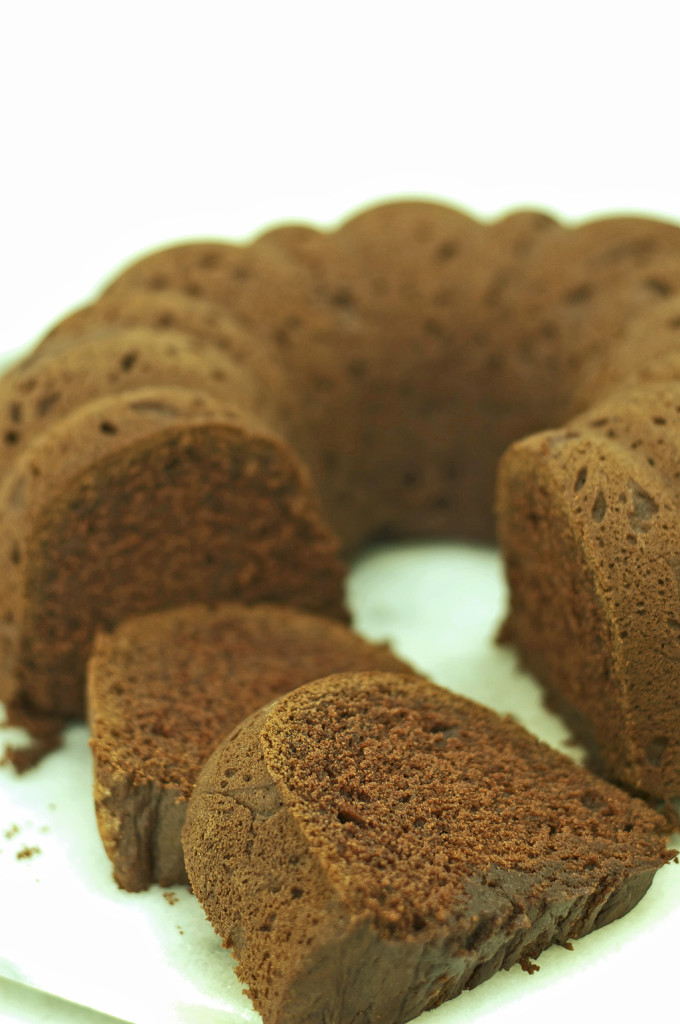 A little side information, in case you like to learn new things like me:  According to Wikipedia the Bundt cake is not a certain recipe but a cake baked in a Bundt pan, giving it that distinctive ring shape.  The shape was inspired by a European fruit cake called a Gugelhupf  (I may have to research that and make it some day).  The Bundt cake became popular in the US in the 1950s and 60s  when Nordic Ware cookware trademarked the name and began making the pans from cast aluminum. Pillsbury started publicizing them and they gained in popularity.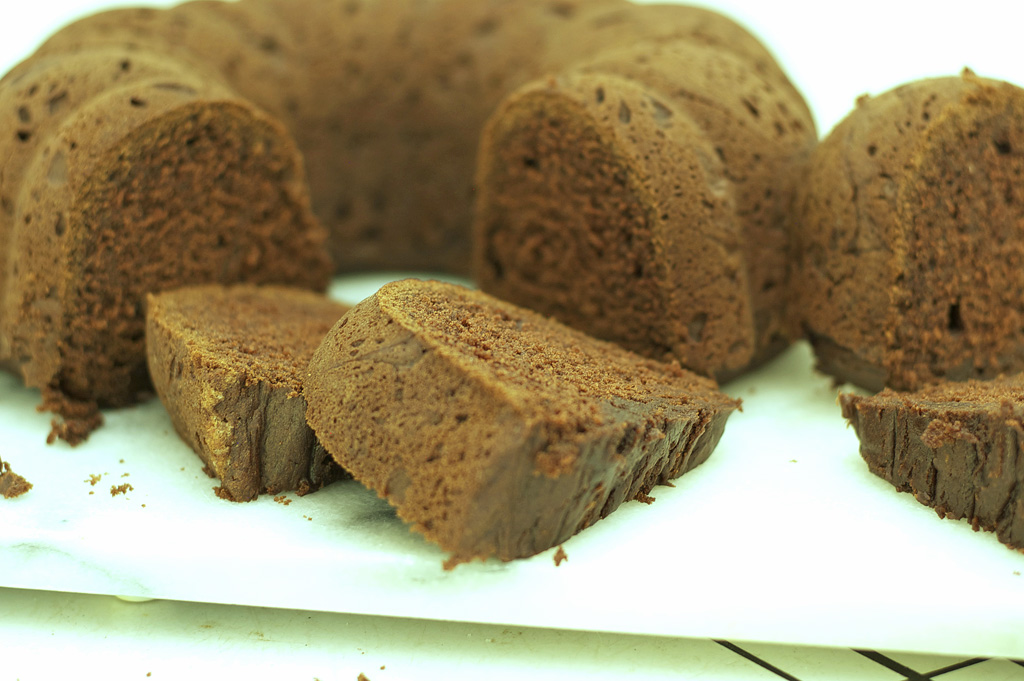 I have to admit, I thought a Bundt cake was a particular recipe.  It is so nice to learn something new and hopefully, keep from embarrassing myself.
Do yourself a favor, if you are having a strong craving for chocolate, try this Chocolate Bundt Cake made gluten free; I don't think you will be disappointed!!

Chocolate Bundt Cake Gluten Free
Ingredients
2 sticks unsalted butter
2¼ cups Pamela's Artisan Flour Blend
¾ cup unsweetened cocoa powder
1 teaspoon baking soda
1 teaspoon salt
½ cup almond milk or any non dairy milk
½ cup plain yogurt*
1½ cups sugar
4 large eggs
1 teaspoon gluten free vanilla extract
Instructions
Preheat oven to 325 degrees.
Place butter in mixing bowl and use the paper from the butter to grease a 14 cup bundt pan.
In a large bowl, whisk together flour, cocoa, baking soda and salt.
Mix milk and yogurt in a separate bowl.
Add sugar to the butter and mix together with an electric mixer until pale and fluffy.
Add eggs, 1 at a time, beating well after each addition; add vanilla.
Using a low speed, add flour mixture alternating with the milk mixture. Starting and ending with the flour mixture. Beat until just combined.
Transfer batter to prepared pan and smoothing out the top evenly.
Bake 50-55 minutes or until a cake tester comes out clean.
Transfer pan to a wire rack to cool completely.
Notes
*I use yogurt made from goat's milk. You can use any kind of plain yogurt that you would like.
Chocolate Bundt Cake Gluten Free