I have ALWAYS loved Baked Mozzarella Sticks as an appetizer when dining out.  Once I became gluten free I had to give up this special treat, sigh, but doggone it I should be able to make some that I can eat.  Tah da, behold Baked Mozzarella Sticks Gluten Free and Cow's Milk Free and need I say, they are beyond delish!!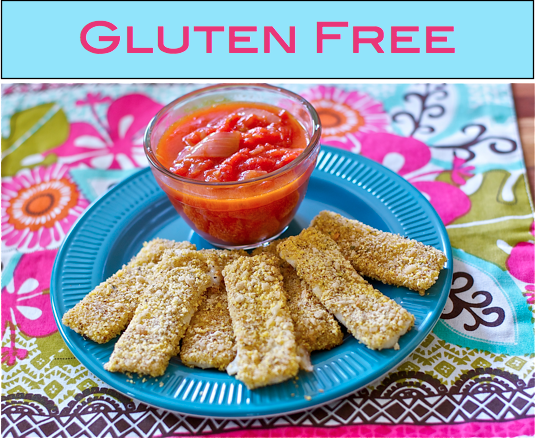 These cheese sticks are crunchy on the outside and gooey, stringy warm cheesy goodness on the inside.  I love the way that melted cheese tastes with the Italian seasoned bread crumbs.  The biggest problem I had with these?  I cannot stop with one, two heck I want to eat them all!  They are that good and did I mention, pretty easy to make too!

Baked Mozzarella Sticks Gluten Free
Ingredients
8 ounce block Goat's Milk Mozzarella Cheese
1 egg, beaten
¼ cup GF all purpose flour
5 Tablespoons GF Italian seasoned bread crumbs
½ cup GF plain bread crumbs
2 teaspoons chili powder
1 teaspoon cumin
¼ teaspoon oregano
Instructions
Slice cheese into 12 equal pieces and place in the freezer for at least one hour.*
Preheat oven to 400 degrees.
Place flour in a plate.
Beat egg in a bowl big enough to dip your cheese sticks in.
Mix all the other dry ingredients in a third plate or bowl big enough for your cheese sticks.
Dunk cheese sticks, one at a time, in flour. Coat evenly.
Then dredge into egg mixture and lastly place into bread crumb mixture, coating evenly.
Place sticks on a baking stone or cookie sheet lined with parchment paper.
Bake for 8-10 minutes. Remove immediately and serve with your favorite marinara sauce.
Notes
*I usually do this earlier in the day or several days before I make them. I am usually making them for some type of get together because REALLY who needs to eat 12 cheese sticks all alone.