I have to admit: I am a food junky.  Now, my definition of a food junky? I eat a dish at a new restaurant, or a new dish at a favorite restaurant,  and I have to figure out how to make it and add it to my stash.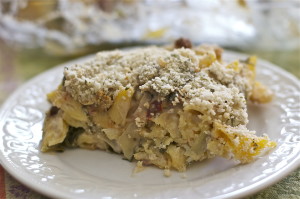 I FELL IN LOVE with this Italian Chicken dish.  The spicy blend of seasoning with chicken, pasta and artichokes, ahh a heavenly combination. I really like the tangy flavor of the sun dried tomatoes with the mushrooms.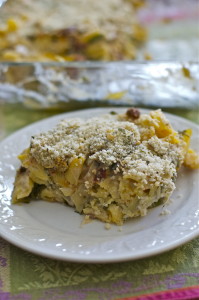 This is a plate of creamy goodness that you will want to share with family and friends. Enjoy!

Italian Chicken Casserole Gluten Free
Ingredients
4 tablespoons butter
¼ cup gf flour
4 cups milk*
1 cup plain yogurt**
12 ounces gf pasta
½ cup gf italian season bread crumbs
2 cups diced cooked chicken
1 can artichokes, drained and chopped
1 cup mushrooms, sliced
3 cloves garlic, minced
6 ounces fresh spinach, chopped
1 cup sun dried tomatoes, drained and chopped
1 tablespoon red chili flakes
salt and pepper to taste
Instructions
Start pot of water for pasta and cook according to directions on package.
Saute mushrooms and garlic. Set aside
Melt butter in a sauce pan and whisk in flour until it starts to bubbles
Whisk in milk slowly until it starts to thicken and remove from heat.
Whisk in yogurt, salt and pepper.
Mix pasta, chicken, vegetables and milk mixture in a bowl. Pour into a 9x13 and top with bread crumbs
Bake at 400 degrees for 8-10 or until bubbly.
Notes
*I used almond milk
**I used yogurt made from goat's milk