OH MY GOSH, yall. I just thought my BLT dip was wonderful. This a very close contender for best dip of all time.  This dip was so good, we did not even plate it up.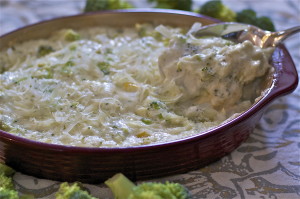 We just stood right there and passed the bag of  chips and kept eating. What can I say?  We certainly know a good dip when we taste it!!  This is so easy to make, the hardest part is chopping up the 3 veggies, well, once you get back from the fight at the check out line at the grocery store, that is.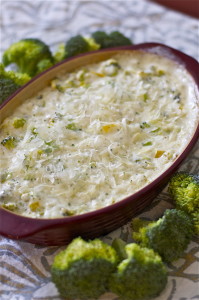 You HAVE to try this fantastic dip and if you are feeling generous, you might even want to share it!!

Hot Broccoli Dip
Ingredients
1 cup broccoli florets, chopped
2 tablespoons chopped onion
2 tablespoons chopped bell pepper
1 cup shredded cheddar cheese*
½ cup mayonnaise
½ cup plain yogurt*
½ cup grated parmesan cheese*, divided
1 garlic clove, minced
⅛ teaspoon ground black pepper
Instructions
Preheat oven to 375 degrees
In medium bowl, combine broccoli, onion and bell pepper. Add cheddar cheese, mayonnaise, yogurt, 2 tablespoons of parmesan cheese, garlic, and black pepper; mix well and spoon into a small oval baker**
Bake 15-20 minutes or until heated through. Remove from oven; sprinkle with remaining parmesan cheese.
Notes
*Used cheese and yogurt made from goat's milk
**Used pampered chef smal oval baker